High-quality recording made simple
With the Olympus WS-853 digital recorder you make clean, clear recordings of classroom lectures, business meetings, or conferences — even if you're a beginner. The recorder features two built-in condenser microphones for capturing voices with clarity. A low-cut filter helps ensure clear recordings even in settings with background noise such as wind.
High-quality recording made simple
With the Olympus WS-853 digital recorder you make clean, clear recordings of classroom lectures, business meetings, or conferences — even if you're a beginner. The recorder features two built-in condenser microphones for capturing voices with clarity. A low-cut filter helps ensure clear recordings even in settings with background noise such as wind.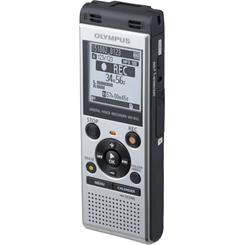 Automatic settings for great recording
Intelligent Auto Mode takes the guesswork out of recording by automatically adjusting the microphone sensitivity to the volume of the sound source. If the source is loud, the recording level is pulled back. If it's softer, the level is boosted. Ideal for conferences or meetings when you're recording different speakers.
Simple mode for beginners
Not everyone's a sound engineer. With the WS-853 you don't have to be. In Simple Mode, the LCD screen only displays the key info you need in easy-to-read fonts. And it limits the menu functions to only the options you use most often.
Built-in and expandable memory
The WS-853 recorder has 8GB of built-in memory, enough for up to 2,080 hours of basic-quality recordings. A microSD card slot lets you expand the recorder's memory by up to 32GB. And transferring your recordings to your computer for storage or editing is easy. Just use the recorder's retractable USB connector. Plug the recorder directly into your computer to drag and drop the files where you want them.
Voice activation and scene select
The voice-activation mode lets you make convenient, hands-free recordings. Simply select what you want to record, such as a lecture in a large hall or a small meeting, and Scene Select automatically adjusts the recording levels for you.
Playback options
You can use the built-in speaker for playback, or plug in headphones for more discreet listening. Add bookmarks as you listen to highlight key sections or for editing the file on your computer later on. The recorder can deliver up to 110 hours of operation with two supplied "AAA" batteries.
READ LESS
Product highlights:
built-in stereo directional condenser microphones
8GB embedded memory
records to MP3 audio files

built-in recording functions:
Intelligent Auto Mode automatically adjusts recording level
voice activation start and stop
bookmark sections of a track during recording or playback
noise cancellation minimizes background sounds

expandable microSD card slot (memory card not included)
LCD display

Simple Mode displays only necessary info and frequently used functions

built-in mono speaker
Scene Select automatically sets levels based on activity (lecture, meeting, conference, dictation)
built-in stand to minimize surface noise during recording
high-speed USB interface with retractable connector
minijack headphone output
stereo minijack input for an optional external microphone
up to 110 hours of operation with 2 "AAA" batteries (included)
1-9/16"W x 4-7/16"H x 3/4"D
weight: 2.7 oz.
warranty: 2 years
MFR # V415131BU000
What's in the box:
Portable digital recorder (black)
2 BR-404 "AAA" Ni-MH rechargeable batteries (1.2V 750mAh)
Padded neoprene case
Basic Manual
Warranty/Online registration card
Olympus WS-853 reviews
Average review:
Thanks for submitting your review
Most reviews are processed and published within 5 business days. You will receive a confirmation email once your review has been published.
Customer photos
More details on the Olympus WS-853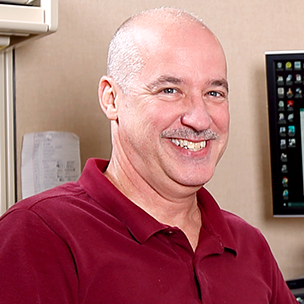 Researched by Crutchfield's

Russ B.
Product Research
General Features
Recording Features
Edit and Playback Functions
General Features
Overview: The Olympus WS-853 is a compact, hand-held portable digital voice recorder. The device records onto the built-in 8 GB flash memory or optional microSD memory cards (up to 32 GB). The recorder has two built-in microphones, a 20mm diameter dynamic speaker, and jacks for an external microphone and headphones. The WS-853 operates on two "AAA" NiMH rechargeable batteries (supplied) or two "AAA" alkaline batteries (optional).
LCD Display: The WS-853 features a 1-1/2" (diagonal) monochrome LCD display which indicates recording and playback information. The recorder will display the elapsed or remaining recording time in hours, minutes, and seconds. When not recording, the current time can be displayed. You can set the display contrast to one of 12 levels.
Date and Time: The recorder features a built-in clock. If you have set the time and date, information as to when a sound file was recorded is stored automatically with that file.
Built-in Stereo Microphone: The unit features two built-in microphones on the top of the recorder, angled at 90 degrees for a wide pickup pattern. You can set the recording level to Low, High, or Auto. In addition to the built-in microphones, the recorder also has a 3.5mm external microphone input. Microphones with plug-in power supplies can be used.
Headphone Jack: A 3.5mm headphone jack is provided on the top of the recorder to allow you to listen to recorded files, or monitor the audio during recording. No headphones are included with the recorder.
Recording Memory: The WS-853 features an 8 GB internal memory for recording and storing files. In addition, the recorder has a slot for microSD memory cards with capacities ranging from 2 to 32 GB.
USB Plug: The WS-853 has a retractable Type A USB plug at the top to let you plug the unit directly into your computer for transferring files, and charging the included rechargeable batteries. The unit is Hi-speed USB 2.0-compatible, and can work with the following Operating Systems: Windows 8/8.1, Windows 7, Windows Vista, and Mac OS X (v10.5-v10.10).
Stand: The recorder has a flip-down stand on the back panel that raises the recorder off the surface so the microphone doesn't pick up surface vibrations.
Power Requirements: The recorder is powered by two "AAA" rechargeable NiMH batteries (included). When the rechargeable batteries are exhausted, you can use two "AAA" alkaline batteries to continue recording. In the menu, you can indicate the type of batteries being used, Ni-MH or Alkaline, for best performance. When Alkaline has been selected, the recorder will not attempt to charge the batteries when it is plugged into your computer via USB. Charging the Ni-MH batteries via USB takes approximately 3 hours. Fully-charged batteries provide the following battery life:
Recording Mode
Battery Type
Recording
Playback
Built-in Mic
Speaker
Earphone
128 kbps
NiMH
30 Hrs
11 Hrs
49 Hrs
Alkaline
41 Hrs
15 Hrs
70 Hrs
64 kbps mono
NiMH
31 Hrs
11 Hrs
53 Hrs
Alkaline
48 Hrs
15 Hrs
73 Hrs
8 kbps mono
NiMH
74 Hrs
16 Hrs
64 Hrs
Alkaline
110 Hrs
24 Hrs
90 Hrs
Power Save: The Power Save function turns off the display and switches the unit to Standby after the recorder has been stopped for at least 5 minutes.
Recording Features
Recording Format: The WS-853 records audio files in MP3 format in three recording modes: 128 kbps, 64 kbps mono, and 8 kbps mono. The lower bit rates provide longer recording times while higher bit rates offer better quality recordings. The maximum size for a single file is limited to approximately 4 GB. Specifications per recording mode are as follows:
Recording Mode
128 kbps
64 kbps (mono)
8 kbps (mono)
Sampling Frequency
44.1 kHz
44.1 kHz
11.025 kHz
Frequency Response
70 Hz - 17 kHz
70 Hz - 15 kHz
70 Hz - 3.5 kHz
Approximate Recording Time
Internal 8 GB memory
130 hours
260 hours
2080 hours
microSD card
8 GB
132 hours
264 hours
2100 hours
16 GB
264 hours
525 hours
4230 hours
32 GB
530 hours
1060 hours
8480 hours
Low Cut Filter: The WS-853 has a Low Cut Filter to minimize low frequency sounds. This helps make voice recording clearer, especially in windy conditions.
Voice Balancer: The Voice Balancer function adjusts the volume levels of all speakers to roughly the same level for clearer playback. This compensates for uneven voice recordings when persons are varying distances away from the microphone.
Recording Scenes: A recording setting can be set to one of seven templates to suit the recording scene or situation. Each Recording Scene designates specific settings to suit the scene, including Recording Level (Lo/Hi/Auto), Recording Mode (128 kbps only), Low Cut Filter (On/Off), VCVA (On/Off), and V-Sync Rec (On/Off). The available Recording Scenes include:
Dictation: For recording your own voice and other sounds that are extremely close.
Meeting: Suitable for recording a meeting held in a small space.
Conference: Suitable for recording conferences in a large space
Duplication (Auto Divide): For duplicating cassette tapes and CDs. The silent intervals between tracks are detected to automatically divide the tracks so each one is saved as a separate file during recording.
Duplication (Timer): Records continuously to one file and stops when the set time is reached.
Telephone Rec: Suitable for recording telephone conversations.
DNS: Suitable for Speech Recognition software
VCVA Function: You can set the WS-853 to automatically start recording when it picks up sound and shut off when the sound stops. The Variable Control Voice Actuator (VCVA) lets you adjust the volume level threshold for starting and stopping recording. The VCVA level can be set to different values. You can set a detection time of 1, 2, 3, or 5 seconds. The recorder enters standby mode when the sound goes below the preset level for the set number of seconds.
Speech Recognition: Optional Dragon NaturallySpeaking software can automatically convert speech into text, making it easier to transcribe your recordings. The WS-853 was awarded 6 Dragons--the highest recognition rating from Nuance Communications, the maker of the Dragon software.
Hold Function: The recorder has a sliding On/Off switch. While recording or playing back a file, moving the switch to the Off position puts the recorder in the Hold mode. The recording or playback continues, but no other operations can be performed. This prevents any accidental operations during recording or playback.
Edit and Playback Functions
Playback Volume: The Olympus WS-853 lets you adjust the playback volume between 00 and 30.
Playback Frequency Response: The best frequency response during playback is 30 Hz to 20 kHz. The playback frequency response may be narrower depending upon the recording format.
File Storage: The recorded files are separated into five folders--A, B, C, D, and E. Each folder can store up to 200 files. You can search within each folder to find the desired file to play back, or use the Calendar Search function to search for files by their recording date.
Playback Speed: You can adjust the playback speed as you desire; slowing it down to review spots you couldn't understand, or speeding it up to listen to meeting content at a faster speed. You can vary the playback speed by 0.1x increments from 0.5x (half speed) to 2.0x normal speed. When playing back at a different speed, the WS-853 automatically adjusts the pitch to make the audio sound close to normal. You cannot manually adjust the pitch of the playback audio.
A-B Repeat: The A-B Repeat function lets you repeat a portion of a file over and over. This is helpful if you're transcribing a recording and need to listen to a segment repeatedly.
Noise Cancel: When listening to voice recordings, you can engage the Noise Cancel function to dramatically reduce unwanted background noise for clearer voice playback.
Index Marks: Setting an index mark lets you quickly find a location you want to listen to while fast forwarding or fast rewinding. Up to 99 index marks can be placed on a single file.
File Divide: Large files, or files with long recording times, can be divided for easier management or editing.
Erase: You can erase your recorded messages one by one, or all messages in a folder at one time.
File Lock: To prevent a file from being accidentally erased or edited, you can lock it. When a file is locked, it is regarded as a read-only file. It can later be unlocked, if desired.