Canon EOS 7D Mark II Wi-Fi® Kit
20.2-megapixel DSLR camera with GPS, Wi-Fi adapter, and 18-135mm f/3.5-5.6 IS USM lens
Item # 2807D135WF | MFR # 9128B135
Low Stock
Was: $2,249.00
Instant savings: -$450.00

Our VirginiaVA-based experts can help.
Overview
Our take on the Canon EOS 7D Mark II Wi-Fi® Kit by Crutchfield's Eric Angevine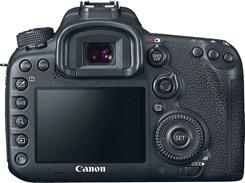 The Canon EOS 7D Mark II puts creative photography at your fingertips.
Create art with this camera
The EOS 7D Mark II is loaded with technology that's dedicated to helping you create beautiful art. The camera's 20.2-megapixel image sensor captures ultra-clear images with low noise and high sensitivity. Dual DIGIC 6 image processors let you take huge RAW format photos quickly and store them accurately. You can focus on finding the right subject and snapping the shutter at precisely the right moment, secure in the knowledge that the Mark II is doing the heavy lifting while you perfect the aesthetics.
Fast enough for a moving subject
The Mark II packs an amazing 65 cross-type autofocus sensors into your frame, ensuring that you can zero in on your subject wherever it may be, and maintain focus even when it's in motion. You can freeze the action with shutter speeds down to 1/8000th of a second and shoot a blazing-fast 10 frames per second in sequence. Then, you can switch over to video mode and record a smooth, vivid HD clip. Objects in motion look fantastic when shot with this camera.
Excellent low-light performer
Optimized for low-light shooting, the EOS 7D Mark II's sensor captures images at up to ISO 16000 with remarkably low noise, making excellent low-light photography and moviemaking possible. Its extended high ISO settings (up to 51,200) make it ideal for night shots or indoor settings, where the lack of light or restrictions on flash use would normally make shooting impossible.
A go-to lens for stills and video
The included EF-S 18-135mm IS USM lens ensures you don't have to do a lot of lens changing if you like varied shooting styles for different subjects. Use it for portraits as well as candid close-ups, and experiment with different focal lengths for different background effects. Canon's NANO USM system combines USM (ultrasonic motor) and STM (stepping motor) mechanisms for precise, ultra-quiet, super-speedy focusing for both still photography and movies. If you're a videographer, check out Canon's new PZ-E1 power zoom adapter. Designed specifically to work with this lens, it broadens your movie-shooting capabilities and provides smooth, reliably consistent electronic zoom.
Wi-Fi and GPS for a smooth workflow
The included W-E1 Wi-Fi adapter lets you transfer images and MP4 movies from the camera to your compatible phone or tablet with Canon's free Camera Connect app. Use the app to change camera settings, and turn your mobile device into a wireless remote. The camera's GPS system helps you tag your images with location data and automatically adjusts the time settings. Wi-Fi lets you quickly upload your geotagged images when you're shooting in remote locations.
Product Highlights:
20.2-megapixel effective recording
APS-C-size CMOS image sensor (22.4 x 15 mm)
dual DIGIC 6 image processors provide exceptional image quality and high-speed shooting
includes EF-S 18-135mm f/3.5-5.6 IS USM lens (35mm equivalent focal length: 28.8-216mm)
included W-E1 Wi-Fi adapter allows easy file sharing and remote control from smart devices
built-in GPS provides geotag information including auto time syncing with Universal Time Code via satellites
high-res 3" LCD (1,040,000 dots) with Live View
high-def movie mode with sound
65-point autofocus system with all cross-type sensors for rapid, precise autofocusing even in low-light
shoots up to 10 frames per second in burst mode
built-in flash with flash exposure compensation
compatible with all Canon EF and EF-S lenses
warranty: 1 year
Exposure Modes and Controls:
continuous shooting mode: up to 8 frames per second (up to 130 JPEG images, or 24 RAW images)
shutter speed range: 30-1/8,000 seconds, bulb
sensitivity or ISO (film speed equivalent) range: 100-51,200
shooting modes: auto (stills and movie), creative auto, program auto, shutter-priority, aperture-priority, manual (stills and movie), 3 custom settings
top JPEG resolution (pixels): 5,472 x 3,648
movie image size: up to 1,920 x 1,080 resolution
dual card slots accept optional Type I CompactFlash® memory cards and SD, SDHC and SDXC memory cards
Connections and Dimensions:
USB 3.0 SuperSpeed interface
5-7/8"W x 4-7/16"H x 3-1/8"D
weight (without battery and media): 28.9 oz.
Supplied Accessories:
rechargeable LP-E6 lithium ion battery
LC-E6 battery charger
adjustable neck strap
USB and audio/video cables
body cap and eye-piece cap
software CD-ROM (PC and Mac)
What's in the Box:
Canon EOS 7D Mark II Wi-Fi® Kit Owner's manual
Digital SLR camera body (black)
Body cap (installed)
LP-E6N Lithium-ion battery pack (7.2V 1865mAh 14Wh) with plastic terminal cover
LC-E6 battery charger
EF-S 18-135mm f/3.5-5.6 IS USM zoom lens
E-67II lens cap (installed)
Rear dust cap (installed)
59" IFC-150U-II USB 3.0 cable (Type A USB on one and USB 3.0 Micro B on other end)
Cable protector (attached to USB cable)
W-E1 Wi-Fi Adapter
Wide neck strap
Eye-piece cover (on neck strap)
EOS Digital Solution Disk ver.31.4 CD-ROM
Basic Instruction Manual (Eng/Span)
Camera body Limited Warranty card
"Try My Photo" brochure
Lens Warranty card
Why Shop
With Us?
12 Reasons.
---
Details
Product Research
Recording Features
18-135mm Lens
Play, Edit, and Print Functions
Battery Information
Supplied Software
Recording Features
Overview: The Canon EOS 7D Mark II Wi-Fi Adapter Kit contains the EOS 7D Mark II DSLR, the EF-S 18-135mm IS USM zoom lens, and the new W-E1 Wi-Fi Adapter. The Wi-Fi Adapter enables wireless communications with compatible smartphones, tablets, and computers through dedicated apps. The kit also includes the LP-E6N Lithium-Ion battery and battery charger.
W-E1 Wi-Fi Adapter: The included W-E1 Wi-Fi adapter is the size and shape of an SD card, and fits into the SD card slot on the camera. With the adapter installed, the EOS 7D Mark II can wirelessly send photos and videos to your connected smart device or computer (through the Canon Camera Connect app). You can also control the camera remotely from your device, up to approximately 32.8 feet away. The Wi-Fi Adapter is compatible with iOS devices running iOS versions 8.0, 8.1, 8.2, 8.3, 8.4, 9.0, 9.1, 9.2, 9.3 and up, as well as Android smartphones and tablets running Android 4.1, 4.2, 4.3, 4.4, 5.0, 5.1, 6.0 and later.
Note: When the W-E1 is installed, you will need to insert a CompactFlash card into the camera to record and store images.
Magnesium Alloy Body: The camera body is constructed of the highest quality materials. The chassis is built of lightweight and rigid magnesium alloy with seals that resist water and dust. The shutter is built to shoot at speeds of up to 1/8000 sec for up to 200,000 cycles.
Viewfinder: The EOS 7D Mark II features the Intelligent Viewfinder II that offers 100% coverage, 1x magnification, a 29.6° angle of view, and a user-controlled dioptric adjustment. A number of viewfinder displays can be overlaid at the touch of a button, including shooting mode and exposure level. A dual-axis Electronic Level shows you when the camera is level horizontally and vertically. An eyepiece cover is provided to prevent stray light from entering the eyepiece during self-timer or remote control photography.
Clear View II LCD Monitor: The EOS 7D Mark II features a 3" Clear View II TFT color LCD monitor with approximately 1,040,000 pixels which allows you to view and shoot real-time images. The LCD monitor offers 100% viewing coverage and automatic or manual brightness settings (7 levels).
Live View: The Live View Function enables shooting still images or movies while viewing the subject directly on the camera's 3" LCD monitor. When shooting in the Program, Shutter-priority, Aperture-priority, Manual, or Bulb modes, you can check the depth of field by pressing the Depth-of-Field Preview button.
20.2 Megapixel CMOS Sensor: The EOS 7D Mark II features a 20.2 Megapixel APS-C size (22.4 x 15.0mm) CMOS sensor with a 3:2 aspect ratio that captures a high level of resolution so it's easy to crop images for enlargement without concern of losing detail. A major factor in reducing noise, the CMOS sensor assures that images shot at highest sensitivity will be remarkably smooth.
Dual DIGIC 6 Image Processors: The EOS 7D Mark II's image sensor is backed up by the new dual DIGIC 6 Image Processors for advanced image processing. The dual processors allow you to capture up to 1090 JPEG, 31 RAW, and 19 RAW+JPEG shots in a single burst, so you'll capture all of the action. Also, corrections for lens aberration, illumination, and distortion can be corrected on-the-fly.
Sensor Cleaning: The Canon EOS 7D Mark II digital SLR camera has a self-cleaning sensor unit attached to the image sensor's front-layer (low-pass filter) to shake off dust automatically. The dust delete data can also be appended to the image so that the dust spots remaining can be erased automatically by the provided Digital Photo Professional software.
Note: Dust which could not be removed by the automatic sensor cleaning can be removed manually with a blower.
Dual Media Slots: The EOS 7D Mark II features two memory card slots: one for Type I CompactFlash Cards (including UDMA mode 7-compatible cards), and the other for SD/SDHC/SDXC memory cards (including UHS-I cards). If the SD card slot is used for the W-E1 Wi-Fi Adapter, you must insert a CompactFlash card into the camera for recording and storing photos and videos. There are several options for shooting with multiple cards:
Standard: Images will be recorded to the selected card.
Auto Switch: Images will be recorded to the selected card, but automatically switched to the other card when the selected card becomes full.
Record Separately: You can set the image-recording quality for each card individually. This allows you to shoot Large JPEG images to the SD card and RAW images to the CompactFlash simultaneously.
Record to Multiple: Each image is recorded to both the CF and SD cards simultaneously at the same image size.
Note: No recording media is supplied with the camera.
Built-in GPS: The camera has built-in GPS that can record longitude, latitude, direction, and altitude data and imbed it within the image and movie files. It can also track movement at set intervals with its logging function, and can set the camera's internal clock. When playing back images and movies on a computer, you can track your movements on a map and see where and when you took each image.
Still Image Recording Formats: The EOS 7D Mark II records still images in the following formats:
JPEG: The camera can record 3:2 aspect ratio still images in JPEG format. You can choose from the following resolutions: Large (20MP: 5472 x 3648), Medium (8.9MP: 3648 x 2432), Small 1 (5MP: 2736 x 1824), Small 2 (2.5MP: 1920 x 1280), and Small 3 (0.3MP: 720 x 480). For Large, Medium, and Small 1, you can set the compression to Fine or Normal Quality. Small 2 and Small 3 are in Fine Quality.
RAW Format: The RAW file format records the image data as captured by the camera CMOS sensor without further processing and converts it to digital data and records it onto the card as is. You can choose from the following RAW resolutions: RAW (5472 x 3648), mRAW (4104 x 2736), or sRAW (2736 x 1824). RAW images can be processed and converted to JPEG images using the supplied Digital Photo Professional software. Large RAW images can also be processed in the camera.
Movie Recording Formats: The EOS 7D Mark II can also record movies in MOV and MP4 formats. The camera supports Full HD 1920 x 1080 (60/30/24 fps), HD 1280 x 720 (60/30 fps), and SD 640 x 480 (30 fps). There are three compression methods that you can choose from:
All-I: Compresses one frame at a time for recording. File sizes are generally larger, but the movie is more suited for editing.
IPB Standard: Compresses multiple frames at a time efficiently for recording. File sizes are smaller, allowing you to shoot more footage with the same card.
IPB Light: You can select this method when recording in MP4. The bit rate is lower than IPB Standard resulting in smaller file sizes, and compatibility with a larger range of playback systems. Allows the longest possible movie shooting times on cards of a given capacity.
Drive Modes: The Canon EOS 7D Mark II offers the following Drive (Shutter) modes.
Single Shooting: When you press the shutter button completely, one shot will be taken.
Continuous Shooting: While you press the shutter button completely, shots will be taken continuously. You can choose from two speeds:

High-Speed: maximum approximately 10 shots per second
Low-Speed: maximum approximately 3 shots per second

Silent Shooting:

Single: a single shot will be taken, but with a quieter sound than normal
Continuous: multiple shots will be taken, but quieter than normal. Shooting speed approximately 4 shots per second.

Self-Timer/Remote Control: The camera will record an image 2 or 10 seconds after pressing the shutter button on the camera or a compatible remote.
Note: The EOS 7D Mark II is compatible with Canon IR wireless remote controls (RC-6, RC-5, or RC-1), that allow you to shoot remotely up to approximately 16.4 feet.
65-Point, All Cross-Type AF System: The EOS 7D Mark II features a high precision auto focus system with 65 all cross-type AF points. The AF points are spread over a wide area of the frame, resulting in faster auto focusing no matter where the subject is. The number of available AF points varies according to the lens used. The number of AF points and the AF area are selectable as follows:
AF Area:

Single-point Spot AF (manual selection)
Single-point AF (manual selection)
AF point expansion (manual selection)
AF point expansion (manual selection of surrounding points)
Zone AF (manual selection of zone)
Large Zone AF (manual selection of one of three zones)
65-point automatic selection AF

AF Modes:

One-Shot AF: suited for still subjects, the camera focuses only once
AI Servo AF: for moving subjects when the focusing distance keeps changing. The subject will be focused continuously while the shutter button is pressed halfway
AI Focus AF: switches from One-Shot AF to AI Servo AF automatically if the subject starts moving
AF Assist Lamp: The camera's built-in flash will fire a series of flashes in a row to assist during auto-focusing in low-light situations. This is called the AF-assist beam. It is effective up to 13.1 ft.
Shooting Modes: The EOS 7D Mark II offers the following shooting modes:
Scene Intelligent Auto: This is a fully automatic shooting mode. The camera analyses the scene and sets the optimum settings automatically. It also adjusts focus automatically by detecting whether the subject is still or moving.
Program AE (P): The camera automatically sets the shutter speed and aperture value to suit the scene's brightness.
Shutter-priority AE (Tv): You set the shutter speed and the camera automatically sets the aperture value to suit the brightness of the subject. A faster shutter speed freezes the action of a moving subject, while a slower shutter speed can create a blurred effect, giving the impression of motion.
Aperture-priority AE (Av): You set the desired aperture value and the camera sets the shutter speed automatically to suit the subject brightness. A higher f/number (smaller aperture) will make more of the foreground and background fall within acceptable focus. A lower f/number (larger aperture) will make less of the foreground and background fall within acceptable focus.
Manual Exposure (M): You set both the shutter speed and aperture value as desired. You can use the exposure level indicator in the viewfinder or a commercially-available exposure meter to help you determine the proper exposure.
Bulb Exposures (B): When taking Bulb Exposures, the shutter stays open as long as you hold down the shutter button completely, and closes when you release the shutter button. This mode is for night scenes, fireworks, astrophotography, and other subjects requiring long exposures. Using a tripod is highly recommended. To assist you in making bulb exposures, you can use the Bulb Timer so you won't need to hold down the shutter button. You can also use a remote switch (RS-80N3), timer remote controller (TC-80N3), or remote controller (RC-6) when making bulb exposures.
Custom Modes (C1/C2/C3): You can register frequently used camera settings in one of the three Custom Shooting Mode positions. You can store your favorite shooting mode, menu functions, custom function settings, and custom shooting modes.
Exposure Compensation: Exposure compensation is used to alter the camera's standard exposure setting. You can make the image look lighter (increased exposure) or darker (decreased exposure). The exposure compensation amount can be set up to +/-5 stops in 1/3- or 1/2-stop increments. The LCD monitor and viewfinder can only display +/-3.0 stops of exposure compensation.
Auto Exposure Bracketing: With auto exposure bracketing (AEB), the camera automatically changes the exposure level up to +/-3 stops in 1/3- or 1/2-stop increments for three successive shots.
AE Lock: AE lock enables you to lock the exposure at a different place from the point of focus. After locking the exposure, you can recompose the shot while maintaining the desired exposure level. This feature is useful for backlit and spotlighted subjects.
RGB+IR Metering Sensor: The EOS 7D Mark II features a new iSA (Intelligent Subject Analysis) metering system with a 150,000-pixel RGB+IF light sensor and 252 zones. You can select from the following metering modes:
Evaluative Metering: The camera's standard metering mode suited for most subjects even under backlit conditions, after detecting the main subject's position, brightness, background, front and back lighting conditions, etc, the camera sets the proper exposure
Partial Metering: Effective when the background is much brighter than the subject due to backlighting, etc, uses approximately 8% of the frame at the center
Spot Metering: For metering a specific part of the subject, uses approximately 3.5% of the frame at the center
Center-weighted Average Metering: Metering is weighted at the center and then averaged for the entire scene
Note: In the Scene Intelligent Auto shooting mode, Evaluative Metering is automatically set.
ISO Speed: The camera features an Auto ISO setting which allows the camera to automatically set the ISO speed from 100 to 6400 in Scene Intelligent Auto mode, or 100 to 16000 in P, Tv, Av, or M modes. The camera's ISO speed can be manually set between 100 and 16000 in 1/3-stop increments to suit your shooting conditions. Two extended ISO speeds are available: H1 (equivalent to ISO 25600) and H2 (equivalent to ISO 51200). You can also set ISO Speed ranges for Auto ISO and Manual ISO.
Built-in Flash: The Canon EOS 7D Mark II digital SLR camera features a built-in pop-up flash with a Guide Number of 11/36.1 (ISO 100 in meters/feet). The camera allows you to adjust the flash exposure compensation up to +/-3 stops in 1/3- or 1/2-stop increments.
External Flash: The camera's hot shoe is compatible with Canon's EX-series Speedlites (90EX, 270EX II, 320EX, 430EX II, and 600EX II.). The camera's built-in flash can work as a master unit with Canon Speedlites having a wireless slave feature and wirelessly trigger the Speedlite to fire.
Picture Style: By selecting a picture style you can achieve various effects matching your photographic expression or the subject. You can also adjust the Sharpness, Contrast, Saturation and Color tone of each Picture Style. Picture Style selections include: Auto, Standard, Portrait, Landscape, Neutral, Faithful, Monochrome, and User Defined (1, 2, 3).
White Balance: You can choose from the following white balance settings: Auto, Daylight, Shade, Cloudy/Twilight/Sunset, Tungsten light, White fluorescent light, Flash use, Custom, and Color Temperature.
Color Space: The color space refers to the range of reproducible colors. With this camera, you can set the color space for captured images to sRGB or Adobe RGB. For normal images, sRGB is recommended. In the camera's full-automatic modes, sRGB will be set automatically.
Histogram: A histogram is a graph showing the brightness of an image. The graph display indicates a bright image when skewed to the right side, and a dark image when skewed to the left side.
Mirror Lockup: The Mirror Lockup feature helps prevent camera vibration caused by mirror shock when using a super telephoto lens or shooting close-ups.
Multi-Language: The camera's menus system supports 25 different languages including English, French and Spanish.
18-135mm Lens
Standard Zoom Design: The focal range of the Canon EF-S 18-135 f/3.5-5.6 IS USM standard zoom lens gives you versatile wide-angle to telephoto shooting options. It features a focal length range equivalent to 29-216mm in the 35mm film format.
Optical Image Stabilizer (IS): The lens features an Optical Image Stabilizer for up to 4-stops of effective correction even at full zoom. Since the Optical Image Stabilizer system is in the lens, not in the camera, you can see the stabilized, steadier images through the viewfinder. The Stabilizer switch is located on the barrel of the lens.
Nano USM: The EF-S 18-135mm IS USM lens features Canon's new Nano USM AF system combining a Ring USM (ultrasonic motor) and an STM (stepping motor) for near-silent video and high-speed auto focusing. The tiny chip-shaped ultrasonic motor delivers smooth, precise auto focusing, plus allows full time manual focusing when using One-Shot AF.
Faster Auto Focusing: The new Nano USM motor focuses approximately 4.3 times faster at the telephoto end (135mm) and 2.5 times faster at the wide end (18mm) when using the viewfinder, compared to the previous model (EF-S 18-135mm f/3.5-5.6 IS STM).
Optional Power Zoom Adapter: The EF-S 18-135mm IS USM lens is compatible with Canon's new PZ-E1 Power Zoom Adapter, which allows you to control the zooming electronically. The PZ-E1 features adjustable zoom speeds, a locking mechanism, and can be controlled by remote control. The adapter is ideal for enhancing your camera's video capabilities by providing smooth and near-silent powered zooming. Electrical contacts are provided on the barrel of the EF-S 18-135 IS USM lens for connecting to the adapter.
Auto/Manual Focus Modes: To shoot in Auto Focus mode, you must set the focus mode switch on the lens to "AF." The Auto Focus adjustment is gear-driven by a DC monitor. To manually focus the camera, you must set the switch to "MF," and focus by turning the focusing ring. The AF/MF switch is located on the barrel of the lens.
Optional Accessories: The lens has a 67mm filter thread diameter for optional filters and lens hoods. The following accessories are sold separately:
Lens Hood: The optional EW-73D hood can keep unwanted light out of the lens and also protects the front of the lens from rain, snow, and dust.
Extension Tubes: The optional EF12 II (1.2x) and EF25 II (2.5x) extension tubes can be added for magnified shots.
Filters: You can add an optional 67mm UV protector filter or a 67mm Circular Polarizer filter to this lens. In addition, with the use of an optional gelatin filter holder, you can add various gelatin filters for creating special effects.
Case: The LP1116 case helps protect the lens when it's not in use.
Specifications:
Focal Length: 18-135mm (29-216mm in 35mm film format)
Lens Construction: 16 elements in 12 groups
Maximum Aperture: f/3.5-5.6
Minimum Aperture: f/22-36
Angle of View:

Diagonal: 74º 20' - 11º 30'
Vertical: 45º 30' - 6º 20'
Horizontal: 64º 30' - 9º 30'

Minimum Focusing Distance: 0.39 m/1.28'
Magnification: 0.28x (at 135mm)
Filter Diameter: 67 mm
Dimensions: Diameter: 3.059", Length=4.102" (w/o caps), 4.771" (w/caps)
Weight: 18.2 ounces
Play, Edit, and Print Functions
Auto Rotation: Vertical shots can be rotated automatically so that they are displayed upright during playback.
Image Review: The image can be displayed on the LCD monitor immediately after you shoot. The review time can be set to off (not displayed), 2 seconds, 4 seconds, 8 seconds, or Hold, which keeps the image displayed on the LCD monitor until the camera is focused again.
Playback Grid: In single-image display and two-image display, you can overlay a grid on the image. You can select 3x3 grid, 6x4 grid, or 3x3+diagonal. The grid cannot be displayed during movie playback.
Slide Show: You can view all images on the Compact Flash Card one after another with the Auto Playback function (slide show). You can choose which recorded images will be displayed in the slide show by selecting All images, Movies, Stills, or Protected images. You can also select slides by date, folder, or rating.
Index Display: This feature allows you to view 4, 9, 36, or 100 images at once on the LCD monitor so that you can search for an image quickly.
Jump Playback: During single-image playback, you can jump to images 1, 10 or 100 images at a time. You can also display photos by date, folder, movies only, stills only, protected images only, and by image rating.
Image Magnification: When viewing a still picture in single image playback mode, you can magnify the image from 1.5x to 10x. While the image is magnified, you can scroll anywhere around the image.
Rotating Images: You can rotate an image by 90° or 270° clockwise in the LCD monitor.
Protect Images: You can select specific images from being erased accidentally.
HDMI Output: There is a mini-HDMI jack (Type C) which allows you to connect the camera to an HDTV. A mini-HDMI-to-HDMI cable, such as the Canon HTC100, is required.
Printing Effects: The digital SLR camera allows you to choose from the following Printing Effects.
On: image will be printed according to the printer's standard colors
Off: no automatic correction will be performed
Vivid: image will be printed with higher saturation to produce more vivid blues and greens
NR: image noise is reduced before printing
B/W: prints in black-and-white with true blacks
B/W Cool Tone: prints in black-and-white with cool, bluish blacks
B/W Warm Tone: prints in black-and-white with warm, yellowish blacks
Natural: prints the image in the actual colors and contrast
Natural M: printing characteristics are the same as the "Natural" setting, however this setting enable finer printing adjustments
Default: printing will differ depending on the printer
Brightness: The image brightness can be adjusted within the camera before printing.
Red-Eye Correction: The red eye phenomenon will be corrected within the camera before printing.
Cropping: You can crop an image and print only the trimmed portion as if the image was recomposed. The cropping frame size can be changed, moved, or inverted to create the perfect size print. If your cropped image is tilted, you can apply tilt correction from -10 to +10 degrees in 0.5-degree increments.
DPOF Print Settings: You can select which image or images you want to print and how many copies you want. This is convenient for printing images all at once, on optional Canon Direct Print Function-compliant printers, on PictBridge compliant printers, or at participating photo labs. The camera is compliant with DPOF Version 1.1.
Battery Information
Power Options: The EOS 7D Mark II is powered by the supplied LP-E6N Lithium-Ion battery (7.2V, 1865mAh, 14Wh). The battery can be charged in the supplied LC-E6N battery charger in approximately 150 minutes. You can use AA batteries in the optional BG-E16 battery grip. The supplied battery performance specs are as follows:
Temperature

Possible Shots

No Flash Use
50% Flash Use

23° C/73° F

Approx. 800 shots
Approx. 670 shots
0° C/32° F
Approx. 760 shots
Approx. 640 shots
Optional AC Power: With the optional ACK-E6 AC adapter kit, you can connect the camera to a household power outlet and not worry about the battery becoming exhausted.
Auto Power Off: To save battery power, the camera turns off automatically after a period of non-operation. The Auto Power Off time can be set to 1 minute, 2 minutes, 4 minutes, 8 minutes, 15 minutes, or 30 minutes.
Note: The Auto Power Off function will not activate in Auto Playback Mode.
Supplied Software
Supplied Software: The EOS 7D Mark II comes bundled with the EOS Digital Solution Disc Ver.31.4, which includes:
Digital Photo Professional 4.5.10 (Windows/Macintosh): This software allows you to quickly view, edit, process, and print RAW images. You can also edit JPEG images while retaining the original images.
EOS Utility Ver.3.5.10 (Win/Mac): While the camera is connected to a computer, EOS Utility lets you transfer still photos and movies shot with the camera to the computer, as well as set various camera settings, and shoot remotely from the computer.
Picture Style Editor Ver.1.17.10 (Win/Mac): Canon's Picture Style Editor enables photographers to create and save original Picture Style files. The software is aimed at advanced users who are experienced in processing images.
OS Requirements: The above-listed software is compatible with computers with the following operating systems:
Windows: Windows 10, Windows 8.1, Windows 8, Windows 7 (32/64-bit): compatible with 32-bit/64-bit systems for all versions except Starter Edition
Macintosh: Mac OS X 10.11, 10.10, 10.9, 10.8
Software/Camera Instruction Manuals: In addition to the EOS Digital Solution software disk, the camera also includes the EOS Digital Software Instruction manual on CD-ROM and the Camera Instruction manual on CD-ROM. Both discs are compatible with Windows and Macintosh.
Our Product Research Team
At Crutchfield, you'll get detailed, accurate information that's hard to find elsewhere. That's because we have our own in-house Product Research team. They verify what's in the box, check the owner's manual, and record dimensions, features and specs. We stay on top of new products and technologies to help people make informed choices.