Canon EOS 5DS (no lens included)
50.6-megapixel full-frame digital SLR camera body with professional-quality HD video mode
Item # 280EOS5DS | MFR # 0581C002
Low Stock
Was: $3,699.00
Instant savings: -$200.00
$3,499.00 or 3 payments of $1166.33 Details
Earn up to 3,499 Rewards points

Our VirginiaVA-based experts can help.
Overview
Our take on the Canon EOS 5DS (no lens included) by Crutchfield's Eric Angevine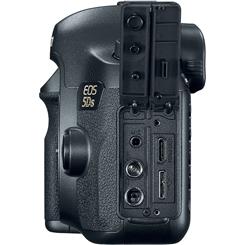 The Canon EOS 5DS offers high-quality connections so you can share dramatic high-resolution images in all their glory.
Maximum detail
Yeah, you read that right. The Canon EOS 5DS records images with 50 megapixels of resolution. That's roughly twice as many as you'll find in other DSLR models. It's ideal for commercial and fine art photography, where contrast, color and detail must shine through. It reproduces still images in 8712 x 5813 pixel resolution, delivering photographs with an unprecedented level of realism. The camera's dual DIGIC 6 image processors provide enough pure number-crunching power to keep the camera's functions moving quickly, so you never miss a great shot.
Autofocus when you need it
When your subject is standing still, you can take manual control of your focus settings. If you're tracking a moving subject, why not let Canon's sophisticated 61-point autofocus render an assist? Canon's Intelligent Tracking and Recognition system synchronizes the active AF point with the subject's motion, helping to ensure that you stay sharply focused on your subject as it moves. In burst mode, the camera shoots up to 5 frames per second with superb quality.
Thoughtful design
Mega-high-resolution makes it easy to see what's great in a photograph, but it also makes the margin for error tiny. Canon's engineers made crucial adjustments inside the camera body to make sure even the most discerning eye will be pleased. The camera's mirror is not controlled by springs but instead is driven by a small motor and cams. This system suppresses the slight impact you'd get from a standard DSLR mirror, and the minor blurring it can cause. The camera also employs an anti-flicker technology that captures ideal lighting even under fluorescent bulbs. Overkill? Not if you demand perfection.
Great-looking video, too
More and more, serious shooters are turning to DSLR cameras for their ability to produce excellent video as well as still images. The 5DS creates HD movies with sufficient manual controls and frame rates to provide lots of creative options. The camera can also be programmed to snap photos while in video mode, so you get the best of both worlds. If you want something in-between, there's a time-lapse movie feature that takes still photos at set intervals and joins them to create a silent movie.
Product Highlights:
50.3-megapixel effective recording for maximum detail and sharpness

maximum image size (pixels): 8712 x 5813

full-frame CMOS image sensor (36 x 24mm)
shoots high-quality HD video at up to 1920 x 1080 resolution
dual DIGIC 6 image processors for fast shooting performance and accurate color reproduction at maximum resolution
61-point autofocus system improves low-light AF performance and tracking accuracy
compatible with Canon EF lenses (does not support EF-S lenses)
high-res 3.2" color LCD screen (1,040,000 dots) with automatic brightness adjustment (manual 7-step settings available)
Live View modes (with Face Detection, Quick, and Live autofocus, plus manual focus with 5X or 10X magnification) for composing shots with the LCD screen
eye-level pentaprism viewfinder with diopter adjustment
linear PCM audio recording with built-in monaural microphone (input for optional external stereo microphone)
Intelligent Viewfinder II superimposes camera and exposure settings over image preview
hot shoe for Canon EX-series Speedlite flash accessories (no flash included)
sensitivity or ISO (film speed equivalent) range: 100-12,800
shutter speed range: 1/8000 to 30 seconds, bulb, flash synch at 1/200 second
continuous high-speed shooting at 5 frames per second for up to 65 frames
accepts CompactFlash® memory cards (Type I and/or UDMA compliant) and SD, SDHC and SDXC UHS-I compliant memory cards
Connections and Dimensions:
mini HDMI output (cable not included)
3.0 super-speed USB interface
NTSC/PAL video output
6"W x 4-5/8"H x 3"D
weight (with battery): 32.8 oz.
warranty: 1 year
Supplied Accessories:
lithium ion rechargeable battery (LP-E6)
AC battery charger
audio/video and USB cables
eyecup
neck strap
body cap
software CD-ROMs (PC & Mac)
What's in the Box:
Canon EOS 5DS (no lens included) Owner's manual
EOS 5DS DSLR camera body
Body cap (installed)
LP-E6N Lithium-Ion rechargeable battery (7.2V 1865mA 14Wh) with plastic terminal cover
LC-E6 Battery charger (DC output: 8.4V 1.2A)
Eyecup EG
5' IFC-150U II Interface cable (Type A USB on one end and SuperSpeed USB 3.0 Micro-B on other end) with attached plastic cable protector
Wide cloth neck strap
EOS Digital Solution Disk Ver. 30.2 CD-ROM
Camera Instruction Manual on CD-ROM
Basic Instruction Manual (English)
Basic Instruction Manual (Spanish)
Quick Reference Guide (English)
Quick Reference Guide (English)
Connect Station CS 100 brochure
Try My Photo promo card
Warranty Registration card
Why Shop
With Us?
12 Reasons.
---
Details
Product Research
Recording Features
Play, Edit, and Print Functions
Inputs/Outputs
Battery Information
Supplied Software
Recording Features
Overview: The Canon EOS 5DS digital SLR has a standard Canon EF mount, and is compatible with Canon EF lenses. Because the 5DS has various crop modes, EF-S are not recommended for this camera. No lenses are included in the "body only" kit.
Intelligent Viewfinder II: The Canon EOS 5DS uses an eye-level pentaprism Intelligent Viewfinder II with 0.71x magnification for approximately 100% vertical and horizontal coverage. The viewfinder uses a transparent LCD to superimpose a customizable combination of focus points and gridlines directly over the image. At the top of the viewfinder is the electronic level, and an area along the bottom can indicate battery level, white balance, drive mode, AF operation, Metering Mode, JPEG/RAW, Flicker Detection, and Warning Symbol. The Intelligent Viewfinder II lets you customize the information displayed or superimposed over the image.
Clear View II LCD Monitor: The EOS 5DS features a 3.2" Clear View II TFT color LCD monitor with approximately 1,040,000 dots which allows you to view and shoot real-time images. The LCD monitor offers 100% viewing coverage, 3 auto brightness settings, and 7 manual brightness levels to choose from. In Live View, grid lines can be displayed in 9 sections (3x3), 24 sections (6x4), or 9 sections with diagonals, as well as a dual-axis electronic level. The Live View function enables you to shoot your subjects while viewing them on the LCD monitor.
22.3 Megapixel CMOS Sensor: The EOS 5DS features a huge, full-frame sensor. The 50.6-megapixel CMOS sensor is the highest resolution sensor in the history of EOS cameras. It can capture images up to 8712 x 5813 pixels, which are ideal for large-scale commercial printing, fine art, and if you're going to crop the photo significantly. Because it is full-frame, Canon EF lenses will deliver the angle of view they would on a 35mm film camera without a conversion factor. This comes in handy especially when shooting with wide-angle lenses.
Dual DIGIC 6 Image Processors: The EOS 5DS uses two of Canon's DIGIC 6 Image Processors. It can deliver 5 fps continuous shooting and impressive low-noise results at high ISO settings.
Sensor Cleaning System: The camera's Self Cleaning Sensor automatically shakes off dust that gets adhered to the image sensor's front layer (low pass filter) when the camera is powered on or off. The action can also be performed manually when needed. In addition, you can append any visible dust spots on images using the Dust Delete Data feature found in the provided Digital Photo Professional software.
Dual Recording Media Slots: The EOS 5DS has two slots for inserting recording media. The camera can use a Type I CompactFlash (CF) card (UDMA mode 7-compliant) or an SD card (SD, SDHC, or SDXC, including UHS-I compliant). If a card is inserted in both slots, you can select which card to record images to, or record the same images simultaneously on both cards. No recording media is supplied with the camera.
Still Image Recording Format: The camera records still images in JPEG and RAW (14-bit) formats. Simultaneous RAW + JPEG recording is also possible in a variety of sizes. Images taken in the native 3:2 aspect ratio can be taken at full size, Crop 1.3x or Crop 1.6x. You can also change aspect ratio 4:3, 16:9, or 1:1. Available image sizes include:
Aspect Ratio 3:2 - Full Size:

Large: Approx. 50.3 MP (8688 x 5792)
Medium 1: Approx. 39.3 MP (7680 x 5120)
Medium 2: Approx. 22.1 MP (5760 x 3840)
S1 (Small 1): Approx. 12.40 MP (4320 x 2880)
S2 (Small 2): Approx. 2.50 MP (1920 x 1280)
S3 (Small 3): Approx. 350,000 Pixels (720 x 480)
RAW: Approx. 50.3 MP (8688 x 5792)
M-RAW: Approx. 28.50 MP (6480 x 4320)
S-RAW: Approx. 12.40 MP (4320 x 2880)

Aspect Ratio 3:2 (Crop - 1.3x):

Large: Approx. 30.5 MP (6768 x 4512)
Medium 1: Approx. 24.1 MP (6016 x 4000)
Medium 2: Approx. 13.6 MP (4512 x 3008)
S1 (Small 1): Approx. 7.6 MP (3376 x 2256)
S2 (Small 2): Approx. 2.5 MP (1920 x 1280)
S3 (Small 3): Approx. 0.35 MP (720 x 480)

Aspect Ratio 3:2 (Crop - 1.6x):

Large: Approx. 19.6 MP (5424 x 3616)
Medium 1: Approx. 15.4 MP (4800 x 3200)
Medium 2: Approx. 8.7 MP (3616 x 2408)
S1 (Small 1): Approx. 4.9 MP (2704 x 1808)
S2 (Small 2): Approx. 2.50 MP (1920 x 1280)
S3 (Small 3): Approx. 0.35 MP (720 x 480)

Aspect Ratio: 1:1

Large: Approx. 33.5 MP (5792 x 5792)
Medium 1: Approx. 26.2 MP (5120 x 5120)
Medium 2: Approx. 14.7 MP (3840 x 3840)
S1 (Small 1): Approx. 8.3 MP (2880 x 2880)
S2 (Small 2): Approx. 1.6 MP (1280 x 1280)
S3 (Small 3): Approx. 0.23 MP (480 x 480)

Aspect Ratio: 4:3

Large: Approx. 44.7 MP (7712 x 5792)
Medium 1: Approx. 34.9 MP (6816 x 5120)
Medium 2: Approx. 19.7 MP (5120 x 3480)
S1 (Small 1): Approx. 11.1 MP (3840 x 2880)
S2 (Small 2): Approx. 2.2 MP (1712 x 1280)
S3 (Small 3): Approx. 0.31 MP (640 x 480)

Aspect Ratio: 16:9

Large: Approx. 42.5 MP (8688 x 4888)
Medium 1: Approx. 33.2 MP (7680 x 4320)
Medium 2: Approx. 18.7 MP (5760 x 3240)
S1 (Small 1): Approx. 10.5 MP (4320 x 2432)
S2 (Small 2): Approx. 2.1 MP (1920 x 1080)
S3 (Small 3): Approx. 0.28 MP (720 x 408)
Movies: Movies can be recorded in the MOV format (Video: MPEG-4 AVC / H.264, Audio: Linear PCM). Audio recorded using the built-in microphone is monaural. Stereo recording is possible with an external microphone plugged into the provided 3.5mm mic input. Movies can be recorded in the following file sizes and frame rates:
Full HD: 1920 x 1080; 30 fps/25 fps (PAL)/24 fps
HD: 1280 x 720; 60 fps / 50 fps (PAL)
VGA: 640 x 480; 30 fps / 25 fps (PAL)
Quick Control Screen: The camera features a Quick Control Screen that allows you to quickly and easily access the most important and frequently used settings all in one place. A dedicated "Q" button on the back panel takes you directly to the Quick Control Screen with a single push. In the Scene Intelligent Auto mode, you can set recording function, card selection, image-recording quality and drive mode. In the P/Tv/Av/M/B modes you can also set aperture and shutter speed, exposure compensation, Flash exposure compensation, Picture Style, AF operation, White Balance, Metering Mode, ISO speed, Drive Mode, and other controls. You can customize the layout of the Quick Control Screen, if desired.
Drive Modes: The Canon EOS 5DS offers the following Drive modes:
Single Shooting: When you press the shutter button completely, only one shot will be taken.
High-speed Continuous Shooting: While you press the shutter button completely, multiple shots will be taken continuously. High-speed continuous shooting can record up to approximately 5 shots per second.
Low-speed Continuous Shooting: Low-speed continuous shooting has a maximum of approximately 3 shots per second.
Silent Shooting: Silent Shooting is quieter than normal shooting. You can choose Silent Single shooting and Silent Continuous shooting with a maximum of approximately 3 shots per second.
Self-Timer/Remote Control: The camera will record an image 2 or 10 seconds after pressing the shutter button on the camera. When using a separately sold Remote Switch (RS-80N3), Timer Remote Controller (TC-80N3), or Remote Controller (RC-6), you can shoot immediately, or on a 2-second or 10-second delay.
61-Point Autofocus System: The EOS 5DS features a 61-point High Density Reticular AF for greater accuracy with up to 41 cross-type AF points. The camera's AF system is very sensitive to changes in composition, and can make adjustments quickly for consistently sharp auto focusing.
AF Modes: The camera employs one of 3 AF systems to let you seize every photo opportunity with fast, accurate focus:
One-Shot AF: suited for still subjects, the camera focuses only once.
AI Servo AF: for moving subjects when the focusing distance keeps changing. The subject will be focused continuously while the shutter button is pressed halfway.
AI Focus AF: switches from One-Shot AF to AI Servo AF automatically if the subject starts moving.
Shooting Modes: The EOS 5DS's top-mounted Mode Dial offers the following shooting modes:
Fully Automatic (Scene Intelligent Auto): The camera analyzes the scene and sets the optimum settings automatically. It also adjusts focus automatically by detecting whether the subject in still or moving.
Program AE: The camera automatically sets the shutter speed and aperture value to suit the scene's brightness.
Shutter-Priority AE (Tv): In this mode, you set the shutter speed and the camera automatically sets the aperture value to suit the brightness of the subject. A slow shutter speed can create a blurred effect, while a fast shutter speed can freeze action.
Aperture-priority AE (Av): In this mode, you set the desired aperture value and the camera sets the shutter speed automatically to suit the subject brightness. A low aperture number can create a blurred background (narrow depth of field), while a high aperture number can create a sharp foreground and background (wide depth of field).
Manual Exposure: In this mode, you set both the shutter speed and aperture value as desired. The correct exposure can be determined by referring to the exposure level indicator in the viewfinder.
Bulb: When Bulb is set, the shutter stays open as long as you hold down the shutter button completely, and closes when you let go of the shutter button. Bulb exposures are for night scenes, fireworks, the night sky, and other subjects requiring long exposures. It is recommended that you use a tripod and a Remote Switch, such as the RS-80N3, for bulb exposures.

Bulb Timer: You can preset the bulb exposure's exposure time, preventing the need to hold down the shutter button during bulb exposure. If enabled, you can set the bulb exposure length between 00:00:01 and 99:59:59.

Custom Shooting Modes: You can register the shooting mode, AF mode, menu settings, etc. to the three Custom Shooting Mode positions (C1, C2, C3) on the Mode Dial.
Interval Timer Shooting: You can take a series of photographs at a set interval to create a time lapse. You can set the interval between shots from 1 second to 99 hours 59 minutes 59 seconds. The set number of shots to be taken can be set between 1 and 99. If you set the number of shots at "00", interval timer shooting will continue until you stop the interval timer, or until the memory card becomes full, or until the battery becomes exhausted. Auto power off will operate with the interval timer, and the power will automatically turn on approximately 1 minute before the next shot. Use of a tripod is highly recommended.
Time Lapse Movie: Still photos shot at a set interval can be stitched together automatically to create a time-lapse movie. Time Lapse Movies are recorded in Full HD (1920 x 1080) at 30 fps. When setting up the movie, you can choose the interval and number of shots, and the camera will indicate the time required to complete the movie, the playback time, and the amount of memory left on the memory card.
Metering Modes: The EOS 5DS features iSA Intelligent Subject Analysis that uses an independent RGB+IR light sensor with approximately 150,000 pixels and TTL (through-the-lens) metering at maximum aperture. You can select from the following metering modes:
Evaluative Metering: The camera's standard metering mode suited for most subjects even under backlit conditions, after detecting the main subject's position, brightness, background, front and back lighting conditions, etc, the camera sets the proper exposure.
Partial Metering: Effective when the background is much brighter than the subject due to backlighting, etc, uses approximately 6.1% of the frame at the center.
Spot Metering: For metering a specific part of the subject, uses approximately 1.3% of the frame at the center.
Center-weighted Average Metering: Metering is weighted at the center and then averaged for the entire scene.
ISO Speed: The camera's ISO speed can be set between 100 and 6400 in 1/3-stop increments to suit your shooting conditions. The camera also features a Low ISO setting equivalent to ISO 50 and a High ISO setting equivalent to 12800. In addition the camera features an Auto ISO setting which allows the camera to automatically set the ISO speed from 100 to 3200 in Scene Intelligent Auto mode, or 100-6400 in P, Tv, Av, or M mode.
Picture Style: By selecting a Picture Style, you can achieve various effects matching your photographic expression or the subject. You can also adjust the Sharpness, Contrast, Saturation and Color tone of each Picture Style. Picture Style selections include:
Auto: Color tone is adjusted automatically to suit the scene. The image will look vivid, especially for blue skies, greenery, and sunsets in nature, outdoor, and sunset scenes.
Standard: A general-purpose Picture Style to suit most scenes. The image looks vivid, sharp, and crisp.
Portrait: Suited for close-up portraits, this Picture Style gives you nice skin tones, and makes the image look softer. You can change the color tone to adjust the skin tone.
Landscape: For vivid blues and greens, very sharp and crisp images.
Fine Detail: This mode is suited for detailed outline and fine textured subjects, with slightly vivid colors.
Neutral: For natural colors and subdued images, no sharpness applied. This mode is suitable if you will be further processing the image with a computer.
Faithful: When the subject is photographed under a color temperature of 5200 K, the color is adjusted to match the subject's color, no sharpness applied. (recommended for users who prefer to process images on their PC)
Monochrome: Creates black and white images; you can adjust the filter effect of the monochrome setting to Black&White, Yellow, Orange, Red, or Green.
User Defined 1-3: You can register your own Picture Style settings for Portrait and Landscape modes.
High Dynamic Range (HDR): You can take artistic photos having a high dynamic range and preserving detail in highlight and shadow areas. HDR shooting is effective for landscape and still-life photos. With HDR shooting, three images of different exposures are captured for each shot, then merged together automatically. The HDR image is saved as a single JPEG image. You can choose from several options: Natural, Art Standard, Art Vivid, Art Bold, and Art Embossed.
Multiple Exposures: You can shoot two to nine exposures to be merged into one image. If you shoot multiple-exposure images with Live View shooting, you can see how the single exposures merge while shooting.
White Balance: White Balance is for making the white areas look white. You can choose from the following white balance settings: Auto (Ambience Priority), Auto (White Priority), Daylight, Shade, Cloudy/Twilight/Sunset, Tungsten Light, White Fluorescent Light, Flash Use, Custom, and Color Temperature.
Anti-flicker Shooting: If you shoot an image with a fast shutter speed under a light source such as fluorescent light, the blinking of the light source causes flicker, making the image unevenly exposed vertically, or causing uneven colors. When continuous shooting in these conditions, you can enable Anti-flicker shooting. The camera detects the frequency of the light source's blinking, and takes the picture when the flicker causes less effect on the exposure or color.
Mirror Lockup: To prevent camera vibration, you can lock the mirror in the up position while shooting. When Mirror Lockup is enabled, you will need to press the shutter button twice: once to lock up the mirror and again to take the picture. You can also set the camera to slightly delay taking a picture after the mirror is locked up (1/8 sec, 1/4 sec, 1/2 sec, 1 sec, or 2 sec after). Mirror Lockup is particularly useful for shooting extreme closeups (macro), super telephoto lens, or slow shutter speeds.
EX Speedlite Compatible: The EOS 5DS features the acclaimed E-TTL II flash metering system. With any of the flashes in the EX-series Speedlite line, E-TTL II provides reliable flash output whether shooting fill-in flash pictures in sunlight, or using flash in total darkness.
Note: The camera does not have a built-in flash.
Wi-Fi Compatible: With the optional Wireless File Transmitter WFT-E7 (Ver.2), the EOS 5DS can be connected to a wired or wireless LAN access point for secure, ultra-fast image transfer. The WFT-E7 supports IEEE 802.11 a/b/g/n. It also has a built-in Bluetooth function for handling high-volume data wireless transfers.
GPS Compatible: With the optional GP-E2 GPS Receiver, you can record location information, such as longitude, latitude, elevation, direction, and time data into your photos and videos. The GP-E2 can be mounted to the camera's hot shoe, or mounted to an optional bracket and connected via cable.
Play, Edit, and Print Functions
Single Image Playback: When playing back a single image, you can choose from three display options:
No Information: Only the image is displayed on the monitor.
Basic Information: The image is played back in full frame with minimal shooting information (aperture, shutter speed, compensation, and frame number) displayed at top and bottom.
Shooting Information Display: The image is displayed as a 1/4-frame thumbnail, along with a histogram and full shooting information displayed.
Image Magnification: When viewing a still picture in single image playback mode, you can magnify the image from 1.5x to 16x. While the image is magnified, you can scroll anywhere around the image.
Index Display: You can search for images quickly with the index display. By rotating the Main Dial in playback mode, you can cycle through a single image display, and multiple displays of 4, 9, 36, and 100 images.
Comparing Images: You can compare two images side-by-side on the LCD monitor.
Auto Rotation: Vertical shots can be rotated automatically so that they are displayed upright during playback.
Image Review: The image can be displayed on the LCD monitor immediately after you shoot. The review time can be set to off (not displayed), 2 seconds, 4 seconds, 8 seconds, or Hold, which keeps the image displayed on the LCD monitor until the camera is focused again.
Slide Show: You can view all images on the memory card one after another with the Auto Playback function (slide show). You can choose which recorded images will be displayed in the slide show by selecting All images, Movies, Stills, Protected, Date, Folder, or Rating. The display time interval can be set to 1, 2, 3, 5, 10, or 20 seconds.
Jump Playback: During playback you can jump to images 1, 10 or 100 images at a time. You can also jump screens by date, folder, movies, stills, protected images, and image rating.
Rotating Images: You can rotate an image by 90° or 270° clockwise in the LCD monitor.
Protect Images: You can select specific images from being erased accidentally.
HDMI Output: The camera's Mini-HDMI (Type C) output lets you display the Live View image, still images, or recorded videos on a TV screen. A Mini-HDMI to HDMI cable is required. If the connected TV is HDMI CEC-compatible, you can control the camera's playback operations with the TV's remote control.
Post-Processing Images: You can process RAW images with the camera and save them as JPEG images while retaining the original RAW file. This allows you to process the RAW image according to different conditions to create any number of JPEG images from it. Only Large RAW images can be processed in the camera. M-RAW and S-RAW images must be processed using the supplied Digital Photo Professional software.
Resize: Images shot with the camera can be resized to make the pixel count lower, and saved as a new image. You can only resize JPEG Large, Medium, Small 1, and Small 2 sized images. JPEG Small 3 and RAW images cannot be resized.
Cropping: You can crop the image and print only the trimmed portion as if the image was recomposed. Rotating the main dial will change the cropping frame size. The cropping frame can also be moved vertically or horizontally over the image. You can also change the image's aspect ratio, selecting 3:2, 16:9, 4:3, or 1:1.
PictBridge: The camera is compatible PictBridge-compliant printers. With the supplied USB cable, you can connect this camera directly to a PictBridge-compliant printer, and print without a computer. The PictBridge standard allows you to connect the camera directly to a PictBridge compliant printer and make prints, regardless of brand. Depending on the printer, you may be able to set the number of prints, paper size, borders, images per sheet, and various printing effects.
DPOF Print Settings: On the memory card, you can select which image or images you want to print, the type of print (standard, index, or both), and how many copies you want. This is convenient for printing images all at once on Canon Direct Print or PictBridge-compliant printers, at participating photo labs or at compatible photo printing kiosks.
Inputs/Outputs
SuperSpeed USB 3.0 Digital Terminal: The Canon EOS 5DS is equipped with SuperSpeed USB 3.0 for ultra-fast image transfer to PCs and printers. USB 3.0 supports data transfer up to 5gbps (or 640MBps), over ten times as fast as the USB 2.0 maximum (480mbps/60MBps) The camera has a Micro-B USB 3.0 connector, and includes a 5' USB 3.0 cable. The Digital terminal is also used to connect the optional Wireless File Transmitter WFT-E7 (Ver. 2) for Wi-Fi.
Mini HDMI (Type C): The Mini HDMI (Type C) connector lets you connect the camera to a TV with an HDMI cable (sold separately).
External Microphone Input: A 3.5mm stereo mini-jack is provided for connecting an external microphone. When a microphone is plugged in, the built-in monaural microphone is disabled.
PC Terminal: The PC terminal can be used with non-Canon flash units that have a sync cord. The terminal is threaded to prevent inadvertent disconnection. The terminal has no polarity, allowing you to plug in any sync cord, regardless of its polarity.
Remote Control Terminal: The Remote Control terminal is an N3-type terminal that is designed for use with the optional Remote Switch RS-80N3 or Timer Remote Controller TC-80N3.
Cable Protector: A plastic Cable Protector is included with the camera, and is installed on the supplied USB interface cable. When connecting the interface cable, the cable protector holds the connector in place to prevent accidental disconnection or damage to the terminal. The Cable Protector has two small thumbscrews to hold it securely to the camera, and will work with all of the terminals on the side of the camera.
Battery Information
Power Options: The EOS 5DS operates on the supplied LP-E6N Lithium-Ion battery (7.2V, 1865 mAh, 14Wh). The camera can also use the LP-E6 (7.2V, 1800 mAh) battery. The battery can be charged in the supplied LC-E6 battery charger in approximately 150 minutes. The supplied battery performance specs are as follows:
Temperature

Possible Shots

Viewfinder
Live View (LCD)

23° C/73° F

Approx. 700 shots
Approx. 220 shots
0° C/32° F
Approx. 660 shots
Approx. 210 shots
Optional AC Power: With the optional ACK-E6 AC adapter kit, you can connect the camera to a household power outlet and not worry about the battery becoming exhausted.
Optional BG-E11 Battery Grip: With the optional BG-E11 Battery Grip, you can power the camera with six "AA" batteries, or two LP-E6N batteries. The AA batteries will provide enough power for approximately 270 shots, while the two LP-E6N battery packs will give you up to 1400 shots while using the viewfinder, or 440 during Live View shooting.
Auto Power Off: To save battery power, the camera turns off automatically after a period of non-operation. The Auto Power Off time can be set to 1 minute, 2 minutes, 4 minutes, 8 minutes, 15 minutes, or 30 minutes. You can also disable the Auto Power Off function.
Note: The Auto Power Off function will not activate in Auto Playback Mode.
Supplied Software
Supplied Software: The EOS 5DS comes bundled with the EOS Digital Solution Disc Ver.30.2, which includes:
Digital Photo Professional Ver.4.2 (Windows/Mac): Recommended for users who mainly shoot RAW images. You can view, edit, process, and print RAW images at high speed. You can also edit JPEG images while retaining the original images. The Dust Delete Data function can also be found in Digital Photo Professional.
EOS Utility Ver.3.2 (Windows/Mac): With the camera connected to a PC, this software enables you to transfer still photos and movies shot with the camera to the computer. You can also use the PC to set various camera settings and shoot remotely with the computer connected to the camera.
EOS Movie Utility Ver.1.3 (Windows/Mac): You can play, merge, and save MOV format movies shot with the camera. You can consecutively play multiple 4 GB movie files, merge them into a single file and save it.
Picture Style Editor Ver.1.15 (Windows/Mac): You can edit Picture Styles and create and save original Picture Style files. This software is aimed at advanced users who are experienced in processing images.
Operating Systems:
Windows: 8.1, 8, 7 (SP1), Vista (SP2), XP (SP3)
Macintosh: OS X 10.7 - 10.10
Our Product Research Team
At Crutchfield, you'll get detailed, accurate information that's hard to find elsewhere. That's because we have our own in-house Product Research team. They verify what's in the box, check the owner's manual, and record dimensions, features and specs. We stay on top of new products and technologies to help people make informed choices.
Looking for more? Check out the next model in this lineup.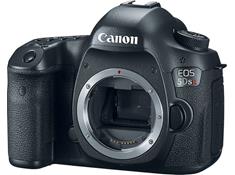 Low Stock
$3,699.00 After $200.00 Instant savings
Add to Cart
Capture super-fine detail
The Canon EOS 5DS R (no lens included) offers these features:
Low-pass filter (LPF) effect can be cancelled to provide even more fine edge sharpness
The possibility of moiré and color artifacts is greater due to the LPF cancellation function