Canon VIXIA GX10
4K Ultra HD camcorder
Item # 280GX10 | MFR # 2214C002
Low Stock
Was: $2,499.00
Instant savings: -$500.00

Our VirginiaVA-based experts can help.
Overview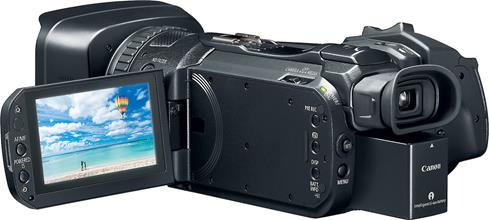 The Canon VIXIA GX10's 3-1/2-inch tilting LCD touchscreen helps with framing, playback, and selecting camera functions.
Record your next big day in 4K
This handheld video camera shoots gorgeous Ultra HD video that will amaze your friends and family. The camera's 4K-compatible, 8-megapixel 1" CMOS image sensor captures incredible detail and color.
If your subject is far from the lens — perhaps a skittish deer you met on the trail while hiking — you can make it look like it's right in front of you with 15X optical zoom.
Dual pixel autofocus helps you focus on individual faces, or track a moving subject perfectly. If you want that moving subject to slow down a little, you can record slow-motion images at up to 120 fps.
Rock-solid image stabilization
Shaky footage is one possible hazard of shooting handheld. During Full HD recording, the GX10 uses five-axis image stabilization that combines optical and electronic correction to help reduce image distortion when you and your camera are in motion.
You have three specialized stabilization modes to choose from. Standard Mode uses lens shift to provide constant compensation throughout the zoom range. Powered Mode improves vibration suppression at longer focal lengths. Dynamic Mode stabilizes the image when walking and shooting handheld.
Built-in dual-band Wi-Fi®
The GX10 is even easy to use when it's out of your hands. Built-in Wi-Fi lets you control the camera with a mobile device or computer. And you can preview your saved photos on a computer without removing the memory card. Wi-Fi also enables FTP file transfer to Cloud-based servers for convenient back-ups.
The camera's Wi-Fi operates at both 5 GHz and 2.4 GHz. Dual bands help ensure that the GX10 can send signals even in areas with increased interference.
Features:
compact, ergonomic camera body
dual-band Wi-Fi enables high speed file transfer and remote control
3-1/2" tilting LCD touchscreen (1.56 million dots) helps with framing, playback, and selecting camera functions
4K, 8-megapixel 1" CMOS image sensor
dual DIGIC DV 6 image processors
sharp dual pixel CMOS autofocus with face recognition and tracking
5-axis image stabilization in Full HD mode
slow motion recording up to 120 fps
built-in ND (neutral density) filter
wide-angle zoom lens:

15X optical zoom (30X advanced zoom)
35mm equivalent focal length: 25.5-382.5mm
f/2.8-4.5
attachment/filter size: 58mm

records to dual SDHC/SDXC memory cards
built-in stereo condenser microphone
Connections and Dimensions
high-speed USB 2.0 output for data transfer
HDMI mini output allows playback on a compatible TV
3.5mm stereo headphone jack
5-5/16"W x 3-13/16"H x 8-7/16"D
weight: 2.5 lbs.
Supplied Accessories
lens hood
mini-HDMI-to-HDMI cable
USB cable
rechargeable BP-828 battery pack
compact power adapter
WL-D89 wireless remote control
warranty: 1 year
What's in the Box:
Canon VIXIA GX10 Owner's manual
4K camcorder
58mm Lens cap (installed)
Lens Hood
CA-946 AC adapter with attached 42" DC output cord (DC output: 65VA at 100 VAC)
BP-828 Lithium-Ion battery (7.4V 2670mAh)
79" AC cord (C7 polarized plug)
WL-D89 Wireless Remote Control
CR2025 Lithium battery
39" HTC-100/SS High Speed HDMI cable (mini-HDMI on one end and a full-size HDMI on the other end)
2' IFC-300PCU/S USB cable (Type-A USB on one end and Mini USB 2.0 on other end)
Quick Guide
Dealer Record of Canon Purchase/Limited Warranty card
Register Your Camcorder Now
Why Shop
With Us?
12 Reasons.
---
Details
Product Research
Features
Battery Information
Inputs And Outputs
Software
Features
Overview: The Canon VIXIA GX10 camcorder can record 4K Ultra High Definition and Full HD video, as well as up to 8.29MP digital still images. The GX10 offers a wide range of features that make it ideal for video enthusiasts and budding filmmakers.
15x Optical Zoom Lens: The GX10 is equipped with a Canon 4K Video Lens with a 15x optical zoom. It offers a 35mm equivalent focal range of 25.5-382.5mm for movies and still photos. When shooting in Full HD, you can get up to 30x Advanced Zoom, which uses the full 4K UHD image sensor to extend the zoom range without image degradation. Zooming from 30x to 300x is performed digitally, which gradually decreases image quality. A digital Tele-Converter can be used to double the focal length of the camcorder, if desired.
Zooming: There are numerous ways to zoom in and out:
Focus/Zoom Ring: If the Focus/Zoom ring switch is set to Zoom, you can adjust the zoom by turning the ring. The faster you turn the ring, the faster the zoom speed.
Zoom Rocker: You can zoom by moving the Zoom Rocker, located on the top of the camcorder. The overall zoom speed can be set to Fast, Normal, or Slow. The Zoom Rocker speed can be set to variable or constant. When set to Variable, the zoom speed varies according to how far you press the rocker switch. When set to Constant, you can choose a Zoom Speed from Slow (1) to Fast (16).
Remote Control: The zoom can be controlled using the supplied wireless remote control, the optional RC-V100 Remote Controller, or a third party remote. The Zoom Speed can be set in the menu.
Touch Screen: The touch screen has a zoom control
Image Sensor: The VIXIA GX10 has a 13.4 Megapixel 1" 4K-compatible CMOS image sensor (4268 x 3148). It has 8.29 effective megapixels (3840 x 2160), capable of capturing 4K UHD videos at 60p and slow motion recording up to 120 fps in Full HD. Dual DiG!C DV6 image processors increase the sensitivity of the camcorder without adding noise, allowing you to record in low light situations.
3" LCD Touch Panel Display: The GX10 features a spacious 3.5" color Touch Panel LCD (1,560,000 dots) with a 16:9 aspect ratio. You can rotate the panel 180° forward and 90° backward for high and low angle recording. You can use the touch panel to maneuver through the menus, touch focus, and review recorded videos.
Electronic Viewfinder (EVF): In addition to the 3.5" LCD, the camcorder has a 0.24" Electronic Viewfinder with 1.56 million dots. The viewfinder can be tilted upward to 60° for a more comfortable position for viewing. A dioptric adjustment lever is provided to focus the viewfinder to your eyesight, if needed.
Dual Memory Card Slots: The GX10 records video and still photos to SD, SDHC, or SDXC memory cards (sold separately). The camcorder has two memory card slots, which allows you record on both simultaneously to make an instant backup, or automatically switch from one card to the other when the card in use becomes full. Cards with Speed Class 6 or 10 and UHS U1 or U3 ratings can be used with the GX10. U3-rated cards are recommended for 4K 150Mbps or slow/fast motion recording.
Built-in Wi-Fi: The GX10 is equipped with built-in dual-band (5 GHz/2.4 GHz) Wi-Fi technology. You can control camcorder operations remotely from a web browser or on a compatible smartphone or computer through the Browser Remote Application. If no access point is available, the camcorder can serve as a wireless access point, allowing Wi-Fi enabled devices to connect directly to the camcorder. You can view the camcorder's Live View image, control various recording settings, check the remaining recording time on the SD card, and see the remaining battery charge, all from your connected device.
Optional GPS: With the optional GP-E2 GPS Receiver (sold separately), you can acquire GPS location data and attach it to your movies and photos. The GPS receiver can also set the camcorder's time automatically.
Recording Formats: The camcorder records 4K and HD in MPEG-4 AVC/H.264 compression, and 4:2:2 or 4:2:0 color sampling. Two-channel audio is recorded in AAC format (16-bit, 48kHz). Still photos are recorded in JPEG compression.
Recording Modes: The camcorder offers the following video recording modes:
Mode
Bit Rate
Resolution
Frame Rate*
4K
150 Mbps
3840 x 2160
60p, 30p, 24p
Full HD
35 Mbps
1920 x 1080
60p, 30p, 24p
17 Mbps
60p, 30p, 24p
HD
8 Mbps
1280 x 720
60p
4 Mbps
30p
* Actual frame rates 59.94p (60p), 29.97p (30p), 23.98p (24p).
Slow & Fast Motion Recording: The camcorder allows you to change the shooting frame rate to achieve a slow motion or fast motion effect during playback. Sound is not recorded in this special recording mode. You can choose from the following slow/fast motion rates:
Resolution
Frame Rate
Slow/Fast Motion Rates
3840 x 2160
(150 Mbps)
60p
x2, x4, x10, x20, x60, x120, x600, x1200
30p
x0.5
24p
x0.8
1920 x 1080
(35 Mbps, 17 Mbps)
60p
x0.5, x2, x4, x10, x20, x60, x120, x600, x1200
30p
x0.25, x0.5
24p
x0.2, x0.4, x0.8
1280 x 720
(8 Mbps)
60p
x2, x4, x10, x20, x60, x120, x600, x1200
1280 x 720
(4 Mbps)
30p
x0.5
Pre-Recording: The Pre-Recording mode lets you start recording into a temporary memory so when you press the Start/Stop button, the clip will contain approximately 3 seconds of video and audio recorded before you pressed the button.
Recording Audio: The camcorder records 2-channel AAC audio using the built-in microphone, or optional external microphones attached to the Mini Advanced Shoe or plugged into the 3.5mm mic terminal. Adjustable audio settings include mic level, wind screen, frequency response, directionality, audio limiter, and compressor. You can also choose one of the Audio Scenes, which optimize the audio settings of the built-in microphone to match the surroundings, including Standard, Music, Festival, Speech, Meeting, Forest and Birds, Noise Suppression, and Custom Setting.
Still Image Recording: The GX10 4K camcorder is also capable of capturing stunning JPEG photos. Photos are recorded at 3840 x 2160, 1920 x 1080, and 1280 x 720 resolution.
9-Blade Circular Aperture: The lens has a 9-blade iris for producing beautiful out-of-focus areas called bokeh. Having an odd number of blades actually doubles the number of light beams to produce a more pleasing circular bokeh, and reduces flaring of highlights.
5-Axis Optical Image Stabilization: The GX10 has an Optical Image Stabilizer system to compensate for camera shake. The Image Stabilization system provides continuous adjustment throughout the entire zoom range, plus extra compensation at wide-angle focal lengths. The system controls rotational camera shake along 5 axes: Roll, Vertical, Horizontal, Up, and Down. You can select the degree of compensation:
Dynamic: Highest degree of compensation for shooting while walking; most effective at wide angle zoom.
Standard: Compensates for a lower degree of camera shake, such as handheld shots while you are stationary.
Powered: Most effective when you are stationary and zooming in on faraway subjects. Not suitable for tilting and panning shots.
Off: No compensation applied. Recommended when camera is on a tripod.
Dual Pixel CMOS AF: Canon's Dual Pixel CMOS Auto Focusing technology uses two independent photodiodes in each pixel to provide smoother, faster, and more accurate auto focusing than ever before possible. Dual Pixel CMOS AF offers continuous autofocusing within approximately 80% of the screen. It also makes Face Detection AF more accurate. With touch focusing, you can also use the touch panel to move the autofocusing target around the screen. The Dual Pixel Focus Guide displays focus assist information on the LCD screen that allows the user to see if they are focused in front of, behind, or on the subject.
Face Detection: The camcorder can automatically detect people's faces and use this information to adjust the focus and set the best exposure and color control settings for beautiful videos and photos. There are two Face Detection AF modes: Face Priority AF and Face Only AF. When there are a number of people in the picture, one person will be determined to be the main subject. You can also select the main subject manually.
Shooting Modes: The GX10 offers two operating modes, Auto and Manual, and several shooting modes that provide varying degrees of control. You can choose from the following:
Auto Mode: This mode lets the camcorder select various settings to save time.
Manual Mode: The Manual mode gives you full access to all of the menus, settings, and advanced functions. In Manual Mode, you can choose from the following shooting modes:

Program AE: The camcorder automatically adjusts both the aperture, shutter speed, and gain to obtain the optimal exposure for the subject.
Shutter Priority: You choose the shutter speed to freeze or blur the shot while the camcorder selects the appropriate aperture for the scene. You can select from 36 shutter speeds between 1/6 sec. and 1/2000 sec.
Aperture Priority: You choose the aperture to affect the depth of field and the camcorder selects the appropriate shutter speed for the scene. You can select aperture settings of F2.8 to F11.
Manual Exposure Mode: In the Manual mode, you can enjoy full access to the menus and manually adjust the aperture, shutter speed, or gain (0dB to 39.0dB).
Special Scene Modes: The camcorder features the following Scene Recording Modes to match special conditions: Portrait, Sports, Night Scene, Snow, Beach, Sunset, Low Light, Spotlight, and Fireworks.
Minimum Illumination: The combination of the GX10's fast lens, image sensor, and dual image processors provide superb low light performance. The minimum illumination is 1.7 lx (60p, Prog AE, Auto Slow Shutter, Shutter Speed 1/30) for normal shooting. In Low Light mode (shutter speed 1/2), the minimum illumination is 0.1 lx.
White Balance: The camcorder's white balance system helps you accurately reproduce colors under different lighting conditions so that white objects will always look truly white in your recordings. You can choose from the following modes: Automatic, Daylight, Tungsten, Color Temperature (2000K - 15000K), and Custom WB (Set 1, Set 2).
Built-in Speaker: The camcorder has a built-in monaural speaker so you can review the audio soundtrack as well as the picture when you're using the LCD screen to play back a recording. Volume can be adjusted from 0 to 15. When you connect headphones or an external device to the HDMI output, the built-in speaker will be muted.
Playback Functions: The camera uses the following special playback modes: Fast Playback (5x, 15x, or 60x) in either direction, Slow Playback (1/8x or 1/4x) in either direction, and Frame-by-Frame Playback. During these playback modes there is no sound.
Battery Information
Lithium-Ion Battery Pack: The Canon VIXIA GX10 is powered by the supplied BP-828 rechargeable Lithium-ion Battery Pack (7.4V DC, 2670 mAh, 19 Wh). The Canon BP-820 (7.4V, 1780mAh) can also be used in the camcorder. The battery recording and playback times are as follows:
Video Configuration
Battery Usage
Battery Pack
Resolution (bit rate)
Frame Rate
BP-828
(supplied)
BP-820
(optional)
3840 x 2160
(150 Mbps)
60p
Recording (maximum)
120 min
80 min
Recording (typical)
60 min
40 min
Playback
175 min
115 min
30p
Recording (maximum)
150 min
100 min
Recording (typical)
70 min
45 min
Playback
205 min
135 min
1920 x 1080
(35 Mbps)
60p
Recording (maximum)
145 min
90 min
Recording (typical)
70 min
45 min
Playback
220 min
145 min
30p
Recording (maximum)
165 min
110 min
Recording (typical)
80 min
50 min
Playback
230 min
150 min
1280 x 720
(8 Mbps)
60p
Recording (maximum)
140 min
95 min
Recording (typical)
70 min
45 min
Playback
230 min
150 min
1280 x 720
(4 Mbps)
30p
Recording (maximum)
170 min
115 min
Recording (typical)
80 min
55 min
Playback
235 min
155 min
Charging Times: The BP-828 battery charges in 5 hours 50 minutes when charged in the camcorder with the supplied CA-946 AC adapter. With the optional CG-800 battery charger (sold separately), the charging time is reduced to 4 hours 20 minutes.
Auto Power Off: After 5 minutes without any operation when powered by the battery, the camcorder automatically powers off. Approximately 30 seconds before the camcorder automatically turns itself off, a warning message appears in the display.
Inputs And Outputs
HDMI Output: The GX10 features a mini-HDMI (Type C) terminal for connecting the camcorder to an HDTV or other HDMI-equipped device. The time code generated by the camcorder can be output through the HDMI Out terminal in order to synchronize it with other external devices. You can also output a user bit code with the output signal. A 1-meter HTC-100/SS High-speed HDMI cable is included.
USB 2.0 Connection: The camcorder features a USB Mini-B High Speed terminal for transferring photos and videos to your computer. A 2' IFC-300PCU/S USB cable is included. The USB terminal can also be used to connect the optional GP-E2 GPS receiver.
Microphone Input: In addition to the camcorder's built-in microphone, the GX10 features a 3.5mm microphone input for connecting an external microphone.
Headphone Terminal: A 3.5mm jack is supplied for connecting headphones to the camcorder for monitoring the audio as you record or playback movies.
Remote In: A 2.5mm sub-mini jack is provided for connecting an optional wired remote control, such as the RC-V100.
Mini Advanced Shoe: On the top of the camcorder is the Mini Advanced Shoe for connecting a range of optional accessories, such as the DM-100 Directional Stereo Microphone or the VL-5 Video Light.
DC In: The camcorder can be powered with the battery pack, or with household current using the included AC adapter. The DC IN terminal is for connecting the power adapter to charge the battery or power the camera.
Software
Downloadable Software: The Canon VIXIA GX10 camcorder does not include software in the box. Data Import Utility (Ver.2.4.x) from Pixela is the software that works with the camcorder to help you import and save movies you've recorded. It also lets you combine and save scenes that were divided in the camcorder due to their length or file size restriction, or during relay recording when switching from one SD card to another.
System Requirements: Data Import Utility is compatible with the following Operating Systems:
Windows 7: Home Premium, Professional, Ultimate, Enterprise; 32-bit and 64-bit versions supported; SP1 must be installed.
Windows 8.1: Home, Pro, Enterprise; 32-bit and 64-bit versions supported; Desktop mode only
Windows 10: Home, Pro, Enterpries; 32-bit and 64-bit versions supported; Desktop mode only
Macintosh: OS X v10.9, OS X v10.10, OS X v10.11, macOS 10.12
Our Product Research Team
At Crutchfield, you'll get detailed, accurate information that's hard to find elsewhere. That's because we have our own in-house Product Research team. They verify what's in the box, check the owner's manual, and record dimensions, features and specs. We stay on top of new products and technologies to help people make informed choices.