About the Canon VIXIA HF R70
Share vivid memories via Wi-Fi and NFC
No need to take chances with your memories. The Canon VIXIA HF R70 will help you get it right the first time. Built-in Wi-Fi lets you capture those "you-had-to-be-there" times, then upload and share them instantly. If you have a compatible Android device, you can use the R70's NFC (Near Field Communication) for quick and easy touch-pairing. Live stream to your compatible Android™ or iOS® device or send files to your computer for a quick edit before posting to social media. And those videos will look even more impressive, because Canon's new Highlight Priority Mode helps give your video the full range of vibrant colors seen by the human eye.
Share vivid memories via Wi-Fi and NFC
No need to take chances with your memories. The Canon VIXIA HF R70 will help you get it right the first time. Built-in Wi-Fi lets you capture those "you-had-to-be-there" times, then upload and share them instantly. If you have a compatible Android device, you can use the R70's NFC (Near Field Communication) for quick and easy touch-pairing. Live stream to your compatible Android™ or iOS® device or send files to your computer for a quick edit before posting to social media. And those videos will look even more impressive, because Canon's new Highlight Priority Mode helps give your video the full range of vibrant colors seen by the human eye.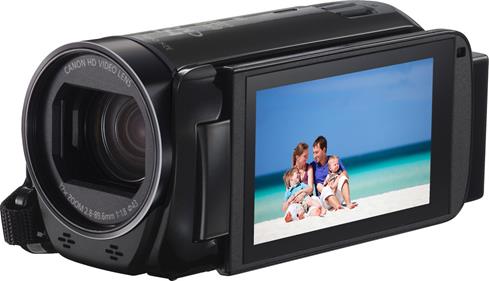 The Canon VIXIA HF R70 lets you share special family moments immediately, and then save them forever.
The R70's Wi-Fi connection also allows you to use your mobile device as a remote control. Set the camera up on a tripod in the ideal spot, then go back to your seat to enjoy the show via live-stream. Just download Canon's CameraAccess Plus app and your compatible mobile device becomes a highly functional remote control center.
Advanced Baby Mode
Babies grow up fast, and even with a camcorder near to hand, memorable moments can slip by unrecorded. Nobody wants to be fumbling for the right settings while baby is crawling, talking or smearing frosting on his face for the first time. Canon's Baby Mode takes the guesswork out of kid vids with an array of impressive features that you can use instantly without advanced technical knowledge.
Custom Baby Mode button on the shooting screen lets you grab it and go when a great moment happens.
Continuously records three seconds of video to buffer memory before you even press the record button, so you won't miss a thing.
The camera auto-selects the optimal settings for your shooting conditions.
Intelligent image stabilization smooths out any unwanted tremors.
Baby Mode videos are indexed and saved in a separate folder for easy retrieval.
Save separate files for as many as three children in the onboard baby album.
Touch Decoration tags photos with your baby's age, height, weight and other vital information so you never forget the details.
Help when you need it
The R70 has plenty of other features that make it easier to get great shots and save them for posterity. Framing Assistance helps keep distant subjects centered, even when they're in motion, and you can record in slow or fast motion for creative effect. The camera's seven built-in adjustable filters include Old Movie, Cool, Sepia, Vivid and more. You can use the built-in 16GB of flash memory, or store images on an SD/SDHC/SDXC memory card.
READ LESS
Product highlights:
2.07 effective megapixel CMOS sensor
32X optical zoom (digital zoom to 1140X)
3" color LCD widescreen touchpanel (approx. 230,000 dots)
shoots full HD video up to 1080p
records to 16GB internal flash drive or optional SD/SDHC/SDXC memory card
SuperRange optical image stabilization keeps image steady at full zoom
dual recording mode simultaneously records high-quality AVCHD and convenient, web-friendly MP4 files
DIGIC DV 4 image processor helps provide excellent low-light performance
Built-in Wi-Fi:
allows touch-pairing with NFC-enabled devices
easily share images and video
live-stream and record video on your compatible mobile device
control your camcorder from a remote location
Specialized Shooting Modes:
Highlight Priority Mode helps give your video the full range of color seen by the human eye
Baby Mode helps you capture your baby's daily growth with ease
Framing Assistance helps keep distant subjects centered, even when they're in motion
record in slow or fast motion for more creative options
seven built-in adjustable filters, including Old Movie, Cool, Sepia and Vivid
Connections and Dimensions:
high-speed USB interface (cable included)
mini HDMI and composite video outputs for connection to any TV (mini-to-HDMI cable included)
2-1/8"W x 2-5/16"H x 4-5/8"D
weight: 10.2 oz.
warranty: 1 year parts and labor (90 days video head parts)
MFR # 1237C001
What's in the box:
Canon VIXIA HF R70 owner's manual
VIXIA HF R70 camcorder (black)
BP-727 Lithium-Ion rechargeable battery (3.6V 2685mAh 9.7Wh)
CA-110 Compact power adapter with attached 68" DC output cord (DC output 5.3V 1.5A)
2' IFC-300PCU USB cable (Type A USB on one end and a Mini-B 2.0 USB on other end)
5' HTC-100 HDMI cable (full-size HDMI on one end and Mini HDMI Type C HDMI on other end)
Getting Started booklet (3 versions-Eng/Fren/Span)
Transfer Utility LE Startup Guide
Online registration card
Warranty card
Canon VIXIA HF R70 reviews
Average review:
Thanks for submitting your review
Most reviews are processed and published within 5 business days. You will receive a confirmation email once your review has been published.
Customer photos
More details on the Canon VIXIA HF R70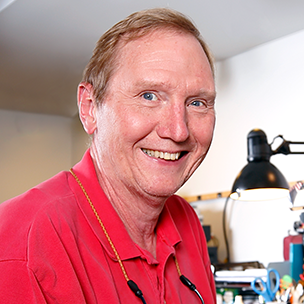 Researched by Crutchfield's

Mark G.
Features & specs
The Canon VIXIA HF R70 replaces these items:
Product Research
Features
Battery Information
Inputs And Outputs
Software
Features
3.0" Widescreen LCD Capacitive Touch Screen: The Canon VIXIA HF R70 features a 3.0" Capacitive Touch Panel LCD screen (230,000 dots) to make it easy to compose and review your shots. The capacitive touch technology is similar to that of a smartphone, and lets you activate functions by a simple touch. The LCD screen can be rotated 270° allowing the subject to monitor the LCD screen during shooting. The LCD's touch screen contains zoom, playback and menu controls for added convenience.
Note: This camcorder does not feature a separate viewfinder.
Recording Media: The Canon HF R70 camcorder captures video and still-images onto its built-in 16 GB flash memory. Up to 1 hour 15 minutes of Full HD 60p video (or up to 6 hours 5 minutes at LP mode) can be recorded to the internal memory. You can also record directly to optional SD, SDHC, or SDXC memory cards (sold separately) with a Speed Class rating of 4 and up. Class 6 or 10 SD cards are recommended for recording movies with a video quality of 60P or 35Mbps. There are no memory cards included with the camcorder.
Dual and Relay Recording: You can set the HF R70 to record movies in both AVCHD and MP4 formats simultaneously, in separate memory locations (Dual Recording). This allows you to use one recording (AVCHD) for viewing and the other (MP4) for transferring to another device or uploading to the Web. In addition, if the assigned memory becomes full while recording, the recording will continue automatically on the other memory (Relay Recording).
Recording Formats: The camcorder records movies in AVCHD (MPEG-4 AVC/H.264) video compression format with Dolby Digital 2-channel audio, ideal for playback with highest picture quality, or easy-to-share MP-4 with AAC 2-channel audio. Still photos are recorded with JPEG image compression. Recording options include:
AVCHD:

NTSC 60P: 1920 x 1080
MXP: 1920 x 1080
FXP: 1920 x 1080
LP: 1440 x 1080

MP-4:

35 Mbps: 1920 x 1080
24 Mbps: 1920 x 1080
17 Mbps: 1920 x 1080
4 Mbps: 1280 x 720

Still Photos:

1920 x 1080
1920 x 1080 (photos captured from AVCHD video)
1280 x 720 (photos captured from MP 4 movies at 4 Mbps)
Converting Movies: You can convert AVCHD movies stored in the built-in memory into MP4 movies. MP4 movies can also be converted to smaller MP4 movies for uploading to the Web. After the movies are converted, they are saved to the memory card.
Image Sensor: The HF R70 features a 1/4.85" CMOS image sensor with approximately 3,280,000 gross pixels for excellent detail and clarity when recording video and exceptional digital still photography performance. The effective pixel count is approximately 2,070,000 for movies and still images.
DIGIC DV 4: The HF R70 is equipped with the DIGIC DV 4 HD image processor. It captures more light than its predecessor DV III, for brighter, cleaner images. It also features increased processing power for better image stabilization, even when walking.
Genuine Canon Video Lens: The HF R70 comes with a Genuine Canon HD video lens with a 32x Optical zoom. The 57x Advanced zoom makes more efficient use of the effective imaging area to take the telephoto power all the way to 1853mm (35mm equivalent).
Zoom Speed: The zoom speed can be set to variable or one of three fixed speeds. In the variable position, the zoom speed depends on how far you push the lever. The purpose of the three fixed zoom speeds is a smoother zoom transition, at your choice of speeds.
Zoom Position at Startup: You can set the camcorder to memorize the zoom position when you turn it off, so the zoom position will be the same the next time you turn on the camcorder.
Framing Assistance: When you're shooting at the long end of the zoom range, it's easy to accidentally lose your subject in the frame. When that happens, you can touch the Framing Assistance icon on the screen to quickly decrease the zoom magnification so you can find your subject. Releasing your finger from the screen allows the camcorder to quickly zoom back in to the previous zoom magnification.
SuperRange Optical Image Stabilization: The HF R70 features Canon's sophisticated SuperRange Optical Image Stabilizer to give you rock steady movies, even if you're shooting while walking. The 5-axis stabilization makes corrections for rotational camera shake--horizontal, vertical, and roll axis--as well as up-down and left-right movements. Continuous adjustment is provided throughout the zoom range, with extra compensation applied at wide-angle focal lengths. Intelligent IS modes include:
Dynamic IS: when the zoom is closer to the wide angle range, Dynamic IS steadies the video while following subjects move left or right.
Macro IS: excellent for close-ups.
Powered IS: corrects camera shake when you're zoomed in for telephoto shots while you remain stationary.
Tripod Mode: turns off image stabilization when the camcorder is mounted on a tripod.
Built-in Wi-Fi: The HF R70 is equipped with built-in Wi-Fi for wirelessly sharing your movies and images with your friends and family. You can upload images and video to various Social Networking sites through the Canon Image Gateway online photo album, or send them to a PC (connected via an access point) for storage. With the free CameraAccess plus App, you can enjoy live streaming and remote operation on an iOS or Android device. The Movie Uploader App from Pixela lets you view, save, or upload your movies to an iOS device. Most of the Wi-Fi features are compatible with devices running iOS 7 and up. Remote Browsing is also compatible with select NFC-equipped Android devices running version 4.0 and up.
Optional Connect Station: You can conveniently save, play back, and share your movies and photos using the optional CS100 Connect Station. You can connect to the CS100 via USB, wired LAN, or wireless LAN, including NFC with the camcorder. The CS100 has 1 TB of storage capacity.
External Hard Drive: You can use a commercially-available external hard drive to save movies and photos directly from the camcorder. If the USB cable supplied with the external hard drive has a Type A connector, you will need the optional UA-100 USB adapter (Female Type A-to-Mini B USB). While connected to the external hard drive, the camcorder can be used to playback recordings stored on the hard drive.
Video Snapshot: The camcorder's Video Snapshot mode lets you shoot a series of short video clips of 2, 4, or 8 seconds, then combines them with a pre-recorded music track or your own favorite music track, to create an entertaining movie.
Face Detection: The camcorder can automatically detect people's faces and use this information to adjust the focus and set the best exposure and color control settings for beautiful videos and photos. When there are a number of people in the picture, one person will be determined to be the main subject. You can also select the main subject manually by touching the subject on the touch screen.
Exposure Modes: The HF R70 features several auto exposure modes, plus a manual exposure adjustment for scenes that appear underexposed or overexposed. The available exposure modes include:
AUTO Mode: You can take videos and photos easily, by letting the camcorder automatically adjust settings based on the recording situation. The camcorder will also choose the best image stabilization mode, and activate Face Detection and TeleMacro mode. Some functions are not available during AUTO mode.
Baby Mode: Baby Mode lets you record your baby's milestone moments with settings optimized for baby's skin. You can also add a stamp to the video to show how much time has passed since the baby was born.
Programmed AE: The camcorder automatically adjusts the aperture and shutter speed to obtain the optimal exposure for the subject, while you are able to adjust the other settings.
Special Scene Recording Modes: The Special Scene modes adjust the camera settings according to the scene. You can select Portrait, Sports, Night Scene, Snow, Beach, Sunset, Spotlight, Fireworks, or Low Light.
Cinema Mode: The camcorder will adjust the frame rate to give your recordings a cinematic look. You can also apply a variety of cinema-look filters to create movies with a unique appearance: cinema standard, vivid, cool, sepia, and old movies.
White Balance: The white balance system helps you accurately reproduce colors under different lighting conditions so that white objects will always look truly white in your recordings. You can choose from the following modes: Automatic, Daylight, Tungsten, and Custom WB.
Self-Timer: This feature allows the camcorder to start recording after a 10-second countdown.
Slow & Fast Motion Recording: When recording MP4 movies, you can use slow motion to record action at half the normal speed, or fast motion to compress time and create time-lapse movies. Sound is not recorded during slow and fast motion recording. You can choose from the following recording speeds:
Recording Speed
Slow motion
Fast Motion
x1/2
x2
x4
x10
x20
x60
x120
x1200
Real time elapsed
(1-minute scene)
30 sec
2 min
4 min
10 min
20 min
1 hr
2 hrs
20 hrs
Pre-Recording: When Pre-Recording is activated, the camcorder starts recording video continuously into a temporary 3-second memory. When you press the Start/Stop button, the scene recorded will have started 3 seconds before you started shooting. This is especially useful when it is difficult to predict when to start recording.
Built-in Speaker: The camcorder has a built-in speaker so you can review the soundtrack as well as the picture when you're using the LCD screen to playback a recording. The built-in speaker is monaural.
Playback Functions: The camera uses the following special playback modes: Fast Playback (5x, 15x or 60x) in either direction, and Slow Playback (1/8x, 1/4x) in either direction. During these playback modes there is no sound.
Battery Information
Li-ion Battery Pack: The Canon HF R70 comes supplied with a rechargeable BP-727 Lithium-ion Battery Pack (3.6V, 2685 mAh, 9.7 Wh). The camcorder also comes supplied with an AC power adapter and charger (CA-110). The battery recording and playback times are as follows:
Usage Time
Battery Life by Recording Format
AVCHD (FXP)
MP4 (17Mbps)
Recording
(maximum)
165 min
180 min
Recording
(typical)
95 min
100 min
Playback
260 min
265 min
Note: The BP-718 battery is also compatible with the HF R70 but has a smaller capacity (1790 mAh) than the supplied BP-727.
Charging Times: The BP-727 battery charges in 7 hours 45 minutes when charging through the camcorder with the supplied AC adapter. The charging time is 5 hours 15 minutes when using an optional CG-700 battery charger.
Auto Power Off: After 3 minutes without any operation when powered by the battery, the camcorder automatically powers off. Approximately 30 seconds before the camcorder automatically turns itself off, a warning message appears in the display.
Quick Start: When you close the LCD panel with the camcorder on, the camcorder enters the standby mode. In standby mode, the camcorder consumes only about 1/3 the power used when recording, saving energy when you are using the battery pack. When you open the LCD panel, the camcorder is ready to start recording in approximately 1 second, allowing you to immediately record your subject.
Inputs And Outputs
HDMI Output: The HF R70 features a mini-HDMI (Type C) terminal that offers a high-quality digital connection that combines audio and video in a single convenient cable. The HDMI port is compatible with HDMI-CEC (Consumer Electronics Control), allowing you in many cases to control the camcorder with the remote control of the connected TV.
Note: A 5' HTC-100 HDMI cable is included with the camcorder.
AV Output: The camcorder features a 3.5mm AV output to playback audio and video on your television using the optional STV-250N composite video/stereo audio RCA cable. You can select between a 4:3 aspect ratio or a 16:9 aspect ratio for the video out based on your television's aspect ratio. The AV Output also doubles as a headphone output. The built-in speaker will be muted when headphones or the AV cable are plugged in.
Note: Due to variations in the configuration of the 3.5mm plug, it is recommended that you use only the Canon STV-250N cable.
USB 2.0 Connection: The camcorder features a Mini-B USB 2.0 High Speed terminal for fast transfer of photos and videos.
Microphone Input: In addition to the camcorder's built-in microphone, the HF R70 features a 3.5mm microphone input for connecting an external microphone, such as the optional WM-V1 Wireless Microphone.
Software
Downloadable Software: The Canon HF R70 camcorder comes with no software in the box. The following software is available for download from the Canon and Pixela websites (URLs provided in the Operating Manual):
CameraWindow: Used for saving MP4 movies and photos to your computer and organize them.
Transfer Utility LE: This software is needed to save AVCHD movies. It is not included with the camcorder, but can be downloaded from the Pixela website.
Note: Both programs are compatible with Windows 8/8.1 and 7 SP1 (32-bit and 64-bit versions, and Mac OS X v10.8, v10.9, v10.10.
The Canon VIXIA HF R70 replaces these items

Adding...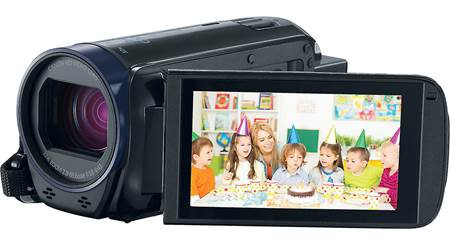 HD camcorder with 32X optical zoom, Wi-Fi® and NFC
built-in Wi-Fi® and NFC one-touch pairing allow you to easily share images and video
32X optical zoom (digital zoom to 1140X)
records to 8 GB internal flash drive or optional SD memory card