Canon PowerShot SX70 HS
20-megapixel digital camera with 65X optical zoom, 4K video, Wi-Fi® and Bluetooth®
Item # 280SX70 | MFR # 3071C001
In Stock

Our VirginiaVA-based experts can help.
Overview
Our take on the Canon PowerShot SX70 HS by Crutchfield's Eric Angevine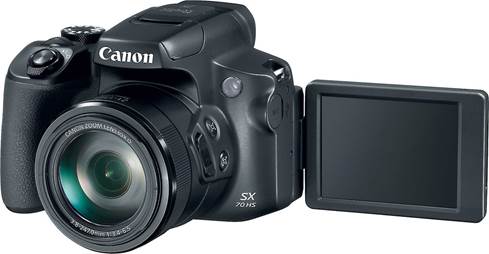 The 3-inch vari-angle LCD screen on the Canon PowerShot SX70 HS lets you frame your shot even if you're in it.
Get closer to the perfect shot
There was a time not so long ago when I spent a lot of time trying to get a good photo of a heron that visited the pond in my backyard — he'd always fly away before I could get close enough. I wish I'd had a Canon PowerShot SX70 HS back then. The camera's 65X optical zoom capability would have made it easy for me to get the shot without spooking the elegant water bird.
If your subject is already on the move, Zoom Assist Framing technology helps locate and track a moving subject, and Smart Auto makes sure your exposure and shutter settings are optimal as well. Or, you can capture the movement in glorious 4K video.
Keep your image steady
The camera's hand grip has been specially designed to help you operate buttons easily, so you're less likely to introduce hand tremor into the image when you're at high zoom. The SX70 HS also features intelligent image stabilization that knows how to compensate for specific types of motion. For example, when shooting stills, the camera's Macro image stabilization mode makes adjustments that keep a close-up sharp and steady, while Panning mode reduces the jumping and jittering that can accompany a wide swing of motion.
Share easily with Wi-Fi and Bluetooth
Canon offers built-in wireless technology that gives you many ways to share your masterpieces. The SX70 HS is equipped with Wi-Fi and Bluetooth, ensuring that your photos and videos can go live on social media as soon as you're ready to upload them.
Product Highlights:
20.3-megapixel CMOS sensor delivers photos with fine detail and brilliant color
records 4K video and time-lapse movies
65X optical zoom (4X digital)
tilting 3" color LCD viewscreen (922,000-dot resolution)
OLED electronic viewfinder (2.36 million-dot resolution)
wide-angle lens (21mm-1365mm equivalent)
DIGIC 8 image processor enhances image quality and processing speed
built-in Wi-Fi and Bluetooth pairing for quick and easy photo sharing
intelligent image stabilization analyzes camera movement and applies the best type of correction
external microphone connector for improved movie sound
dedicated movie button lets you start and stop recording instantly
high-speed continuous shooting mode up to 10 frames per second
self timer: 2 sec., 10 sec., custom
high-speed autofocus helps you freeze action
Creative Shot mode analyzes scene, subject and exposure and applies one of 46 filter options
Zoom Framing Assist helps you to more easily locate and track a moving subject
Smart Auto selects optimal settings to ensure the best possible image capture
curved grip lets your fingers comfortably and naturally reach the shutter, minimizing potential for shake at long zoom lengths
records to SDHC and SDXC memory cards
Dimensions and Warranty:
5"W x 3-5/8"H x 4-5/8"D
weight: 21.4 oz.
warranty: 1 year
What's in the Box:
Canon PowerShot SX70 HS Owner's manual
Digital camera (black)
LP-E12 Lithium-Ion rechargeable battery (7.2V 875mAh 6.3Wh) with plastic terminal cap
LC-E12 Battery charger (DC output: 8.4V 0.54A)
Neck strap
Getting Started booklet
Online registration card
Warranty card
Why Shop
With Us?
12 Reasons.
---
Details
Product Research
Recording Features
Playback, Editing and Print Functions
Wireless Functions
Battery Information
Connections
Software
Recording Features
Vari-angle LCD Monitor: The Canon PowerShot SX70 HS has a 3.0" TFT LCD monitor, featuring 922,000 dots with a 4:3 aspect ratio, and approximately 100% picture coverage. The LCD panel can be rotated out up to 180°, and rotated 270° (180° forward and 90° backward). You can also fold the panel back to the camera, facing out or in. The LCD display's brightness can be adjusted to one of five levels.
Viewfinder:
In addition to the 3" monitor, the camera has a separate 0.39" OLED electronic viewfinder with approximately 2,360,000 dots. It has a dioptric adjustment knob for focusing the viewfinder to your eyesight.
Image Sensor/Image Processor: The camera is equipped with a 1/2.3" CMOS image sensor with 21.1-million total pixels, and 20.3-million effective pixels. The DIGIC 8 Image Processor helps improve auto focusing performance, and lets you capture movies in 4K Ultra High Definition.
Optics and Stabilization: The SX70 HS has a 65x optical zoom lens with a 3.8-247.0mm focal length (35mm equivalent is 21-1365mm). The built-in Optical Image Stabilizer helps control camera shake to give you clear images when you're zoomed way in. The innovative Intelligent IS lets you shoot at slower shutter speeds with improved stability up to 5 stops.
Zoom: In addition to the 65x optical zoom, the camera features a 4x digital zoom. When used in combination, the total zoom is approximately 260x. When optical and digital zoom are combined, the total focal length is 21-5460mm (35mm equivalent). The zoom range is divided into three color-coded sections:
Optical Zoom: The optical zoom range is 1x to 65x, and is color-coded in the monitor in white. Images are clear and sharp.
ZoomPlus: The ZoomPlus range is 65x to 130x, and appears in yellow in the zoom range. Digital zoom of 2x is applied to the optical zoom, and the image is not noticeably grainy.
Digital Zoom: The Digital Zoom range is approximately 130x to 260x, and appears in blue. Full 4x digital zoom is applied to the optical zoom, making the images appear grainy.
Digital Tele-Converter: The focal length of the lens can be increased by an equivalent of 1.6x or 2.0x through the use of the Digital Tele-Converter. The equivalent focal lengths of the lens (35mm equivalent) are 33.6-2184mm when using the 1.6x digital tele-converter, and 42-2730mm with the 2.0x tele-converter. The digital zoom and digital tele-converter cannot be used simultaneously. Using the digital tele-converter may help reduce camera shake because the shutter speed is faster than it would be using the zoom function.
Framing Assist-Seek: When you have fully zoomed in and temporarily lose track of your subject, the Framing Assist-Seek function will help you locate your subject. With a dedicated button on the back panel, Framing Assist-Seek causes the camera to zoom out as long as the button is held down, allowing you to locate your subject. When the button is released, the lens returns to its original zoom position, keeping the subject in focus until you're ready to capture the image.
Recording Media: The camera records still images or moving images with stereo audio on SD/SDHC/SDXC memory cards, including UHS-I cards. Still images are recorded in JPEG format, and the movies are recorded in MP4 format (Image data: MPEG-4 AVC/H.264, Audio data: AAC stereo). The camera has no built-in memory, and no memory card is included with the camera.
Still Image Resolution/Compression: The SX70 HS can record still images in 3 different sizes (Large, Medium, and Small) and 4 aspect ratios (4:3, 16:9, 3:2, and 1:1). For each resolution, you can set the compression to higher (fine) or lower (normal) image quality. You can choose from the following resolutions:
| | | | | |
| --- | --- | --- | --- | --- |
| | 4:3 | 16:9 | 3:2 | 1:1 |
| Large | 5184 x 3888 | 5184 x 2912 | 5184 x 3456 | 3888 x 3888 |
| Medium | 3648 x 2736 | 3648 x 2048 | 3648 x 2432 | 2736 x 2736 |
| Small | 2432 x 1824 | 2432 x 1368 | 2432 x 1616 | 1824 x 1824 |
Movies: Movies can be shot in 4K (3840 x 2160 at 30fps), Full HD (1920 x 1080 at 120, 60 and 30 fps), and HD (1280 x 720 at 60 fps). Recording will automatically stop when either the clip file size reaches 4 GB or the recording time reaches approximately 30 minutes.
Time-Lapse Movies: You can shoot images automatically at regular intervals and combine them into a 4K Time-Lapse movie. In the Time-Lapse movie mode, you can select one of three Scenes:
Scene 1: for shoot moving subjects, such as walking people; takes 30 to 900 total shots at 1-4 second intervals
Scene 2: for shooting slowly changing subjects, such as clouds; takes 30 to720 total shots at 5-10 second intervals
Scene 3: for shooting slowly changing scenes; takes 30to 240 total shots at 11-30 second intervals
Continuous Shooting Mode: You can use the continuous shooting mode to shoot successive frames while the shutter button is fully pressed. The continuous shooting speed varies with the auto focusing mode:
One-Shot AF (auto focus locked at first image):

High Speed: 10 shots/sec max.
Low Speed: 3 shots/sec max.

Servo AF (auto focus tracks your subject):

High Speed: 5.7 shots/sec max.
Low Speed: 3 shots/sec max.
Focusing Range: The camera features the following focus ranges (from the end of the lens):
Auto: 0.0" to infinity (W), 5.9' to infinity (T)
Normal: 2" to infinity (W), 5.9' to infinity (T)
Macro: 0.0" to 1.6' (W)
Shooting Modes: You can choose between the following shooting modes using the top panel mode dial:
Auto: The camera will automatically select the best settings for the scene.
Program: The camera sets both the aperture value and shutter speed, allowing you to customize many function settings to shoot your preferred shooting style.
Shutter Priority (Tv): You can set your preferred shutter speed, letting the camera automatically adjust the aperture value to suit your shutter speed.
Aperture Priority (Av): You can set your preferred aperture before shooting, and allow the camera to automatically adjust the shutter speed to suit your aperture value.
Manual: You can set your preferred shutter speed and aperture value to obtain the desired exposure.
Hybrid Auto: Lets you make a short movie of the day just by shooting images. The camera records 2-4 second clips of scenes before each shot, which are later combined into a digest movie.
C1/C2 Mode: You can save commonly used shooting modes and your favorite settings for instant recall. There are two memory settings.
Creative Filters: You can add a variety of effects to your pictures as you shoot. Filters include: Grainy, Soft Focus, Fish-eye Effect, Art Bold Effect, Water Painting Effect, Toy Camera Effect, and Miniature Effect.
Panorama: You can create expansive panoramic photos by combining a series of shots.
Sports: Sports Mode lets you shoot continuously as the camera focuses on moving subjects.
Special Scene: Select from the following, according to the scene or effects desired: Self Portrait, Portrait, Smooth Skin, Food, Handheld Night Scene, and Fireworks.
Movies: Record movies in 4K or High Definition.
Metering Modes: You can select from the following metering modes:
Evaluative Light Metering: used for standard conditions. The area within the frame is divided into several zones and light is measured based on subject position, brightness, direct light and backlighting.
Center-Weighted Averaging: averages the exposure from the entire image, but places more weight on the subject at the center
Spot: meters the area within the spot AE point at the center of the LCD monitor or viewfinder.
Exposure Compensation: If you are shooting against a bright background or strong backlight, you may need to correct the exposure so that the subject doesn't come out too dark. You can set the adjustments from -3 to +3 in 1/3-step increments.
White Balance: You can choose from the following white balance settings: Auto, Daylight, Shade, Cloudy, Tungsten Light, White Fluorescent Light, Flash, WB Correction, and Custom.
Flash Modes: The PowerShot SX70 HS has a built-in pop-up flash. You can select Auto (flash fires in low light), Slow-synchro, On (flash always fires), or Off (flash doesn't fire). The built-in flash has a range of 1.6' to 21.3' in Wide Angle and 5.9' to 13.1' in Telephoto. In the menu, you can turn on the Red-Eye Reduction lamp for the flash, and apply Red-Eye Correction to the images that have been taken.
ISO Speed: The ISO speed can be set Automatically (ISO Auto), or manually ISO 100 to ISO 3200 in 1 EV steps. Lowering the ISO speed results in sharper images but there's a greater chance of subject or image blurring in certain shooting conditions. Raising the ISO speed results in a faster shutter speed, reducing blurred images. The images, however, will appear more coarse.
Self-Timer: The SX70 HS utilizes a 10-second, 2-second, and a custom self-timer to allow the photographer to be included in the shot, or to avoid camera shake when using a tripod. The custom self-timer allows you to set the time delay between 2 and 10 seconds in 1-second increments.
Wireless Remote Control: With the Wireless Remote Control BR-E1, you can shoot still images and movies from a distance of up to 16 feet away. The BR-E1 uses Bluetooth Low Energy (BLE version 4.1) wireless protocol to control the camera.
Playback, Editing and Print Functions
Index Display: This feature allows you to view 6, 12, 36, or 100 images at once on the LCD monitor so that you can search for an image quickly. Movies cannot be played in the index playback mode. You can view the index display by rotating the zoom lever toward wide angle while the camera is in playback mode.
Filtered Playback: When there are many images on the memory card, you can filter and display them by a specified filter. You can also protect or delete all images at once while filtered. Available filters include: Rating, Shot Date, Folder, Protect, and File Type (Still Image/Movie).
Shooting Display Options: You can choose to display your photos on the LCD monitor and the viewfinder with and without shooting information. Display options include Simple Information, Detailed Information, Detailed Information 2, or no Information.
Red-Eye Correction: You can correct red eyes in already recorded images. However, red eyes may not be automatically detected in some images such as faces near the screen edge, faces that appear extremely small, larger dark or bright in relation to the overall image and faces turned to the side or at a diagonal and faces with a portion hidden which prevents the Red-Eye Correction from working. You can choose to overwrite the file with the corrected image, or store the image as a new file, retaining the original image.
PictBridge: Using the supplied USB cable, you can connect this camera directly to a PictBridge-compatible printer of any brand. In this way, you can make prints directly from the camera without having to connect to a computer.
Wireless Functions
Wireless Features: You can send and receive images and control the camera remotely by connecting the camera to another device via Wi-Fi (802.11b/g/n, 2.4GHz):
Smartphones/Tablets: With the free Camera Connect app installed on the device, you can send images to smartphones or tablets via Wi-Fi. You can also control the camera from your smart device. If your device has GPS, you can add location information (geotag) to your photos.
Computer: Computers running Windows 10, 8.1, 7 (SP1), Mac OS X v10.10, 10.11, macOS 10.12, and 10.13, can connect to the camera via Wi-Fi. Using Image Transfer Utility software, you can save camera images to the computer wirelessly.
Printers: You can wirelessly send images to a PictBridge-compatible printer (that supports DPS over IP) for printing.
Web Services: After establishing an account for the Canon iMage Gateway on-line photography service, you can wirelessly send images automatically from the camera to another computer or to a web service.
Bluetooth 4.1 Features: You can pair the camera with a Bluetooth-enabled smartphone or tablet through the Canon Camera Connect application. Using the GPS information (latitude, longitude, elevation) from the smartphone, you can geotag your images and movies. You can view the shooting location of your photos on a map using the Map Utility program. Map Utility is compatible with Windows 10, 8, and 7 (SP1) and Mac OS X v10.10, 10.11, macOS 10.12 and 10.13.
Battery Information
Power Requirements: The Canon PowerShot SX70 HS powered by the LP-E12 Lithium-Ion rechargeable battery. The camera includes the LC-E12 battery charger, which can charge the LP-E12 battery in approximately 2 hours. The estimated battery life of the LP-E12 in the SX70 HS is as follows:
Number of Shots
Screen On
325 shots
Screen On
(ECO mode)
405 shots
Viewfinder
255 shots
Movie Recording
Screen On
85 minutes
Viewfinder
75 minutes
Playback Time
6 hours
Power Saving Functions: The camera is equipped with the following power saving functions:
Auto Power Down for Shooting Mode: The screen will turn off approximately 1 minute after the camera is last operated. You can "wake" the camera at this point by pressing the shutter button halfway to turn on the screen and continue shooting. After about 2 more minutes, if no buttons are pressed, the lens will retract and the power will turn off.
Auto Power Down for Playback Mode and Connection to a Printer: The camera power down approximately 5 minutes after the last control is accessed on the camera.
Note: The Power Saving Function will not activate during a Slide-Show or while the camera is connected to a computer.
Connections
HDMI Output: The PowerShot SX70 HS is equipped with a micro-HDMI (Type D) for connecting the camera to your HDTV. An optional micro-HDMI-to-HDMI cable is required.
Digital Terminal: The camera has a Micro-USB terminal to allow you to connect the camera to a compatible computer or compatible printer. No USB cable is included. An optional USB cable must be obtained in order to load images to your computer or printer.
Microphone: A 3.5mm microphone input is provided for plugging in an external microphone. When an external mic is plugged in, the built-in microphone is muted.
Remote Switch: The optional Remote Switch RS-60E3 (sold separately) can be used for long exposures, or to avoid camera shake. The switch plugs into the provided 2.5mm sub-mini jack.
Software
Software: The PowerShot SX70 HS does not include software. Instead, the software is available for download from the Canon website. The following programs are available:
Image Transfer Utility 2: You can automatically transfer images from your camera to your computer.
Digital Photo Professional: Lets you display convert RAW images to ordinary JPEG or TIFF files.
Camera User Guide: The 289-page Advanced User Guide is available for download.
Camera Connect: The Camera Connect app is a free application for Android and Apple smart devices which enables users to transfer images shot with the camera to the device via Wi-Fi or Bluetooth. The app is compatible with Android devices running Android (version varies with device), and with iPhone, iPad, and iPod touch running iOS 9.0 or later.
Compatible Operating Systems: The above-listed software is compatible with computers running the following operating systems:
Windows 10
Windows 8/8.1
Windows 7 (SP1)
Mac OS X (v10.10, v10.11, macOS v10.12, v10.13)
Our Product Research Team
At Crutchfield, you'll get detailed, accurate information that's hard to find elsewhere. That's because we have our own in-house Product Research team. They verify what's in the box, check the owner's manual, and record dimensions, features and specs. We stay on top of new products and technologies to help people make informed choices.
Q & A
Customer Q&A
Crutchfield asked


Why did you buy this?
Good Reviews

[ Deborah Dec 11, 2018 ]