Canon XA15
Professional HD camcorder
Item # 280XA15 | MFR # 2217C002
In Stock
Was: $1,899.00
Instant savings: -$100.00

Our VirginiaVA-based experts can help.
Overview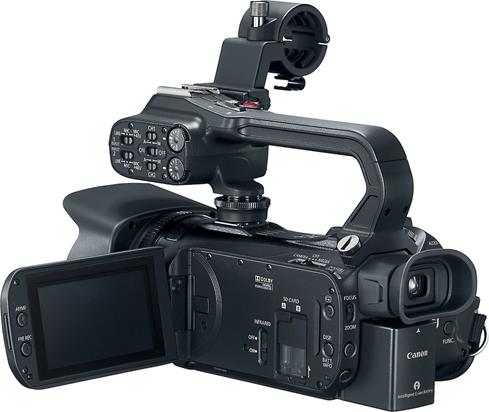 Canon's XA15 camcorder offers a 3" touchscreen, add-on handle with dual XLR connections, and a microphone holder to assist the working videographer.
A portable camera that shoots professional-quality HD video
If you're looking to use your video camera to make a living, the Canon XA15 may just have everything you need. It supports full HD video recording, offers a 20X optical zoom lens with five-axis image stabilization, and includes useful accessories that every hard-working cameraperson needs.
Advanced options
This camera lets you make professional creative choices. A night shoot is no problem, thanks to infrared mode, which produces well-illuminated images in low light. Interval Recording (2x-1200x) lets you create fast- or slow-motion time-lapse video that helps to tell the story. And you don't have to stop recording to swap out memory cards — dual slots let you keep recording when the first card is full.
Convenient connections
The body of the XA15 provides a mini HDMI connector, a mini USB output, and a 3.5mm minijack output that lets you monitor your recordings with a pair of headphones. There's also a pro-quality HD/SD-SDI terminal that lets you transmit uncompressed video with timecode and audio embedded.
The included handle accessory offers dual XLR inputs with phantom power and individual volume controls for connecting pro-quality microphones. An included microphone holder helps you capture clear sound, even when you don't have a hand free.
Product Highlights:
full HD video recording (1920 x 1080, 1280 x 720), 1440 x 1080 HDV mode available
wide-angle 20X optical zoom lens (400X digital zoom)
35mm equivalent focal range of 28.8-576mm
3" LCD touchscreen (460,000 dots)
0.24" LCD viewfinder (1.56 million dots)
five-axis optical and electronic image stabilization helps reduce image distortion
DIGIC DV 4 image processor is fast and powerful
dual SD memory card slots enable double-slot and relay recording

double-slot recording lets you instantly back up your videos
relay recording automatically continues recording on second card when first card is full

infrared mode produces video images that are evenly illuminated in low light
Interval Recording (2x-1200x) creates fast- or slow-motion time-lapse video
Wide Dynamic Range Gamma of 600% helps prevent overexposure
Minimum Object Distance (MOD) is maintained at all zoom levels, enabling flexible framing control
eight-blade circular aperture for smoothly defocused backgrounds
Connections and Dimensions:
BNC output connector

HD/SD-SDI terminal transmits uncompressed video with timecode and audio embedded

mini HDMI connector
high-speed mini-USB port
removable handle unit includes dual XLR balanced audio inputs

48V phantom power and separate volume controls

3.5mm headphone jack for audio monitoring
5-1/4"W x 7-1/8"H x 9-1/8"D (with lens hood, mic holder and handle)
weight: 2.5 lbs.
warranty: 1 year parts and labor
Supplied Accessories:
CA-570 power adapter
BP-820 lithium-ion battery pack
lens hood with lens barrier
HDU-1 handle unit
microphone holder
What's in the Box:
Flash memory camcorder (black)
Lens Cap (installed)
Lens Hood
BP-820 Lithium-Ion battery (7.4V 1700mAh 13Wh)
CA-570 Power adapter with attached 5.5' DC output cord (DC output: 8.4V/1.5A)
5' AC cord
Ferrite Core noise filter
Microphone holder unit
HDU-1 Handle unit
2 Phillips-head screws
Quick Guide
Register Now card
Canon Professional Services card
Limited Warranty card
Why Shop
With Us?
12 Reasons.
---
Details
Product Research
General Features
Recording Features
Inputs And Outputs
Battery Information
Software
General Features
Image Sensor/Processor: The Canon XA15 Flash Memory professional camcorder features a 1/2.84" HD CMOS Pro image sensor with 3,090,000 total pixels and 2,910,000 effective pixels (2136 x 1362). The image sensor is coupled with Canon's powerful DIGIC DV 4 Image Processor to deliver stunning HD video, including to two memory cards in different formats.
3.0" Widescreen LCD Touch Screen: The XA15 features a 3.0" TFT color widescreen LCD (460,000 dots) with capacitive touch to make it easy to compose and review your shots. The bright screen lets you see exactly what your camcorder is recording, and what your widescreen TV will display later. You can rotate the LCD screen 270° allowing the subject to monitor the LCD screen.
Viewfinder: In addition to the 3.0" LCD, the camcorder also features a separate 0.24" TFT color viewfinder with 1.56-million dots. You can switch from the LCD screen and the viewfinder by pulling the viewfinder out. You can adjust the viewfinder to your eyesight using the dioptric adjustment lever. Once pulled out, you can tilt the viewfinder up to a 45° angle.
Recording Media: The Canon XA15 camcorder captures video and still-images onto SD, SDHC, or SDXC memory cards (sold separately) up to 128 GB. No memory cards are included with the camcorder.
Dual Memory Card Slots: The XA15 is equipped with two slots for inserting SDHC or SDXC memory cards. When the memory card in slot A becomes full while recording movies, the recording will continue uninterrupted on the card in slot B (relay recording). You can also record to both memory cards simultaneously, making an instant backup for your footage. The backup movie can be in the same movie format and mode as the original, or in a different format at a lower bit rate, resulting in smaller files that can be shared via email or social media.
Recording Formats: The camcorder records movies and photos in the following formats:
Movies:

AVCHD:

Video: MPEG-4 AVC / H.264
Audio: Linear PCM* (16-bits, 48 kHz, 2ch) or Dolby Digital 2ch

MP4:

Video: MPEG-4 AVC / H.264
Audio: MPEG-2 AAC-LC (2ch)

Photos: JPEG
* Linear PCM is only available when the recording mode is 28 Mbps LPCM or 24 Mbps LPCM
Accessory Shoe: The camcorder features an Accessory Shoe (cold) allows you to attach a range of optional accessories, such as an optional video light. The included HDU-1 Handle Unit uses the camcorder's Accessory Shoe for mounting, but has another shoe on top of the handle.
Handle/Microphone Holder Units: The XA15 comes with the HDU-1 Handle Unit for added flexibility and connectivity. The handle includes additional terminals and controls, an infrared light, tally lamp, accessory shoe (cold), and an external microphone holder. Two XLR audio input terminals are included on the handle unit for connecting professional microphones or other audio sources. You can switch between line, mic, or mic+48V (to add phantom power) for each of the XLR inputs.
Genuine Canon Video Lens: The XA15 comes with a Genuine Canon 20x HD Zoom lens with a focal length of 3.67 - 73.4mm (35mm equivalent: 26.8 - 576 mm). The lens features an 8-blade circular aperture, which helps avoid the "starburst" effect of light points. A lens hood is included to reduce the amount of stray light to enter the lens.
Digital Zoom/Teleconverter: Beyond the 20x optical zoom, the XA15 adds a digital zoom, to give you a total zoom capability of 400x. To zoom in and out, you can use the focus/zoom ring, the zoom rockers on the camcorder and handle unit, or the zoom controls on the touch screen. Also, a selectable digital tele-converter is available for digitally increasing the focal length by a factor of approximately 2x.
Zoom Speed: The camcorder has several ways to control the zoom speed. Soft Zoom Control allows you to start and/or stop the zoom gradually. The Zoom Ring is variable, and the zoom in/out speed increases the more you turn the ring. The zoom rockers (on the camcorder and handle unit) can be set to Variable or Constant (16 speeds), and at the following speeds:
Zoom Rocker
Constant Speed
(selected)
Zoom Speed Setting
Slow
Normal
Fast
Variable
---
4 sec to 4 min 45 sec
2.5 sec to 3 min
1.9 sec to 1 min
Constant
1 (slowest)
4 min 45 sec
3 min
1 min
16 (fastest)
4 sec
2.5 sec
1.9 sec
Optional Converter Lenses: The XA15's lens has a 58mm filter thread, allowing you to attach optional converter lenses to increase or decrease the focal length. The optional TL-H58 Tele-Converter increases the focal length by a factor of 1.5 with a minimum focusing distance of 4.3'. The WD-H58W Wide-Converter decreases the focal length by a factor of 0.75, giving you a wide perspective for indoor shots or panoramic views. In addition to converter lenses, you can also attach 58mm protective or natural density filters to the lens.
Intelligent Image Stabilizer: The XA15 has an Intelligent Image Stabilization system that can help reduce image blur in a wide variety of shooting situations. You can select the options manually or use Intelligent IS to let the camcorder automatically the mode. The IS modes include:
Macro IS: Macro IS corrects angular and shift-type shake when shooting in wide angle.
Powered IS: Powered IS compensates for camera shake in telephoto end of the zoom range.
Dynamic IS: Dynamic IS applies the highest degree of compensation. It is most effective when shooting wide angle shots. Its 5-axis stabilization compensates for up/down, left/right, horizontal roll, vertical roll, and roll axis movement.
Operating Modes: Using the Mode Switch on the top of the camcorder, you can select one of the following Operating Modes:
Auto: The camcorder takes care of all of the settings while you concentrate on recording.
Manual: The manual setting gives you full access to menus, settings, and advanced functions.
Cinema: The Cinema mode gives your recordings a cinematic look. The Cinema-Look filters help you create unique movies.
Manual Focus Ring: The XA15 has a manual focus ring that helps you achieve the focus you're looking for. The focus ring response can be set to fast, normal, or slow, plus the focus direction can be set in either direction.
Video Snapshot: The camcorder's Video Snapshot mode lets you shoot a series of short video clips, then combines them with a pre-recorded music track or your own favorite music track, to create an entertaining movie. You can select the length of the video snapshot scenes: 2 sec, 4 sec or 8 sec.
Instant Auto Focus (AF): The XA15 offers Instant Auto Focus, which uses an external sensor, in combination with Canon's auto focus system, to help significantly decrease the time it takes to focus, even in low light situations. The Focus Assistance feature provides a 2x magnification of your subject in the LCD monitor before you start recording. When recording begins, the Focus Assist is canceled. Other Autofocus modes include Medium AF and Normal AF.
Face Detection: The camcorder can automatically detect people's faces and use this information to adjust the focus and set the best exposure and color control settings for beautiful videos and photos. When there are a number of people in the picture, one person will be determined to be the main subject. You can also select the main subject manually.
Exposure Modes: The XA15 features several exposure modes, each depending upon how much control you have over recording-related settings:
Smart Auto: The Smart Auto setting automatically selects the best settings for the scene you want to shoot. You get spectacular recordings every time without worrying about the settings.
Programmed AE: The camcorder automatically adjusts the aperture and shutter speed to obtain the optimal exposure for the subject.
Cine Mode: The Cine Mode gives your recordings a cinematic look. You can select a 24fps progressive frame rate to enhance the effect.
Shutter Priority: You choose the shutter speed to freeze or blur the shot while the camcorder selects the appropriate aperture for the scene. You can select shutter speeds of 1/8 to 1/2000, or 1/6 to 1/2000 when the frame rate is 24p.
Aperture Priority: You choose the aperture to affect the depth of field and the camcorder selects the appropriate shutter speed for the scene. You can select aperture settings of f/1.8 (2.8 at max telephoto) to f/8.0.
Special Scene Recording Modes: The camcorder features the following Preset Scene Recording Modes to match special conditions: Portrait, Sports, Night Scene, Snow, Beach, Sunset, Low Light, Spotlight, and Fireworks.
White Balance: The camcorder's white balance system helps you accurately reproduce colors under different lighting conditions so that white objects will always look truly white in your recordings. You can choose from the following modes: Automatic, Daylight, Shade, Cloudy, Fluorescent, Fluorescent H, Tungsten, Color Temperature, and Set 1/Set 2.
Cinema-Look Filters: The XA15 allows you to record with the following cinema-look filters: Cinema Standard, Vivid, Dream, Cool, Sepia, Old Movies, and Memory.
Recording Features
Recording Modes: The camcorder records movies in AVCHD and MP4 formats in the following modes and resolutions:
Format
Recording Mode
Resolution
Audio Format
AVCHD
28 Mbps LPCM
1920 x 1080
Linear PCM
28 Mbps
Dolby Digital
24 Mbps LPCM
Linear PCM
24 Mbps
Dolby Digital
17 Mbps
5 Mbps
1440 x 1080
MP4
35 Mbps
1920 x 1080
AAC
24 Mbps
17 Mbps
8 Mbps
1280 x 720
4 Mbps
3 Mbps
640 x 360
Pre-Recording: When Pre-Recording is activated, the camcorder starts recording video continuously into a temporary 3-second memory. When you press the Start/Stop button, the scene recorded will have started 3 seconds before you started shooting. This is especially useful when it is difficult to predict when to start recording.
Fast and Slow Recording: When recording in MP4, you can record scenes with a slow or fast frame rate to create slow motion or fast motion movies. No sound is recorded during these scenes. Available Slow/Fast Motion rates include:
Recording Mode
Frame Rate
Slow/Fast Motion Rates
35 Mbps
8 Mbps
60p
x2, x2.5
24 Mbps
17 Mbps
30p
x0.5, x1.25, x2, x4, x10, x20, x60, x120, x1200
24p
x0.4, x0.8
Recording Audio: You can record audio using the built-in stereo microphone, an external microphone (MIC 3.5mm or INPUT 1/INPUT 2 XLR terminals), or the Line Input (INPUT 1/INPUT 2 XLR terminals). When using the Built-in Microphone, you can adjust the recording level, attenuate the mic, change the directionality, adjust the equalization, apply a low cut filter, and apply a "wind screen" setting to reduce wind noise. Six Audio Scenes are also available to optimize the audio settings of the built-in mic: Standard, Music, Speech, Forest and Birds, Noise Suppression, and Custom Settings.
Built-in Speaker: The camcorder has a built-in speaker so you can review the soundtrack as well as the picture when you're using the LCD screen to playback a recording. The built-in speaker is monaural.
Special Playback Functions: The camera uses the following special playback modes: Fast Playback (5x, 15x, or 60x) in either direction, Slow Playback (1/8x or 1/4x) in either direction, and Frame-by-Frame Playback. During these playback modes there is no sound.
Still Image Recording: The XA15 flash memory camcorder is also a high performance digital camera capable of capturing stunning photos. Photos are recorded at the following resolutions:
1920 x 1080 pixels
1280 x 720 pixels (when recording MP4 movies at 8 or 4 Mbps)
640 x 360 pixels (when recording MP4 movies at 3 Mbps)
1920 x 1080 (photos captured from movies)
Viewing Still Images: Photos can be viewed from the 12-image photo index screen. Swiping your finger left or right on the screen will bring up the next page of the index screen. To view a single image in full screen, you can touch the image from the index screen.
Inputs And Outputs
HD/SD-SDI Terminal: The Canon XA15 is equipped with an HD/SD-SDI terminal designed for professional broadcast use. This terminal outputs a digital signal, which includes an uncompressed video signal at 1920 x 1080 with a 4:2:2 color sampling, as well as audio, and time code signals. The HD/SD-SDI terminal will accept a BNC cable (sold separately). Specifications:
| | | | |
| --- | --- | --- | --- |
| Output | Video Standard | Embedded Audio Standard | Time Code Standard |
| HD-SDI | SMPTE 292M (1080i/720p) | SMPTE 299M | SMPTE 12M |
| SD-SDI | SMPTE 259M (480i) | SMPTE 272M | SMPTE 12M |
HDMI Output: The XA15 features a mini-HDMI (Type C) terminal that offers a high-quality digital connection that combines audio and video in a single convenient cable. The output resolution of the HDMI terminal can be set to Automatic, 480i, 480p, 720p, 1080i, and 1080p. No HDMI cable is included with the product.
AV Output: The camcorder features a 3.5mm AV output to playback audio and video on your television using the optional STV-250N composite video/stereo audio RCA cable. You can select between a 4:3 aspect ratio or a 16:9 aspect ratio for the video out based on your television's aspect ratio.
USB 2.0 Connection: The camcorder features a USB 2.0 High Speed terminal for transfer of photos and videos. The terminal is a Mini-B 2.0 USB. The USB port can also be used to connect the optional GP-E2 GPS receiver for adding location information to your movies and photos.
Microphone Input: In addition to the camcorder's built-in microphone, the XA15 features a 3.5mm microphone input for connecting an external microphone (such as the DM-E1).
HDU-1: The HDU-1 Handle Unit features two female XLR inputs (labeled Input 1 and Input 2) for connecting professional microphones or audio devices. Each input has its own level control, input selection switch (Line/Mic/Mic+48V), and a switch to turn the Inputs terminals on or off.
Headphone Output: A 3.5mm stereo minijack is provided for plugging in headphones for monitoring audio during recording or playback.
Remote Control Input: The camcorder features a 2.5mm sub-minijack terminal for connecting a commercially available remote controller.
Battery Information
Lithium-Ion Battery Pack: The Canon XA15 comes supplied with a rechargeable Lithium-ion Battery Pack (BP-820). Optional batteries are available, such as the BP-820 (7.4V 1700mAh) or BP-828 (7.4V 2670 mAh). The camcorder also comes supplied with an AC power adapter and charger (CA-570). The battery recording and playback times are as follows:
AVCHD
Battery Pack
Recording (Max)
Recording (Typical)
Playback
BP-820
1700 mAh
140-155 min
85-90 min
230-250 min
BP-828
2670 mAh
210-230 min
135-145 min
345-370 min
MP4
Battery Pack
Recording (Max)
Recording (Typical)
Playback
BP-820
1700 mAh
140-170 min
85-100 min
230-260 min
BP-828
2670 mAh
210-260 min
130-165 min
345-390 min
Note: Recording and playback times vary by recording mode.
Charging Times: The BP-820 battery charges in 275 minutes when charging through the camcorder with the supplied AC adapter, while the optional BP-828 charges in approximately 405 minutes.
Software
PIXELA Data Import Utility: The Canon XA15 camcorder comes with no software in the box. PIXELA's Data Import Utility software (Ver.2.4.x) is available for free download from the Canon website for use by the XA15. Data Import Utility software allows you to do the following:
Save scenes to a computer. You can choose to save all scenes on the memory card, or just the new scenes.
You can join together any movie files that were saved on separate memory cards, and save them as a single scene.
You can also join multiple video stream files that were split due to the maximum file restriction. When recording for long periods, the video is split into 4 GB segments. The software lets you join them together and save them into a single scene.
System Requirements: Data Import Utility is compatible with the following operating systems:
Windows 7 (SP1):

Home Premium, Professional, Ultimate, Enterprise
32-bit and 64-bit versions supported (XP mode not supported)

Windows 8.1:

Windows 8.1, 8.1 Pro, 8.1 Enterprise
32-bit and 64-bit versions supported; Desktop mode only

Windows 10:

Home, Pro, Enterprise
32-bit and 64-bit versions supported; Desktop mode only

Mac OS X: v10.9, v10.10, v10.11
macOS: 10.12
Our Product Research Team
At Crutchfield, you'll get detailed, accurate information that's hard to find elsewhere. That's because we have our own in-house Product Research team. They verify what's in the box, check the owner's manual, and record dimensions, features and specs. We stay on top of new products and technologies to help people make informed choices.