About the Mark Levinson No. 5909
Mark Levinson style and performance, everywhere you go
The Mark Levinson No. 5909 noise-canceling Bluetooth headphones are unlike any model we've ever carried. They are at once super-premium wireless work/travel headphones, as well as bona fide audiophile wired headphones for focused at-home listening. During a brief audition, I learned that their deluxe build and high-grade beryllium drivers help them excel in both scenarios.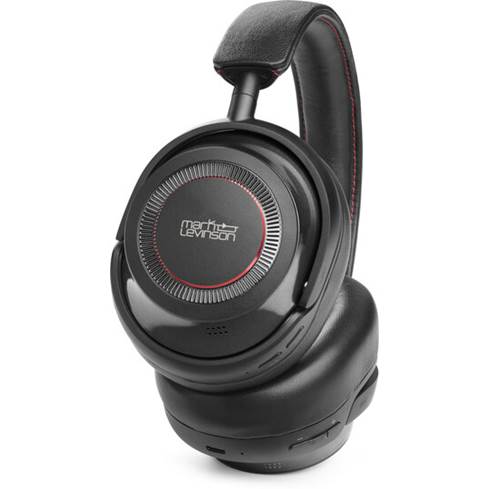 The well-put-together Mark Levinson No. 5909 noise-canceling headphones play music wirelessly through high-grade beryllium drivers.
Mark Levinson style and performance, everywhere you go
The Mark Levinson No. 5909 noise-canceling Bluetooth headphones are unlike any model we've ever carried. They are at once super-premium wireless work/travel headphones, as well as bona fide audiophile wired headphones for focused at-home listening. During a brief audition, I learned that their deluxe build and high-grade beryllium drivers help them excel in both scenarios.
And they impressed from the moment I unboxed them. Right away I was struck by the industrial design — it captures that timeless vibe of classic Mark Levinson audio gear. I could see and feel the thoughtful detail in the strong aluminum frame, textured leather headband, and the polished, gloss-metallic earcup finish.
Noise cancellation that adapts in real time
Built-in adaptive noise canceling circuitry scans and monitors external sounds, then adjusts itself accordingly. It was certainly put to the test in my basement office! With noise cancellation "on," these headphones quieted the constant low-frequency hum of my furnace, and also the — well, let's just say more "staccato" — rhythm coming from my 9-year-old kid's new keyboard piano.
While these headphones don't offer the absolute best noise cancellation available, it is well above average. And based on my experience, I think the No. 5909 headphones are equipped to knock out the plane engine drone and other air travel distractions. And it sets a low noise floor for what separates these headphones from the pack: that lifelike, nuanced Mark Levinson sound.
Listen wirelessly or wired — without compromise
These are primarily wireless headphones, and the newer, more reliable Bluetooth 5.1 is on board. Premium Bluetooth formats aptX™ Adaptive and LDAC are also supported with compatible devices, helping retain more musical detail. And they offer extended wireless range, so I could keep my phone on my desk and travel down the hall and upstairs without audio dropout.
There are also several wired listening options, including traditional 3.5mm miniplug cables in two different lengths. So you can connect to a portable high-res player or dedicated headphone amp/DAC with that or the included 1/4" adapter. I found you can also make a digital connection and listen with the included USB-C charging cable (or USB-C to USB-A adapter).
Adaptive noise cancellation helps remove unwanted distractions.
Secure, well-cushioned fit
The No. 5909s have a form-fitting design that helps keep them from slipping off as you move around. It's snug for sure, but it doesn't feel too "clamp-y" or like my head is in a vice. And the leather ear pads are soft, avoid pressure points well, and keep the drivers positioned properly toward the ears.
In my hands, they felt heavy for a set of Bluetooth headphones. But they are not nearly as heavy as the larger audiophile headphones out there. And the padded leather headband distributed the weight in a way that didn't cause me great fatigue, even as I wore them through entire work shifts.
Influenced by decades of scientific research
It's hard to believe, but these are the first headphones in the long, storied history of Mark Levinson. But think of the landscape back in the '70s when the company first introduced their world-class amplifiers — loudspeakers were so much more sophisticated than headphones. That's changed in the last decade, largely thanks to the advancements and scientific research of Harman, Mark Levinson's parent company.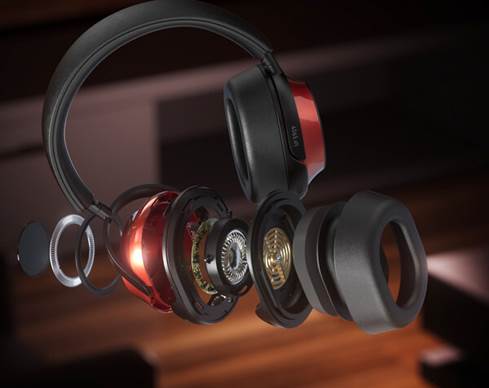 Expertly tuned high-performance drivers made of beryllium and other premium materials.
Within their California labs, Harman's audio experts — led by Dr. Sean Olive, former president of the Audio Engineering Society — developed a distinct sound signature, known within the high-end headphone scene as the "Harman curve." This special sound profile has been honed over the years by exhaustive user testing and has been proven to satisfy most listeners. It has informed and improved the tuning of countless headphones from entry-level models on up to the rarified air of these No. 5909 headphones.
Quick-moving beryllium drivers
Of course with headphones, proper tuning is only one aspect of the overall performance. The No. 5909's dynamic drivers are made of precious metals and other high-grade material for optimal detail retrieval and resolution. That includes beryllium, an incredibly light and rigid metal that can stop and start quickly for realistic dynamics.
Beryllium also has strong damping characteristics, which cuts down on reverberation and sound colorization that can especially muddy the midrange. I found that vocals, guitars, and other sounds in that area were very distinct and well-defined. In fact, I felt that way across all frequencies.
My listening impressions
Again, as I write this I've listened to these headphones for about a week. The good news is they aren't the type that takes a long time for me to warm up to — I was quite taken by their pristine sonic presentation.
Well balanced and accurate
The highs sparkled with detail, but never sounded grating or overly analytical. And the bass had a refined punch out of the box — tight, complementary low end for the jazz, acoustic, and classic rock tracks I played initially.
I connected to my Samsung phone via Bluetooth with LDAC and fired up and the new remaster of the Crosby, Stills, Nash, & Young iconic Déjà vu album on Qobuz. It includes the original album, along with three "discs" worth of demos and outtakes. I got sucked into an earlier, looser extended version of "Almost Cut My Hair" through these headphones.
David Crosby's vocals aren't as prominent as in the final cut we all know. But having him fall back in the mix fit the more improvisational feel of this version. Grounded by the biting percussion, his vocals became part of the jam. That gave way to the two lead guitars dueling between the left and right earcups.
I switched over to hip-hop and wanted a little more sub bass, so I bumped it up with the Mark Levinson Headphones app — a free download for iPhones and Android phones. On the Boldy James EP, Super Tecmo Bo, this gave extra heft to the boom-bap beats that producer Alchemist laid under classic soul and jazz samples. Boldy's deep, baritone vocals are further accentuated, but never lost in the mix like they can be in lesser headphones with boomier or bloated bass.
Pinpoint stereo imaging
Sure, most Bluetooth headphones offer wired listening options. But few perform nearly as well in "passive" mode, without the built-in amplification or sound processing and sweetening. The No. 5909 headphones, with their premium drivers, held up just fine when powered by my reference tube amp. The sound was warmer, as expected, but still just as pristine and detailed.
I was particularly impressed with the imaging. The soundstage itself isn't huge, maybe just outside the head, but the instrument separation and sense of place within gives it extra depth. This played to the strengths of the dreamy, ambient jazz album Promises, a collaboration between British DJ Floating Points, saxophonist Pharoah Sanders, and the London Symphony Orchestra.
The sweeping, mood-setting string instruments seemed to emanate from nowhere — or everywhere — as they engulfed my head. But as soon as I was lulled into a daze, the sax or electronic effects would cut through from a very specific location. And all the soft-to-loud musical moments had the beryllium-fueled dynamics on full display, with the subtle moments coming through just as clear as a gripping crescendo.
READ LESS
Product highlights:
premium closed-back, over-the-ear headphones
Bluetooth 5.1 for wireless music listening and phone calls

extended wireless range up to 65 feet
high-quality aptX, aptX Adaptive, and LDAC audio streaming

adaptive noise-canceling circuitry automatically adjusts to the level of external sound
Ambient Mode allows in external sounds to keep you better aware of your surroundings
also includes passive wired listening options for connecting to a dedicated headphone amplifier
Expert-tuned high-performance drivers:
40mm premium dynamic drivers coated in beryllium

rigid, lightweight metal known for quick movement and superior damping characteristics

tuned to Harman's targeted headphone EQ curve

sound signature honed by decades of scientific research and exhaustive user testing

accurate, well-balanced sound with pronounced clarity and detail
build quality and fit:
lightweight anodized aluminum frame and flexible headband
snug, secure fit with soft, sculpted ear pads (removable)
headband and ear pads lined in premium stitched leather
metal mesh bass port to reinforce lower frequencies
earcups finished in automotive gloss-metallic paint
Mobile app and easy controls:
free Mark Levinson Headphones app for Apple® or Android™ lets you adjust settings

choose from three sound presets for bass preference
manually choose the amount of ambient noise you hear

earcup buttons offer music, volume, call, noise cancellation, and Ambient Mode controls
four-mic system with echo-cancellation for clear, hands-free calls
Included cables and adapters:
two USB-C to 3.5mm miniplug cables for optional wired listening:

extended 13-foot fabric-lined cable
4-foot fabric-lined cable

1/4" adapter and flight adapter included
USB-C to USB-C charging/listening cable
USB-C to USB-A adapter
General info and specs:
built-in rechargeable battery offers up to 30 hours of wireless use with noise cancellation (34 hours without)

15 minutes of recharging provides enough power for 6 hours of listening

includes protective carrying case and microfiber polishing cloth
frequency response: 20-20,000 Hz (wireless); 10-40,000 Hz (wired)
sensitivity: 97 dB
impedance: 32 ohms
weight: 12 ounces
warranty: 2 years
MFR # MLNO5909RED
Fit FactorsSM
Large earcups
Snug fit
Good for flight/travel
Mark Levinson No. 5909 reviews
Average review:
Thanks for submitting your review
Most reviews are processed and published within 5 business days. You will receive a confirmation email once your review has been published.
Customer photos
More details on the Mark Levinson No. 5909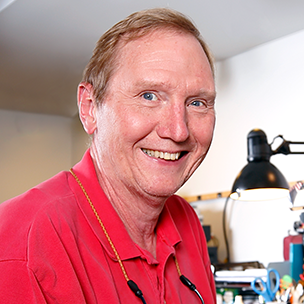 Researched by Crutchfield's

Mark G.
Features & specs
General
Fit Style
Over-the-ear
Earcup Type
Closed
Earcup Width x Height
Noise-canceling
Yes
Bluetooth
Yes
Bluetooth Version
5.1
Single-earbud Operation
---
Mic For Taking Calls
---
Voice Assistant Access
Amazon Alexa
No
Google Assistant
No
Siri
No
Connectors
3.5mm
Yes
1/4"
Yes
Lightning
No
4.4mm balanced
No
XLR4 balanced
No
2.5mm
No
Other
None
Specs
Frequency Response
20-20K Hz
Sensitivity
97 dB
Impedance
32 Ohms
Weight
12 ounces ounces
Cord Length
---
Parts Warranty
2 years
Labor Warranty
2 years