About the Parrot Disco FPV
Experience the magic of flight with your own eyes
The Parrot Disco is a fast, aerodynamic, fixed-wing drone that you'll love to watch as it soars through the sky above. Better still, with the included CockpitGlasses, you can use your smartphone as a viewer and immerse yourself in a first-person point of view that will let you see the world from the drone's perspective.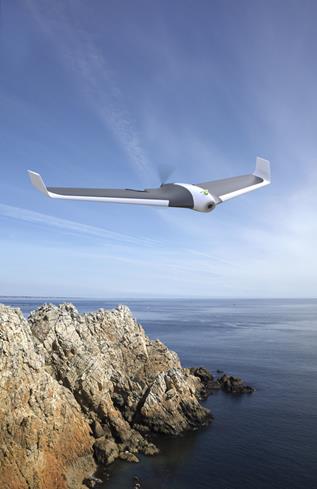 Experience the joy of flight with the fast, maneuverable Parrot Disco fixed-wing drone.
Experience the magic of flight with your own eyes
The Parrot Disco is a fast, aerodynamic, fixed-wing drone that you'll love to watch as it soars through the sky above. Better still, with the included CockpitGlasses, you can use your smartphone as a viewer and immerse yourself in a first-person point of view that will let you see the world from the drone's perspective.
The Disco is equipped with an HD camera that's stabilized on three axes, so your video stays nice and steady. It stores video files at 1080p inside the camera, and streams it back to the ground at 720p, so you'll get an incredible view. The included Skycontroller gives you precise control over the drone's speed and maneuvering, with its intuitive dual joysticks.
Wi-Fi control
The Disco makes a secure, robust Wi-Fi® connection with the Skycontroller 2 and CockpitGlasses, so you can steer and monitor your aircraft from up to 1-1/4 miles away. There's also a built-in anti-stall system to help keep the wind beneath your wings. Aside from experiencing your flight live, you can store video in the camera's 32GB internal flash memory, so you can relive each thrilling moment in full HD, or play it back for friends and family later.
The Disco also offers autopilot features that are controlled by a replaceable C.H.U.C.K. — Control Hub & Universal Computer Kit — module.
Sophisticated navigation
The Disco has a sweeping 4-foot wingspan, but it's pretty easy to fly. You'll pilot the plane by touch, with your fingers on the intuitive buttons and joysticks of the compact Skycontroller 2. That smooth experience is made possible by a built-in navigation system that includes a gyroscope, accelerometer, and magnetometer, as well as GPS + GLONASS for satellite location. Additional sensors provide ultrasound information, an airspeed sensor, altimeter, and optical flow camera to make sure you have complete control over how your aircraft is flying. If you need a little help, there's an automated "return home" feature that ensures a smooth landing every time.
READ LESS
Product highlights:
remote-controlled, fixed-wing flying drone with front-mounted 1080p video camera
signal range: 1-1/4 miles
records full HD video to 32GB internal flash memory
camera streams 720p video back to the ground
free piloting application, FreeFlight 3 is compatible with Apple®, Android™, and Windows mobile devices
3-axis digital video stabilization
GPS + GLONASS satellite-based geo-location lets you know exactly where your drone is
use auto-pilot to tell your Disco to return home to its launch site
Drone:
single, rear-mounted propeller provides thrust
averages 45 minutes of flight time per fully charged battery
45-1/4"W x 22-7/8"H x 15"D
weight: 26 oz.
Cockpitglasses:
wearable goggles turn your smartphone into an immersive viewer so you feel like you're in the cockpit
video definition: 1920 x 1080 pixels at 30 frames per second
90° viewing angle
adjustable dock is compatible with smartphones with screen sizes from 4-3/4" to 5-3/4"
weight: 13.75 oz.
Skycontroller 2:
dock and connect your smartphone or tablet for live view and video streaming
powerful Wi-Fi connection extends piloting range to 1-1/4 mile
optimized connection reduces transmission lag for more precise control
two ultra-precise joysticks
7-7/8"W x 7-1/8"H x 4-5/16"D
weight: 17.6 oz.
Included Accessories and Warranty:
2700mAh rechargeable battery
USB battery charger
micro USB cable
2 replacement propellers
tablet dock adapter
quick start guide
warranty: 1 year
MFR # PF750001
What's in the box:
Parrot Disco FPV owner's manual
Fixed-wing drone body
2 Wings
Skycontroller 2
Cockpitglasses
Smartphone cradle
Rechargeable batttery
Battery Charger
4 AC plug adapters (US//AU/EU/UK)
17" Battery harness
59" Battery charger cable
58" microUSB-to-USB cable
2 Spare propeller glades
User Guide
"Get ready for take-off!" note
Parrot Disco FPV reviews
Average review:
Thanks for submitting your review
Most reviews are processed and published within 5 business days. You will receive a confirmation email once your review has been published.
Customer photos
More details on the Parrot Disco FPV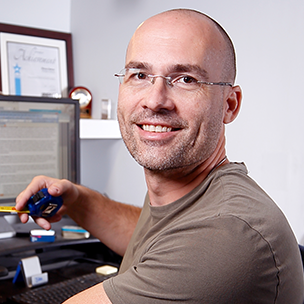 Researched by Crutchfield's

Stacey B.
Product Research
Drone Features
Warnings & Warranty
Drone Features
Fixed-Wing Drone: With its aerodynamic design, streamlined look, fixed wings, light carbon and EPP (expanded polypropylene) body, the Parrot Disco FPV is naturally designed to fly like a plane. The Parrot Disco FPV's wings are especially engineered to optimize both stability and speed in flight, thanks to an exclusive aerodynamic airfoil which reduces trail and improves lift. The extremities of the wings are equipped with Winglets (the vertically hooked part) and mobile ailerons positioned on the trailing edge, to support steering like an aircraft.
49.71mph Max Speed: The Parrot Disco FPV offers impressive flight performance due to is powerful motor design. Its propelled by a brushless engine with a folding bi-blade propeller and can reach speeds up to 49.71 mph and resist winds of 24 mph.
1080p HD Camera: The Parrot Disco FPV drone features a 14 Megapixels Full HD frontal camera with 3-axis digital video stabilization for live video feedback via the FreeFlight Pro app on your Apple iOS or Android device & the included FPV Cockpitglasses. Live video streaming can be done at 720p or 360p. The camera is capable of capturing 1080p aerial video footage and 14MP JPEG/RAW/DNG still images.
32GB Internal Memory: Video (H264) and still images (JPEG/RAW/DNG) are recorded to the drone's built-in 32GB flash memory (there is no media slot for an external memory card). These video and still images can be transferred to your WiFi connected smartphone or tablet device, so you can delete them from the drone's flash memory. You can also transfer the drone's video and photo files to your Windows or Mac computer via a USB connection.
FreeFlight Pro App: The FreeFlight Pro application is available for free on the Apple App Store and on Google Play for your Apple iOS 8.0+ or Android OS 4.0+ device. The FreeFlight Pro app can be used as a live video feed for the included Skycontroller 2 or used for FPV (first person video) with the included Cockpitglasses. In addition to live video streaming or first person view, the FreeFlight Pro app also offers advanced photo & video operation.
Live Video Streaming: Use the FreeFlight Pro app on your Apple iOS or Android device to view a live video stream from the drone's front HD camera. Live telemetry data is also shown on the app and your mobile device.
Immersive Flight: FreeFlight Pro now includes an immersive piloting mode that works with the Parrot Cockpitglasses. To activate, simply insert your Apple iOS or Android device into the glasses and connect your compatible mobile device to the Skycontroller 2. When immersive flight mode is in use, live telemetry data is shown on your screen to ensure a successful session.
Advanced Photo & Video: The FreeFlight Pro app comes equipped with advanced photo and video settings. Photo Mode allows you to capture high quality images in professional formats like RAW/DNG. You can also record Full HD 1080p videos at 30Mb/s and customize white balance, exposure, and the refresh rate. Time-lapse mode lets you take pictures at scheduled intervals for breathtaking accelerated video footage. Lastly, enjoy real-time video streaming on your smartphone/tablet while in flight.
Parrot Cloud: By becoming a member of Parrot Cloud, you can keep track of all your adventures and connect with other drone pilots. Share your photos, videos and data sessions with other pilots and instantly upload to YouTube, Google Photos or Twitter. In addition, you get a free backup of all the data shared on Parrot Cloud.
FlightPlan (in-app purchase): Prepare pre-programmed autonomous flights from your smartphone or tablet using FlightPlan (in-app purchase). Create customized routes for your drone easily by selecting GPS waypoints on your screen. Hit take-off and watch your drone do the rest! Capture incredible video footage with this intelligent flight modes, including Point of Interest (POI), which allows you to focus your flight session around one object.
FPV (First Person View) w/ Cockpitglasses: The included Cockpitglasses let you discover and experience FPV (First Person View) for fully immersive flights. You simply insert a compatible Apple iPhone or Android smartphone (with the FreeFlight Pro app installed) inside the Parrot Cockpitglasses and place them over your eyes (can be used with prescription eyewear). Your Apple iPhone or Android smartphone must also connect to the included Skycontroller 2 via USB. The first person video footage is captured by the drone's front camera and wirelessly transmitted to the FreeFlight Pro app on your smartphone inside the Parrot Cockpitglasses. The FPV experience features perfectly stable images, with no distortion, and follows the Disco FPV's flight path with a display of a radar and telemetric data. You'll feel as if you were inside the cockpit of the fixed-wing drone. Compatible Apple iPhones and Android smartphone include - (as of 9/22/2016).
Apple iOS: iPhone 6, iPhone 6 Plus, iPhone 6S, iPhone 6S Plus
Android: Samsung Galaxy S 5/6/7, Samsung Galaxy Note 3/4/5, LG G3/G4, HTC One M8, Nexus 5
Note: Never leave the Parrot Cockpitglasses in the sun when not in use; this could damage your enclosed smartphone.
Skycontroller 2: The Parrot Disco FPV comes with Parrot's Skycontroller 2 for wireless remote control of the fixed-wing drone. The Parrot Skycontroller 2 is compact and lightweight at only 1.6 lbs. The Skycontroller 2 utilizes dual-band WiFi MIMO technology to wirelessly control the Disco FPV up to 1.2 miles away. The Skycontroller 2 features two joysticks that independently maneuver to ensure in-flight precision by controlling the drone's speed, direction, and altitude. The Skycontroller also works in conjunction with the included Cockpitglasses for FPV (first person view) and the FreeFlight Pro App on your Apple iOS or Android device for live video footage. The Skycontroller 2 operates off of a built-in, rechargeable LiPo battery (2700maH) that can last up to 4 hours.
Mobile Device Cradle + FreeFlight Pro App: The included mobile device cradle allows you to attach your Apple iOS or Android device to the Parrot Skycontroller 2, so you can use your mobile device and the FreeFlight Pro application for seamless live video streaming from the fixed-wing drone's front camera. A USB connection is also required between your iOS or Android device and the Skycontroller 2. The cradle will fit Apple iOS & Android devices that measure between 4.75" -7.125".
FPV Cockpitglasses + Direct View: The Skycontroller 2's Direct View function enables the pilot to see the Disco FPV through the camera of your Apple iPhone or Android smartphone when wearing the Parrot FPV Cockpitglasses.
Pilot Modes: You don't have to be an experienced pilot with the Parrot Disco FPV. You can set it up to take off and land automatically, plus enable a powerful autopilot function to help control the fixed-wing drone in flight. If you are an experienced pilot, then you can switch to manual mode.
Auto Take-Off & Landing: To prepare the fixed-wing drone for auto takeoff, you simply push the switch located on the upper part of the Disco FPV's nose, followed by the "takeoff/landing" button on the Parrot Skycontroller 2 remote control, and finally toss the wing towards the sky like a frisbee. The Parrot Disco FPV then takes flight, ascending automatically to an altitude of 164', at which point the fixed-wing drone will fly in a circular pattern until it receives instructions from you, the pilot. To land, you must press the "takeoff/landing" button on the Skycontroller 2. The Parrot Disco FPV then inclines its flaps and descends below 19' in altitude. Following the indications from the altimeter, ultrasound sensor and vertical camera, the engine's thrust reverses to reduce the speed in order to ensure a smooth landing in a straight line.
Assisted Piloting: The Parrot Disco FPV automatically adapts its parameters throughout the flight and prevents stalling while you are making critical maneuvers. The fixed-wing drone's onboard computer detects airspeed information which is crucial to adapt its engine output in real-time and ensure the lift of the aerial drone. Coupled with an inertial navigation system (accelerometer, gyroscope, magnetometer, and altimeter) and a GNSS module (GPS + GLONASS), the direction, altitude and speed of the flight are automatically maintained to simplify the piloting of Disco FPV.
Manual Mode: You can turn off the "auto" and "assisted" features and fully control the Parrot Disco FPV manually from the Skycontroller 2 remote controller. In "Manual" mode, you can also pilot the Parrot Disc FPV drone from an RC controller after connecting an optional RC module (sold separately).
Safety Features: For optimum safety, the Parrot Disco FPV offers Geofence, Return Home, and Lost Connection functions.
Geofence: Geofence can be activated to limit the range the Parrot Disco FPV. You can limit its maximum distance, maximum altitude, and minimum altitude.
Return Home: When the Return Home button is pressed on the Skycontroller 2, the Parrot Disco FPV sets its altitude to 164', comes back towards its initial starting position and makes 196.85' diameter circles above this position.
Lost Connection: If the connection is lost during flight between the Parrot Skycontroller 2 and the Parrot Disco FPV, the fixed-wing drone will fly in 196.85' diameter circles for a specified time period (10 seconds by default). If the connection is not restored, the Parrot Disco FPV returns to its starting position and then flies in 196.85' diameter circles. If the connection is not restored after 5 minutes, the Parrot Disco FPV performs a circular landing.
45 Minute Rechargeable Battery: The Parrot Disco FPV's high-capacity, rechargeable LiPo battery (2700mAh) guarantees up to 45 minutes of flight time. The included AC battery charge will recharge the battery in about 55 minutes.
Warnings & Warranty
Flight Pattern Warning: The drone is a remote control model aircraft designed only for entertainment purposes only. Please fly responsibly. Do not fly your drone over any populated area, such as beaches, others people's backyards, heavily populated parks, professional or collegiate sports events, or over gathering of animals. Absolutely, do not fly near an airfield. If you want to fly your drone in any populated area or near an air field, do contact your local aerial authority to get the appropriate authorization.
Note: Please be aware that there may be federal, state, and/or local laws or regulations restricting the use of this drone in certain areas. Click here for more rules and regulations regarding drones.
Recordings Warning: Recording and circulating an image of an individual may constitute an infringement of their image and privacy for which you could be liable. Ask for authorization before filming individuals, particularly if you want to keep your recordings and/or circulate images on the Internet or any other medium. Do not circulate a degrading image or one which could undermine the reputation or dignity of an individual. The use of the drone for surveillance or espionage is strictly forbidden and could result in your prosecution under the law. Check that your use of the cameras on board the Parrot drone complies with the legal provisions on the protection of privacy.
Product Warranty: Parrot warrants that the Parrot Drone will be free from defects in material and workmanship for a period of 12-months from the initial date of purchase upon presentation of proof of purchase to the retailer or to Parrot (including the date and place of purchase, product serial number). Return to retailer is not applicable in the USA - return shall be made to Parrot only. During the contractual warranty period, any defective product should be returned in its original packaging to Parrot's after-sales service. After inspection of the product, Parrot will, at its sole discretion, either repair or replace the defective part or product, excluding any other indemnification of any nature. Parrot's warranty does not cover:
defects due to damage caused by an accidental collision, fall, or abnormal use
defects caused by any reason other than a defect in material, workmanship, and craftsmanship
defects cause by customization of product by the end-user
defects caused by repairs carried out by the end-user or an unauthorized 3rd party, except spare parts provided by Parrot
defects due to the use of spare parts not provided by Parrot in the original packaging
defects due to the fact that spare parts have been installed without following the recommendations and instructions provided by Parrot at www.parrot.com or if the drone has been customized by the end-user;
loss of charge time by rechargeable battery over time does not constitute a defect in material or workmanship
Note: If upon technical tests being carried out any product is found non defective we reserve the right to return such product to the sender at the sender's cost and to levy a charge to cover Parrot's technical test fees. Upon expiration of the 12-month warranty period or if the defect is not covered by the warranty, any defective product can be returned to Parrot's after-sales service in order to be repaired or for a defective part to be replaced at the sender's costs. Repair will be carried out only after acceptance of the corresponding quotation.