Parrot Orak Minidrone
Hydrofoil air and water drone
Item # 333ORAK | MFR # PF723400
This item is no longer available.
Overview
Our take on the Parrot Orak Minidrone by Crutchfield's Eric Angevine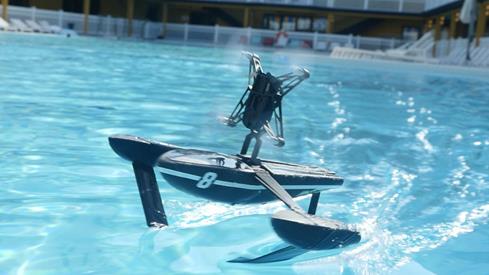 The Parrot Orak Minidrone with hydrofoil moves quickly through the water.
Fun on land or in the water
The Parrot Orak is two drones in one. There's a small minidrone that flies on its own, and can attach to a hydrofoil assembly so it can zip around in the water. The hydrofoil drone moves quickly and gracefully through the water at just over 6 mph. When the minidrone is detached from the hull, it flies even faster — up to 11 mph. In the air, the minidrone is highly maneuverable — it turns through 180° vertically and can perform 360° front- and back-flips at the touch of a button!
Note: Parrot recommends using the Orak hydrofoil in fresh water only.
App control via Bluetooth®
You won't need to buy a controller for this minidrone. Just download the FreeFlight 3 app from Apple's App Store or Google Play. You'll be able to connect to and pilot your drone via Bluetooth. Keep your drone in the car, and you'll be able to stop for a flight, or a dip, any time you like — just pull out your smartphone or tablet and fire up the motor.
Safety features
The quadcopter features four three-bladed polycarbonate propellers with an auto-block feature that stops them from spinning any time the drone collides with another object, including human beings. For added safety, a lightweight exterior hull can be attached to serve as a "bumper."
Product Highlights:
remote-controlled hydrofoil drone with detachable flying quadcopter
built-in mini-camera with 1GB flash memory
navigates at up to 6 mph in the water and 11 mph in the air
65-foot range
controlled via downloadable FreeFlight 3 app and Bluetooth®
powered by removeable, rechargable battery
USB cable for camera download included
battery life: 7 minutes with hydrofoil (9 minutes minidrone only)
Note: Parrot recommends using the Newz hydrofoil in fresh water only
5-15/16"W x 1-5/8"H x 5-15/16"D (minidrone only)
13-1/4"W x 8-1/4"H x 12-3/4"D (with hydrofoil)
weight: 8.7 oz. (with hydrofoil)
warranty: 1 year
What's in the Box:
Parrot Orak Minidrone Owner's manual
Hydrofoil minidrone
Hyrdofoil structure
Battery
19" microUSB-to-USB cable
Backbone (pre-installed)
Central spindle
Arm
Support bracket
2 Floats
2 Fins
Tail
8 Screws
Screwdriver
Quick Start Guide
Why Shop
With Us?
12 Reasons.
---
Details
Product Research
Features
Hydrofoil MiniDrone: The Parrot Hydrofoil MiniDrone features a 2-in-1 design that can glide over water, as well as fly through the air. Once the engines are on, the upper part of the Hydrofoil positions perpendicularly to the nautical structure. Thanks to the four propellers of the MiniDrone, it glides through the water and stays about 2" above the surface with stability and agility. As the water resistance is reduced, it can reach the maximum speed of 6 mph (5.4 knots) and turn quickly without capsizing. The Hydrofoil can be separated from its nautical structure in order to fly through the air at up11 mph and do aerial acrobatics.
Aquatic Mode: In Aquatic mode, the Parrot Hydrofoil MiniDrone is balanced and self-stabilizing. Built with streamlined foils and a hydrodynamic hull, the Parrot Hydrofoil MiniDrone is ultra-stable and moves with amazing dexterity and speed on water. Easily controlled by a smartphone or a tablet, you can perform rapid moves and turns.
Flight Mode: The Parrot Hydrofoil MiniDrone flies smoothly anywhere and can go as fast as 11 mph. In flight mode, the Parrot Hydrofoil MiniDrone boasts superior flight stability thanks to its 3-axis gyroscope and accelerometer. With a single swipe of your finger, the MiniDrone turns 90° and 180°, and with a single click, it performs acrobatic 360° forward and backward flips in the air. Designed for safe flying and sailing, the Hydrofoil MiniDrone is fitted with a propeller circuit-breaker in case of collision.
Note: Parrot recommends using the Hydrofoil MiniDrone in fresh water only (not for salt water use).
VGA Camera: The Parrot Hydrofoil MiniDrone is equipped with a VGA camera that has a resolution of 480 x 640 (300,000 pixels). You can take photos while you glide and fly the Hyrdrofoil MiniDrone. The camera faces forward in Aquatic mode and downward in Flight mode.
1GB Flash Memory: The Hydrofoil MiniDrone's photos are recorded onto it built-in 1GB flash memory. You can save hundreds of photos in the MiniDrone's internal memory. When the memory is full, a warning message will appear telling you it is no longer possible to take photos. You can retrieve or delete the images on the 1GB flash memory by connecting the MiniDrone to your computer using the included USB cable. To do this, the battery for the MiniDrone must be installed and should be fully charged. Once connected, the MiniDrone will show up as a USB drive on your computer. You can then copy & delete files using your computer.
FreeFlight Mini App: You'll need the FreeFlight Mini app from Apple's App Store or Google Play to pilot the Parrot Hydrofoil MiniDrone from your Apple iPod/iPhone/iPad (iOS 8.0+) or Android smartphone/tablet (OS 4.4+). Your Apple iOS or Android device must also support Bluetooth 4.0 and will need to be paired with the Hyrdofoil MiniDrone via Bluetooth for a wireless range of up to 65' (20m). The FreeFlight Mini app uses your mobile devices built-in accelerometer and an on-screen virtual joystick to control the MiniDrone.
Optional Flypad Controller: The Parrot Flypad controller (333FLYPAD, sold separately) gives you precise wireless control of the Parrot MiniDrone and allows you to pilot it over a distance of up to 196' via Bluetooth 4.0.
Smartphone Mount: The included smartphone mount allows you to attach your Apple iOS or Android device to the Flypad controller. By doing this, you can use the Flypad to pilot your Parrot MiniDrone and use the FreeFlight Mini app on your compatible Apple iOS 8.0+ or Android OS 4.4+ device to view live video footage from the MiniDrone's front camera. The cradle will fit mobile devices up to 3.125" (w) and 0.4375" thick.
Rechargeable Battery: The Flypad is powered by a rechargeable LiPo battery (200mAh) that can last up to 6 hours. Charging time is approximately 2 hours (charger not included).
Drone Academy: Connect your Apple iOS or Android device with the FreeFlight 3 app installed to the Internet and the Parrot Cloud to share your stats with other pilots. Keep track of all your sessions and share your photos and navigation data with other members of the Parrot Cloud. Join Pilot Academy with over 500,000 pilots registered, and connect with YouTube or Facebook to share your drone activities instantly. You also get free backup of your sessions and data.
Rechargeable Battery: The Hydrofoil MiniDrone comes with a rechargeable lithium-polymer battery (550mAH) that can last between 7-9 minutes. A microUSB-to-USB cable is supplied to charge the battery from a free USB port on your computer; the battery will remain in the MiniDrone while charging. It takes approximately 90 minutes to fully charge the battery. You can purchase Parrot's 2.6A Charger (333MINCHAR, sod separately) for a much quicker charge time of about 25 minutes; the battery is removed from the MiniDrone for charging. Extra batteries (333MINIBAT, sold separately) are also available.
Firmware & Software Updates: There are two ways to update the Hydrofoil MiniDrone with newer firmware & software.
App: Via the FreeFlight3 app on your Apple iOS or Android device, and pressing the "Updates" button. Your mobile device must be connected to the Internet.
USB: Connect the MiniDrone to your computer via USB and downloading the update file from the Parrot website. Make sure the MiniDrone has a fully charged battery.
Warnings & Warranty
Flight Pattern Warning: The Parrot Hydrofoil MiniDrone is a remote control model aircraft designed only for entertainment purposes only. Please fly responsibly. Do not fly your Parrot Hydrofoil MiniDrone over any populated area, such as beaches, others people's backyards, heavily populated parks, professional or collegiate sports events, or over gathering of animals. Absolutely, do not fly near an airfield. If you want to fly your Parrot Hydrofoil MiniDrone in any populated area or near an air field, do contact your local aerial authority to get the appropriate authorization.
Note: Please be aware that there may be federal, state, and/or local laws or regulations restricting the use of this drone in certain areas. Click here for more rules and regulations regarding drones.
Recordings Warning: Recording and circulating an image of an individual may constitute an infringement of their image and privacy for which you could be liable. Ask for authorization before filming individuals, particularly if you want to keep your recordings and/or circulate images on the Internet or any other medium. Do not circulate a degrading image or one which could undermine the reputation or dignity of an individual. The use of the Parrot Hydrofoil MiniDrone for surveillance or espionage is strictly forbidden and could result in your prosecution under the law. Check that your use of the cameras on board the Parrot drone complies with the legal provisions on the protection of privacy.
Product Warranty: Parrot warrants that the Parrot MiniDrone will be free from defects in material and workmanship for a period of 12-months from the initial date of purchase upon presentation of proof of purchase to the retailer or to Parrot (including the date and place of purchase, product serial number). Return to retailer is not applicable in the USA - return shall be made to Parrot only. During the contractual warranty period, any defective product should be returned in its original packaging to Parrot's after-sales service. After inspection of the product, Parrot will, at its sole discretion, either repair or replace the defective part or product, excluding any other indemnification of any nature. Parrot's warranty does not cover:
defects due to damage caused by an accidental collision, fall, or abnormal use
defects caused by any reason other than a defect in material, workmanship, and craftsmanship
defects cause by customization of product by the end-user
defects caused by repairs carried out by the end-user or an unauthorized 3rd party, except spare parts provided by Parrot
defects due to the use of spare parts not provided by Parrot in the original packaging
defects due to the fact that spare parts have been installed without following the recommendations and instructions provided by Parrot at www.parrot.com or if the Parrot Bebop Drone has been customized by the end-user;
loss of charge time by rechargeable battery over time does not constitute a defect in material or workmanship
Note: If upon technical tests being carried out any product is found non defective we reserve the right to return such product to the sender at the sender's cost and to levy a charge to cover Parrot's technical test fees. Upon expiration of the 12-month warranty period or if the defect is not covered by the warranty, any defective product can be returned to Parrot's after-sales service in order to be repaired or for a defective part to be replaced at the sender's costs. Repair will be carried out only after acceptance of the corresponding quotation.
Our Product Research Team
At Crutchfield, you'll get detailed, accurate information that's hard to find elsewhere. That's because we have our own in-house Product Research team. They verify what's in the box, check the owner's manual, and record dimensions, features and specs. We stay on top of new products and technologies to help people make informed choices.
Q & A
Customer Q&A
Crutchfield asked


Why did you buy this?
It was free

[ Bret Oct 11, 2016 ]
I chose this because I thought it would be fun and of course free is a very good thing.

[ Gary Sep 15, 2016 ]