Dynaudio Focus 20 XD
High-performance active stereo speakers (Walnut High Gloss)
Item # 345F20XDN | MFR # 932271
Low Stock

Our VirginiaVA-based experts can help.
Overview
Our take on the Dynaudio Focus 20 XD by Crutchfield's Eric Angevine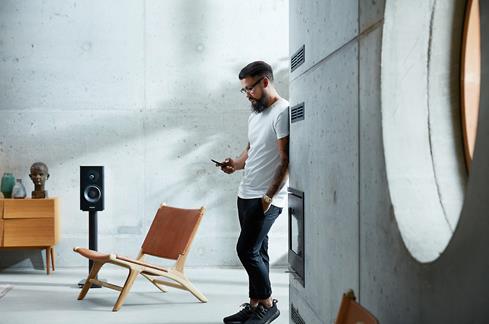 Dynaudio Focus 20 XD speakers can be tweaked and tuned to suit your unique listening space.
High-tech speakers with a touch of the sublime
Dynaudio Focus 20 XD speakers feature brilliant design, high-tech materials, and extreme attention to detail. All of that, plus a touch of pure audio magic.
The legendary Danish audio company demonstrated them at Crutchfield HQ, and I was mesmerized — I heard goosebump-raising detail in songs I'd listened to 100 times before, and I felt like I was immersed in a soundstage I could walk around in.
Innovative woofer design
I'll be honest, I geek out on woofer design. Each speaker manufacturer looks for a material that is lightweight, yet rigid, that also contributes to ideal internal damping. Dynaudio does that with their signature material: Magnesium Silicate Polymer (MSP). Each MSP cone is molded in a single piece, which helps to optimize sound dispersion. There's no separate dust cap, which further enhances the cone's structural integrity.
You don't have to have a degree in engineering to understand why this woofer design is important — the proof is in the sound. Simply put, these drivers get out of the way of whatever you're listening to, be it a live concert recording, intimate chamber music performance, or anything in-between. Your music doesn't shrink down to fit these speakers — it actually expands out until you forget you're in your own room.
"Our tweeters love power"
That's what Dynaudio's trainer (read it with a slight Danish accent) told me when I asked him to confirm the power distribution from the Focus 20 XD's built-in amplifiers. Most powered speakers split the output at about 70/30, with the lion's share going to the woofer. Dynaudio splits it right down the middle.
It works because they use aluminum-wired voice coils that are lighter than usual, and can therefore be larger than usual. Combine a large voice coil with plenty of power, and you get superbly controlled driver movement, which pays off in extreme fidelity and low-to-undetectable distortion. The tweeter itself is a soft dome with a special coating that improves dispersion so it sounds amazing no matter where you're sitting.
If you've noticed visible copper leads when looking at photos of Dynaudio tweeters, that's intentional. The surround is inverted for better dispersion, so the leads naturally show. Just one more sign of innovation in pursuit of expansive sound.
Tweak the sound to perfectly suit your room
Few of us have the luxury of an acoustically perfect listening room. The Dynaudio Focus 20 XD gives you plenty of ways to tweak the sound coming out of the speaker to fit your unique space. The free Dynaudio Control app helps you with initial setup, and an array of switches duplicated on each speaker let you tweak to your heart's (or ears') content.
There's a knob that helps trim the EQ based on room placement, with common-sense settings like "Neutral" "Wall" and "Corner." You can also boost or cut input sensitivity on the analog input, and select Zone and Channel Mode settings to optimize different setup configurations.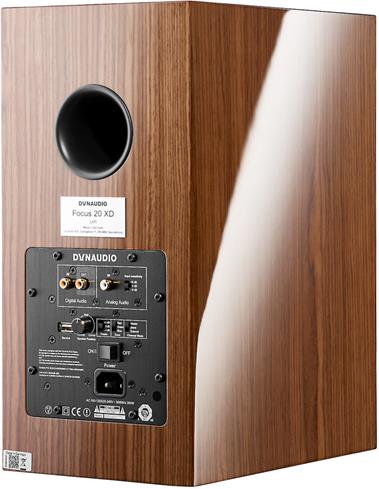 Each Dynaudio Focus 20 XD speaker has two 150-watt amplifiers, and identical connections and controls.
Versatile connections
Unlike most powered stereo speaker pairs, each Dynaudio Focus 20 XD has two 150-watt amplifiers built in, and each has the same connections and controls. That makes them very versatile and flexible.
For starters, you don't have to run a cable between the speakers to share power and signal. You can use the coaxial digital input to one speaker, and send signal wirelessly to the second speaker. Just set the Channel Mode selector on the wired one to "master" and switch the wireless one to "slave."
To set up a deeply affecting high-res experience, you can run a coaxial digital cable from your music player to one speaker, and coaxial digital from that speaker to the other. This lets you enjoy full 24-bit/192 kHz resolution throughout the signal path.
Optional expansion
Dynaudio offers some optional external components that make it even more convenient to get amazing sound out of these speakers in just about any situation.
The Dynaudio Connect box (not included) lets you stream wirelessly to both speakers without any hardwired coaxial connection. It also adds an optical digital input, another coaxial input, and a USB input for sending audio from a connected computer. Spotify Connect is embedded, so that adds one more convenient source that can stream directly to the speakers over your Wi-Fi® network.
Dynaudio's DNA
Founded in 1977, Dynaudio is one of the world's premiere speaker companies. Their wide range of speakers for home, car, and pro audio applications are the result of a unique combination of innovative driver technology, state-of-the-art manufacturing, and true hand-craftsmanship. Dynaudio designs and builds all of its drivers at the company's HQ in Skanderborg, Denmark.
Product Highlights:
frequency response: 39-24,000 Hz (±3 dB)
bi-amped design with separate Class D woofer and tweeter amplifiers for greater headroom and lower distortion

woofer amplifier power: 150 watts
tweeter amplifier power: 150 watts

digital processing handles high-res files up to 24-bit/192kHz
6-3/4" magnesium-silicate polymer (MSP) cone woofer
1-1/8" coated-silk soft dome tweeter
precise digital EQ controls allow optimal room integration
bass-reflex cabinet with rear port for accurate, musical bass
Connections and Controls (located on back each speaker):
mono line-level analog RCA input with 3-position input sensitivity switch
coaxial digital input and output
seven-position knob for fine-tuning room placement
treble adjustment switch (-1, 0, +1)
Zone and Channel Mode selectors
USB Type A input for firmware updates
detachable power cord
Dimensions and Warranty:
7-13/16"W x 14-1/4"H x 12-1/8"D
weight: 19 lbs. each
warranty: 5 years (8 years with registration)
Why Shop
With Us?
12 Reasons.
---
Details
Product Research
Features
Powered Bookshelf Loudspeakers: Each Dynaudio Xeo 20 powered speaker features a 1.1" precision-coated silk soft-dome tweeter and one 6.7" magnesium silicate polymer (MSP) mid-woofer powered by a 150 watt digital amplifier for true high-end sound with great dynamic range, expansive soundstage, exceptional accuracy, and a natural tonal balance. The Dynaudio Focus 20 XD provides analog and digital connectivity, as well as the option for Bluetooth & WiFi connectivity through the Dynaudio Connect (sold separately). Each speaker will need to be plugged into an AC outlet. The two powered speakers can be connected wirelessly or hardwired via a digital coaxial cable.
Twin Bi-Amplified Digital Amplifiers: The Dynaudio Focus 20 XD powered speaker system utilizes twin 75 watt amplifiers inside of each speaker for a total system power of 300 watts. Each speaker's tweeter and woofer has its own 75 watt digital amplifier that has been specifically matched, individually tuned, and precisely optimized to power that particular driver. This means you don't need to concern yourself with matching other components to the speakers, because Dynaudio has done all the work for you. Because the amps and drivers are so close together, there's less internal wiring. Less internal wiring means less possibility of interference. It also means the signal can stay in digital form for longer - only being converted to analog at the last possible moment - before it's output as physical sound. The result is clearer, cleaner audio at any listening level.
Precision-Coated, Soft-Dome Tweeter: Dynaudio has relied on a silk soft-dome tweeter for recreating high frequencies since the company was founded, continuously improving and perfecting the soft-dome principle over the years. Dynaudio tweeter designs require a time consuming, labor-intensive manufacturing process where the fine fabric diaphragm is shaped into a dome and is then treated with a specially formulated coating. As a further refinement, the tweeter's aluminum voice-coil is suspended in a magnetic oil, which increases power handling while also improving the dome's excursion. The result is the celebrated Dynaudio tweeter, featuring a balanced and natural frequency response.
Venting & Damping Chamber: The precision-coated soft-dome tweeters benefits from venting between its magnet and diaphragm. The tweeter also includes a special damping chamber integrated into the rear of the construction, deadening any back-wave energy through an acoustic absorber. The advantages include high power handling and unimpeded excursion of the soft-dome dome tweeter.
Ferrofluid Magnet: The voice coil is positioned within the magnetic field of the tweeter magnet. When the loudspeaker reproduces sound, the voice coil, powered by the amplifier current, moves at a speed of up to 25,000 waves per second. To achieve a uniform movement, a magnetic fluid called ferrofluid is used around the voice coil. Ferrofluid works like a subtle shock absorber and eliminates excess energy. Due to the relatively high current and extremely fast movements, the voice coil is under constant thermal stress. The ferrofluid dissipates this heat, while also increasing power handling capabilities. The frequency range of the tweeter can thus be expanded while the frequency response remains smooth and linear, delivering the highest resolution and most neutral sound reproduction.
Note: The surround of the tweeter is inversed to improve dispersion. This leaves nowhere for the lead wires to go behind the tweeter, so the lead wires are positioned above the surround.
Magnesium Silicate Polymer (MSP) Woofer: For bass and midrange drivers, Dynaudio uses a proprietary composite of magnesium silicate polymer (MSP), a material that combines low mass, high rigidity, and ideal internal damping properties. This exclusive driver membrane is an immediately visible and characteristic feature of Dynaudio loudspeakers. Formed in a special manufacturing process, this membrane is a unique design with the distinctive, geometrically optimized form of the cone further enabling smooth sound dispersion.
Increased Power Handling: The MSP woofer features a lightweight aluminum wire voice coil and new black Kapton coil former for increased power handling.

Aluminum Voice Coil: A distinct and major Dynaudio innovation is the use of pure aluminum wire for voice coils. In comparison to the more commonly used and much heavier copper alternative, aluminum allows for more windings and extraordinarily large diameter coils that remain extremely light. By using aluminum instead of copper for a bass driver, it is possible to effectively double the coil's diameter without increasing its mass. Due to the thermal properties of aluminum, cooling of the voice coil is dramatically improved as well. In combination with the equally light voice coil former and powerful magnet materials used in Dynaudio designs, cone excursion is much more controlled and the driver follows the music signal from the amplifier with a remarkable sense of dynamics and accuracy.
Black Kapton Coil Former: The voice coil former is made of black Kapton. This advanced material is non-magnetic, temperature stable and very stiff, yet still extremely lightweight. In its latest generation, black Kapton now yields an even stronger coil former in order to enable the voice coil to consistently perform under ideal conditions, perfectly controlling every driver movement, even when playing music rich in dynamics or at higher volume levels.

Esotec+ Magnet System: The MSP woofer utilizes Dynaudio's Esotec+ magnet system that yields a compact yet powerful driver system. Its strong suit is the alignment; with the magnet positioned inside the voice coil, a larger and more homogenous magnetic field can be utilized, with less magnetic radiation from the inner magnet. This exceptional technology has the further benefit of symmetry, since the use of two magnet rings above each other enables a totally symmetrical pole piece design, making the driver coil induction constant in any voice coil position. This results in an extremely precise and symmetric voice coil movement for exact signal reproduction - even at higher volume levels.
Die-Cast Aluminum Basket: The Dynaudio MSP woofer utilizes a low-resonance, highly warp-resistant basket made of die-cast aluminum. Due to the stiffness of this non-magnetic material, the basket can be designed with aerodynamically formed ribs to reduce air compression behind the moving membrane. Another advantage is its long-term resistance against thermal, mechanical or other external influences.
Rigid Bass Reflex Enclosure: The Dynaudio Focus 20 HD powered speaker system utilizes a bass reflex design with a rear-firing port on the back of each speaker for greater efficiency and bigger bass response. The 1.1" tweeter and 6.7" woofer sit in a solid aluminum baffle and ultra-stable composite housing designed to minimize unwanted interference. Additional internal damping, strengthening, and bracing in critical sections of the cabinet substantially reduce unwanted resonance. The included grilles have been designed so they do not influence the sound dispersion of the speakers. They are attached to the speaker cabinets with magnets and may be removed if needed.
Advanced DSP (Digital Signal Processing): Advanced DSP (digital signal processing) filters and adaptive bass technology tailor the sound of the Focus 20 XD speakers to your room and application. You can select between 3 DSP modes - Neutral (free-standing placement), Wall (placed near a wall), or Corner (placed in a corner). You also get treble adjustment (+1, or -1 dB).
Digital & Analog Connectivity: The Dynaudio Focus 20 HD speaker system offers digital and analog connectivity. Each powered speaker is equipped with one coaxial digital input, one mono-RCA analog input, and one coaxial digital output.
Digital Input & Output: Each powered speaker is outfitted with a coaxial digital input and output that is capable of handling 2ch PCM audio up to 24-bit/192kHz (not compatible with Dolby Digital/DTS). You can connect the digital output of your source device to one speaker's digital input and then connect the digital output of that speaker to the digital input of the other speaker (this type of connection provides up to 24-bit/192kHz audio). Or, you can connect the digital output of your source device to one speaker's digital input and wirelessly connect the two speaker together (this type of connection provides up to 24-bit/96kHz audio).
Analog Input: Each powered speaker is outfitted with a mono-RCA analog input. Both of these analog inputs will need to be connected to your source device for stereo sound. One speaker's mono-RCA analog input will connected to the analog left output of your source device, while the other speaker's mono-RCA analog input will be connected to the analog right output of your source device. You can adjust the input sensitivity of the analog inputs to -6, 0, or +6 dB.
Remote Control: The included IR remote can be used to turn the powered speakers on or off, change the volume up or down, and switch between digital and analog inputs.
Optional Dynaudio Connect: The Dynaudio Connect (sold separately) connects the Focus 20 XD speaker system to your home WiFi network and lets you stream music directly from your smartphone, tablet, laptop, or computer. Dynaudio Connect even supports Spotify Connect, so you can stream music directly from your Spotify account. The Dynaudio Connect also offers built-in Bluetooth, so you can stream audio directly from your smartphone and tablet to the Focus 20 XD speaker system. In addition, The Dynaudio Connect features analog inputs (including 3.5mm Aux and stereo RCA input), as well as digital inputs (including USB-B and optical/coaxial digital) to connect your external analog and digital audio devices.
Placement Options: The Focus XD powered loudspeakers do not require special positioning, though the quality of an individual loudspeaker's sound is affected by the acoustic properties of the room. Since rooms are shaped uniquely, the positioning of the loudspeakers results in totally different behavior. Follow these guidelines when placing the speakers in your room.
Distance To Walls: Focus XD loudspeakers were developed to be placed freestanding, and therefore they reach their optimum performance when positioned as clear of any walls as possible. To reduce possible influences from the back and sidewalls, the distance to these boundaries should ideally not be less than 1.625'.
Distance To Listening Position: The distance between each loudspeaker and your listening position should be the same; try to achieve an isosceles triangle. The distance between the loudspeakers should be the same, or preferably, slightly less than the distance between each loudspeaker and your listening position. The closer the listening position is in relation to the loudspeakers, the closer the speakers can be positioned to each other. As a starting point, it is recommended that the speakers be about 6.5' apart from each other for the best results.
Loudspeaker Toe-In: Depending on your personal listening environment and room dimensions, the loudspeakers may be angled in towards the listening area to focus the sound radiation. This positioning will typically improve imaging and is especially recommended by Dynaudio. However, you are free to select the precise position based on your personal listening habits.
Mounting Options: The Dynaudio Focus XD Series powered speakers can be placed on a table-top, desk, shelf, or set of speaker stands (sold separately - see Accessories Tab). The speaker system can also be wall mounted using Pinpoint's side-grip brackets (sold separately - see Accessories Tab).
Power Requirements: Each powered speaker comes with an 8' detachable AC power cord and will need to be plugged into an AC wall outlet or surge protector (sold separately).
Note: The Dynaudio Focus 20 XD powered speakers are not battery powered.
Auto Standby: The Dynaudio Focus 20 XD speaker system will automatically switch to standby mode, if there is no audio signal for 20 minutes.
Firmware Updates: There is a USB-A port on the back-panel of each Focus 20 XD speaker which allows for firmware updates. The firmware updates can be downloaded from the Dynaudio website onto a USB thumbdrive which will then need to be inserted into each speaker's USB-A port.
Our Product Research Team
At Crutchfield, you'll get detailed, accurate information that's hard to find elsewhere. That's because we have our own in-house Product Research team. They verify what's in the box, check the owner's manual, and record dimensions, features and specs. We stay on top of new products and technologies to help people make informed choices.