Dynaudio Emit M30
Floor-standing speaker (White Satin)
Item # 345M30WH | MFR # 903023
$999.99 each or 3 payments of $333.33 Details
Earn up to 1,000 Rewards points

Our VirginiaVA-based experts can help.
Overview
Our take on the Dynaudio Emit M30 by Crutchfield's Kramer Crane
Huge sound from a dynamic floor-stander
Dynaudio's M30 is the biggest and most capable speaker in the company's popular Emit Series. A pair of these dynamic towers offer a rock-solid center image, deep-yet-controlled bass, and a huge soundstage that will bring your favorite albums and movie soundtracks to life.
As the only floor-stander in the Emit lineup, the M30 is an excellent choice as part for an audiophile stereo system or home theater.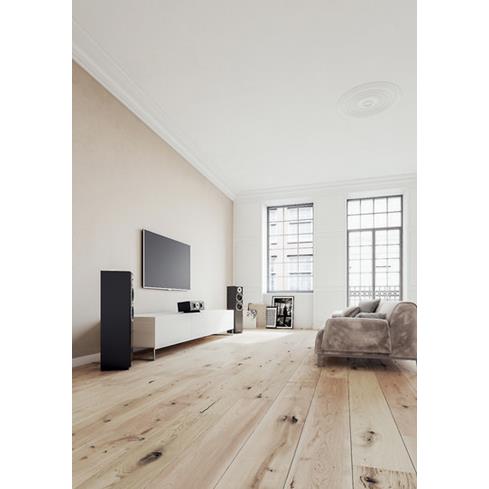 Use a pair of the M30s as the front channels of an Emit Series surround sound system.
Fast, responsive woofers
The Emit M30 sports two 6-3/4" woofers for articulate midrange and bass. They're constructed out of Dynaudio's Magnesium Silicate Polymer (MSP) cone material, which combines low mass and high rigidity. This design allows the woofers to respond quickly and accurately to the dynamic peaks in the music.
Each MSP cone is molded in one geometrically perfect piece, which helps to optimize sound dispersion. It also eliminates the need for a separate dust cap, further enhancing the cone's structural integrity.
To port or not to port...the choice is yours
The Emit M30's cabinet is ported in the rear to provide a bit of extra low-frequency oomph — but not enough to sound boomy. A foam plug is included, which you can insert in the port to optimize bass response when placing the speaker near a wall.
Highs that sound natural and smooth
The Emit M30 uses a soft dome tweeter that's just over an inch in diameter. This tried-and-true design has been refined over Dynaudio's four decades in the industry, which allows it to produce detailed, neutral, and non-fatiguing sound — even when you crank up the volume.
You'll want a powerhouse amp to drive it
A friendly heads-up: Dynaudio speakers perform at their best when fed high-current, high-quality amplification. With a sensitivity rating of 86 dB and 4-ohm nominal impedance, the Emit M30 is a lot like a high-performance sports car that needs premium gas to reach its full potential.
If you'd like personalized advice on matching this speaker with an amp, give one of our Advisors a shout for a free expert recommendation.
Build a complete Dynaudio Emit system
A pair of Emit M30s can fill your room with clear, robust stereo sound. If you're interested in a voice-matched surround sound system, pair them with these matching Emit Series models:
Center channel: Emit M15C
Bookshelf speakers: Emit M10 or Emit M20
Powered subwoofers: Sub 3 or Sub 6
Dynaudio's DNA
Founded in 1977, Dynaudio is one of the world's premiere speaker companies. Their wide range of speakers for home, car, and pro audio applications are the result of a unique combination of innovative driver technology, state-of-the-art manufacturing, and true hand-craftsmanship. Dynaudio designs and builds all of its drivers at the company's HQ in Skanderborg, Denmark.
Product Highlights:
1-1/8" soft-dome tweeter
dual 6-3/4" MSP (Magnesium Silicate Polymer) cone woofers
bass-reflex (ported) cabinet with rear-firing port

included port plug lets you seal the cabinet for placement against a wall

frequency response: 40-23,000 Hz (±3dB)
sensitivity: 86 dB
impedance: 4 ohms
maximum amplifier power: 200 watts
gold-plated binding post speaker terminals
removable grille
8"W x 37-13/16"H x 11-7/16"D
weight: 40 lbs.
designed, engineered, and assembled in Denmark
warranty: 5 years (8 years with registration)
What's in the Box:
Dynaudio Emit M30 Owner's manual
Floorstanding loudspeaker
Grille
Foam port plug
4 Spike feet
4 Hex nuts
4 Protective discs
Owners Manual
Quick Start Guide
Warranty Extension Card
Why Shop
With Us?
12 Reasons.
---
Details
Product Research
Features
Two-Way Floorstanding Loudspeaker: The Dynaudio Emit M30 floorstanding loudspeaker utilizes a two-way driver design with a 1.1" precision-coated, silk soft-dome tweeter and two 6.68" Magnesium Silicate Polymer (MSP) woofers for greater precision, power-consistency and control. The Emit M30 delivers a natural midrange character, exceptionally detailed and clear high frequency reproduction, as well as deep accurate bass performance - all with incredibly low distortion.
Precision-Coated Soft-Dome Tweeter: Dynaudio has relied on a silk soft-dome tweeter for recreating high frequencies since the company was founded, continuously improving and perfecting the soft-dome principle over the years. Dynaudio tweeter designs require a time consuming, labor-intensive manufacturing process where the fine fabric diaphragm is shaped into a dome and is then treated with a specially formulated coating. As a further refinement, the tweeter's aluminum voice-coil is suspended in a magnetic oil, which increases power handling while also improving the dome's excursion. The result is the celebrated Dynaudio tweeter, featuring a balanced and natural frequency response.
Damping Chamber: The tweeter includes a special damping chamber integrated into the rear of the construction, deadening any back-wave energy through an acoustic absorber. The advantages include high power handling and unimpeded excursion of the soft-dome dome tweeter.
Ferrofluid Magnet: The voice coil is positioned within the magnetic field of the tweeter magnet. When the loudspeaker reproduces sound, the voice coil, powered by the amplifier current, moves at a speed of up to 25,000 waves per second. To achieve a uniform movement, a magnetic fluid called ferrofluid is used around the voice coil. Ferrofluid works like a subtle shock absorber and eliminates excess energy. Due to the relatively high current and extremely fast movements, the voice coil is under constant thermal stress. The ferrofluid dissipates this heat, while also increasing power handling capabilities. The frequency range of the tweeter can thus be expanded while the frequency response remains smooth and linear, delivering the highest resolution and most neutral sound reproduction.
Note: The surround of the tweeter is inversed to improve dispersion. This leaves nowhere for the lead wires to go behind the tweeter, so the lead wires are positioned above the surround.
Dual Magnesium Silicate Polymer (MSP) Woofers: For bass and midrange drivers, the Dynaudio uses a proprietary composite of magnesium silicate polymer (MSP), a material that combines low mass, high rigidity, and ideal internal damping properties. This exclusive driver membrane is an immediately visible and characteristic feature of Dynaudio loudspeakers. Formed in a special manufacturing process, this membrane is a unique design with the distinctive, geometrically optimized form of the cone further enabling smooth sound dispersion.
Aluminum Voice Coils: A distinct and major Dynaudio innovation is the use of pure aluminum wire for voice coils. In comparison to the more commonly used and much heavier copper alternative, aluminum allows for more windings and extraordinarily large diameter coils that remain extremely light. By using aluminum instead of copper for a bass driver, it is possible to effectively double the coil's diameter without increasing its mass. Due to the thermal properties of aluminum, cooling of the voice coil is dramatically improved as well. In combination with the equally light voice coil former and powerful magnet materials used in Dynaudio designs, cone excursion is much more controlled and the driver follows the music signal from the amplifier with a remarkable sense of dynamics and accuracy.
Die-Cast Aluminum Basket: The Dynaudio MSP woofer utilizes a low-resonance, highly warp-resistant basket made of die-cast aluminum. Due to the stiffness of this non-magnetic material, the basket can be designed with aerodynamically formed ribs to reduce air compression behind the moving membrane. Another advantage is its long-term resistance against thermal, mechanical or other external influences.
High-Quality 2nd Order Crossover: Only the highest quality components, selected for their sonic properties, are utilized in Dynaudio loudspeaker's crossover network; carefully wound pure OFC (oxygen-free copper) air-coils, select capacitors, and temperature-stable ceramic resistors. The Dynaudio crossover features a pure 2nd order filter (12 dB/octave), which enables a superior transient response and can only be effectively used with the ultra-linear frequency response of the Dynaudio drivers.
Dynaudio Directivity Control (DDC): With Dynaudio Directivity Control (DDC), Dynaudio has created a technology that effectively reduces the negative effects of reflections from floor and ceiling boundaries in a room. The vertical symmetrical driver array and elaborate crossover topology of a Dynaudio loudspeaker reduce the energy dispersed to the floor and ceiling by approximately 75%. The controlled vertical dispersion makes the loudspeaker far less dependent on the room and much less influenced by positioning as compared to conventional designs. DDC isn't simply arranging the drivers in a symmetrical array. For DDC to succeed, every single detail (from each drive unit to the crossover) must be individually tailored and optimized for this concept. Each driver needs to complement its identical counterpart in frequency response and phase relationship in such a manner that a carefully defined dispersion characteristic is achieved. This intricate matching is repeated once again for each loudspeaker pair to work together in tandem.
Rigid Bass Reflex Cabinet: The Emit M30 floorstanding loudspeaker features a bass reflex enclosure with a rear-firing port for greater efficiency and bigger bass response. The Danish tradition of craftsmanship drives the meticulous process of selecting the perfect cabinet for the combination of custom drivers. The front-baffle is manufactured using CNC (Computerized Numerical Control) machining. Computer-programmed and controlled by ultra-responsive sensors, precision to within a single micrometer (ìm), multi-axial drilling machines produce the acoustically optimized baffle shape and unique design details. Additional internal damping, strengthening, and bracing in critical sections of the cabinet substantially reduce unwanted resonance.
Note: To minimize low frequency reflections, which will be heard as a thickening of the sound, the loudspeaker can be adapted to the room's acoustic character by using the included foam plug in the bass reflex port. This will essentially attenuate the room induced boost in the low frequency range by dampening the deep frequencies, yielding a more clear and tight sound when the loudspeaker is positioned near rear walls.
Heavy-Duty, Gold-Plated Binding Post: The Dynaudio Emit M30 floorstanding loudspeaker is outfitted with a set of heavy-duty, gold-plate binding post terminals for secure connectivity and excellent signal transfer. The binding posts will accept bare wire (up to 10AWG), pin-connectors, and banana plugs (single only).
Applications: The Dynaudio M30 floorstanding loudspeaker is designed to offer advanced performance in both stereo and multichannel applications.
Placement Options: The distance between each loudspeaker and your listening position should be the same; try to achieve an isosceles triangle. The distance between the loudspeakers should be the same or slightly less than the distance between each loudspeakers and your listening position. The closer the listening position is in relation to the loudspeakers, the closer the speakers can be positioned to each other. As a starting point, it is recommended that the speakers be about 6.5' apart from each other for the best results. To minimize potential influences from the back and side wall boundaries, it is recommended that the distance from the speakers to each is at least 1.625', and ideally the distance from each speaker to the back and side wall should not be equal. Depending on your personal listening environment and room dimensions, the loudspeakers may be angled in towards the listening area to focus the sound radiation; this positioning will typically improve imaging.
Mounting Options: The floorstanding loudspeaker features an integrated base plinth, which offers both a sturdy foundation and ideal performance. Also included are spike feet which screw into the bottom of the base plinth. The spike feet stabilize the cabinet on an extremely small contact area, and therefore prevent any wobbling while offering optimal resonance control. The individually adjustable spikes allow leveling of the cabinet on uneven floors. The spike feet are great for carpeted floors. Protective disc, which rest under the spikes, are provided for hardwood, tile, laminate, and vinyl flooring.

Dimensions without Spikes or Protective Discs: 8.0625" (w) x 37.8125" (h) x 11.625" (d)
Dimensions with Spikes Only: 8.0625" (w) x 38.8125" (h) x 11.625" (d)
Dimensions with Spikes & Protective Discs: 8.0625" (w) x 38.9375" (h) x 11.625" (d)
Emit Series: The Emit family of loudspeakers by Dynaudio is an entry-level series developed and built with the same attention to detail and passionate craftsmanship as Dynaudio has come to be recognized for around the world; an entry-level series in high-end audio that truly captures the Dynaudio experience. The Emit series consists of a Floorstanding loudspeaker (M30), two bookshelf loudspeakers (M10/M20), and a center channel loudspeaker (M15).
Dynaudio Fine Tuning: Every Dynaudio speaker model is fine-tuned in extensive, time-consuming listening tests. Dynaudio even developed its own amplifier, the Arbiter, solely for this task, to ensure that they are not restricted by any one manufacturer's design. Extraordinary power reserves, a frequency bandwidth at the edge of what is technically possible, the exacting use of absolutely sonically accurate components and circuits, and a unique power supply that remains completely free from mains noise are just a few qualities of Dynaudio's ultimate amplifier development. The true sound quality of a loudspeaker can be judged using this virtually priceless reference amplifier. After a Dynaudio design has been fine-tuned, it is subjected to the Arbiter. Only after passing this most difficult test is it ensured that the authentic sound quality of a Dynaudio loudspeaker can be experienced at home.
Our Product Research Team
At Crutchfield, you'll get detailed, accurate information that's hard to find elsewhere. That's because we have our own in-house Product Research team. They verify what's in the box, check the owner's manual, and record dimensions, features and specs. We stay on top of new products and technologies to help people make informed choices.