Dynaudio Music 3
Portable wireless multi-room speaker with Wi-Fi®, Apple® AirPlay®, and Bluetooth® (Blue)
Item # 345MUSC3BL | MFR # MUSIC3BLUE
Low Stock

Our VirginiaVA-based experts can help.
Overview
Our take on the Dynaudio Music 3 by Crutchfield's Ralph Graves
A portable speaker that delivers on sound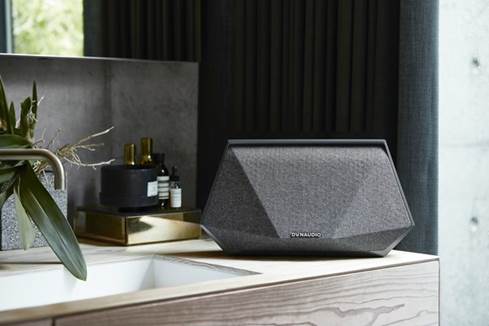 The Dynaudio Music 3 is much more than a portable Bluetooth speaker. ts built-in Wi-Fi lets you stream from a variety of internet sources. Its Music Now feature creates playlists tailored just for you. And its built-in drivers, processing, and amplification are fine-tuned by the same Dynaudio engineers who work on the company's famous high-end speaker lineup.
Dynaudio Music App
The free Dynaudio Music app puts control at your fingertips, using your smartphone. The app's Music Now feature pays attention to what you play and creates playlists based on your listening habits. You can also create profiles for other family members, ensuring everyone gets lists they'll enjoy.
The Music 3 has five preset buttons you can assign through the app. Set them to play a playlist, internet radio station, artist, album, or even a song.
The app lets you add more Dynaudio Music wireless speakers to create a multi-room audio system. You can have all your connected speakers play the same song, or each one playing something different. And you can control volume for all your Dynaudio Music speakers right from the app.
Outstanding sound quality
The Music 3 has two 1" soft-dome tweeters and a 5" magnesium silicate polymer woofer for clear highs and rich midrange and lows. A rear-firing bass port reinforces the low-frequency punch. Each driver is powered by separate Class D amplifiers, ensuring clean, accurate sound.
Dynaudio's built-in RoomAdapt and NoiseAdapt smart technologies ensure your music will sound its best. RoomAdapt continually senses the acoustics of the surrounding space and optimizes the speaker's output accordingly. NoiseAdapt reacts to ambient room noise and adjusts the volume accordingly.
Wireless options
The Music 3 can stream high-resolution files such as FLAC or WAV with a resolution of up to 24-bit/96kHz. The speaker has Bluetooth with aptX® audio encoding. This allows high-quality Bluetooth streaming from compatible devices. And it's compatible with regular Bluetooth, too.
Using your home Wi-Fi network, the Music 3 can play music stored on DLNA-compatible networked computers and NAS drives.
If you use an iPhone®, iPad®, or a Mac® computer, you can also stream high-resolution files wirelessly via Apple AirPlay®. And you can also make a wired connection from your iOS® device through the speaker's USB port.
Product Highlights:
built-in dual-band Wi-Fi allows connection to your wireless home network
Bluetooth 4.0 with aptX audio coding for high-fidelity streaming with compatible devices
Apple AirPlay lets you stream music directly from your iPhone® or iPad®
plays MP3, AAC, WMA, OGG, FLAC, ALAC, PCM, SBC, and WAV files

supported sample rates: 32kHz to 96kHz
supported bit depths 16-24

two 1" soft-dome tweeters, one 5" woofer, and a rear-firing bass port
40-watt Class D amplifier for each driver
frequency response: 47-20,000 Hz (-3dB)
Dynaudio Music app:
free download from Apple® App Store and Google Play
support for online music services, including Spotify®, TIDAL, Pandora®, SiriusXM, Rhapsody®, and TuneIn radio (subscription required for some services)
Music Now feature creates on-the-fly playlists based on your listening habits
5 presets
adjustable bass and treble controls
RoomAdapt automatically adjusts the speaker to the acoustics of your room
NoiseAdapt automatically adjusts the volume to compensate for room noise
control your entire Dynaudio Music multi-room audio system
General information:
DLNA support for streaming music from compatible networked computers and NAS drives
top-mounted playback control buttons
USB port for listening to music from an Apple iOS device

iOS portables can be charged through USB port

3.5mm aux input for connecting a portable music player (audio cable included)
built-in rechargeable battery delivers up to 8 hours of operation
remote
AC adapter included
15-15/16"W x 8-11/16"H x 5-5/8"D
weight: 8.1 lbs.
warranty: 3 years
What's in the Box:
Dynaudio Music 3 Owner's manual
Wireless audio speaker
8' AC power cord
IR remote
2 "AAA" batteries
5' Stereo minijack cable
Quick Start Guide
Statutory Safety Manual
Why Shop
With Us?
10 Reasons.
---
Details
Product Research
Audio Section
Wireless & Wired Audio Sources
Other Features
Audio Section
Dynaudio Driver Technology: The Dynaudio Music 3 wireless speaker is equipped with two 1" soft-dome tweeters and one 5" MSP woofer. The Music 3 speaker use Dynaudio's proprietary MSP cone material in its woofer. The soft-dome tweeters utilize silk, a material Dynaudio has used on their tweeters since the company was founded. And, it's all been tuned by the same Dynaudio team of engineers who work on their "money-no-object" hi-fi speakers and "no-compromise" pro studio systems. The system has a frequency response of 47Hz to 20kHz.
Precision-Coated Soft-Dome Tweeter: Dynaudio has relied on a silk soft-dome tweeter for recreating high frequencies since the company was founded, continuously improving and perfecting the soft-dome principle over the years. Dynaudio tweeter designs require a time consuming, labor-intensive manufacturing process where the fine fabric diaphragm is shaped into a dome and is then treated with a specially formulated coating. As a further refinement, the tweeter's aluminum voice-coil is suspended in a magnetic oil, which increases power handling while also improving the dome's excursion. The result is the celebrated Dynaudio tweeter, featuring a balanced and natural frequency response.
Magnesium Silicate Polymer (MSP) Woofer: For the woofer, the Dynaudio uses a proprietary composite of magnesium silicate polymer (MSP), a material that combines low mass, high rigidity, and ideal internal damping properties. This exclusive driver membrane is an immediately visible and characteristic feature of Dynaudio loudspeakers. Formed in a special manufacturing process, this membrane is a unique design with the distinctive, geometrically optimized form of the cone further enabling smooth sound dispersion.
Digital Amplification: The Dynaudio Music 3 utilizes three Class-D 40 watt amplifiers inside of the speaker for a total power output of 120 watts. Each tweeter and woofer is given 40 watts of power for clear, dynamic sound. Each amplifier has been specifically matched, individually tuned, and precisely optimized to power a particular driver. The result is clearer, cleaner audio at any listening level.
Bass Port: The Dynaudio Music 3 wireless speaker features a bass reflex design enclosure with a rear-firing port for greater efficiency, as well as smoother and bigger bass response.
Room & Noise Optimization: All speakers in the Music family use cutting-edge digital processing to sense where they've been placed. They optimize their performance to fit (even when you move them) and they adjust themselves for varying noise-levels, so your music always sounds clear at any volume and in any position. RoomAdapt and NoiseAdapt technology can be enabled and disabled from the Dynaudio Music app on your Apple iOS or Android device.
RoomAdapt Technology: Built-in RoomAdapt technology senses where the speaker has been placed and continually optimizes its tonal characteristics to deliver the best performance possible. It doesn't matter if the Music 3 speaker is in a corner, up against a rear wall or standing in free space - you'll always hear crystal clear highs, clean midrange, and accurate bass.
NoiseAdapt Technology: Essential musical details will always be clear too, thanks to NoiseAdapt technology - even when the room is noisy, and the speaker volume is low. You don't need to crank the volume to hear your tunes properly when the conversation gets louder (or quieter), and you don't need to adjust any tone controls - it's all done automatically for you.
Sound Presets + Bass & Treble: The Dynaudio Music app (for Apple iOS and Android) provides optional sound presets designed for music, speech and movie program material. The app also enables adjustment of bass and treble levels to provide overall control of the speaker's tonal balance. The functions are not available from the speaker's top-panel controls or included IR remote.
Stereo Pair: The Dynaudio Music app on your Apple iOS or Android device can be used to enable two Dynaudio Music speakers to be stereo linked to provide a wider stereo image than can be achieved from a single unit. One Dynaudio Music speaker is assigned to the left channel and one is assigned to the right channel. If two Dynaudio Music speakers are operating as part of a stereo pair the balance function (within the Dynaudio Music app) enables their relative volume to be adjusted.
Wireless & Wired Audio Sources
Built-In WiFi: The Dynaudio Music 3 speaker is equipped with built-in, dual-band (2.4/5GHz) WiFi (802.11 a/b/g/n) so it can connect wirelessly to your home's network WiFi router. The Dynaudio Music app (for Apple iOS and Android) is required for network setup. Once your speaker has been connected to a WiFi network for the first time it will automatically re-establish the connections when switched on from standby mode. This wireless network connection provides access to music streams from Apple AirPlay, local DLNA/UPnP content, as well as internet radio and select online music services through the Dynaudio Music app for Apple iOS and Android.
Note: Before you begin installing and configuring the Dynaudio Music 3 speaker, please download and install the Dynaudio Music App on your Apple iOS or Android device. It is not possible to install the Dynaudio Music 3 speaker onto your network without the Dynaudio Music App.
Dynaudio Music App: The free Dynaudio Music app (for Apple iOS 9.3+ and Android OS 4.1+) provides wireless setup, control, as well as access to internet radio and select online music services. It also lets you setup a multiroom audio system with other Dynaudio Music series speakers, and has the ability to create smart playlists based on your listening habits.
Internet Radio & Tidal: The Dynaudio Music app gives you access to thousands of free internet radio stations from around the world through vTuner. Dynaudio Music also connects to TIDAL. TIDAL is a global streaming service that offers millions of songs in high-fidelity CD sound quality. TIDAL has two pricing tiers; either $9.99 or $19.99 a month. Both pricing levels allow you to access TIDAL's entire music library. The $19.99 tier has the added benefit of high-fidelity sound at CD-level quality.
Music Now: Using the Tidal online music service, the Music 3's intelligent Music Now algorithm learns your musical tastes and plays automatically generated smart playlists with one touch of a button the speaker. You can setup one profile or multiple profiles for yourself, friends, and family. You can use the speaker's Presets (1-5) for Music Now playlists.
Multiroom: You can also use the Dynaudio Music app create a multiroom audio system using multiple Dynaudio Music series speakers. Up to six speakers can be connected at a time, and arranged into multiroom groups or controlled individually from the Dynaudio app. You are able to play music to a single speaker, a specific group of speakers, or all speakers in your home. You can play the same audio source on all speakers or play a difference audio source on each speaker or speaker group. Compatible multiroom audio sources include Internet Radio, Tidal, DLNA/UPnP, USB (iOS), Bluetooth, and Aux.
Notes:

You will need a Google account to setup the Dynaudio Music app.
Dynaudio Music speakers are not compatible with Dynaudio Xeo multiroom systems.
Apple AirPlay does not support multiroom audio playback.
AirPlay: AirPlay lets you stream your favorite songs directly from your Apple iOS (4.3.3+) device or from your iTunes (10.2.2+) library on your Windows PC or Mac computer to the Dynaudio Music 3 speaker, over your home's WiFi network connection. From your Apple iOS device you are able to stream stored music and music apps on your device to the Music 3 speaker. From your Windows or Mac you can stream your stored iTunes music library on your computer to the Dynaudio Music 3 speaker system.
DLNA/UPnP Compatible: The Music 3 speaker can be used as an DLNA (Digital Living Network Alliance) / UPnP (Universal Plug and Play) Client through the Dynaudio Music app (for Apple iOS and Android). Being a DLNA/UPnP Client means it can connect to DLNA/UPnP servers on a network and browse and playback their music content. Most operating systems and/or music playback software now feature DLNA/UPnP server facilities built-in. This allow you to share the music on the computer's hard-drive with Clients, such as the Music 3. Your music library can include digital music located anywhere on your home network such as shared folders on your own computer (Windows or Mac), shared folders on another computer on your network, or music stored on a Network-Attached Storage (NAS) device on your network. Using DLNA/UPnP, the Music 3 can connect to these devices and stream non-DRM music files over the network. The Music 3 supports a variety of music files - including MP3, WMA, AAC, ALAC, and FLAC (up to 24-bit/96kHz).
Bluetooth Audio Streaming: The Dynaudio Music 3 supports Bluetooth A2DP/AVRCP, so you can wirelessly stream stored music, music apps, and other audio content on your Bluetooth source device and control it from the included IR remote. In addition to support for the standard SBC Bluetooth audio codec, the speaker offers support for aptX. aptX audio coding technology provides better sound quality with lossless, "CD-quality" (16-bit/44kHz) streaming from aptX-compatible smartphones, like many Android smartphones with OS 4.0+. The included IR remote provides basic playback control such as Play/Pause & Previous/Next Track. The speaker can remember up to eight paired Bluetooth devices, however it can only be connected to one at a time.
Note: You can pair and connect the Music 3 speaker direct to a Bluetooth source device without the use of the Dynaudio Music app.
Apple iOS Compatible USB Port: The Music 3's USB-A port is Apple iOS compatible with support for audio playback and control of an Apple iOS device with Lightning connector (including iPhone, iPod touch, & iPad). You'll be able to playback stored music, music apps, and other audio content on your Apple iOS device through the Music 3 speaker system. You can control Play/Pause and Previous/Next Track from the included IR remote. You are able to connect an Apple iOS device to the USB port and select it as a source without the Dynaudio music app. The speaker's USB port will also charge the battery of practically any connected rechargeable USB device, such as your smartphone or tablet.
Notes: The USB port does not support audio playback from older 30-pin Apple devices, Android devices, USB thumbdrives/hard disk drives, USB hubs/card-readers, or computers/laptops.
Aux Input: There is a 3.5mm Aux input which allows connection of an external audio device, such as a CD player with an analog output or portable MP3 player with a headphone jack. You are able to connect an Aux source device and select it as an active source without the Dynaudio music app.
Other Features
Top-Panel & Remote Control: The Dynaudio Music 3 features top-panel controls and comes with an IR remote. Control functions include Source Input Selection, Presets (1-5), Volume Up/Down, Mute/Un-mute, Play/Pause, & Previous/Next Track. Playback controls are only available for network, Bluetooth, and USB connected devices. The mute/un-mute function is only available for the Aux input.
5 Presets: The Dynaudio Music 3 speaker has five presets. These presets can be filled with anything accessible from the app - Music Now playlists, internet radio stations, single songs and more, All you have to do is press the button on the speaker or the remote control and you're listening right away.
Network & Deep Standby Modes: The Dynaudio Music 3 speaker has two standby modes - Network Standby & Deep Standby. In Network Standby mode; WiFi, Bluetooth, remote control and amplifier functions remain active to enable the speaker to play in response to app and remote handset commands or a wired input signal. In Deep Standby mode all functions are disabled to save power. The speaker can be woken from Deep Standby mode by pressing an on-body or handset button, connecting a wired source cable and, or by triggering the proximity sensor.
The Dynaudio Music 3 speaker will switch to Network Standby mode by default after 10 minutes of inactivity. Power dissipation in Standby mode is less than 3 Watts.
Following ten minutes in Network Standby mode without an active WiFi or Bluetooth connection, the speaker will switch to Deep Standby mode in which power consumption is less than 0.5 Watts.
If there is no active WiFi or Bluetooth connection when the speaker first enters Standby mode it will immediately default to Deep Standby mode.
Power Requirements: The Dynaudio Music 3 can operate from its internal rechargeable battery or AC power. The internal rechargeable battery enables the speaker to be used while disconnected from AC power. The battery will charge while connected to AC power. During normal use, the Music 3's battery life is 8-10 hours following a full charge. The unit's battery level is displayed by the Dynaudio Music App, but can also be established by a short press of the Power button when the unit is switched on and unplugged from mains power. The volume indicator array will illuminate for a few seconds.
To indicate a fully charged battery all the indicators will illuminate.
To indicate 50% charge half the indicators will illuminate.
When the battery charge falls below 3% the first indicator will flash slowly and the volume level will reduce.
When the battery level falls to 1% the speaker will switch off.
Mounting & Placement Options: For best results, Dynaudio recommends that the Music 3 speaker be placed on a shelf or furniture so that it is approximately at ear height when sitting. The built-in battery, allows you to move the Music 3 speaker around your home from room to room.
Note: Dynaudio Music speakers are not suitable for use in humid or wet environments such as bathrooms, saunas, swimming pools or showers. Dynaudio does not recommend outdoor usage for Music 3 speaker. It should not be allowed to get wet or be left in direct sunlight.
Firmware Updates: The Dynaudio Music app on your Apple iOS or Android device will display a notification when new firmware is available for your speaker. Tap on the notification to begin the firmware update process over WiFi. The Music 3 must be connected to AC power (not using battery power) to install a firmware update.
Our Product Research Team
At Crutchfield, you'll get detailed, accurate information that's hard to find elsewhere. That's because we have our own in-house Product Research team. They verify what's in the box, check the owner's manual, and record dimensions, features and specs. We stay on top of new products and technologies to help people make informed choices.
Looking for more? Check out the next model in this lineup.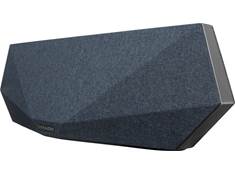 Get bigger sound and more input choices
The Dynaudio Music 5 offers these features:
5 built-in drivers
greater amplifier power
optical digital input
AC power only