About the SureFeed Microchip Feeder for Cats and Small Dogs
To each his own (food)
My first cat Lucy was a grazer. She would eat a little now and leave some for later. When I adopted a second cat, I had to start separating them at feeding time because Radar would eat all of his food and then all of Lucy's food. Then we added in a prescription diet and a couple of dogs. Yup, feeding time at our house is complicated.
To each his own (food)
My first cat Lucy was a grazer. She would eat a little now and leave some for later. When I adopted a second cat, I had to start separating them at feeding time because Radar would eat all of his food and then all of Lucy's food. Then we added in a prescription diet and a couple of dogs. Yup, feeding time at our house is complicated.
It's no surprise that I was pretty excited to try out this microchip pet feeder. What a cool way to make sure everyone is eating the right food! The feeder opens only when approached by the pet whose microchip is programmed into the device. If you don't have a microchip — no problem — it comes with an RFID tag for your pet's collar. Once the registered pet is finished eating, the feeder door shuts on its own, preventing other pets from accessing the food.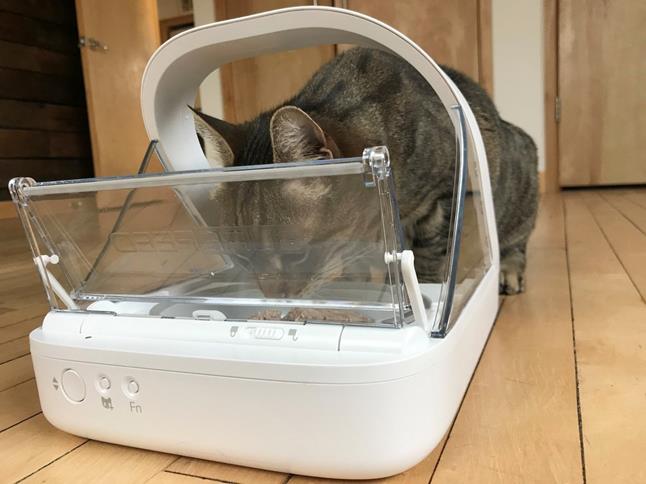 Some pets need a little time to adjust to a new feeder, but my cat Radar dove right in.
Move at your pet's pace
The manual has a really helpful section on training your pet to use the feeder. Some pets may be cautious of the feeder's lid motion at first, but the built-in training mode lets you ease them into it gradually.
My cat Radar is seriously food-motivated so I decided to jump right in. It took him a few loops around the feeder to figure it out, but then he walked right up and started eating. I was using high-value wet food to lure him, so that probably flattened his learning curve a bit.
The tray holds about a can of his food — just be sure to leave clearance for the door to close! I didn't spread the food out enough the first time and some of it got on the door when it shut. Happily, the door can be easily removed for cleaning.
It's decor-friendly
The feeder has a nice, clean design that fit in beautifully at my house. So I shouldn't have been surprised that it attracted some attention when I brought it back into Crutchfield HQ. In fact, two different co-workers said it looked like a luxury yacht!
READ LESS
Product highlights:
designed for multi-pet homes

great for cats or small dogs on weight management and prescription diets

lid opens only for programmed pets

stores up to 32 pet identities in memory
compatible with all identification microchips
works with SureFlap RFID collar tag (one tag included)

lid close delay switch lets you adjust how long the feeder stays open after the programmed pet leaves
sealed bowl keeps food fresher

suitable for wet or dry food
bowls are removable for cleaning
holds about one cup

powered by 4 C batteries (not included)

a low battery indicator will flash when the batteries need to be changed

9"W x 7-7/8"H x 12-5/8"D
warranty: 3 years
MFR # MPF001
SureFeed Microchip Feeder for Cats and Small Dogs reviews
Average review:
Thanks for submitting your review
Most reviews are processed and published within 5 business days. You will receive a confirmation email once your review has been published.
Customer photos
More details on the SureFeed Microchip Feeder for Cats and Small Dogs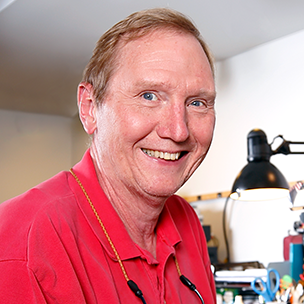 Researched by Crutchfield's

Mark G.
Product Research
Features
Overview: The Sure Petcare SureFeed Microchip Pet Feeder (MPF001) is designed for multi-pet homes to prevent pets from stealing each other's food. The feeder recognizes your pet's implanted microchip or RFID collar tag, and opens the powered lid only for the intended pet. When the pet walks away, the lid will automatically close. This ensures that prescription pet food is consumed by the right pet, and that another pet won't gobble up the intended pet's food when he's not eating. The pet feeder comes with a single bowl, a split bowl, a rubber mat, and an RFID collar tag. The feeder is designed for indoor use only, and is recommended for cats and small dogs.
Microchip Pet Feeder: The pet feeder has a built-in microchip reader that recognizes your dog's or cat's implanted RFID microchip or collar tag and opens the lid on the food bowl. Each microchip and collar tag must be registered with the microchip reader so it can be recognized. The Microchip Pet Feeder is compatible with all microchips commonly used for pets, including those with 15-digit, 10-digit, and 9-digit models.
Note: Additional RFID collar tags are sold separately by the manufacturer. Up to 32 pets can be programmed into the pet feeder at the same time.
Food Bowls: The Microchip Pet Feeder comes with two bowls -- a single bowl and a split bowl (for using wet and dry food simultaneously). Each bowl has the capacity of about 400ml (13.5 fluid ounces), or two pouches of wet food. The bowls have a rubber gasket around the top. When the lid of the feeder is closed, it seals the bowl, keeping the food fresh and prevents flies from entering. A silicone rubber mat is included for catching food scraps, making it easy to clean. The bowls and mat should be hand washed only. Additional food bowls in different colors are available from the manufacturer.
On Board Controls: The feeder has three buttons on the rear panel for manual operation and programming:
Open/Close: A large round button lets you manually open or close the feeder lid as needed. This is handy for inserting or removing the bowl or cleaning the feeder.
Add Pet: The Add Pet button puts the microchip reader into Learn mode. When your pet eats from the bowl for the first time, the microchip reader will recognize his microchip or RFID collar tag, and enter the number into memory. You will need to program the chip/tag for each pet in the household into the microchip reader.
Training Function: The "Fn" button starts the multi-stage training function for introducing your pet to his new feeder. The amount of time required for each stage will vary with each pet (days/weeks). You should give your pet ample time with each stage until he is happy with his new feeder, and will eat without worry. It is recommended that each pet has his own feeder, placed in separate areas.
Lid Closure Delay: The lid closes shortly after your pet exits the feeder. If other pets are stealing the food after the intended pet has left the area, you can shorten the delay time before the lid closes. If your pet seems nervous about the lid movement, you can lengthen the delay time to give him more time to move away before the lid closes. The delay time switch is on the bottom of the feeder, and is numbered I (shortest delay), II (standard delay), and III (longer delay).
Power: The SureFeed Microchip Pet Feeder is powered by four C cell batteries. High quality, brand name batteries are recommended for best results. Fresh batteries last approximately 6 months.