About the Apple iPod™ 15GB
It's the player everyone's talking about! This Apple iPod sports the same clean, elegant design, user-friendly interface, and slim build (only 11/16" thick) that earlier iPods made famous. But it only works with Macintosh®, right? Not anymore! Today's iPods can connect to a Mac® or to a Windows® PC via FireWire® (IEEE 1394) or USB 2.0 (see requirements below). And this 15GB model can hold up to 246 hours of 128Kbps music — that's about 3,700 songs!
It's the player everyone's talking about! This Apple iPod sports the same clean, elegant design, user-friendly interface, and slim build (only 11/16" thick) that earlier iPods made famous. But it only works with Macintosh®, right? Not anymore! Today's iPods can connect to a Mac® or to a Windows® PC via FireWire® (IEEE 1394) or USB 2.0 (see requirements below). And this 15GB model can hold up to 246 hours of 128Kbps music — that's about 3,700 songs!
Plus, Apple replaced the iPod's earlier scroll wheel and buttons with touch-sensitive controls that are more durable and easier to use. And the controls, like the LCD screen, are backlit, so you can find that favorite track or playlist with ease, even when the lights are low. Four games are included — you can even play while you listen to your favorite music! A notes reader lets you view text that you've downloaded from your computer, and the contacts list and appointment calendar help you stay organized.
This iPod weighs just 5.6 ounces — less than two CDs weigh — so it makes an unobtrusive companion during a walk or drive. The wake and sleep timers are handy when you travel. And the iPod comes with a built-in lithium-ion rechargeable battery — much more cost-effective than disposable batteries.
Read a hands-on review of Apple's iPod at CrutchfieldAdvisor.com
Learn how to use an Apple iPod with your car stereo at CrutchfieldAdvisor.com
Details:
15GB hard drive holds approximately:

493 hours of music at 64 Kbps
246 hours at 128 Kbps
other bitrates also supported

plays MP3, WAV, AAC, AIFF (uncompressed), and Audible files
functions as an external hard drive for backup of computer files
backlit LCD displays track info
touch-sensitive, backlit controls
25-minute skip protection
repeat, resume, and random play
22 EQ settings
sleep and wake timers
notes reader
4 games: Music Quiz, Solitaire, Brick, and Parachute
appointment calendar and contacts list
FireWire interface (cable included)
6-pin-to-4-pin FireWire adapter
earbud headphones
AC adapter/charger
iTunes® CD-ROM (Mac and Windows)
up to 8 hours playback with included lithium ion rechargeable battery
2-1/2"W x 4-1/8"H x 11/16"D
weight: 5.6 oz. (includes built-in battery)
warranty: 1 year
Computer Requirements:
Macintosh:
built-in FireWire port
Mac OS X v.10.1.5 or later (v.10.2.8 or later recommended)


Windows:
FireWire or USB port (USB connection requires a separate iPod USB 2.0 + FireWire cable)
Windows 2000 with Service Pack 4, or XP Home or Professional
For additional requirements, see Detailed Info.
READ LESS
What's in the box:
Apple iPod 15GB owner's manual
15GB iPod Digital Music Player
Earbud headphones with 44" cord and male 3.5mm miniplug
4 Foam earbud pads
Power adapter
FireWire adapter (female 6-pin to male 4-pin)
69" Cable with iPod Dock Connector on one end and 6-pin FireWire connector on the other end
2 Dock Plug covers
iPod Software 2.1 CD-ROM
User's Guide
Quick Reference
Software License Agreement
Warranty information
Promotional card for iTunes Music Store
MFR #M9460LL/A
We don't have any reviews, yet.
Submit a review and then enter to win a $350 gift card.
Be the first to review this product
Thanks for submitting your review
Most reviews are processed and published within 5 business days. You will receive a confirmation email once your review has been published.
Customer photos
More details on the Apple iPod™ 15GB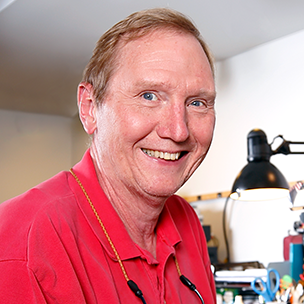 Researched by Crutchfield's

Mark G.
Product Research
Features
Music Management Software
System Requirements
Compatibility: Unlike previous versions of the Apple iPod, the 15GB version is compatible with both Macintosh and Windows operating systems. See System Requirements section below for minimum requirements.
Storage Capacity: This iPod has a built-in 15GB hard drive, capable of storing over 3,700 songs (4-minute song average--recorded in AAC format at 128 kbps). In addition to storing audio, you can use the hard drive to store data files as well.
Audio Formats: The iPod supports the following audio formats:
AAC (M4A, M4B, M4P) (up to 320 kbps)
MP3 (up to 320 kbps and VBR)
WAV
AIFF (Macintosh only)
AA (Audible spoken word)
Display: The grayscale liquid crystal display measures 2" diagonally with 160 x 128 pixel resolution, 0.24mm dot pitch, and blue-white LED backlight. In the Settings menu, you can adjust the screen contrast.
Backlighting: The display's blue-white LED backlight illuminates the LCD screen and lights the buttons red for a selectable amount of time each time a button is pressed. The backlight timer can be set for 2, 5, 10 or 20 seconds, always on or off.
Skip Protection: In addition to the hard drive, the iPod has a memory cache. Since it is solid state, there are no moving parts, so it is not affected by movement. The memory preloads up to 25 minutes of music to the cache at a time, and the iPod plays the music from the cache instead of the hard drive. The 25 minutes of skip protection is nearly twice the amount found in other hard-drive-based MP3 players.
Controls: The iPod's touch-sensitive controls are located on the front of the unit. There are 3 Playback Mode buttons (Play/Pause, Previous/Rewind, Next/Fast-forward), a Menu button, and a circular Scroll pad surrounding the Select button. The Scroll pad and Select button allow you to navigate through menus and song lists, highlight the desired selection, and select the item. To avoid unwanted actions due to accidental button pressing, you can disable the iPod's buttons with the top-mounted hold button.
Playback Functions: You can set the iPod to repeat one song over and over, or repeat all songs in the list (album or playlist) from which the song was selected. You can also have the iPod shuffle songs or albums. When set to shuffle songs, it plays all the songs at random from the list the song was selected. When set to shuffle albums, it plays all the songs on an album in order, then randomly selects another album and plays it through in order. During Shuffle play, the songs do not repeat until all songs have been played.
On-The-Go Playlists: You can program the iPod to play the songs you want in the order you want. The songs are queued in the On-The-Go playlist. In addition to individual songs, you can queue entire lists of songs (albums) in the On-The-Go playlist. There is no limit to the number of selections you can put in the On-The-Go playlist.
Equalizer: The iPod's built-in equalizer has 22 EQ presets to change the sound to suit a particular music genre or style. The presets include: Acoustic, Bass Booster, Bass Reducer, Classical, Dance, Deep, Electronic, Flat, Hip Hop, Jazz, Latin, Loudness, Lounge, Piano, Pop, R&B, Rock, Small Speakers, Spoken Word, Treble Booster, Treble Reducer, Vocal Booster and Off.
Headphones: The iPod comes equipped with earbud-style headphones with 18mm drivers using Neodymium magnets. If desired, you can use any headphones with a 3.5mm miniplug.
Clock Functions: The iPod has an internal clock with time/date settings, a calendar, an alarm clock and sleep timer. The calendar can be advanced a day at a time or a month at a time. The alarm clock can be set to any minute up to 24 hours in advance. The sleep timer can be set to automatically turn off the unit in 15, 30, 60, 90 or 120 minutes.
Contacts/Calendar Events: When using a Mac with OS X and iSync, you can import contact information (name, address, phone, e-mail, etc.) or calendar events (appointments, to do lists, etc) automatically into the iPod for use on the go. If you are using Windows, or choose not to use iSync, you will need to enter contacts and calendar events manually.
Note Reader: The iPod has a built-in note reader that lets you download text-based information and read it on the screen.
Games: In addition to enjoying music and books, you can play one of four pre-loaded games on your iPod. The games that are available include Brick, Music Quiz, Parachute, and Solitare.
Computer Interfaces: The iPod can be connected to your computer via 4-pin or 6-pin FireWire (also called IEEE 1394 or i.LINK), or by USB 2.0 or 1.1. The unit comes equipped with a cable that has the proprietary iPod dock connector on one end and 6-pin FireWire on the other end. It also has a 6-pin to 4-pin FireWire adapter for use with computers with a 4-pin FireWire connector. To connect the iPod via USB, you will need the optional iPod FireWire and USB cable (item # 472IPODUSB).
Power Requirements: The iPod has a built-in rechargeable, non-removable, lithium ion battery (630 mAh). You can charge the iPod by plugging it directly into the power adapter via the iPod Dock Connector to FireWire cable, or by placing it into the optional iPod dock. When fully charged, the battery provides approximately 8 hours of playback time, and about 1 month standby time on a full charge. The battery charges up to 80% of capacity in 1 hour and fully charges in 3 hours. A battery life indicator appears at the top of the display. You can also operate the unit while it's connected to the power adapter. Note: All Macintosh computers and some Windows PC computers with 6-pin FireWire ports can charge the iPod through the FireWire cable.
Optional Remote Control: An optional wired remote control can plug in between the iPod and the headphones. The 4-button remote allows you to control volume, fast-forward/skip forward, rewind/skip backward, play and pause. The remote also has a Hold button which disables the remote buttons' functions. The iPod's Hold button and the remote's Hold button do not affect one another.
Optional iPod Dock: The optional iPod Dock can hold the iPod upright as it charges or transfers music. The iPod cable attaches the iPod Dock to the power adapter or to your computer. In addition, the iPod Dock has a 3.5mm minijack stereo line output for connecting the iPod to a home stereo or external powered speakers.
Specifications:
Frequency Response: 20Hz to 20kHz
Weight: 5.6 ounces
Operating Temperature: 32° to 95°
Maximum Operating Altitude: 10,000 feet
iTunes: The supplied CD-ROM software provides iTunes 4.1 music management software for Macintosh and Windows users. This software allows you to organize and manage your music and audio downloads. With the software, you can buy music and audio books from the iTunes Music Store, create your own custom audio or data CDs, import tracks in AAC, rate tracks and sort your library based on ratings, create mixes automatically with Smart Playlists, share and stream playlists with up to three other Mac users, play audiobooks or learn a foreign language.
Volume Levels: iTunes can adjust the volume of songs automatically, so they play at the same relative volume levels.
Audio Books: In addition to music, you can download audio books from the iTunes Music Store (approximately 5,000 titles), or from Audible.com, an independent website with over 18,000 titles. The iPod will keep track of where you left off when you listened last like a virtual bookmark, and when you sync up with iTunes, the bookmark will continually update between the iPod and iTunes.
High-Speed Transfers: Transfer time varies depending upon how much music you want to transfer from your computer to your iPod. With its FireWire connection, iPod can transfer data at up to 400 MB per second (Mbps), allowing you to transfer an entire CD in as little as 5 seconds. When you connect the iPod to your computer via FireWire, it not only syncs quickly, it charges itself in the process. If your Windows-based PC doesn't have a FireWire port, you can connect the iPod using USB 2.0, which transfers data at up to 480 Mbps. Note: Although the iPod is compatible with USB 1.1, data transfer speeds are much slower.
Auto-Synching: Each time you connect the iPod to your computer, the unit's Auto-Synch feature automatically updates it with any changes made to the iTunes program on your computer, including any new music purchased at the iTunes Music Store.
Song Ratings: You can assign a rating to a song from 1 to 5 stars to indicate how much you like it. Song ratings can be used to help you create playlists automatically in iTunes.
Smart Playlists: You can create customized Smart Playlists from the songs stored in your music library. Smart Playlists can include only certain genres of music, songs by certain artists, or songs that match particular criteria, such as songs rated 3 stars or higher or a playlist that's no more than 3 GB in size. After the Smart Playlist is created, any songs you import that meet the Smart Playlist criteria will be automatically added to the Smart Playlist.
Minimum Requirements for Macintosh: To use iPod with a Macintosh, you must have the following:
Macintosh with a built-in FireWire (IEEE 1394/i.LINK) port
Mac OS X v10.1.5 or later--some features require Mac OS X v10.2.8 or later (Mac OS X v10.2.8 is recommended)
iTunes4.1 (included on the iPod CD) or later
iSync 1.1 and iCal 1.0.1 or later (optional for synchronizing contact and calendar information with iPod--works only with Mac OS X v10.2 or later)
Minimum Requirements for Windows: To use iPod with a Windows PC, you must have the following:
A Windows PC with 300 MHz or higher processing speed
Windows 2000 with Service Pack 4 or later, or Windows XP Home or Professional
Built-in FireWire or a FireWire card installed, or built-in USB 2.0 or a USB 2.0 card and the optional iPod Dock Connector to USB 2.0 + FireWire Cable; the iPod is compatible with USB 1.1, but transfer speeds will be slower than with USB 2.0
iTunes 4.1 (included on the iPod CD) or later
The Apple iPod™ 15GB replaces these items

Adding...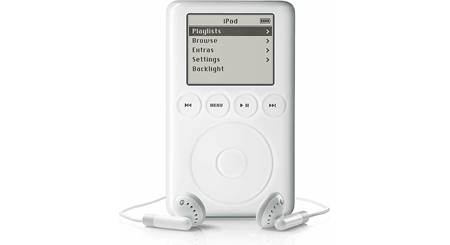 10GB hard drive
compatible with MP3, WAV, AAC, AIFF, and Audible files
FireWire® interface