Alpine presents an easy-to-use iPod adapter that works in any vehicle and with any car stereo — the eX-10 iPod interface. If your car has an FM radio and a power port, you can use the eX-10 to control your iPod and listen to your music library over your car's speakers.
Alpine presents an easy-to-use iPod adapter that works in any vehicle and with any car stereo — the eX-10 iPod interface. If your car has an FM radio and a power port, you can use the eX-10 to control your iPod and listen to your music library over your car's speakers.
Total, fast iPod control with Alpine's "Full Speed" technology
The eX-10 connects to most iPods with a dock connector. You'll hear great sound, and see song info, artist name, and CD artwork pulled from your iPod onto the eX-10's screen. You can find songs easily, too — the search menus work just like your iPod's. You control all of the eX-10's functions with the included easy-to-use wireless remote, which is about the size of an iPod nano.
Full-color, crystal-clear 2.4" display
The display's bright, high-resolution TFT screen delivers finely detailed images in full color. You can select either blue or red for the background color — the red option makes the eX-10 look right at home on the dash of an Audi or BMW. For security, the quick-release button lets you remove the eX-10 easily and take it with you when you leave the car.
Simple 3-step installation
The installation takes no time at all. Simply place the eX-10 in a convenient spot on your dash — it's small enough that you can place it just about anywhere. Then plug it into your power port and connect your iPod to the docking cable. You can now stow your iPod safely out of the way, yet have full, fast access to all of its functions and songs.
The eX-10 sends the music to your car stereo via a wireless FM transmitter. The eX-10 also features a minijack output so you can connect it to your stereo's auxiliary input for even better sound.
Don't forget your phone — the eX-10 has Bluetooth built in
In addition to iPod integration, the eX-10 communicates with your compatible cell phone automatically to provide hands-free calling. You hear callers over your car speakers, or through the eX-10's built-in speaker if you're listening to a CD. The included microphone picks up your end of the conversation. All of the important caller info shows up on the eX-10's display. If you have music stored on your phone, you can stream that through the eX-10, too.
Compatibility Note: Be sure to check "Details" for specific iPod model compatibility with this iPod adapter.
READ LESS
Product highlights:
control system for using your iPod and Bluetooth phone with any car stereo
System Components
full-color, dash-mountable 2.4" display with selectable blue or red background
wireless remote lets you control all system functions
dash mount has a quick-release button so you can remove it from the car
System Features
works with most dockable iPods
song searching works just like an iPod's
automatically charges most players while connected (does not recharge iPhone 3G, curved screen iPod nano or 2G iPod touch)
communicates with Bluetooth phones automatically
car power adapter
connects to any factory or aftermarket stereo via the internal wireless FM transmitter or auxiliary input connection
LCD display dimensions: 3-1/8"W x 2-3/16"H x 15"/16"D
warranty: 1 year
MFR # eX-10
What's in the box:
Display module
Power module
RUX-4220 wireless remote
CR2025 battery
Cradle
10' Display cable
3' iPod cable
Cigarette lighter adapter
39" Cigarette lighter adapter cable
Microphone with attached 9.5 cord terminated by a right-angle male 3.5mm minijack connector
Microphone stand
17" FM wire extender terminated by a male 3.5mm minijack connector
Plastic mounting disc
3 Cable clamps
3 Fixing screws
2 Narrow velcro strips
1 Wide velcro strip
Double-sided adhesive tape
Pure Alcohol Towel
"Start Here" booklet
iPod note
"Warning" sheet
Customer Care Registration card
Warranty card
Alpine eX-10 reviews
Average review:
Thanks for submitting your review
Most reviews are processed and published within 5 business days. You will receive a confirmation email once your review has been published.
Customer photos
More details on the Alpine eX-10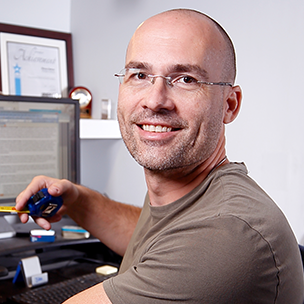 Researched by Crutchfield's

Stacey B.
Product Research
Features
Overview: The Alpine eX-10 Advanced iPod Controller with Bluetooth is a dash-top solution for iPod playback and Bluetooth connectivity that works with your vehicle's factory audio system through the unit's built-in FM Transmitter or your aftermarket headunit through the unit's line-level output. The Alpine eX-10 consists of a no-installation display unit that sits on top of your vehicle's dash, a remote control and a power module that plugs into your vehicle's cigarette lighter using the supplied 12V cigarette lighter adapter.
LCD Display With Cradle: The unit's on-dash monitor is 3.095" wide x 2.195" tall x 0.895" deep with a 2.4-inch color TFT display. The monitor attaches to an articulated mounting base, but can be removed from the base for anti-theft purposes. The eX-10's convenient size allows it to be mounted in a variety of locations within your vehicle, giving you extreme flexibility and convenience. You can choose from three display modes to keep track of your iPod music: small album art with song/artist/album info, large album art with song name, and finally a text only screen with song/artist/album info. You can change the brightness level of the display from -7 to +7.
Power Module: The eX-10's power module is 4.355" wide x 1.105" tall x 4.495" deep including wire connections. The power module features a proprietary multi-pin connector that connects to the unit's LCD monitor display via the supplied 10' display cable. The power module features another proprietary multi-pin connector which connects to your iPod via the supplied 3' Full Speed iPod cable. In addition, the unit features three 3.5mm ports used for the supplied microphone, FM wire extender and optional auxiliary audio cable. The module also features a power port for connection to the supplied 12V cigarette lighter adapter. The cigarette lighter adapter can be connected directly to the module or connected to the module using the 39" power extension cable giving you more flexibility and options to where you want to mount the power module in your vehicle.
Remote Control: The supplied IR wireless remote control offers full control of your iPod, allowing the iPod to be safely stored away and charged while driving when connected to the eX-10. A Skip dial on the side of the remote is used to navigate through the iPod files. The remote's List dial on the other side of the remote lets you scroll by Song, Artist, Album, Playlist, Podcast, Audiobook, Composer and Genre. The remote's View button brings up three screen choices that show combinations of song, artist and album artwork. Familiar iPod controls like Shuffle and Back have dedicated buttons on the remote. The remote control measures 1.675" wide x 3.915" long x 0.525" deep.
iPod Compatibility: The eX-10 connects to any iPod with a dock connector via the supplied Full Speed Connection for iPod cable allowing you to playback your iPod's music through your vehicle's audio system. The Alpine eX-10 Advanced iPod Controller with Bluetooth can be used with the following Apple iPod versions.
iPod mini ver.1.4.1
iPod 4Gen. ver.3.1.1
iPod photo ver.1.2.1
iPod nano 1Gen. ver.1.3.1
iPod 5Gen. ver.1.2.1
iPod nano 2Gen. ver.1.1.3
iPod classic ver.1.0.1
iPod nano 3Gen. ver.1.0.1
iPod touch ver.1.1.1
Note: This unit supports iPod audio playback only; this unit does not support iPod photo or video playback. This unit will not charge the iPod nano 4th generation and iPod touch 2nd generation without the Scosche passPORT (142IFWA).
Search Functions: An iPod can contain thousands of songs. Thes unit for this reason can make various searches using the search functions. This Alpine eX-10 features the following various search functions to find the songs you want to listen to on your iPod.
| | | | |
| --- | --- | --- | --- |
| Hierarchy 1 | Hierarchy 2 | Hierarchy 3 | Hierarchy 4 |
| Playlists | Songs | -- | -- |
| Artists | Albums | Songs | -- |
| Albums | Songs | -- | -- |
| Podcasts | Episode | -- | -- |
| Audiobooks | -- | -- | -- |
| Genres | Artists | Albums | Songs |
| Composers | Albums | Songs | -- |
| Songs | -- | -- | -- |
Quick Search: You can find songs just as you would on your iPod, while using Alpine's exclusive Quick Search technology. Using the large Quick Search button on the unit's remote, you can access all of your iPod search options like: playlists, artists, albums, podcasts, audiobooks, genres, composers, and songs.
Percent Skip Function: The eX-10 features a Percent Skip Function for effective searching of the thousands of songs you have loaded onto your iPod. You can skip over a specific percentage of songs from 0 to 90% in 10% increments from any of the search modes.
Playback Modes: The unit supports the following playback modes.
Shuffle Album: an album in your iPod is selected at random and is played back in the album song order
Shuffle Songs: all songs in the selected mode are played in random
Shuffle All: all songs in your iPod are played in random order
Repeat Song: a single song is repeatedly played
Search Position Memory: During iPod playback, you can quickly return to the last selected hierarchy level in the search mode.
Album Art: If your iPod's downloaded songs or albums contain album art, this art will be shown on the eX-10's screen. You can display only the Album Art only or the Album Art with song and file information.
Built-In FM Transmitter and Line Level Output: Your iPod music will be played back through your car's sound system via the FM transmitter or 3.5mm line output jack. You can set the FM transmitter's frequency between 88.1-107.9 MHz. You can also connect an optional FM hardwire box to eX-10.
Bluetooth Operation: The combination of iPod and Bluetooth capabilities in one plug and play unit makes the eX-10 a unique and convenient device so you will no longer have to use two separate devices to use both iPod and hands-free Bluetooth services in your vehicle. The eX-10 can control a Bluetooth-enabled phone or device, allowing for a hands-free conversation to be played through your car's speakers while using the supplied microphone. The eX-10 includes Bluetooth features such as Phonebook List (up to 1,000 phone numbers), Missed Calls, Received Calls and Dialed Calls (last 10) which are accessible through the eX-10 and are displayed on the unit's screen. The eX-10 also supports Voice Dial Operation when paired with a Bluetooth enabled mobile phone that also supports voice command. You can also setup the eX-10 to automatically answer your incoming calls. If your phone or device has A2DP or AVRCP protocol, music can be streamed from it to the eX-10, then played through your car's sound system. Devices with AVRCP also allow for "Track Up," "Track Down," "Play" and "Pause" functions to be controlled via the eX-10's remote control. The eX-10 supports pairing of up to 5 Bluetooth enabled phones.
Equalizer: The eX-10 allows you to pick one of 10 equalizer presets (EQ Flat, News, Pops, Rock, Jazz/Blues, Electrical Dance, Easy Listening, Classical, Country or HipHop/Rap) for custom sound, depending on your music preferences.
Multi-Language Text: The eX-10 supports the following languages for its text display - English, French, Spanish, Russian, German, Italian, Swedish, Portuguese, Japanese and Chinese.
Auto Power Off: To prevent battery drainage, the unit has an Automatic Power Off function that automatically turns the unit off when no operation is performed for a certain period of time. You can set this time to 60, 90 or 120 minutes.