About the Universal MX-450 Remote Control
Why juggle five or six remotes when one will let you take complete control of your home theater system? Take the time to custom-program the Universal MX-450, and you can stow those other remotes.
Why juggle five or six remotes when one will let you take complete control of your home theater system? Take the time to custom-program the Universal MX-450, and you can stow those other remotes.
No PC is required to program the MX-450. You program it the old-fashioned way, by pressing buttons. Once you get the hang of it, you can create one-touch "macros" that correspond to everyday activities, such as "Watch TV" or "Play a Game." With macros, a single button push issues a string of commands to set up your TV, receiver, and other components for the chosen activity. If you ever need to change a command when you upgrade components, you don't have to start from scratch. Just change the commands you need to.
Good for both line-of-sight and hidden control
In addition to its line-of-sight IR (infrared) operation, the MX-450 can also send out RF (radio frequency) commands. These radio commands can be received by an RF base station behind a closet door, or even in another room, when you pair this remote with Universal's MRF260 RF Base Station.
Control more than your TV
Universal has an integrated line of accessories to add even more capabilities. With the PSX-2 iPod®/iPhone® dock you can create your own party playlists and quickly navigate through your player's menus. The MRFA-3LD-URC table lamp dimmers raise or lower the lights in your room — all controlled by the MX-450.
And it can survive the couch
The MX-450 can run for months on its supplied "AA" batteries. And it has a unique safety feature to ensure that the power's used for the right purpose. If a button is pressed continually for more than 30 seconds, the remote goes into sleep mode. So if your MX-450 slides between the seat cushions, the batteries won't be drained just because a cushion's depressing a control button or two.
READ LESS
Product highlights:
transmits both IR and RF signals
RF operation requires additional base station (available separately)
IR range: 30-50 feet; RF range, 50-100 feet
controls up to 18 devices
2" color LCD screen

six activity buttons
set up and edit macros (strings of commands) directly from the remote
when activity is selected, displays controls for relevant components

fully backlit with adjustable illumination duration
months of use from four "AA" batteries (included)
weight: 9 oz.
warranty: 1 year
MFR # mx450
Universal MX-450 Remote Control reviews
Average review:
Thanks for submitting your review
Most reviews are processed and published within 5 business days. You will receive a confirmation email once your review has been published.
Customer photos
More details on the Universal MX-450 Remote Control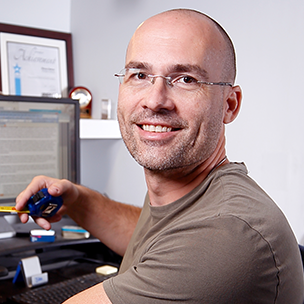 Researched by Crutchfield's

Stacey B.
Product Research
Features
Overview: The MX-450 is an IR/RF Universal Remote Control with the ability to program and control up to 18 A/V devices. The MX-450 features an LCD screen and backlit buttons. All programming is done from the remote control (no PC required).
IR Range: The Universal MX-450 Remote Control has an IR range (line-of-sight via infrared) of approximately 30'-50' (depending on the environment.
RF Compatible (optional): In combination with the Universal RF Base Station (554MR260, sold separately), the MX-450 can control your home entertainment system via RF (418MHz), without being in line-of-sight of the equipment. The MX-450 remote control has an RF rang of approximately 50'-100' (depending on environment).
2" LCD Screen: The Universal MX-450 Remote Control features a 2" TFT color LCD screen (176 x 220 pixels). The color LCD screen will light up with the press of any button. You can select how long the LCD screen display stays backlit, from 5-60 seconds.
Note: The remote's LCD screen is not touchscreen.
32MB Memory: The MX-450 employs 32 megabits of flash memory to store commands.
Total Customization Capability: The Universal MX-450 offers programming capabilities for up to 18 devices (on 3 Main pages), with up to 8 pages for each device, plus up to eight pages of favorite channels; for a total of 155 pages.
Programming Options: The MX-450 is programmed via LCD screen setup menus and on-screen instructions.
Basic Setup: Selecting this option enables you to replace all your remotes by either searching the built-in database or learning commands one at a time from the original remote for the device.
Advanced Setup: Advanced Setup enables you to copy & past groups of commands like Volume and Mute, setup macros, customize labels, add/hide pages, erase and setup RF Addressing.
Favorite Channels: Favorite channels are macros that enable you to tune to a channel with one touch.
User Settings: Selecting this option lets you adjust how long the screen or the buttons stay lit.
Display Tips: Select this option to turn On or Off the built-in Setup Tips. Setup Tips are the integrated programming manual for the MX-450.
Button Layout: The Universal MX-450 Remote Control features the following button layout.
Power On/System Off: Powers On and Off your programmed devices. System Off, turns off all your programmed devices at once.
Main Button: The Main button allows you to access the Activities page, Menu screen, and Setup functions.
Page Buttons: Press the two Page buttons to see any other available menu screen choices.
LCD Buttons: The six LCD buttons control the corresponding LCD icons or text, and let you select Activities.
FAV Button: The FAV button lets you store your favorite On-Air, Cable, or Satellite TV stations (up to 48) for easier access.
Volume Controls: The Volume and Mute buttons always control the sound of your system regardless of the what screen menu is displayed
Channel Controls: The Channel and Previous Channel buttons will change channels when you have selected an Activity, like "Watch Cable TV" or "Watch SAT TV".
4-Way Cursor: The 4-way cursor buttons enable you to navigate on-screen guides and menus with ease.
Transport Keys: The Transport buttons (Play, Stop, Skip +/-, FF, REW, and Pause) operate when the selected Activity requires transport controls. For example, if you watch Cable TV with a TiVo type of DVR, these buttons will control the built-in DVR; or while you are watching a DVD, these buttons will control the DVD player.
Numeric Keypad: The Number Keypad will enter numbers for the Activity you've selected. Thus, for watching Cable TV, you use the number keypad to enter channel numbers; while when listening to CD, the number keypad enters track numbers.
Note: A dedicated Light button enables you to backlight the buttons of the remote control at any time.
Activities: The remote's Activities function lets you access and control your programmed A/V components. For example, "Watch TV", "Watch DVD", "Play a Game", etc.. Once you have made your Activity selection, the remote control's buttons will be configured to control that particular Activity.
Macro Editing: Macro programming is a critical function for delivering a specific sequence of commands (up to 255) to a variety of components in order to provide you with an easy to use system. The MX-450 offers Macro Editing right from the remote control. You can see the actual macro-steps clearly displayed on the remote controls' screen. Fine tuning, reordering, adjusting delays, and adding steps to the macros can be done right from the remote control screen, without deleting any of your previous entries.
Add/Insert Steps: At any time you can add a new step to a macro. The step will be inserted after the step you select in the macro list. By selecting a Jump step from the Add Menu, you can reset the jump destination using the Left/Right cursor buttons.
Move Re-order Steps: Simply select a step with the SELECT button, then use the Up/Down Cursor buttons to move it to a new position.
Delays: By simply selecting the Delay you want to adjust, then using the Left/Right Cursor buttons, you can increase or decrease the amount of delay in the macro.
Testing: Instead of constantly entering and exiting setup mode to test, simply test and keep working until you have success. No more wasted time.
Archiving Software: This remote control allows you to archive your unique program file. Utilizing special MX-450 software (from the Universal Remote website), you can easily back up your control configuration. This special software also allows the MX-450 to download updates with the latest firmware and IR library for new products.
Note: There is a mini-USB (type-B) port found inside the battery compartment which can be used to connect the remote to your computer for archiving and updates. USB cable not provided.
Battery Operated: The Universal Remote Control operates off of 4 "AA" alkaline batteries (included). The MX-450 offers 18 hours of battery life with continuous button pressing, backlight enabled, and LCD On. This translates into months for most users.
Note: The batteries are non-rechargeable.
Protect Mode: The MX-450 protects itself if it gets stuck between couch cushions (with a button being continuously pressed). After 30 seconds the MX-450 will turn off, and will not turn on again until the button is released.
3 questions already asked
Q
Is the PC software for programming included? Is the USB cable included?
[ End User Feb 04, 2015 ]
A
I bought this. There is a USB connection in the battery compartment. No USB cable is included. Archiving and firmware update software is available online at universalremote residential downloads. Very easy to program after reading the MX?450 Programming Guide.
[ End User Feb 14, 2015 ]
A
No. This remote does not use a PC for programming. The programming is accomplished directly on the remote.
[ LARRY W Feb 06, 2015 ]
A
You can only get software as a dealer. Lotsa luck with that one. They don't tell you this up front either. You don't even get a manual on hiw to program. So i bought something semi-useless except to extent I could figure some of it out trial and error. May be a fine piece of electronics but it was seriously misrepresented (error of omission) by Crutchfield. Expensive lesson. Very unhappy. Doubtful I will ever trust Crutchfield narratives again, or spend $$ there
[ Fred Feb 05, 2015 ]
A
There is no US connection. All programming is done by the internal menu and learning from individual controllers of equipment you have.
[ Glenn Feb 05, 2015 ]
A
You program the device directly on the remote. Therefore you do not need to connect to a PC. And therefore, it does not come with a USB cable
[ Jonathan Feb 05, 2015 ]
A
There is no USB connection and no PC programming. It isn't extremely difficult to program but you will have to surf the internet to find instructions or a video demo. There are no instructions included. There is a link to an on line owners manual, but that manual doesn't have much in programming instructions. It is a bit if a scam to steer you to a video dealer to have it programmed. All that said, once you get it programmed it works exceptionally well. But you suffer a bit to get there.
[ Greg Feb 05, 2015 ]
A
There is no software, and thus no cable. All programming is done on the remote. I did come across some software online but it is for archiving only from what I understand. Never used it though.
[ ERIC Feb 05, 2015 ]
Q
can this remote control more than one tv?
[ Dave Dec 22, 2013 ]
A
Yes. However, if they are the same brand of television, you may have issues if they run off the same frequencies.
[ Jonathan Dec 27, 2013 ]
A
Yes, "but it depends". If they are in same room and are same brand, (ie: use the same IR code) the only way you could do it is to define the second set on a main screen and utilize RF addressing with an optional RF adapter. That would effectively let one set "ignore" identical commands intended for the other. If, however, they are in different rooms, or not same brand (ie: do not use the same IR codes), you can easily define another set on the main screen(s) and control it with this unit. One can theoretically control up to 18 units as long as they have different IR codes---otherwise one has to go to RF addressing.
[ Fred Dec 22, 2013 ]
A
Yes. I personally like the logitech controllers better, I feel they are easier to program with the software you put on your computer. I used this controller for a customer who had an outdoor entertainment setup with the equipment in the basement because this controller can be paired with a rf emitter allowing it to work through brick walls.
[ JOSEPH Dec 22, 2013 ]