About the Astro A50 Gen 4 (Xbox®)
Astro's best wireless gaming headset
Astro has been making waves in the gaming community for years with the quality of their headphones. They're frequently a top pick for professional gamers, who need their gear to perform reliably at the highest levels of competition.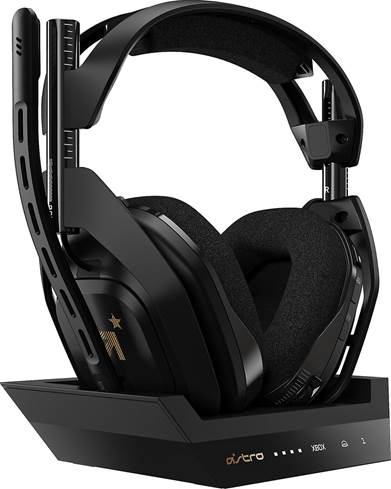 The Astro A50s give you pro-level sound quality, control, and comfort without giving up the convenience of wireless.
Astro's best wireless gaming headset
Astro has been making waves in the gaming community for years with the quality of their headphones. They're frequently a top pick for professional gamers, who need their gear to perform reliably at the highest levels of competition.
The A50s are Astro's top-tier wireless gaming headphones. They give you powerful sound, clean communication, and long-lasting comfort. If you're wondering what the professionals use, well, you're looking at them.
Wirelessly keep up with the competition
The A50s come with a dedicated base station that acts as both a convenient charging dock and a wireless transmitter. The connection between the station and headphones stays strong and stable with a low-latency 2.4 GHz transmission.
With high-quality sound that's lag-free, you can go wireless with the confidence that you're not losing your competitive edge in the process.
Comfort for the long haul
The lightweight and ergonomic A50s fit snugly and securely without weighing down your head or feeling like a clamp. The earcups and padded headband are also super soft and breathable, for comfort that can't be beat during extended gaming sessions.
Immersive, competitive sound
When I play The Hunt: Showdown with my crew, every pat-pat of a nearby enemy's footsteps or crinkle over broken glass can tip us off to a hidden attacker. Picking up those kinds of audible cues accurately lets me swivel 180° and quickly turn the tables. Being able to pinpoint a gunshot echoing in the distance also tells us where to go hunting, so we can creep up and lay down our own ambush. The A50s are perfect for a game like this, with great imaging and sound directionality that pulls you into the action.
These headphones deliver detailed, accurate sound that feels true-to-life and is easy to place in the game world. They're designed for competition, where situational awareness is the key to victory.
Hear the details that count
When your partner tells you there's a sniper on the roof, you'll want to hear that — not the dryer tossing your socks. You also don't want your team's chatter to drown out environmental sounds that might tip you off to that sniper if no one else has noticed.
The A50's closed-back design provides noise isolation, while the built-in MixAmp technology helps optimize the balance of your game audio and voice chat. This way you're not missing important sound cues or key tactical callouts. On the flip side, the flexible boom mic prioritizes the sound of your voice, so your teammates can hear you clearly, too.
Firsthand listening impressions
First off, when I say Astro's headphones are comfortable, that's an understatement. When I dropped these on I was immediately impressed with just how soft the earcups were and how quickly I forgot I was even wearing them. They're probably the most comfortable pair of headphones I've tried to date. With the bar already set so high, I was curious if the sound would live up to the form factor. Spoiler: yeah, it totally did.
The A50s have a rich, detailed sound that sucked me straight into the game. The controls on the side of the headphones also made it super easy to balance out communication with my friends. When we played The Hunt, I could still hear them clearly without losing cues from the environment. It was the best of both worlds.
The details add up
I tested out several games with the A50s and found little details I'd been missing all along that really improved my experience. In Mortal Kombat 11, I could distinguish the shifting zip-zap crackles of electricity as Raiden took the stage. In Call of Duty: Warzone, I could painfully place each bullet as it skitter-scattered across the concrete and pinged against the metal surface of the car I was hiding behind.
At the end of my review, I dropped back into Ghosts of Tsushima on Lethal+ difficulty. It was by far my favorite experience with the A50s. The soundtrack felt sweeping and thunderous as I took on an entire outpost. The three-dimensional space really came alive with the clash of swords and spears, the footsteps of soldiers surrounding me, and arrows whizzing past from every direction. It was epic.
Get your settings on target
To get the best performance out of the A50s, I needed to make some quick adjustments to my console settings. You'll want to connect the optical cable and the USB to your console. From there, you need to make sure the audio output is set to "optical" and your headphones are "chat only." It seems counterintuitive, but this ensures the chat and the game audio are split up. This gives you the best audio performance and allows the MixAmp to work like intended. Without taking these steps, you won't be able properly balance your game/voice levels or gain the full benefit of the headphones.
I demoed the A50s on the PS4, so your experience may be a pinch different if you're on a PC or Xbox.
3D audio supported
Compatibility with Dolby® audio decoding gives you an extra edge, adding depth and clarity to the soundscape for a truly cinematic experience. If you're playing on PC, both Windows® Sonic and Dolby Atmos® are supported too, further expanding the game world's sense of space and directionality.
Fine tune your sound with Astro Command
If you're playing on PC or Mac, you can dial in your sound with Astro Command. This optional downloadable software lets you manually tweak the little details of your game audio and voice communication to get them just where you want them.
READ LESS
Product highlights:
over-ear, closed-back design provides noise isolation so you can focus on the game
40mm drivers deliver powerful, detailed sound
built-in MixAmp provides optimized game/voice balance and reliable voice communication

easy-to-use push button-controls built into the earphones let you adjust game and voice levels independently of the master volume

durable, ergonomic design with a secure fit

earpads and headband are light and soft for maximum comfort during long play sessions

Astro Audio V2 tuning delivers dynamic, lifelike audio with precise imaging and sound directionality
support for Dolby Audio sound processing provides full cinematic audio with enhanced clarity and localization

Windows Sonic and Dolby Atmos is supported on PC for heightened 3D audio performance
Xbox version of the A50 comes with a 2-year activation code for Dolby Atmos

Astro Command Center software lets you optimize your game audio and voice communication settings

compatible with Windows 10 and Mac

flexible voice-isolating boom mic

flip mic to quickly mute your chat

compatible with Xbox One, Xbox Series X/S, PC, and Mac
Base station:
dock headphones for convenient charging
wireless transmitter with low-latency 2.4 GHz signals
digital optical pass-through (input, output)
auxiliary 3.5mm input
Micro-USB input
USB-A input

compatibility with optional USB sound cards (sold separately) gives you additional game/voice balancing and streaming options on PC
General info and included accessories:
3.28-foot Micro-USB cable
3.28-foot optical digital cable
frequency response: 20-20,000 Hz
SPL (sound pressure level): 118 dB @ 1 kHz
PC requires Windows 10, 8.1, 8, or 7
can be customized with optional A50 Mod Kit (sold separately)
battery life: 15 hours
8-1/2"H x 4-1/4"W x 1-3/16"D (base station)
weight: 0.83 lbs. (headset); 0.7 lbs. (base station)
warranty: 1 year
MFR # 939-001680
What's in the box:
Over-ear gaming headset with attached 7" boom microphone
Base station
43" Optical digital cable
42" USB cable (Type A USB on one end and Micro-B USB on other end)
Quick Start Guide
Product Info card (Stop!)
Important Safety Compliance and Warranty Information
Dolby Atmos for headphones promo card
We don't have any reviews, yet.
Submit a review and then enter to win a $350 gift card.
Be the first to review this product
Thanks for submitting your review
Most reviews are processed and published within 5 business days. You will receive a confirmation email once your review has been published.
Customer photos
More details on the Astro A50 Gen 4 (Xbox®)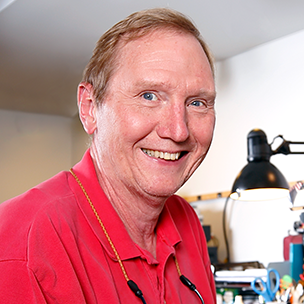 Researched by Crutchfield's

Mark G.
Product Research
Features
Overview: The Astro A50 Wireless is a gaming headset for Xbox (Series X and S) and PC-Mac. It comes with the Astro Wireless Base Station and 2.4 GHz wireless transmitter. This over-ear headset has a powerful rechargeable battery for those lengthy gaming sessions. The Astro A50 includes 1 meter optical and Micro USB cables.
Design: The Astro A50 is equipped with plush ear and headband cushions that are covered in soft cloth. An optional Mod Kit with user replaceable cushions is available from the manufacturer. The 40mm neodymium drivers are housed in an open-air ear cup, and deliver pro quality audio. A 6mm unidirectional, noise-canceling microphone is mounted on the 7" boom. The headphones weigh just over 13 ounces.
Dolby Audio: The headphones provide a 3-dimensional gaming experience with built-in Dolby Audio. Dolby Audio uses powerful digital signal processing, and can be turned on or off on the headset, as desired. A 2-year Dolby Atmos activation code is available for free for Xbox only (details in the box).
On-board Controls: The Astro A50 feature several on-board controls on the right earcup. Push button controls let you turn the headset on or off, switch between Dolby Audio and Source Audio, and select an EQ Mode. A rotary control lets you control the overall volume. The outer surface of the right earcup is a touch-sensitive area that lets you control the ratio of the game audio and the voice communication audio by sliding your finger forward or backward on the pad. Swinging the entire mic boom just past vertical will mute the microphone.
Lithium-Ion Battery: The Astro A50 headset operates on a powerful Lithium-Polymer single-cell rechargeable battery. After fully charged while docked in the base station, the battery has over 15 hours of battery life, and approximately 20 months of standby battery life. To conserve battery power, the A50 detects when you have taken off the headset and goes into "sleep" mode. When you're ready to play again, the headset "wakes up" automatically when it detects motion.
Base Station: The A50 Base Station's 2.4 GHz transmitter wirelessly transmits your gaming audio up to 49 feet. The headset easily docks in the base station cradle for charging and pairing. When the battery status is shown on the base station, pairing is complete. Four LEDs on the base station indicate 25%, 50%, 75%, and 100% headset battery level. One LED glows solid red and emits an audible tone when the charge reaches 10%, and flashes and beeps at 5%.
Base Station Connections: The Base Station has an optical input with a Toslink port for connecting the digital audio from the Xbox console to the transmitter. In addition, there's an optical output pass-through port to send a digital signal to another component or for streaming. The base also features a Micro-B USB port for USB audio and PC connection, plus USB power (5V 0.5A). The A50 comes with one meter Micro USB and optical digital cables. A 3.5mm Aux Input is also provided.
Astro Command Center Software: Downloadable Astro Command Center software is available for your PC. With this free software, you get enhanced control over the voice communications and audio settings. The software is compatible with Windows 7, 8, and 10.
Specifications:
A50 Headset:

Frequency Response: 20Hz-20kHz
Characteristic SPL: 118dB (@1kHz)
Earcup Dimensions (external): Width 3.543", Height 4.054", Depth 2.092"
Earcup Dimensions (internal): Width 1.67", Height 2.189", Depth 0.833"
Weight: 13.05 ounces

Base Station:

Dimensions: Width 5.763", Height 1.43", Depth 4.804"
Weight: 10.75 ounces