eero Pro Wi-Fi® System
Tri-band mesh Wi-Fi system with 3 eero routers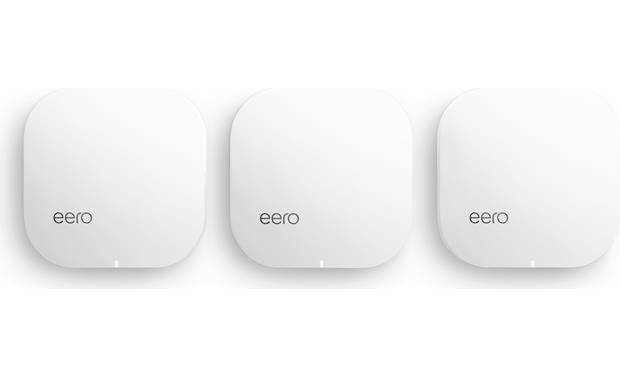 eero Pro Wi-Fi® System - Front

eero Pro Wi-Fi® System - Compact and convenient

eero Pro Wi-Fi® System - Control your network from your smartphone
From Eero: Setting up your WiFi system
From Eero: WiFi so good, you'll never think about WiFi again

eero Pro Wi-Fi® System - Dual Ethernet connections on each router

eero Pro Wi-Fi® System

eero Pro Wi-Fi® System - Family profiles offer parental control over Internet usage

eero Pro Wi-Fi® System

eero Pro Wi-Fi® System
Item # 609B010301 | MFR # B010301
In Stock

Our VirginiaVA-based experts can help.
Overview
Our take on the eero Pro Wi-Fi® System by Crutchfield's Eric Angevine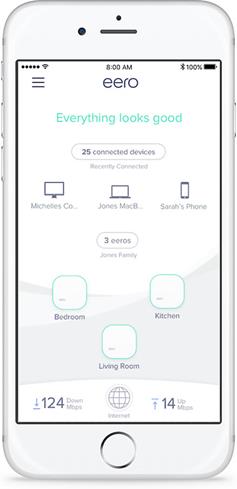 Control your entire eero network with a free, convenient mobile app.
Powerful TrueMesh™ Wi-Fi for a large home
When you walk to the back bedroom, do you lose your wireless signal? The eero Pro Wi-Fi System provides three powerful mesh routers that work together to cover even a large home with seamless tri-band Wi-Fi.
Convenient app and frequent software updates
Installation takes just minutes, and the smartphone app makes managing connected devices simple and intuitive. Regular software updates bring new features, improve performance, and ensure your security is always up to date.
Make connections to the router
Dual Ethernet ports on each router allow you to directly connect to devices that need a lot of bandwidth — think high-res music players, 4K smart TVs, movie and TV streaming boxes, and video game consoles.
Product Highlights:
set of three routers creates a seamless TrueMesh™ Wi-Fi network for a large home
802.11ac simultaneous 2.4GHz, 5.2GHz, and 5.8GHz tri-band Wi-Fi
beamforming technology directs wireless signal where it's needed most
Bluetooth® connectivity for mobile devices
dual auto-sensing Gigabit ports on each router for WAN and/or LAN connectivity
700 MHz quad-core processor
512MB RAM
4GB flash storage
WPA2 encryption
Family Profiles offer parental content control
4-3/4"W x 4-3/4"H x 1-1/4"D (each)
warranty: 1 year
What's in the Box:
3 eeros
3 AC power adapters (attached 58" DC cord)
57" Ethernet cable
Welcome card
Works

Smurf, Coral Springs, FL
Why Shop
With Us?
10 Reasons.
---
Reviews
eero Pro Wi-Fi® System Reviews
Average Customer Review(s):
Smurf from Coral Springs, FL on 1/17/2019
Crutchfield Customer Review
(
What's this?
)
Works

Pros: Easy

Cons: None
Stephen from Dunedin, FL on 1/9/2019
Crutchfield Customer Review
(
What's this?
)
I bought this product on recommendation from Crutchfield. I had another product in mind but Kat sold me on the company and ease of set up. It was very easy to set up, the iPhone app does all hard stuff for you. All you need to do is find a spot and plug it in. Oh, I also got more than double the speed I was getting from a Spectrum Cable WiFi set up. We now have plenty of speed to stream live tv and will drop cable tv saving $100 per month. Very happy so far.

Pros: Easy set up, small size, allows me to save money on tv entertainment.

Cons: None so far.
Christian from Santa Rsa Bch, FL on 12/8/2018
Crutchfield Customer Review
(
What's this?
)
Fantastic!

Pros: I work out of my home and now I have the internet I need!

Cons: Price.
Guest from Rocklin, CA on 7/15/2018
This is one of my favorite tech buys of the last year. I have had the Eero's up and running for about 1 year and it has just WORKED! Have had several Netgear routers over the years and they always have had blind spots and weak signals. Most of the time I would need to reset the old routers about every other month just because. Now with the Eero, that is a thing of the past. No need to reset the system. It is always up and running. The installation was super easy and the app is great to see an update on the system anytime you like. Highly recommended.

Pros:

Cons:
BRIAN from Milwaukie, OR on 4/17/2018
Crutchfield Customer Review
(
What's this?
)
Works great. I originally bought a high powered router, worked great, but couldn't get to the basement. A concrete foundation wall likely blocked the signal. But with eero I put the second router above the basement and the basement hurdle in the basement and it works great. The setup couldn't have been easier and the app is really great. It shows the speed coming from the modem so I know what we're starting with. Eero is what the apple extreme with an express as an extender wants to be (or used to be, eero does the same thing just better.

Pros: Easy setup. And it just works

Cons: None
Gregory Horn from Alabaster, AL on 9/11/2017
Crutchfield Customer Review
(
What's this?
)
More stability than apple airport extremes

Pros:

Cons:
Details
Product Research
Features
eero B010301 Pro WiFi System (3 eeros): The eero B010301 Pro WiFi System comes with three eeros that blanket your 5+ bedroom home in fast, reliable WiFi for seamless coverage. Rather than connecting various wireless networking products to your existing router, a eero Pro WiFi System can replace all of your existing networking hardware except for your modem. eero stays new and gets better with frequent software updates, improving performance, while also bringing new features and security improvements. It's simple to setup and easy to manage. With a network that expands as far as you need, you'll finally be able to stream, work, and play, from every corner of your home - even from the backyard too.
Notes:

eero doesn't replace your modem, it replaces your router. The first eero plugs into your existing cable or DSL modem. If you have a combination modem/router, you'll be using that as a modem and disabling the routing function by putting it in bridge mode.
In order to use eero, you will still need to have an Internet Service Provider (ISP). eero works with all ISPs in the United States and Canada.
This is a 2nd Generation eero system. If you already have a 1st-generation eero, you can add 2nd-generation eeros or eero Beacons to your network.
Flexible Design: Every home is unique, and eero is designed to be flexible so that it can be a fit for any home. Generally, the number of eeros recommended & needed is one eero for every 1,000 square feet to provide coverage throughout your entire home or simply based on the number of bedrooms and/or floors in your home. You can add as many eeros or eero Beacons to your home & modem as you'd like.
Small Homes & Apartments: Since 1-2 eeros are recommended per floor, in these home settings, a great fit would be the eero M010201. This set includes one eero, which will replace your existing router and connect directly to your modem, and an eero Beacon to be placed at another spot in your home to help blanket your home in fast, reliable WiFi.
Most Homes: If you have a home that has two or more floors, you will likely see best results from the eero M10301. Again, the eero will replace your existing router and connect directly to your modem, while the two eero Beacons can be placed throughout your home to deliver the best-connected home experience.
Larger & Wired Homes: If have a larger home (more than 3 floors) or your home is wired for Ethernet, the best fit is the eero B010301 Pro WiFi System. This set includes three high-powered eeros, each of which features a tri-band radio and two Ethernet ports. The eero Pro WiFi System is also a great fit if you just really want the ultimate in overall network performance.
Notes:

When figuring out the optimal number of eeros for your home, take your home's layout into consideration. This includes length, number of rooms, and any potential interference-inducing obstacles like brick walls, large appliance or metal doors.
eero's range may vary based on characteristics of your home including, but not limited to, its building materials, layout, interference, and eero placement.
Processor, Memory, & Storage: The eero B010301 Pro WiFi System is outfitted with a 700 MHz quad-core processor, 512MB RAM, and 4GB flash storage.
TrueMesh Technology: The eero Pro WiFi System uses TrueMesh technology to ensure your traffic is always moving efficiently throughout your network. This means your devices stay connected no matter where you are at home while getting the necessary speeds to deliver the same great experience. Every eero act as an access point on your home network and function together as a self-sufficient WiFi system. This means that each eero can talk to one another. Whereas with a range extender, it can only communicate with your router, making its expandability limited to the range of your router.
Unlike the familiar router-to-range extender network configuration, eero employs TrueMesh technology that uses multiple access points to provide your home with fast, reliable coverage all on a single network.
TrueMesh technology knows the signal strength between each eero device in your home and calculates the best path from your device to the internet. If there's a disruption on any part of your network, TrueMesh dynamically reroutes traffic to keep it perfectly balanced. All this happens in the background so you don't notice a thing.
WiFi Technologies: The eero Pro WiFi System incorporates advanced WiFi technologies like Tri-Band, 802.11ac, MU-MIMO, & Beamforming.
Tri-Band: With tri-band (2.4/5.2/5.8 GHz), the eero has an additional 5Ghz radio, meaning more of your devices can connect and get the fastest possible speeds. The eero Pro WiFi System's max rated transmit speeds are approximately 240Mbps at 2.4GHz and approximately 600Mpbs at 5GHz. One eero system can support up to 128 devices. However, if those devices are heavily using the Internet for activities like streaming video, you'll probably see best results using up to 30 devices with a eero system.
802.11ac: 802.11ac WiFi delivers exceptional speed and performance, and is 3x faster than Wireless-N. The eero system supports the following WiFi standards - 802.11a, 802.11b, 802.11g, 802.11n, and 802.11ac.
MU-MIMO: MU-MIMO (Multi-User, Multiple-Input, Multiple-Output) is the latest advancement towards uninterrupted, simultaneous WiFi connections. Devices such as 4K TVs, HD streaming media players, tablets, game consoles, and many more use a lot of bandwidth, and with MU-MIMO (Multi-User, Multiple-Input, Multiple-Output) technology, the eero system sends WiFi to multiple devices at the same time and same speed. Your whole family can play, stream, and work at once, without experiencing lag or buffering--at up to 2x the speed of a non-MU-MIMO router.
Beamforming: Beamforming technology helps improve the quality of voice, streaming of video and other bandwidth and latency sensitive transmissions. Beamforming will direct WiFi signals to each of your mobile devices to increase signal strength and coverage. Play video games, listen to music, check emails, shop online, stream HD movies, and more, without having to worry about dropped signals.
Gigabit Ethernet Ports: Each eero device has two auto-detecting Ethernet Gigabit ports. One of the eero devices connects directly to the modem via Ethernet. All the other Ethernet ports provide the option to hardwire devices like an Ethernet switch, printer, or video game console.
eero App: The eero app (for Apple iOS 9.3+ and Android OS 4.3+) allows you to easily set up (in less than 10 minutes) and manage your eero WiFi system from your Apple iOS or Android device. You'll be able to view and manage your eero network from anywhere with a network or cellular connection. You'll also be able to easily and securely share your network with guests, or block devices from using your network. In addition, you can schedule or pause internet access to manage screen time. The eero app even offers automatic updates with new features, performance improvements, and the latest security standards for your eero system. The eero app automatically runs a speed test once per day; the results of the latest test can be found at the bottom of the app's home page.
Amazon Alexa Compatible: Control your eero WiFi network with the power of your voice using Amazon Alexa and the eero skill-set. After installing an Alexa product (including the Amazon Echo, Echo Dot, Tap and Echo Show) on your eero network, you can ask Alexa to perform various tasks without needing to open the eero app on your Apple iOS or Android device.
Required For Setup: Below is a list of requirements for eero setup -
Active internet connection from an ISP (Internet Service Provider) - with modem (or other device with an upstream connection to your ISP). eero has been tested for compatibility with most major ISPs in the United States and Canada. To date, no U.S. or Canadian ISP has been considered incompatible with eero. As long as you can connect your gateway eero to a modem or upstream device with an Ethernet cord, you should be able to set up and use eero -

Examples of ISPs in the U.S. include, but are not limited to, Comcast Xfinity, AT&T, Time Warner Cable, CenturyLink, Charter, Verizon Fios, Cox, Google Fiber, and Frontier.
Examples of ISPs in Canada include, but are not limited to, Rogers, Bell Aliant, Eastlink, Shaw, Cogeco, Bell Canada, Videotron, Telus, and TekSavvy.

Supported Apple iOS 9.3+ or Android OS 4.3+ device with Bluetooth 4. BLE & data connection (cellular or WiFi).
The eero app for Apple iOS or Android OS from the Apple Apps or Google Play stores.
An email address and US or Canada phone number to activate and sign-in to your account.
Safe & Secure Connection: eero systems use Transport Layer Security (TLS) and WPA2 encryption to maintain a secure connection between your eeros, devices, and the cloud. You'll receive a single-use code via text message to gain administrative access to your network and ensure secure setup. Every component of the eero system uses best-in-class encryption and security protocols to keep your network and data secure. Regular audits of the entire eero infrastructure are run by 3rd-party security firms, and eero works with the global research community to find and fix security issues.
eero Plus: eero Plus is a subscription service that provides an extra level of security to your network. You can either do a monthly plan at $9.99 per month or a year-long subscription at a two-month discount of $99. eero Plus ensures your network stays protected and secure from outside threats and keeps the people on your network safe from unsuitable content on the internet. eero. In addition to all of eeros standard security features, an eero Plus subscription gives you access to the following advanced features -
Advanced Network Security: Protects your devices on the network from potential viruses, malware, phishing attacks, and more. Before anything malicious can happen to you or others, eero Plus will catch these attacks so that your devices stay protected.
Advanced Filtering: eero Plus customers will have the option to turn on Safe Search, as well as three Content Filtering options. These services can be turned on for each individual profile you have and will apply the selected filters to all the devices under their profile.

Safe Search: When Safe Search is turned on, the devices associated with that profile will filter out any potentially inappropriate search results for websites, images, or YouTube.
Content Filtering: Within Content Filtering, network admins will have 3 filtering options to choose from for each device connected to a Family Profile. These options include - Sexually Explicit, Illegal or Criminal, & Violence.

VIP Support: When you sign up for eero Plus, you will also have priority access to eero's best-in-class support team. This means when you have an issue and need a hand, you'll have limited or no wait time to speak with a member of our team so you can quickly get back to your day.
Mounting & Placement Options: Your gateway eero, the one that connects to your modem via Ethernet, should ideally be centrally located in your home (if possible). The other eero devices should be located centrally on other floors of your home. All eero devices should be placed on a surface that is both stable and flat - such as tables, countertops, and nightstands. eero is not water or weather resistant. However, by placing an eero device closer to outdoor areas (but still inside), you can get great coverage across your outdoor space.
Power Requirements: Each eero device includes an AC power adapter which will need to be plugged into an AC power outlet or surge protector (sold separately).
Automatic OTA (Over-The-Air) Updates: eero software automatically updates about once a month, keeping your system at the cutting edge. Regular software updates range from bug fixes to performance improvements to exciting new features and the latest security standards. To use eero, you will need to have a download speed of at least 1Mbps to receive system updates.
Our Product Research Team
At Crutchfield, you'll get detailed, accurate information that's hard to find elsewhere. That's because we have our own in-house Product Research team. They verify what's in the box, check the owner's manual, and record dimensions, features and specs. We stay on top of new products and technologies to help people make informed choices.
Q & A
Customer Q&A
Crutchfield asked


Why did you buy this?
Best Wi-Fi available for tough installation.

[ Cris Oct 19, 2018 ]
Lane helped me pick out this equipment. I wanted to get the best system I could afford with the very latest network capability. With the rapid advancement of technology, this eero system should last several years before I have to upgrade again. Thanks, Lane!

[ Mallory Jun 16, 2018 ]
Reviews that suggest ease of setup, reliability, and coverage of my three-level home plus pleasing esthetics.

[ Charles Mar 26, 2018 ]
we need better wifi coverage in the house. reviews appear it is a good choice

[ keith Jan 08, 2018 ]
Web reviews

[ dmitri Sep 14, 2017 ]