About the Kenwood KNA-G610
You'll add state-of-the-art Garmin navigation prowess to your compatible Kenwood receiver with the KNA-G610 navigation system. It augments your Kenwood multimedia receiver with some of the easiest to use and most comprehensive navigation tools you'll find anywhere. You'll find your destination efficiently and accurately, and enjoy instant access to restaurants, gas stations, and other indispensable spots along your route.
You'll add state-of-the-art Garmin navigation prowess to your compatible Kenwood receiver with the KNA-G610 navigation system. It augments your Kenwood multimedia receiver with some of the easiest to use and most comprehensive navigation tools you'll find anywhere. You'll find your destination efficiently and accurately, and enjoy instant access to restaurants, gas stations, and other indispensable spots along your route.
If you appreciate a bargain, check out the Kenwood DDX418 navigation package or the Kenwood DDX318 navigation package — you'll get a Kenwood DVD receiver, the KNA-G610 navigation module with each system, and you'll save some serious green too.
Accurate navigation, great features
Plug the KNA-G610 module into the back of your compatible receiver and then use your Kenwood's touchscreen controls to take charge of the navigation functions. You can choose a destination by entering a specific street address or intersection, or by selecting a hotel, restaurant, shop, or another of the six million points of interest. You'll see the preloaded road maps of the U.S., Canada, and Puerto Rico on your receiver's video screen, as it displays your current position and your destination. Voice prompts delivered over your car speakers also help out, and you'll even hear actual street names announced whenever a turn is coming up.
Garmin, a navigation pioneer, provides the built-in road maps that feature impressive detail, along with 2-D and improved 3-D views. The KNA-G610 also includes an SD™ card slot, so you can easily upload new maps as they become available.
Eco Route and traffic guidance
Kenwood's Eco Route system calculates fuel consumption, fuel economy, and the carbon footprint of your vehicle. You'll drive greener and save money too.
Add an optional NAVTEQ traffic tuner, and you'll receive up-to-the-minute traffic reports from NAVTEQ in almost every major metropolitan area. You'll rest easy, knowing that you're truly seeing the fastest way to your destination. Best of all, you'll pay no subscription fees.
READ LESS
Product highlights:
add-on navigation system for compatible 2010-up Kenwood in-dash multimedia receivers
includes a GPS satellite antenna with 16.5-foot cable
built-in road maps of the United States, Canada, and Puerto Rico
over 6 million points of interest
maps displayed on your multimedia receiver's video screen
Eco Route system for economical driving
voice prompts offer turn-by-turn guidance (text-to-speech feature announces street names)
compatible with NAVTEQ traffic tuner (optional tuner required)
multi-destination route planning
automatic rerouting for missed turns
route customization options
2-D and 3-D map views
trip computer
SD card slot for map updates
12-channel WAAS-enabled GPS receiver
6-1/2"W x 1-1/8"H x 4-7/16"D
warranty: 90 days
MFR # KNA-G610
What's in the box:
Refurbished hideaway navigation unit
5' Power/Signal harness (two 2A fuses installed)
GPS antenna with attached 16.5' cord
3.25" Self-adhesive magnetic plate
4 Self-tapping mounting screws
4 Machine screws
4 Hex-nuts
2 Velcro strips
Instruction Manual (Eng/Fre/Spa)
Installation Manual (Eng/Fre/Spa)
Warranty Card
Compatibility note
Kenwood KNA-G610 reviews
Average review:
Thanks for submitting your review
Most reviews are processed and published within 5 business days. You will receive a confirmation email once your review has been published.
Customer photos
More details on the Kenwood KNA-G610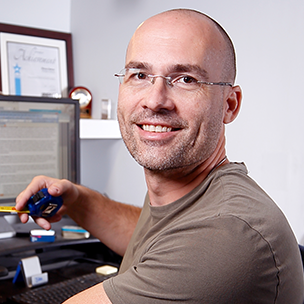 Researched by Crutchfield's

Stacey B.
Product Research
Navigation Features
NAVTEQ Traffic
FM Traffic Information
Connections
Dimensions
Navigation Features
Compatibility: The Kenwood KNA-G610 is a hideaway navigation system designed to work with 2010-up Kenwood and Kenwood eXcelon in-dash navigation-ready receivers. The KNA-G610's built-in mapping software will display on your compatible Kenwood navigation-ready receiver. You will be able to control the KNA-G610 from your compatible Kenwood navigation-ready head unit's touch screen monitor, or the head unit's wireless IR remote control.
Software: With built-in Garmin navigation technology and NAVTEQ mapping software, the Kenwood KNA-G610 GPS Navigation System features on-screen maps of the United States, Canada and Puerto Rico; which includes over 6 million Points of Interest. You can follow calculated on-screen routes to your destination using the unit's built-in navigation software. As you travel, the KNA-G610's navigation system guides you to your destination with voice prompts, arrows, and directions along the top of the map. Your route is marked with a highlighted line and an arrow, while your destination is marked with a checkered flag.
Note: There is also an SD memory card slot used for future map and software updates from Garmin.
SiRF Star III: The SiRF Star III GPS chipset is so sensitive that it's forgiving of less than optimal antenna placement, giving you additional placement options.
GPS Antenna: The KNA-G610 comes supplied with a GPS antenna that features a magnetic base and an attached 16.5' cable terminated by a proprietary plug which connects to GPS-ANT input on the back of the hideaway module. The unit also comes supplied with a self-adhesive magnetic base if you are having trouble finding a flat metal surface to mount the antenna.
Text-To-Speech Voice Prompts: In addition to graphic directions, the KNA-G610 provides voice guidance and turn-by-turn directions through your connected A/V receiver. The unit's text-to-speech voices "read and speak" the same words that are displayed on your compatible head unit's screen. The voices have an extensive vocabulary and they pronounce the street names as you approach turns. The volume can be adjusted to match the other sources. The voice guidance and on screen text can be changed to English, French, Spanish, or Portuguese.
Find Locations and Routes: The unit's "Where To?" menu screen offers the following features to help you find your destination.
Browse Map: Allows you to search for a destination by touching and dragging the map.
Go Home: Store one home location to allow you to calculate a route home from any current location.
Address: Input your destination address by house number, street, and city.
Cities: Allows you to search by city's name.
Intersection: Allows you to search where to streets intersect.
Routes: Allows you to select from previously created routes.
Coordinates: Allows you to search your destination by longitude and latitude values.
Phone Number: Allows you to search your destination by enter the place's phone number.
Recently Found: Choose from one of your 50 most recent destinations or waypoints.
Favorites: You can save all of your favorite places in the navigation system, so you can quickly navigate to them later.
Points-of-Interest: Allows you to search for over 6-millions points of interest in the following categories: Food and Drink, Lodging, Fuel, Transit, Shopping, Bank or ATM, Parking, Entertainment, Recreation, Attractions, Hospitals, Community, or Auto Services. The "Spell Name" feature allows you to enter a point of interest by name.
Extras: You can manually load custom points of interest (POI) databases, available from various companies on the Internet. Some custom POI databases contain alert information for points such as safety cameras and school zones. The navigation system can notify you when you approach one of these points (Proximity Alert). You can download the custom POIs onto a CD-R or DVD-/+R, which can then be loaded into the unit's disc-slot.
Search Modes: The navigation system automatically searches for places near your current location. You can also choose to have the KNA-G610 search for places in a different city, a recent destination, a favorite destination, projected destination, or along your current route.
Multiple Destination Routing (Via Points): You can add intermediate destination points (via points) to your routes as you create it. You can also add points to your route after its been created when you go to edit the route. You can program up to 500 via points for long trips.
Where Am I?: The "Where Am I?" feature gives you instant access to important information in case of an emergency. When you select "Where Am I?" from the menu, you get the coordinates (including elevation) of your current position, plus the nearest address and intersections. There are also menus to help you locate the nearest hospitals, police stations, gas stations, and roadside assistance. You can also save the location for future reference.
2D/3D Map: You can changes the perspective of the map from 2D North-Up (displays the map in 2 dimensions with North at the top), 2D Track-Up (displays the map in 2 dimensions with your direction of travel at the top of the screen), 3D Track-Up (displays the map in 3 dimensions with your direction of travel at the top of screen).
Color Modes: Select between Day (for a bright background), Night (for a black background) or Auto (to automatically switch between the two).
Route Preference: Selects the preference for your calculation between Faster Time, Shorter Distance, Less Fuel, or Off Road.
Avoidance Setup: This feature allows you to enter specific areas and roads to avoid in your routes. You can choose to avoid U-Turns, Highways, Toll Roads, Traffic, Ferries, Carpool Lanes, or Unpaved Roads.
Auto Reroute: If you happen to depart from your original route, the internal navigation system recalculates the route and provides new route instructions.
Detour: The navigation system attempts to get you back on your original route as quickly as possible, after calculating a detour. If the route you are currently taking is the only reasonable option, the KNA-G610 might not calculate a detour.
Turn Pages: The following pages help guide you along the turns of your calculated route.
Turn-List: When you are navigating a route, the Turn List page displays turn-by-turn instructions for your entire route and the distance between turns.
Next Turn: When you are navigating a route, the Next Turn page shows the turn on the map and the distance and time left before you reach the turn.
Lane Assist: When available, the Lane Assist page may display a view of the upcoming junction and in which lane you should be driving to make you next turn or exist.
Trip Log: The Trip Log creates a bread crumb trail (trip log) of your movement. At any time the entire track log can be displayed on the map. You can also reset the track log whenever you like.
Trip Computer: The trip computer shows current speed, current direction, distance to destination, total distance traveled, average speed (including stopped time), average speed while moving, maximum speed, total trip time, total moving time, and stopped time. You can reset just the maximum speed or reset the entire trip computer at once.
ecoRoute: The ecoRoute feature calculates your vehicle's fuel economy, carbon footprint, the fuel price of navigating to your destination, and offers tools for improving fuel efficiency. The first time you access the ecoRoute features, you will be asked to enter fuel and mileage information (Fuel Type, City Fuel MPG, HWY Fuel MPG) about your vehicle.
Fuel Report: If you have entered your vehicle profiles and the current fuel price, the DNX6160 calculates the average fuel economy for your vehicle, your carbon footprint, and the cost of the fuel consumed.
ecoChallenge Tool: The ecoChallenge tool helps you maximize your fuel economy by scoring your driving habits. The higher your overall score for a driving challenge, the more fuel you could save. Your overall score is the average of these three scores:

Acceleration: Gain points for gradual acceleration; lose points for rapid acceleration.
Deceleration: Gain points for gradual braking; lose points for hard braking.
Speed: Gain points for driving at the best speed for conserving fuel, which is 45-60mph for most vehicles.

Mileage Report: Mileage reports provide the distance, the time, the average fuel economy, and the fuel cost of navigation to a destination. A mileage report is created for every route that you drive. If you stop a route on your navigation system, a mileage report is crated for the distance you traveled.
Less Fuel Routes: The Less Fuel Routes are calculated based on speed limit and acceleration data.
Note: The data provide by the ecoRoute feature is only an estimate. The data is not actually read from your vehicle.
NAVTEQ Traffic
NAVTEQ Traffic Receiver (optional): The optional Kenwood KNA-NT100 NAVTEQ Traffic Receiver ( 113KNANT10, sold separately) receives real-time traffic data from NAVTEQ and displays it on your compatible 2010 Kenwood in-dash head unit's video display. Real-time traffic is delivered over FM radio using a radio data system (RDS) sub-carrier channel. NAVTEQ Traffic offers the following real-time traffic services.
Comprehensive, reliable nationwide coverage.
Traffic flow conditions with speed values.
Unplanned incidents such as accidents and stalled vehicles.
Planned incidents such as road construction and closures.
Traffic data designed for seamless integration with digital map content.
Note: Because NAVTEQ traffic is subsidized by unobtrusive pop-up advertising there is no subscription fees. Service is offered in 80 US Markets
NAVTEQ Traffic: NAVTEQ Traffic provides the traffic flow and incident information for the NAVTEQ Traffic RDS service. This data is collected from multiple sources across the country, including leading commercial traffic data providers, government departments of transportation, police and emergency services, road sensors, cameras, and real-time aircraft reports. NAVTEQ Traffic frequently performs extensive data quality processing to provide the most complete and accurate nationwide traffic information feed.
NAVTEQ Traffic Technologies: NAVTEQ Traffic's highly-accurate data is a result of combining the right sources with the right processing:
Proprietary Sensors: NAVTEQ operates the world's largest proprietary sensor network, and their highly accurate sensor network covers 35% more roadway than the nearest competitor.
Probe: Robust commercial and consumer GPS and cellular probes improve coverage and accuracy.
Data Validation: Proprietary data corroboration and verification methods check and recheck data accuracy.
Data Processing: NAVTEQ's Smart Traffic Processor blends and optimizes the widest array of traffic information to provide comprehensive and reliable real-time traffic information. Unique processing capabilities combine and prioritize multiple data sources to provide the most accurate speed values possible.
FM Traffic Information
FM Traffic Receiver (optional): Using an optional FM Traffic Receiver (sold separately from Kenwood), the Kenwood navigation unit can receive and use traffic information. Once you activate the TMC subscription, this traffic receiver will begin to receive real-time traffic data right onto your compatible Kenwood head unit's screen, providing quick access to alternative routing using Garmin navigation. When a traffic message is received, you can see the event on the map-screen of your Kenwood head unit and change your route to avoid the traffic incident. The on-screen map page of your compatible navigation head unit will display a "diamond icon" when there is a traffic event of medium severity or high severity on your current route, or on the road you are driving. If you press this icon, your connected Kenwood head unit will create a detour route for you (if applicable) so you can avoid the traffic event.
Note: A subscription is required to receiver the Traffic Message Channel (TMC) service. The optional FM Traffic Receiver provides a 90-day subscription which is automatically activated when the receiver first receives a traffic signal once connected to your Kenwood navigation unit. To renew a subscription, go to Garmin's FM Traffic Website at garmin.com/fmtraffic.
Real-Time Traffic Data: In most area, depending on the service provider, TMC traffic broadcasts are continuous - there's no waiting for scheduled traffic news updates or random alerts. With the TMC receiver, you see traffic developments in real-time, as they happen, so you make the right decision sooner. The system alerts you when a traffic problem is on your route and proposes an alternate route to avoid the incident.
Note: Because traffic broadcasts are received via a "silent" FM data channel, you can still listen to music or news programming on your car radio without interference from incoming FM traffic data transmissions.
Traffic Coverage: TMC data is available in a fast-growing number of cities throughout North America and gives prompt, accurate notification of accidents, road construction, police, or emergency action, etc. - so you can visually monitor traffic flow and, if necessary, avoid traffic tie-ups.
Note: Check totaltraffic.com/coverageareas for areas covered by FM RDS TMC service.
Connections
Power/System Harness: Opposite end of the included cable has:
Monitor I/F: male 13-pin interface for monitor
Ground: chassis ground
Ignition: switched 12 volts, 2 amp fuse in-line
Battery: constant 12 volts, 2 amp fuse in-line
Mini-USB Port: USB mini B version 2.0 jack for optional FM traffic or NAVTEQ Traffic receiver.
GPS ANT Port: Square connector for supplied GPS antenna plug.
SD Card Slot: SD memory card slot for future map and software updates.
Dimensions
Main Unit:
Width: 6.505"
Height: 1.115"
Depth: 4.385"
GPS Antenna:
Width: 1.295"
Height: 0.525"
Depth: 1.425"
The Kenwood KNA-G610 replaces these items

Adding...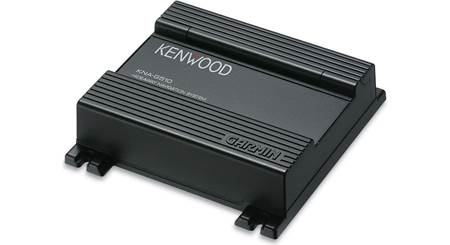 Add-on navigation system
"Factory Refurbished"
GPS navigation system for use with compatible Kenwood in-dash DVD players
built-in road maps of the U.S., Canada, and Puerto Rico
voice guidance