All the music you want — anywhere in your home
Sonos lets you tap into music from your personal collection and from the Internet, anywhere in your house. The all-new Sonos Play:5 makes it easy to get started or add an additional room — it's a self-contained music system with built-in speakers.
All the music you want — anywhere in your home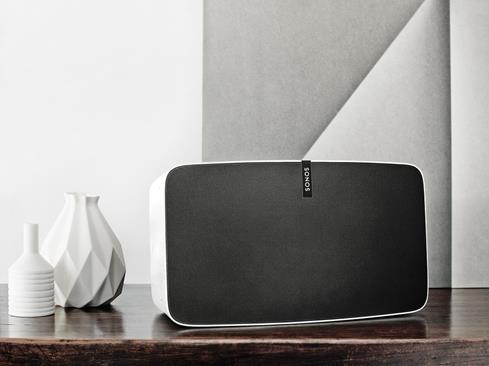 The Sonos Play:5 can tune itself for the clearest possible sound in your specific room.
Sonos lets you tap into music from your personal collection and from the Internet, anywhere in your house. The all-new Sonos Play:5 makes it easy to get started or add an additional room — it's a self-contained music system with built-in speakers.
The ultimate smart speaker for streaming music
The Play:5 is ideal for spaces with vaulted ceilings, open kitchen/family room combinations, and other large rooms. Sonos gave it six built-in synchronized drivers to deliver rich, vibrant sound.
A convenient touch feature allows you to effortlessly skip songs and adjust volume with just a touch of your hand. You'll get top-notch, room-filling sound from a player that easily fits on a counter in the kitchen or an end table in the living room.
Exceptionally easy multi-room music
Place Sonos music players like the Play:5 in every room where you want to listen to music. The players connect to your home network — either via Wi-Fi® or by connecting one player to your router via Ethernet to create a dedicated Sonos network. This network, known for its extensive range and superior performance, gives you house-wide access to tunes stored on your PC along with a wealth of Internet audio choices. (For the best wireless performance, we recommend adding the Sonos Boost.)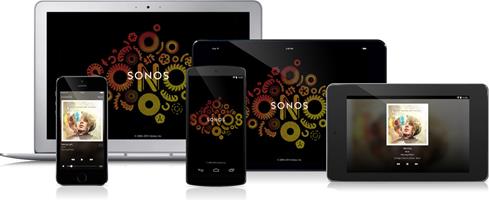 The Sonos app gives you easy wireless control
You can use your iPhone®, iPod touch®, iPad®, or Android™ smartphone or tablet to control any and all Sonos players. A free download turns your smartphone and tablet into a full-fledged Sonos controller. Easily navigate and search through playlists and tracks stored on your computer, or select an Internet radio station. Create customized playlists on the fly for individual rooms or for playback over your entire Sonos system. You can also mute or adjust the volume of each of your players.
Trueplay speaker tuning for optimal sound
If you use your Sonos control app on an iPhone, iPad, or iPod touch, great news. You can use your iOS® device to fine-tune the Play:5 with Sonos's Trueplay feature. It uses the mic built into your device to measure how the sound reflects off your walls and furnishings, and then it adjusts the speaker's settings for the best possible sound. Trueplay works with every Play:1, Play:3, and Play:5 speaker in your system. (Currently for iOS devices only.)
Spotify®, Apple Music™, SiriusXM, and more at your fingertips
The Sonos system works seamlessly with a host of streaming music services, including Pandora®, Spotify, Apple Music, Rhapsody®, TIDAL and more. You also have access to thousands of Internet radio stations from around the world through TuneIn Radio, and terrestrial radio stations through iHeartRadio. If you subscribe to SiriusXM Internet Radio, you can tune into all your favorite programming on any Sonos player in your system.
Using an Alexa voice control assistant with your Sonos system
The Sonos One has Amazon Alexa voice control built in. It lets you select songs from compatible music services using nothing but your voice. You can also control your Alexa-compatible smart home devices with it.
But what if you already have Sonos speakers around your home, like the Play:5? You can get those same cool voice control features by adding an Alexa-compatible voice control assistant and pairing it with your existing Sonos system via the Alexa mobile app. Alexa will "see" all the rooms that you have set up in your Sonos system, and you can control music playback in all of them, simply by talking to your Alexa device.
Which music services work with Alexa?
Here's the list of services you can control with Alexa:
Spotify®
Apple Music
Pandora®
SiriusXM
Amazon Music
iHeartRadio
TuneIn Radio
Deezer
Audible
Subscription required for some services.
Compatible with AirPlay 2
The Sonos Play:5 has AirPlay 2 built in. That means you can stream audio directly from your iPhone®, iPad®, or Mac® computer through your Sonos system. That includes soundtracks from YouTube® videos and Netflix movies.
And if you subscribe to Apple Music®, you can do even more. Use Siri on your iPhone, iPad, or Apple TV 4K to control Apple Music with voice commands. Tell it what selection or playlist to play — and which Sonos speakers you want it to play through.
---
Expand your Sonos system
You can have up to 32 Sonos music players in your system, and each one can play an independent selection of individual tracks or playlists. Listen to jazz in the den while your spouse plays rock music in the kitchen, or pump a single playlist of songs throughout the entire house during a party.
READ LESS
Product highlights:
six built-in synchronized drivers
communicates with other Sonos players via Wi-Fi® or a dedicated Sonosnet™ 2.0 wireless network
Sonos control app

free download from iTunes App Store® and GooglePlay
compatible with iPhone®, iPad®, and iPod touch®
compatible with Android™ smartphone and tablets
bass, treble, balance, and volume controls

Trueplay automatically adjusts Sonos speakers to your room for optimum performance

Truplay currently works with iOS® devices only

Apple AirPlay® 2 lets you stream directly from an iPhone® or iPad® and ask Siri to play Apple Music
plays MP3, WMA, AAC, WAV, FLAC, AIFF, ALAC, Ogg Vorbis, and WAV files

not compatible with protected AAC files from iTunes®

plays songs from subscription streaming services such as Spotify, Apple Music, Rhapsody, TIDAL, and more
plays music and podcasts directly from compatible iOS portable devices
plays streaming Internet radio stations from TuneIn Radio and iHeartRadio
plays programming from SiriusXM Internet Radio — subscription required
multi-zone synchronous playback (same music plays in multiple zones simultaneously) or multi-stream playback (each ZonePlayer plays individually selected music)
top-mounted controls for volume, play, pause, skip, and mute
Ethernet port
minijack stereo input for connecting an MP3 player or other audio gear
configure two PLAY:5 speakers for stereo playback or use them as rear channels with a PLAYBAR and SUB for 5.1-channel surround sound
works with Amazon Alexa-compatible voice control assistants

control music selections
select which Sonos speakers to play
volume, play, pause, skip and repeat functions
access to Alexa skills, such as weather reports, smart home commands, and more

requires AC power (adapter included)
14-5/16"W x 7-7/8"H x 6-3/4"D
weight: 14 lbs.
warranty: 1 year
requires high-speed Internet connection
MFR # PL5G2US1BLK
KEEP READING
READ LESS
What's in the box:
Network powered speaker
6.5' AC power cord
5' Ethernet cable
Quickstart Guide
Important Product Information
Sonos Play:5 reviews
Average review:
Customer photos
More details on the Sonos Play:5
Researched by Crutchfield's

Stacey B.
Product Research
Sonos Multiroom Music System
Speaker & Amplifier Section
Connections
Sonos Multiroom Music System
Sonos PLAY:5 (Generation 2): The PLAY:5 (generation 2) is part of the Sonos wireless multiroom music eco-system consisting of a family of wireless network speakers, players, and amplifiers. Start with a single PLAY:5 speaker and add more over time - including the Sonos PLAY:1 / PLAY:3 / PLAY:5 powered speakers, the Sonos One voice-activated speaker, the Sonos Connect:Amp / Connect zone players, and the PLAYBAR / PLAYBASE / BEAM soundbar speakers (all sold separately). With multiple zones, you can play the same or different songs in different rooms. Up to 32 Sonos devices can be connected in one system.
Two Ways to Connect Wirelessly: Sonos brings great sounding music wirelessly to any room in your house, without a big wiring project through SonosNet or WiFi.
SonosNet Wireless Mesh Network: Sonos can utilize its own SonosNet proprietary wireless mesh network technology to provides superior wireless range for whole-house coverage, ensure synchronous music playback, and avoid sources of wireless interference. The transmitting range of the Sonos wireless system is approximately 100', depending upon your home's layout. In addition to the PLAY:5, you will need a Sonos Boost (sold separately) connected to your network router/modem via a Ethernet cable.
WiFi Wireless Network: Sonos can also operate over your home's existing WiFi network (802.11 b/g/n; 2.4GHz). Because you are connecting wirelessly to your home's existing WiFi network, you do not need to hardwire a Sonos Boost to your router/modem. The Sonos system's wireless range will be dependent on your home's existing WiFi network. Sonos products manufactured after March 2014 are loaded with the proper firmware and ready to go out of the box for WiFi connectivity. All Sonos products manufactured prior to that date will require a wired connection to facilitate a firmware upgrade and hereafter they will be able to work over WiFi.
Notes:

You cannot connect the Sonos system via both the SonosNet proprietary mesh network and WiFi; you will need to choose one. Sonos recommends using its proprietary SonosNet wireless mesh network over WiFi when applicable.
The Sonos proprietary mesh network will provide a more secure wireless connection with fewer interruptions for optimum performance.
WiFi is subject to greater interference from other WiFi and 2.4GHz devices on your network. WiFi connectivity is not compatible with 5GHz (you will have to use the Sonos wireless mesh network in this case).
Ethernet Port (10/100 Mbps): In addition to built-in WiFi, the Sonos PLAY:5 is equipped with one Ethernet port (10/100 Mbps). Use it to wire directly to your router to operate Sonos if WiFi is unstable, or use the Ethernet port to provide Internet accessibility to non-wireless devices if you're using a SonosNET Boost setup.
Music Streaming Services: Sonos gives you access to unlimited music; such as your iTunes library, your favorite music services, and thousands of Internet radio stations, shows, and podcasts.
Online Music Services: Sonos works seamlessly with TuneIn, Spotify, Pandora, SiriusXM, Google Play Music, Apple Music, Amazon Music, iHeartRadio, Rhapsody, TIDAL, Deezer, SoundCloud, and more; plus downloads from any service offering DRM-free tracks. (Service availability varies by region.) Click here for the latest online music services (some online services require a paid subscription).
Music Libraries: Sonos supports playback of music from any computer or network-attached storage (NAS) device on your home network where you have shared music folders. Sonos can play music stored on up to 16 PCs, Macs or NAS (Network Attached Storage) devices on your home network, supporting the most popular audio formats. Sonos indexes your music folders so you can view your music collection by categories (such as artists, albums, composers, genres, or tracks). Sonos supports the following audio file formats - MP3 (compressed), WMA (compressed), AAC (MPEG4), iTunes, Ogg Vorbis, Audible (format 4), Apple Lossless, FLAC (lossless), WAV (uncompressed), and AIFF (uncompressed).
iTunes Music: The Sonos wireless music system supports the playback of music and playlists managed with your iTunes account (playlists are limited to 40,000 tracks). Sonos can access your iTunes music files from your network computer or directly from your Apple iPod iOS device (4.0+) running the Sonos app.
Sonos Controller App: Sonos allows you to control playback functions, search features, and multiroom audio distribution through the Sonos Controller app (for Apple iOS 10.0+ and Android OS 5.0+) or the Sonos Controller software (for Windows PC (7-up) and Mac OS X 10.10-up) - letting you control the entire Sonos eco-system from your compatible smartphone, tablet, laptop, or computer. The new navigation bar (My Sonos, Rooms, Browse, Search and More) at the bottom of the app makes finding what you're looking for effortless and moving between music quicker than ever.
My Sonos: Organize your music with the My Sonos tab. It's the simplest way to combine and access all the music you love. Bringing together in one simple screen all your favorite songs, playlists, albums, podcasts and radio stations from across your different music services.
Now Playing: The Now Playing screen features album art and basic playback controls. For a deeper look into the music you're listening to, the "Info View" screen gives you artist bios, album reviews and concert listings. See related artist suggestions to discover a new band for your queue. You can also add to your playlists, delete songs from your library, and share tracks to Twitter or Facebook.
Rooms: You can choose to play different songs in different rooms, choose to group all rooms together to hear the same music throughout your home, or choose to group only certain rooms together for music playback. You can also crank up the volume for each room individually or together.
Browse & Search: Browse your music services, favorites, internet radio, personal music library and playlists. You can browse your music content by Album, Artist, Song, or Playlist. You can even search across all of your music services and files simultaneously, so you can find the music you love instantly.
More: Provides personalized & custom settings for your Sonos system. Adjust and audio settings like bass, treble, balance, and loudness for each room location.
Note: The Sonos device, Apple iOS/Android device, Windows PC, and/or Mac computer must be connected to the same wireless network.
AirPlay 2 (Firmware Update Available): AirPlay 2 is an advanced and easy-to-use wireless multiroom audio platform for iTunes, Apple Music, and other Apple iOS apps. With AirPlay 2 you can play any sound from your Apple iOS device (running iOS 11.4 or later) or Mac computer (running OS X 10.13.2) on the Sonos One, Play:5, Playbase speakers, and other compatible AirPlay 2 speakers throughout your home. You will also be able to ask Siri-enabled devices (like your Apple iPhone, iPad, or Watch) to control playback of your Apple Music on compatible Sonos speakers. You can even watch videos and movies from YouTube and Netflix on your compatible Apple iOS device or Mac computer with perfectly synced audio on a Sonos One, Play:5, or Playbase speaker. You can choose to play audio in one room, play the same audio in grouped rooms, or play the same audio in every room.
Note: Even though the Play:1, Play:3, Playbar, and other Sonos products are not AirPlay 2 compatible, you can still group these Sonos speakers with an AirPlay 2 compatible player (like the Sonos One, Play:5, or Playbase) to unlock AirPlay for your entire system.
Alexa Compatible: Through a free network software update you'll be able to control your Sonos system through any Alexa-enabled device - including the Sonos One and Amazon Echo (sold separately - see Accessories Tab). Using the Amazon Alexa device as you normally would; just say "Alexa" and the name of the Sonos room you want to play a particular music service through when instructing Alexa to play music. Play a song, skip forward and back through playlists, target one room or an existing group of rooms, and adjust volume - all using your voice.
Alexa supports Apple Music, Amazon Music, Pandora, Spotify, iHeartRadio, TuneIn Radio, and SiriusXM music services. When instructing Alexa to play a particular artist, the song will begin playing from your default music service, set in the Alexa app, unless you specify the service in your voice instruction.
For a complete list of Alexa voice commands you can use with Sonos, click here.
Any non-music related commands will still play over your Alexa device (weather, traffic, flash briefs, etc).
Notes:

You will need to search and enable the Sonos skill from the Alexa app on your mobile device or computer.
Your Sonos equipment and Amazon Alexa-enabled devices must be on the same wireless network.
Google Assistant: The Google Assistant will be supported by Sonos later in 2019 through an over-the-network firmware update.
Home Network Requirements: To access Internet music services, Internet radio, and any digital music stored on your computer or Network-Attached Storage (NAS) device, your home network must meet the following requirements:
High-speed DSL/Cable modem, or fiber-to-the-home broadband connection for proper playback of Internet-based music services. If your Internet service provider only offers Satellite Internet access, you may experience playback issues due to fluctuation in download rates.
If your modem is not a modem/router combination and you want to take advantage of Sonos' automatic online updates, or stream music from an Internet-based music service, you must install a wireless router in your home network. If you don't have a wireless router, you will need to purchase and install one before setting up your system.
The Sonos Controller app (for Apple iOS 10.0+ and Android OS 5.0+) is required for system setup. Initial setup is not possible through the Sonos Controller software (for Windows PC (7-up) and Mac OS X 10.10-up).
Connect at least one Sonos component to your home network router using an Ethernet cable, and then you can add other Sonos components wirelessly. Or setup your Sonos component wirelessly via WiFi without any hardwire connection.
For best results, you should connect the computer or NAS drive that contains your personal music library collection to your home network router using an Ethernet cable.
Make sure all of your Sonos components have the latest software update installed.
Note: Although Sonos is compatible with most networking equipment, some network devices are incompatible. Usually when networking hardware does not work with Sonos, it's because it lacks support for the network protocols that Sonos uses to operate, like UPnP, STP, and SMB/CIFS.
Automatic Updates: The Sonos wireless music system supports free automatic software updates so you will always have the newest features and music services to enjoy. Simply register the Sonos device and the Sonos Controller app on your smartphone/tablet or the Sonos Controller software program on your laptop/computer will automatically notify you when software updates are available. By simply pressing one button your system updates itself.
Speaker & Amplifi