About the Channel Master 3414
Channel Master's 3414 is a compact, versatile RF distribution amplifier designed for indoor use with coaxial cables. It lets you distribute amplified antenna or cable TV signals to as many as four TVs without the signal degradation caused by splitters.
Channel Master's 3414 is a compact, versatile RF distribution amplifier designed for indoor use with coaxial cables. It lets you distribute amplified antenna or cable TV signals to as many as four TVs without the signal degradation caused by splitters.
The 3414 can improve reception whether the problem is weak signal strength at your antenna, or loss of signal quality due to a long cable run. Unlike the inexpensive boosters you find in hardware stores, the 3414 is a "bi-directional" design that provides a return signal path for use with a cable box or cable modem (return signal is not amplified). The included AC power supply connects to the 3414 via a short length of coax cable, which is also included.
READ LESS
Product highlights:
compatible with antenna and cable TV signals
cable company approved for digital cable, HDTV, and high-speed Internet
bi-directional for digital services
amplifier gain: 8 dB
operating frequency range: 54-1002 MHz
return path frequency range: 5-42 MHz (for cable modem applications)
75-ohm impedance
noise: 2.7 dB
six F-type coaxial connectors (1 input, 4 output, 1 power)
included AC power supply provides power to amplifier via coaxial cable connection (cable included)
6000-volt surge protection
weather-sealed housing resists corrosion
4-7/16"W x 1-1/4"H x 4-5/16"D
warranty: 1 year
RG-6 cable is recommended
MFR # 3414
Channel Master 3414 reviews
Average review:
Thanks for submitting your review
Most reviews are processed and published within 5 business days. You will receive a confirmation email once your review has been published.
Customer photos
More details on the Channel Master 3414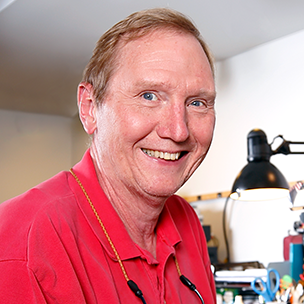 Researched by Crutchfield's

Mark G.
Product Research
Features
Overview: The Channel Master by PCT Model 3414 RF amplifier has a single input and four outputs. Unlike most conventional amplifiers, it has a passive return path which allows it to be used with a cable modem. The +8dB gain gives you a strong and balanced signal. The unit is powered using the included AC/DC adapter. The unit features weather-sealed housings for superior corrosion performance.
Bandwidth: The 3414 has an operating frequency of 54 to 1002 MHz with a passive return path bandwidth of 5 to 42 MHz. The amplifier supports both analog and digital broadcast signals, as well as HDTV and CATV distribution.
Inputs and Outputs:
DC 15V/250mA Input: threaded coax input for use with supplied AC/DC power supply
Cable Input: threaded coax input, used to connect your cable or antenna lead
Outputs: 4 threaded coax outputs, each with a +8dB gain
Dimensions: Width=4.433", Height=4.308", Depth=1.237"
The Channel Master 3414 replaces these items

Adding...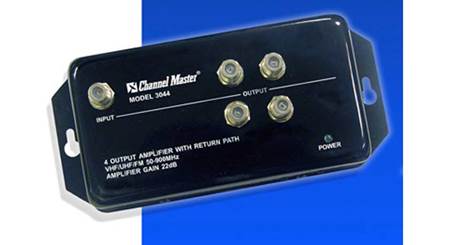 4-output indoor distribution amplifier (UHF/VHF/FM)
4-output indoor signal amplifier with power supply
compatible with antenna and cable TV signals
provides signal return path for use with a cable modem

Q
Crutchfield asked: Why did you buy this?
A
should do what I need without overloading the tuners
[ Patrick Sep 07, 2018 ]
A
This is what support recommended as an answer to needing an antenna on the first floor TV but my current antenna is on the 2nd floor. My house is surrounded by trees and have a hard time getting a signal.
[ R Aug 31, 2018 ]
A
Mother in Law is moving in, and she loves the off-air channels with 70's sitcoms and Westerns. We have a great Crutchfield setup with a Channel Master 3020 Large UHF/VHF Antenna (Long-Range), and we need more connections in the basement.:-)
[ Jeffrey Jun 26, 2018 ]
A
I used this in my last house to distribute signal from my Moho 60 antenna with no problems for several years. Repeating the same setup in my new home.
[ CHAD Jan 31, 2018 ]
SHOW MORE
SHOW LESS
3 questions already asked
Q
does this channel master 3414 have to be at the antenna site or can it be is the house?
[ JJ May 08, 2019 ]
A
I placed mine inside the house in the attic, and another in the basement. Works great.
[ Jeffrey May 09, 2019 ]
A
Steve, I bought this and mounted an antenna in my garage after verifying it would pull in signals from 78 miles away. Winters in South Dakota can be severe. The over-the-air antenna is mounted in the topmost part of the garage and a cable from there to this CHANNEL MASTER located in the basement 78 feet away. The home's TVs are then connected to this device with TIVO and it works flawlessly bringing in HD TV for free.
[ Dr. Charles May 09, 2019 ]
A
Mine is in my house well away from the antenna. I did run a power amplifier to boost the signal too. Combined, I've got 24 channels in an area where the various antenna websites say I should not get anything.
[ PAUL May 08, 2019 ]
Q
Okay, I already have a large antenna on my roof with cable coming into our basement. Previously we had DTV converters on all our t.v.'s. Since then we have had Charter for 7 years. Things have changed, before you could unhook charter coax cable from splitter and hook in antenna cable and change back to DTV, free air stations. Now a days there is an amplified splitter from charter, and when I unhook it the internet goes away too. So if I want to unplug the cable I need to leave that splitter, unscrew the cables going out to the 4 tvs and hook them into this new item channel master and input antenna cable into this set up and leave the other splitter to be used solely for internet? Is this true? Will this work? I would like to save $100 a month but not sure what all I need besides this item. Anyone care to help me?
[ Carol Feb 15, 2016 ]
A
From what I understand, yes you can hookup the CM splitter to tvs, using the outdoor antenna. Then on the cable splitter you should only have one wire in and one wire out. This is to feed the internet. If this is true, you can eliminate the cable splitter and put a "barrel connector" in line to join the cable. This will also eliminate any signal loss through the cable splitter. Hope this helps.
[ ROBERT B Feb 16, 2016 ]
A
I have my internet and antenna cables run separately. I do not have a signal amp. on the internet. The 3414 has a input and 1 output two directional ports if you use it as a cable TV and internet amp. You should not need to amplify the internet in your application. So use the 3414 amp. on the antenna cable so you do not get signal drop if adding more TVs. If you have DTV ready TVs you do not need the converters boxes. If you have analog TVs you will need to hook the boxes back in because, the cable company was converting it for you. Hope that helps.
[ DOREEN Feb 15, 2016 ]
Q
Want to boost cable service to several TV's about 60' from main entrance of cable. Cable also supports internet and telephone service. Using a multiple service modem from cable company to include phone. Will this unit work in my situation?
[ Roger Feb 09, 2014 ]
A
This amplifier is intended for antenna signals. It works for over-the-air broadcast signals but I cannot make a recommendation for cable use. Channel Master's website states: Channel Master distribution amplifiers can be used in HDTV, CATV, off-air, analog and digital RF distribution applications where high performance and reliability are required. The CM 3414 is a high quality miniature four output digital TV amplifier with passive return, which means the distribution amplifier does not have any amplification for signals in the return path frequency range (5-42 MHz). This frequency range is used in cable telecommunications networks to allow cable modems and set top boxes to communicate back through the cable network. Passive return amplifiers are the most commonly used in-house distribution amplifiers by cable operators. Hope this helps.
[ KEVIN Feb 11, 2014 ]
A
I use the 3414 to boost my incoming over-air Antenna signal. It works great for that. I have a longer run and needed to install another one to reach that distance. Seems about every 100ft with an over air antenna. This should boost any signal but I'm not familiar with how the phone works with the cable system. Hope this helps in some way.
[ Mark Feb 10, 2014 ]
A
I just recently installed this at my place. We are running cable internet only but our signal coming in from the street was weaker than it should have been. The cable company tried to help boost the signal, but they stated because we weren't subscribed to cable TV also, they can only make the signal so strong (uh huh? yea right). So, I installed this and now we get a very strong internet signal, and we can get all the basic TV channels coming through the cable. An we have a few splitters too. In a nut shell, it worked really well on our weak signal, and the internet hasn't dropped since. Plus, it's only $40 bucks. that's not much of a risk.
[ Steve Feb 10, 2014 ]
A
I am not familiar with cable service. My application for the distribution amplifier is to feed the signal from a regular off the air TV antenna to 4 TVs in the house. It definitely made a big difference compared to using just a regular splitter.
[ Esteban Feb 10, 2014 ]
A
I used 2way splitter to drive phone modem, then remaining tap directly to the Channel Master amp. Each output of the Amp goes to a separate TV, some 60' or more from the TV amp. Results are excellent. I have marginal signal strength coming into the house.
[ Charles Feb 10, 2014 ]