LG 55UK7700PUD
55" Smart LED 4K Ultra HD TV with HDR (2018 model)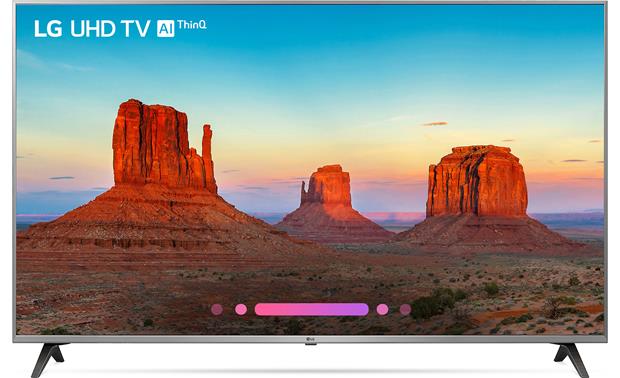 LG 55UK7700PUD - Front

LG 55UK7700PUD - Dimensions

LG 55UK7700PUD - Angled right
Crutchfield: How to unbox your LG TV
Crutchfield: Unboxing your LG TV

LG 55UK7700PUD - Angled left

LG 55UK7700PUD - Side

LG 55UK7700PUD - Energy Guide

LG 55UK7700PUD - Remote

LG 55UK7700PUD - Back

LG 55UK7700PUD - Back (rear-facing A/V connections)

LG 55UK7700PUD - Back (side-facing A/V connections)

LG 55UK7700PUD - Top view

LG 55UK7700PUD - Close-up view of bezel
California customers: Please click here for your Proposition 65 warning.
Item # 68955K7700 | MFR # 55UK7700
In Stock
Was: $999.99
Instant savings: -$350.00

Our VirginiaVA-based experts can help.
Overview
Our take on the LG 55UK7700PUD by Crutchfield's Steve Kindig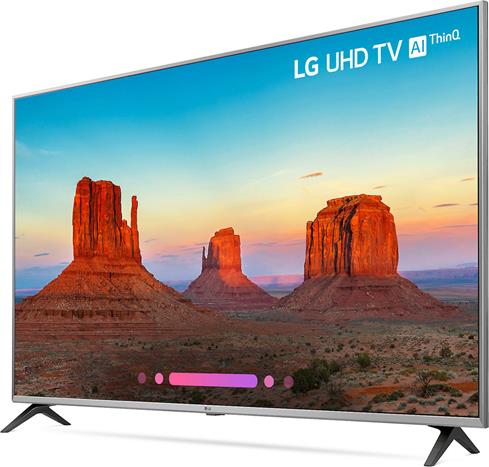 Affordable 4K detail and HDR
LG's UK7700-series 4K TVs should satisfy price-conscious shoppers who still want solid picture quality and smart TV features. The 55" 55UK7700PUD has 8+ million pixels that can display four times the detail of 1080p HDTVs. This is one of the most affordable major-brand 55" 4K TVs with support for HDR (High Dynamic Range).
HDR pumps up the picture contrast
HDR allows compatible TVs to display deeper blacks and brighter highlights. Special instructions called "metadata" are embedded in the signals of HDR-enhanced video — both Ultra HD Blu-ray discs and streamed 4K video from services like Netflix® and Amazon Instant Video. These instructions tell the TV when to get extra dark or extra bright.
This TV is truly a crowd-pleaser
If you frequently watch TV with friends or family, you'll want a TV with good off-axis viewing. And if you can't justify the expense of one of LG's OLED TVs, the next best thing is LG's IPS panel technology. It keeps picture contrast and color looking crisp even for viewers seated around to the sides of the screen. The trade-off is contrast and black levels that aren't quite top-notch.
The 55UK7700PUD's wide viewing angles and excellent anti-glare screen make it a great choice for watching in a medium- or well-lighted room. And gamers will really appreciate this set's super-low input lag.
Let your TV be the hub for all your connected devices
The 55UK7700PUD's built-in web apps give you instant access to a nearly limitless selection of entertainment including streamed video from services like Netflix, YouTube, and Hulu. LG's AI ThinQ® intelligent voice control can process hundreds of voice commands. Just speak directly into the Magic Remote's mic to operate the TV as well as a variety of compatible smart devices. This TV is also compatible with Google Home and Amazon Alexa voice control assistants.
LG's motion-sensing Magic Remote is simple and fun to use. You can point, click, scroll and even speak into the remote to find exactly what you want, searching across apps, movies, TV shows and the web, all at the same time.
Use the Sanus MountFinder™ to see a list of wall-mounts that work with your specific TV.
Product Highlights:
Picture:
54.6" screen (measured diagonally)
4K screen resolution (3840 x 2160 pixels)
TruMotion 120Hz blur reduction (60Hz refresh rate)
High Dynamic Range (HDR10 and HLG) for extended picture contrast and brightness when viewing HDR content from connected sources or streamed via the TV's built-in apps
LED edge backlight with local dimming for good picture contrast
IPS (In-Plane Switching) LCD panel provides very good off-axis viewing
Nano Cell™ Display delivers truer colors and reduced reflections
expanded color range with Billion Rich Colors (8-bit panel with 10-bit dithering)
4K Upscaler upconverts standard-def and high-def video to near-4K quality
Video Source Compatibility:
watch streamed 4K video sources like Netflix®, Amazon Instant Video, and YouTube (requires Internet speed of at least 20Mbps)
tuner receives over-the-air HDTV broadcasts (antenna required)
Clear QAM tuner decodes unencrypted digital cable signals up to 1080i without a set-top box (subscription required to receive cable channels)
Smart TV Features:
LG AI ThinQ® makes your TV the hub for all your smart devices
supports voice control of compatible apps:
dual-band 802.11ac Wi-Fi® provides fast, reliable wireless streaming
Netflix Recommended TV — offers a unique feature set that makes Netflix even easier to use and enjoy
mobile-to-TV wireless mirroring with Miracast™ enabled phones and tablets
free downloadable apps for iOS® and Android™ let you use a compatible smartphone as a remote control
Connections:
4 HDMI 2.0b
1 component video (selectable component/composite)
RF input for antenna/cable signals
Toslink optical digital audio output (can pass Dolby® Digital/DTS multichannel or 2-channel audio from connected sources)
Ethernet port for a wired network connection
2 USB inputs for connecting a camera or thumb drive
Sound:
built-in down-firing speakers (10 watts x 2)
Bluetooth® wireless audio streaming to a compatible speaker or set of headphones

the TV's built-in speakers and audio outputs will be disabled when streaming audio to Bluetooth headphones or speakers
General Features:
motion-sensing Magic Remote with built-in microphone for voice control
detachable dual-footer stand ("footprint" is 43-3/4"W x 9-3/16"D)
wall-mountable (bracket not included)
48-11/16"W x 28-1/4"H x 2-1/2"D (30-3/4"H x 9-3/16"D on stand)
weight: 36.3 lbs. with stand; 35.9 lbs. without stand
warranty: 1 year parts & labor — in-home service or pick-up for service
What's in the Box:
55" LED-LCD TV
2 Pedestal feet
5' AC power cord
Magic Remote (AN-MR18BA)
2 "AA" batteries
Four M4 x 20mm screws (lock-/flat-washers attached)
Cable-tie
Owner's Manual
Easy Setup Guide
ThinQ AI TV Manual
Magic Remote User Information
Warranty Information
Product Registration Card
Cleaning Note
Arbitration Notice
Great picture and sound.

Daniel, Roswell, GA
Why Shop
With Us?
10 Reasons.
---
Energy Guide:

View the Energy Guide
Reviews
LG 55UK7700PUD Reviews
Average Customer Review(s):
Daniel from Roswell, GA on 7/21/2018
Crutchfield Customer Review
(
What's this?
)
Great picture and sound.

Pros:

Cons:
Details
Product Research
Video Features
Audio Features
Network/Internet/USB Functions
Voice, App, & Remote Control
Convenience Features
Mounting Options
Video Features
Nano Cell Display Technology: LG's Nano Cell technology is a breakthrough in display technology that advances the LCD TV viewing experience by combining an expanded color gamut with the ability to more accurately create those colors, resulting in superior picture quality regardless of viewing angle. Nano Cell Technology uses nano particles that absorb unwanted light wavelengths and enhances the purity of the red and green colors displayed on the screen. The result is dramatic, enhanced picture quality at wider viewing angles to give you an incredible cinematic experience.
Billion Rich Colors w/ True Color Accuracy: The Nano Cell display reveals a billion lifelike colors, 64x richer than conventional TV. This ability to produce a full spectrum of color results in superior picture quality. True Color Accuracy uses advanced color mapping technology to effectively correct any color distortions and delivers a picture that is accurate, natural, and lifelike. *Billion Rich Colors is achieved through 10 bit dithering (not actual 10-bit panel).
Ultra Luminance: LG's new Nano Cell UHD TV uses improved Ultra Luminance technology to deliver brighter, crisper image highlights. Ultra-HD picture quality becomes even more dynamic with an extended range of brightness , thanks to LG's Ultra Luminance technology. By enabling higher peak brightness and an enhanced contrast ratio, Ultra Luminance makes 4K & HDR images even more striking.
IPS Panel: LG's IPS (In-Plane Switching) panel makes any seat the best in the house, with a clearer and more consistent image at wide viewing angles compared to conventional screens. IPS delivers authentic colors, virtually identical to the original image. Witness colors as true-to-life as nature intended, vibrant across even a large screen, with the stunning clarity of 4K resolution.
Local Dimming: The TV provides even greater control of brightness & contrast through local dimming to deliver deeper blacks, amazing clarity, and color detail. LG's local dimming technology analyzes the signal of the input video by areas of the screen, and then adjusts the backlight to improve the contrast ratio. This increased contrast ratio in turn enhances overall picture quality with greater clarity, plus bolder colors.
TruMotion 120Hz: The UHD TV employs LG's proprietary TruMotion 120Hz backlight scanning system to enhance the TV's 60Hz native panel refresh rate to reduce blur and yield crisper details; even during the most high-action sequences - from sports to action movies. You can select between 4 TruMotion modes - Off, Smooth (softens fast-moving pictures), Clear (makes fast-moving pictures clearer), or User (manually adjusts judder / blur / motion).
Ultra HD 4K Resolution w/ Upscaler: The LG UHD TV has a display resolution of 3,840 x 2,160 (4K) and will display all video at that resolution through its built-in upscaler, regardless of input signal. 4K provides four times higher resolution than current 1080p high-definition TVs with a total of 8.3 million pixels. Its detail is so vivid and crisp, even when viewed from close distances; it's nearly impossible to discern a single pixel, even from inches away. Enjoy incredibly flawless images, vivid colors, and picture details as never before. More benefits of Ultra-HD 4K include:
Greater Sense Of Depth: At 4K, distant objects in a scene can be rendered with greater clarity than at 2K, with more nuances of light and shadow and focus for a greater sense of perceived depth.
Better Color: Because pixels are units of colored light, their greater quantity in 4K enables more layered transitions and subtler gradations of tones, so the hues we see up on screen will be truer to what we see in nature.
Sit Even Closer: 2K HD TVs carry a recommended viewing distance of three times (3X) the TV screen height, but with a 4K display you can move in to one-and-a-half times (1.5X) screen height without exposing individual pixels. Sitting closer better fills your field of vision, assuring total immersion in whatever you're watching.
Active HDR (High Dynamic Range) Video: HDR (High Dynamic Range video) reproduces a greater dynamic range of luminosity or brightness levels, bringing greater contrast & wider color spectrum to the screen. This increased contrast reveals the subtle nuances of the image, from detailed blacks and shadows to the brightest whites and colors, plus greater depth. Previously hidden areas of dark shadow and sunlight are now full of clarity and detail. Thanks to the TV's Active HDR technology with Enhanced Dynamic Tone Mapping and SDR-to-HDR Effect, both HDR and SDR video content is optimized with the correct amount of brightness and contrast. The TV's multi-format 4K high dynamic range support includes HDR10 and HLG.
Enhanced Dynamic Tone Mapping: The TV's HDR images are dynamically processed frame-by-frame using LG's proprietary algorithm, Enhanced Dynamic Tone mapping. This process allows the TV to offer the best picture possible, even when playing HDR10 content which only contains static metadata, or HLG content which uses no metadata at all.
SDR-to-HDR Effect: The TV's HDR Effect feature raises image quality for SDR content to near HDR quality. With the HDR Effect feature, SDR images are processed frame-by-frame to improve brightness in specific areas, enhance contrast ratios and render more precise images.
Video Inputs: The LG UHD television features HDMI 2.0b, component, and composite video inputs. All of the television's video inputs are displayed at 3,840 x 2,160 (4K).
HDMI 2.0b: The four HDMI 2.0b inputs will accept 4K (60/30Hz), 1080p (60/24Hz), 1080i, 720p, and 480p video signals. The HDMI inputs not only allow you to connect your Blu-ray/DVD player or Satellite/Cable receiver to the TV, but also a laptop or computer. The television's HDMI inputs do not accept 480i video signals.

HDCP 2.2: HDCP 2.2 is supported by all of the TV's HDMI inputs. HDCP 2.2 is short for "High bandwidth Digital Content Protection" and is used for 4K video copyright protection for compatibility with 4K Blu-ray players and 4K Satellite/Cable providers.
4:4:4 Color Subsampling: All of the HDMI inputs will support up to 4:4:4 chroma subsampling for full color data rendering of 4K video (30/60fps). With 4:4:4 color, luminance (brightness) and chroma (color) are sampled at the same rate, resulting in an RGB color palette as big as the video sampling rate for a video image with more total colors, plus greater color accuracy and detail. You will need to enable this feature in the menu. 4:2:2 (30/60fps) and 4:2:0 (60fps) are also supported by any of the HDMI inputs, by default.

Analog Video: The Component Video input will accept 1080p (60/24Hz), 1080i, 720p, 480p, and 480i signals. The component video input can also be used as a composite video input that will accept 480i only.
Picture Settings: The LG UHD TV provides preset, user, and expert adjustment of the television's picture settings.
Picture Size: You can select a different aspect ratio depending on input source (analog broadcasting, digital broadcasting, video input).

Original: changes the aspect ratio to 4:3 or 16:9 depending upon the input video signal
16:9: displays an aspect ratio of 16:9
4:3: displays an aspect ratio of 4:3
Vertical Zoom: adjusts the vertical dimension of the screen and aligns the screen vertically
All-Direction Zoom: adjusts the horizontal/vertical/diagonal dimensions of the screen and aligns the screen horizontally/vertically

Picture Modes: You can select the picture mode that is best suited to your viewing environment, preferences or video type.

APS (Auto Power Save): this Energy Saver mode changes the TV's picture brightness to reduce power consumption
Standard: provides optimum viewing for general use
Vivid: maximizes the effect of the video by strengthening the contrast, brightness, color, and sharpness
Cinema: optimizes video for watching movies
Sports: provides fast response speed for sports action
Game: provides even faster response speeds (21ms) for fast gaming
HDR Effect: enjoy a more dynamic, clearer image by correcting the light and dark areas of the display
User: manually adjust the TV's Backlight, Contrast, Brightness, Sharpness, Color, Tint, and Color Temperature (these settings can be applied to an individual input or all inputs)
Expert: the TV is ISFccc Ready and contains the detailed standards necessary for professional calibration of brightness, contrast, tint, sharpness, color levels and much more to meet local lighting conditions for both day and nighttime viewing; the EXPERT/ISFccc mode allows an expert to fine-tune the picture quality using a specific image

Advanced Picture Control: The TV also offers more advanced picture settings.

Dynamic Contrast: adjusts the contrast to keep it at the best level according to the brightness of the screen; the picture is improved by making bright parts brighter and dark parts darker
Dynamic Tone Mapping: suitable contrast settings based on image brightness of HDR content
Dynamic Color: adjusts screen colors so that they look livelier, richer and clearer; this feature enhances hue, saturation and luminance so that red, blue and green look more vivid
Preferred Color: fine tune Skin, Sky, and Grass color independently
Super Resolution: provides a crystal-clear picture by improving the details in areas where the picture is blurry or unclear
Gamma: you can adjust the brightness of dark areas and middle gray level areas of the picture
Color Gamut: maximizes the utilization of colors to increase color quality
Color Filter: filters a specific color spectrum in RGB Colors to fine-tune color saturation and hue accurately
Expert Pattern: patterns used for expert adjustment
White Balance: adjusts the overall tone of the screen as desired
Color Management: this is a function used by experts when they adjust colors using a test pattern of six colors (Red/Green/Blue/Cyan/Magenta/Yellow) without affecting other color areas

Picture Options: Additional picture options are available to enhance your viewing experience.

Real Cinema: makes video clips recorded in a film look more natural by eliminating judder effect
Black Level: sets the black level of the screen to the proper level
Noise Reduction: reduces screen noise without compromising video quality
MPEG Noise Reduction: removes noise caused by compressing video
Motion Eye Care: automatically adjusts brightness and reduces image blur based on image data to reduce eye strain
Eye Comfort Mode: color temperature will be automatically adjusted to reduce eye strain
Live Zoom: LG's Live Zoom allows you to zoom in or zoom out on a portion of a video while it's being played to make the desired section appear larger or smaller. Live Zoom is only available on the the TV's over-the-air tuner and HDMI inputs.
Built-in OTA Tuner: The LG TV features a built-in over-the-air HDTV (ATSC) and Clear QAM tuner, so you don't need a separate set-top box to receive and decode over-the-air HDTV/SDTV or unencrypted Digital Cable signals (up to 1080i); subscription still required to receive cable channels. A single RF-type coaxial input is use to connect an external indoor/outdoor antenna (sold separately).
Audio Features
Ultra-Surround Sound + Equalizer: Ultra Surround delivers an immersive audio experience from seven virtual channels, requiring only the two built-in speakers of the TV. The TV also provides preset EQ modes. Choose from Smart Sound, Standard, Clear Voice III, Cinema, Sports, Music, or Game. In addition, you can adjust the TV's sound manually by using the 5-band EQ (100Hz, 300Hz, 1khz, 3khz, 10kHz). Clear Voice III automatically detects human voices in movies and TV shows, then increases their volume to ensure that the dialog doesn't get lost in the soundtrack. You can make the voice clearer by adjusting to one of the three clarity levels.
Sound Controls: Adaptive Sound Control automatically optimizes sound based on the type of content. You can also set the TV's volume to automatically adjust for different broadcasting stations, so you can always listen to channels at the desired volume, even after switching the channels. In addition, if the video and sound of the television are not synced, you can adjust the delay of the audio output to match the video. All three of these features are only available when using the TV's internal speakers.
ARC (Audio Return Channel): The Audio Return Channel of the TV's HDMI 2 input enables the television, via a single HDMI cable, to send audio data "upstream" to your AV receiver; increasing user flexibility and eliminating the need for any separate S/PDIF audio connection. This feature allows audio to be sent from the television to your AV receiver through the same HDMI cable already being used to send audio/video to the television. This eliminates the need for extra cables connected to the TV. ARC allows audio from the TV tuner, Network connection, inserted USB device, HDMI inputs, or any analog connected device to be heard through your ARC compatible AV receiver via the television's HDMI ARC input.
The audio from the TV's tuner, HDMI inputs, LG Store apps, and USB ports can pass as DTS-HD, DTS, Dolby Digital Plus, Dolby Digital, or 2ch PCM.
Analog connected & DLNA compliant devices will be output audio at 2ch PCM only.
Note: Both the television and the receiver must support ARC for this function to work properly. When connecting an AV receiver that is compatible with Audio Return Channel (ARC), connect it to the TV's HDMI 2 input. If connecting a system that is incompatible with Audio Return Channel (ARC), an additional audio connection via Digital Audio Out (Optical) is necessary.
Digital Audio Output: The optical digital output terminal will output Dolby Digital/DTS (when available) or 2 channel PCM. The digital optical output terminal only sends an audio signal in Dolby Digital/DTS when receiving Dolby Digital/DTS surround sound from a digital broadcast channel through the tuner, network apps, HDMI inputs, and USB ports on the TV. The optical digital audio output will only output in 2ch stereo from sources connected to the TV via stereo RCA.
Note: You can choose to turn the television speakers off or leave them on with the TV's optical digital output active.
Bluetooth Audio Streaming (LG Sound Sync): Thanks to the TV's LG Sound Sync and built-in Bluetooth 4.2, you can pair a single set of Bluetooth headphones, one Bluetooth speaker, or a pair of Bluetooth speakers with the LG UHD TV. You are able to stream audio from any of the TV's built-in sources or connected sources. The TV's built-in speakers and audio outputs will be deactivated when streaming audio to Bluetooth headphones or speaker. The Bluetooth audio output's volume is variable, so volume of your Bluetooth speaker will need to be controlled by both the TV and the Bluetooth speaker for adequate volume level. You can also wirelessly connect a Bluetooth source device (such as your smartphone or tablet) to play audio from your Bluetooth source device through the TV's speakers.
Note: Not guaranteed to be compatible with all Bluetooth devices.
Network & USB Functions
Wired or Wireless Network Connection: The LG UHD TV supports a wired or wireless network connection via its Ethernet jack or built-in WiFi. Via the TV's network connection and your internet provider, you can enjoy select online entertainment services. You can also access music, video, and still-image files stored on your computer, smartphone, or tablet. It even supports WiFi Direct, so you link wirelessly to a WiFi device without a router.
Ethernet Jack: The LG UHD TV is equipped with an Ethernet (LAN) RJ-45 jack for connecting the television to your home network and computer.
Built-in WiFi: The LG TV offers built-in dual-band (2.4/5GHz) WiFi (802.11ac) that allows you to wirelessly access the Internet and your home network. The TV's built-in WiFi provides a wireless network connection for the television with easy and quick setup. With this feature, you can easily connect to a wireless LAN and enjoy the benefits of networking in a cable-free environment. A wireless connection requires a home network with an 802.11 access point and internet connection. Supports WPS, WEP, and WPA security; a dual-band Gigabit wireless-N or better router is recommended for 4K streaming.
WiFi Direct: When using WiFi Direct, you can connect directly with other WiFi-enabled devices without using a wireless router. You'll be able to wirelessly transfer personal content (such as photos & videos) to the LG TV from your device without connecting to your home network. WiFi Direct completely bypasses your WiFi access point/router, so it's easy to set up. Streaming of copy-protected content and other certain formats are not supported.
Note: LG recommends a home network connection speed of at least 2.5 Mbps recommended for standard definition, 10 Mbps for high definition, and 20 Mbps for ultra-high definition.
LG Content Store: LG Content Store allows you to access a variety of online entertainment services and content directly on the LG TV through its network connection and your internet provider. You can quickly and conveniently browse for TV Shows, Movies, and more. You can also download and use apps from various categories such as entertainment, lifestyle, news, education, sports, and games. Click here for the latest compatible apps (subscriptions & fees may apply for some online services and content). Below is a list of some of the most popular apps from LG Smart TV Apps.
TV Shows, Movies, & Videos: The LG TV offers access to select online services that let you enjoy your favorite TV shows, new blockbuster movies, and other video content. Depending on the online service, video content is available in different video formats - including Standard Definition (SD), High Definition (HD), Ultra High Definition (UHD or 4K), and HDR (High Dynamic Range).
Live TV Services: Stream Live TV using Channel Plus, SlingTV or YouTube TV (subscription fees may apply).

Channel Plus: The Channel Plus app (powered by XUMO) offers 100 free streaming channels sports, news, entertainment, and lifestyle programming (including NBC and CBS News, PBS Digital Studios, Sports Illustrated, Fox Sports, and more). The Channel Plus app features a handy on-screen guide which is integrated into the TV's over-the-air TV channel guide for easy, seamless access.
SlingTV: Sling TV is the new way to watch live television. It's an app-based TV service that lets you stream your favorite live TV channels over the internet. With Sling TV, you get to customize your channels by subscribing to the best service to match your needs (subscriptions starting at $20 per month). It is all about your TV watching experience, making it simple once again.
YouTube TV: YouTube TV is a TV streaming service that lets you watch live TV from 50+ major broadcast and popular cable networks, as well as record your favorite shows to cloud with no storage space limits. Enjoy local and national live sports, and must-see shows the moment they air. YouTube TV costs $40/month for 1 membership with up to 6 accounts. Memberships include your local ABC, CBS, FOX, and NBC streams, ESPN, regional sports networks, and more. Add on sports and premium networks like SHOWTIME and Fox Soccer Plus for an additional monthly charge.

Music & Radio: Listen to your favorite Internet Radio stations and online music from Spotify (requires premium account), iHeartRadio, and more.
News, Weather, & Sports: Catch up on the news at USA Today, get weather forecasts from AccuWeather, and receive sports updates from MLB.TV.
Games: The LG Content Store contains a variety of online games; you will need to connect a compatible game-pad to the TV's USB port.
Note: 4K & HDR network streaming requires a network speed of 20Mbps or greater. A wired Ethernet connection is recommended over a wireless WiFi connection for better performance. If you desire a WiFi connection, then use a dual-band Gigabit wireless-N router or better for 4K/HDR streaming.
DLNA + Plex Content Sharing: DLNA & Plex compatibility lets you stream select video, photo, and audio files stored on your computer to the LG TV over your home's WiFi network. DLNA is supported by Windows (7, 8, 8.1, or 10) and other DLNA network devices and servers. You will also need to download the SmartShare software on your compatible Windows PC. Plex Media Server software is supported by Windows (7, 8, 8.1, or 10) and Mac (OSX 10.9 or newer).
Screen Sharing via Miracast: Miracast is a "screen mirroring" function which lets you wirelessly send the display from your compatible Windows 8.1+ or Android 4.2+ device (with support for Miracast) to the LG TV. This allows you to view practically any content that is playing on your compatible Windows or Android device on your TV screen; no wireless router or access point required.
Dual USB Ports: The television features two USB (type-A) 2.0 ports for playback of video, still image, and music files stored on a connected USB memory device. The television can support USB external hard disc drives (up to 2TB) and USB mass storage class devices (up to 32GB). The USB storage devices must be formatted as FAT 32 or NTFS file system. In addition, the TV will charge USB devices that can be charged via USB (max. 5V/0.5A). The LG television even lets you watch a slideshow of your photos (JPEG) while listening to background music (MP3) from an inserted USB device.
Compatible Video Files: AVI/Xvid, MPEG 1/2/4, MKV, MOV, WMV, & Vob.
Compatible Photo Files: JPEG, PNG, & BMP
Compatible Audio Files: MP3, WMA, FLAC, & OGG
Web Browser: The LG Smart TV features a built-in web browser that lets you search the Internet for a particular website by URL or keyword searches. The web browser supports only HTML5 media and not Flash Plug-in. The web browser only replays the following media file formats - JPEG/PNG/GIF. Not all websites will be available for download, because of size and content.
Voice, App, & Remote Control
Magic Remote: LG's Magic Remote acts as a remote controller, mouse pointer, and voice commander. The Magic Remote automatically pairs with the TV via Bluetooth and has a wireless operating range up to 32.8'.
Remote Controller/Mouse Pointer: The Magic Remote operates the TV as if it were a wireless mouse pointer. It allows you to point the remote at the TV and move through menu options with the movement of the remote. With simple gesture control, LG'S exclusive Magic Remote enables you to move the on-screen cursor, navigate menus, drag & drop apps, and select icons.
Voice Command Functions: The Magic Remote's built-in microphone enables voice command for live TV, internet apps, web browser, input selection, and volume control. Simply press-&-hold the "Mic" button on the remote to activate the Voice Command function. When the microphone image appears on the screen, speak your desired search request into the remote. You can tune TV stations, browse TV shows & movies from online apps, search the web, and raise the volume up/down.
AI (Artificial Intelligence) ThinQ w/ Voice Control: The LG TV goes a step further than basic voice control commands with the integration of AI (Artificial Intelligence) ThinQ. AI ThinQ is able to achieve intelligent voice-activated control by employing Natural Language Processing (NLP) and LG's exclusive deep learning platform (Deep ThinQ). The LG TV with AI ThinQ can process hundreds of voice commands. You are able speak directly into the Magic Remote's mic to enjoy the ultra-convenient features of the latest advanced voice assistant technology with deep learning capability. AI ThinQ lets you use your voice to control television functions, search for content, and even manage your connected smart home devices.
TV Control: By utilizing the TV's built-in Electronic Program Guide (EPG), AI ThinQ delivers real-time information and locates channels with desired content. You can even say "search for this movie's soundtrack" or "turn off the TV when this program is over" without repeating the program's title or specifying a time. You can also ask the TV to play your favorite show, search for a new movie, check information about a cast member or director, and more. Additional voice commands include - Turn Off, Volume Up/Down, Channel Selection, Switch Input, Control Playback, Content Search & Recommendations, Launch Apps, Change Settings, and more.
Smart Home Control: Beyond controls for the TV, LG's AI ThinQ uses intelligent voice control to create a hub for your smart home and IoT devices. By functioning as a smart home hub, the LG TV can access LG SmartThinQ compatible smart home products on your network - such as refrigerators, washers/dryers, robotic vacuum cleaners, air conditioners/purifiers, smart lights and outlets, as well as many other devices that connect to the TV via your home's WiFi network.
Digital Assistants: Via a firmware update (now available), AI ThinQ will support the Google Assistant from the included Magic Remote's mic or an external Google Home device (sold separately) to not only control the TV, but also operate smart home devices, manage tasks, and find answers to your questions. In addition, AI ThinQ supports Alexa Skills & Commands from an external Alexa enabled device (sold separately), so you can control the TV's primary functions from your Alexa Echo, Dot, Show, etc. (all sold separately).
Note: The TV will need to be connected to your home's network and internet provider for the AI (Artificial Intelligence) ThinQ feature to work.
LG TV Plus App: You can download the LG TV Plus app (for Android OS 4.2+ & Apple iOS 8.0+) onto your compatible Apple iOS or Android OS device in order to control the television from your smartphone or tablet, share content from your mobile device to the TV, and other convenient features. The LG TV and your Android or Apple iOS device must be connected to the same WiFi network.
Remote Control: With the LG TV Plus app installed, your compatible mobile device will act as a wireless remote control for the TV. You'll be able to change channels and adjust volume from the app on your smartphone or tablet. You can even select the television's LG Smart TV apps and switch between inputs
Content Sharing: You can enjoy your pictures, videos, and music stored on your Apple iOS or Android device through the LG TV using the LG TV Plus app.
My Starter: The My Starter feature of the LG TV Plus app lets you view current time, weather, and calendars from your Apple iOS or Android device on the TV screen when it is turned on.
HDMI-CEC: HDMI-CEC (or SIMPLINK) allows you to control other HDMI-CEC compatible components connected to the TV via HDMI from the television's Magic Remote. HDMI-CEC (or SIMPLINK) provides the following remote control functions.
Instant Play: When you start a HDMI-CEC compatible device which is connected to the TV via HDMI, you can immediately watch content from the device on the TV without having to control anything else.
Device Control: HDMI-CEC also enables you to control compatible devices connected to the television via HDMI with the TV's remote control.
Main Power On/Off: Via HDMI-CEC, turning off the TV will turn off all of your HDMI-CEC connected devices. In addition, turning on a HDMI-CEC connected device will turn the TV on.
Keyboard Compatible: The LG UHD TV supports the use of a keyboard & mouse through its USB ports or via Bluetooth. You can enter text with the keyboard when using the Search function and the built-in Web Browser.
Convenience Features
WebOS 4.0: LG's latest WebOS 4.0 on-screen menu system is easy to learn and use. Initial setup is smooth and simple, while connecting to other devices and searching for content is extremely convenient. The intuitive WebOS 4.0 pulls together all your content choices and serves up entertainment options that neatly organize your recent viewing history, what's on Live TV, what you might like to watch next, and the latest movies, TV shows, apps and games from the LG Content Store. Now you can spend less time navigating and more time enjoying the premium content that you and your family want, accessed right through the television, thanks to LG's intuitive WebOS 4.0 user interface.
Program Guide & My Channels: While watching TV, you can easily search for other channels using the Program Guide or My Channels. The television's built-in Program Guide gives you a weekly outlook of what's on TV and detailed information about each program (when applicable). You can select a current program to watch or schedule a future program to watch later. You can also add channels you frequently watch to "My Channels" to easily check which programs are airing on those channels.
Application & Content Search: You can narrow down your online content search by selecting which category you would like to search - All Apps, My Apps, Premium Apps, Movies, TV Shows, and Games. You can also enter a keyword search for content across multiple applications.
Recents & Recommendations: The TV remembers and display the most recent apps you've used for easier access. The TV also provides instant recommendations for finding your favorite content and accessing information about actors and characters on-screen, based on your viewing history.
Input Selection: A dedicated Input button on the remote pulls up an on-screen menu of your connected devices and gives you a live feed of what's playing on each input as you scroll through them. Simply click on an input to go directly to that source.
Quick Settings: The Quick Settings Menu provides quicker access to commonly used functions - such as Picture Mode, Aspect Ratio, Sound Mode, Sound Out, Sleep Timer, and Network.
Netflix Recommended TV: Netflix Recommended TV is an evaluation program recognizing TVs that offer better performance, easier app access, and new features that make for a better smart TV. When you see the Netflix Recommended TV logo, it means the TV has passed a rigorous evaluation process based on criteria that Netflix members care about the most. The TV comes with the latest version of Netflix with newest features. It offers easier and faster access to Netflix (including a dedicated button on the remote), quicker playback and start times, and allows you to resume the Netflix app from where you left it.
Closed Captions & Audio Guidance: The LG UHD TV offers Close Captions and Voice Guidance for the hearing and visually impaired. The TV provides Analog Closed Captions and Digital Closed Captions for the hearing impaired. You can also activate Voice Guidance, which describes when you change channels or inputs, adjust the volume up or down, and make changes in the menu settings.
Parental Control: Parental Control can be used to block specific channels, ratings, and other viewing sources (external input and application block). The Parental Control Function is used to block program viewing based on the ratings sent by the broadcasting station. The default setting is to allow all programs to be viewed. Viewing can be blocked by choosing the type of the program and the categories. It is also possible block a specific channel. The Parental Control function is protected by a 4-digit user password.
Energy Saving Feature: The Energy Saving feature helps to save electric power by adjusting the screen brightness; you can select from six modes - Auto, Minimum, Medium, Maximum, Screen Off, or Off.
On/Off & Sleep Timers: You can program the television to turn On and turn Off at a certain time. You can set the On and Off timer to Daily, Mon-Fri, Mon-Sat, Sat-Sun, or Once. You can also set the input, channel, and volume level for the On Timer. If you do not press any button within 2 hours after the TV turns on with the On Timer, the TV will automatically revert back to standby mode. The Sleep Timer turns the TV off at the preset time (10, 20, 30, 60, 90, 120, 180, or 240 minutes).
Built-in Customer Support: The LG Smart TV offers built-in customer support to help your learn functions and diagnose problems.
On-Screen User Guide: The TV offers a built-in, on-screen User Guide to help you learn how to use your new TV.
Picture/Sound Tests: This customer support function executes picture and sound tests to make sure you have the TV properly connected.
LG Remote TV Service: LG Remote TV Service can allow LG Customer Service to help you perform menu actions and resolve many problems remotely. To use this feature make sure your TV is connected to the internet.
Software Update: You can update the TV with the latest software to enhance the product operation and/or add new features via the TV's network connection. Visit LG's Support Site for the latest firmware/software updates.
Mounting Options
Pedestal Feet: The TV is shipped with two pedestal feet unattached; assembly is required using the supplied hardware. The television weighs 36.3 lbs with the feet attached. The TV does not swivel.
Wall Mounting: The TV has four threaded inserts on the back for use with an optional wall-mount bracket. The spacing of the mounting holes is 300mm (h) x 300mm (v). The threaded inserts require 6mm machine screws (not supplied). The television weighs 35.9 lbs without the stand.
Ventilation Requirements: When mounting the TV on the stand or a wall (with optional bracket) leave 4" of clearance on each side of the television and 4" above/below the television for adequate ventilation.
Detachable AC Power Cord: The television comes with a detachable 5' AC power cord. The power cord is fitted with a right-angle AC plug that sits 0.9375" from the wall.
Our Product Research Team
At Crutchfield, you'll get detailed, accurate information that's hard to find elsewhere. That's because we have our own in-house Product Research team. They verify what's in the box, check the owner's manual, and record dimensions, features and specs. We stay on top of new products and technologies to help people make informed choices.