Audioengine HD6/TEAC TN-400S Bundle
Versatile all-in-one record-playing system with Bluetooth®
Item # 7004HWHD6W | MFR # Teac TN400 + HD6
Low Stock
Price separately: $1,079.98
Package discount: -$50.00

Our VirginiaVA-based experts can help.
Overview
Our take on the Audioengine HD6/TEAC TN-400S Bundle by Crutchfield's Eric Angevine
A powerful, versatile system with classic good looks
I love the idea of matching the classic sounds of my record collection with a classic-looking audio system. This bundle nails it. We've paired a TEAC TN-400S turntable with a pair of high-performance Audioengine HD6 powered speakers. Both feature a gorgeous walnut finish for eye-catching looks with an old-school vibe.
The turntable's built-in phono preamplifier lets you plug straight into the speakers — no separate receiver or amplifier necessary. And a dedicated USB output makes it easy to transfer your albums to your Mac® or Windows® PC for digital archiving.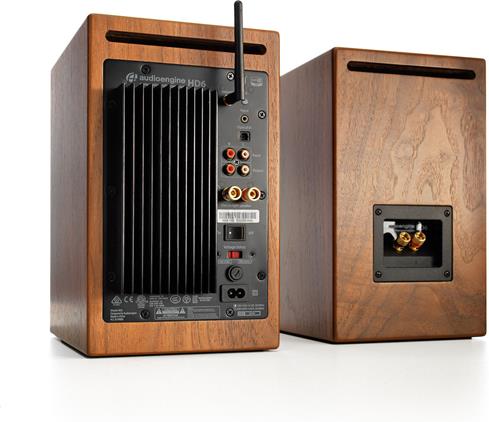 Audioengine's HD6 speakers offer analog and digital inputs, plus an antenna for top-notch Bluetooth® streaming.
Enjoy soulful vinyl sound from a well-made turntable
It's truly impressive how much clever engineering goes into something so pretty to look at. Under the TEAC TN-400S' polished exterior is a heavy MDF base designed to resist external vibration. A dense die-cast aluminum platter spins on a polished stainless steel spindle and bronze bushing that minimize friction for smooth, silent rotation.
The turntable's variable-speed belt-drive system isolates motor vibration, and its ability to play 33-1/3, 45, and 78 rpm discs will delight serious vinyl collectors. The curved aluminum tonearm — equipped with an Audio-Technica AT100E moving-magnet cartridge — ensures super-accurate tracking and satisfying, rich tonal accuracy.
Powerful wireless bookshelf speakers
Each of the speakers has a 5-1/2" woofer and 1" dome tweeter for sound that's clear, rich, and full. The system's built-in stereo amplifier is rated at 50 watts per channel — plenty of power to deliver room-filling sound.
There's a convenient stereo RCA connection on the back of the left-hand speaker for plugging in the TEAC turntable. They're no one-trick pony, though. You can also use Bluetooth with aptX® technology to connect to your mobile device from up to 100 feet away, and listen to high-quality streaming tunes. There's also a handy optical digital input for high-res digital signals, or for connecting your TV, Blu-ray player, or gaming system.
Product Highlights:
all-in-one bundle for high-performance stereo sound from your records, computer, and portable music players
TEAC TN-400S Turntable:
built-in phono preamp with line-level audio and integrated USB output (Windows® and Mac® compatible)

recording software not included (TEAC recommends Audacity, a free sound recording and editing software program available at audacity.sourceforge.net)

12" aluminum die-cast platter with heavy rubber mat to protect records from scratches
S-shaped tonearm with universal headshell for improved tracking
includes pre-mounted Audio-Technica AT100E moving magnet cartridge
high-density MDF base minimizes unwanted resonance for better sound
33-1/3, 45, and 78 rpm speeds
wow and flutter: 0.2%
signal-to-noise ratio: 67 dB
gold-plated RCA audio jacks
16-1/2"W x 4-5/8"H (with dust cover down) x 14"D
weight: 10.8 lbs.
Audioengine HD6 Powered Speakers:
two 50-watt RMS amplifiers built into left speaker
frequency response: 50-22,000 Hz (±1.5dB)
built-in high-performance AKM AK4396 digital-to-analog converter
each speaker features:

one 1" silk dome tweeter
one 5-1/2" Kevlar mid/woofer

front-mounted volume control on left speaker
ultra-rigid MDF cabinets reduce vibration and eliminate unwanted resonance
furniture grade finish
detachable magnetic grilles
inputs and outputs:

rear optical digital (SPDIF) input handles PCM audio signals up to 24-bit/192kHz
rear stereo minijack input
rear RCA stereo input
RCA stereo line output lets you add a powered subwoofer

7-3/16"W x 11-7/8"H x 12-1/2"D each
weight: 17.5 lbs. (left powered speaker)
weight: 12.5 lbs. (right passive speaker)
warranty: 1 year turntable, 3 years speakers
What's in the Box:
Audioengine HD6/TEAC TN-400S Bundle Owner's manual
The Audioengine / Teac bundle consists of the Audioengine HD6 powered speakers and the Teac TN-400S turntable (both individually packaged).
The Audioengine HD6 speaker box includes:
Powered speaker (walnut)
Passive speaker (walnut)
2 Grilles (pre-installed)
6' AC power cord
Bluetooth antenna
Remote control
13' Speaker cable (w/ banana connectors on each end)
6.5' Stereo minijack cable
2 Microfiber speaker bags
Microfiber cable bag
Quick Start Guide
Product Line Brochure
The Teac TN-400S turntable box includes:
Turntable (walnut)
AC power adapter (w/ attached 58" DC cord)
3 AC plug inserts (US/EU/UK)
39" Stereo RCA cable
Platter
Felt mat
45 RPM adapter
Counterweight
Headshell w/ cartridge
Dust cover w/ 2 hinges (pre-installed)
Owner's Manual
Warranty Card
AC power adapter instructions
Why Shop
With Us?
12 Reasons.
---
Details
Features and Specs
Features
Operation
Manual
Speeds
33-1/3, 45, 78
Cartridge Type
MM
Phono Preamp
Built-in
USB Output
Yes
Pitch Control
No
45 RPM Adapter
Yes
Specs
Signal to Noise Ratio
67
Wow and Flutter
0.2
Weight
10.8 lbs.
Product Research
Turntable Features
Powered Speakers Features
Turntable Features
Precision Belt-Drive Turntable: The TEAC TN-400S turntable features a Neoprene coated, high-inertia aluminum die-cast platter driven by a high torque-DC motor and a newly designed, low-friction spindle delivering precise speed consistency and tonal accuracy. Dimensions: Width 16.5625", Height 4.5625", Depth 14.5625", Weight 10.8 pounds.
3-Speeds: The TN-400S will play LPs, EPs, and singles at 33-1/3, 45 and 78 RPM.
Heavy MDF Plinth: The turntable's heavy MDF plinth is designed to minimize unwanted resonance, while the sleek, walnut or matte bordeaux finishes deliver a sophisticated and stylish accent to fit decor design.
S-Shaped Tone-Arm: The static-balanced S-shape tone-arm with Universal head-shell ensures fast and easy setup and delivers excellent tracking.
Audio-Technica AT100E MM Cartridge: The TN-400S comes with a replaceable Audio-Technica AT100E MM equivalent cartridge designed for highly accurate reading. As soon as you set up the TN-400S you can enjoy the high quality sound with outstanding clarity and detail.
Built-in Phono Equalizer w/ Phono and Line Output: Thanks to its built-in MM Phono equalizer amplifier, the TN-400S supports Phono or Line output which allows you to play vinyl with a stereo that is or isn't equipped with Phono input.
Gold-Plated Terminals: A pair of gold-plated RCA connectors are employed for reliable, durable connection to your receiver's Line Level or Phono input. Gold-plated terminals on the head shell connectors prevent oxidation of the head shell connectors and help to ensure years of reliable performance and to deliver stunning audio fidelity.
USB Port For Digital Recording: You can transfer music from vinyl records to your Mac computer or Windows PC, using the turntable's USB 2.0 digital output and its built-in A/D converter. The TI-made A/D converter allows you to transfer music via USB to your Windows PC or Mac computer, so you can digitize your vinyl collection. CD quality (16-bit/48kHz) digital archiving preserves your vinyl collection on your computer or laptop.
Supported Operating Systems: Computers running the following operating system can be connected by USB to this turntable.
Window OS: Windows 7 (32-bit/64-bit), Windows 8 (32-bit/64-bit), Windows 8.1 (32-bit/64-bit), Windows 10 (32-bit/64-bit)
Mac OS X: OS X Lion (10.7), OS X Mountain Lion (10.8), OS X Mavericks (10.9), OS X Yosemite (10.10), OS X El Capitan (10.11), macOS Sierra (10.12)
Note: This unit will run with standard OS driver, so there is no need to install a special driver.
Dust Cover: The TEAC TN-400S comes with a detachable dust cover.
Powered Speakers Features
Two-Way Speaker Design: Each of the Audioengine HD6 speakers has two drivers; a 1" silk dome tweeter and a 5.5" Kevlar woofer. The HD6 provides a real, natural sound the way the artist intended. The HD6 has a frequency response of 50Hz to 22,000Hz (+/-1.5dB).
Silk Dome Tweeters: Audioengine uses audiophile-quality, ferro-fluid cooled silk dome tweeters with neodymium magnets. Silk tweeters hold up well under high power and the edge-driven design gives very smooth response.
Kevlar Woofers: The woofers are made of Kevlar woven glass aramid composite with rubber surrounds. Kevlar is very strong, which means that the woofer retains its shape when being driven at high levels. The woofers are housed in cast aluminum frames which provide high rigidity and increased heat dispersion.
Dimensions: Width 7.1875", Height 11.875", Depth 12.5"
Weight: 17.5 pounds
Built-in Amplifier: The 50W x 2ch amplifier in the Audioengine HD6 is located in the left speaker and is a conservatively-rated class A/B analog monoblock design. This is a more traditional speaker/amplifier marriage which provides excellent quality audio and greater flexibility. All circuit boards for the power and preamp sections are vertically mounted for maximum mechanical shock protection. The built-in power amplifier saves space and eliminates the need to connect Audioengine HD6 to a stereo receiver or external power amp. Simply plug the left speaker into an AC outlet and connect the included 13' speaker wire from the left speaker's binding-post terminal to right speaker's binding post terminals. All internal components of the HD6 are tuned together, providing a more efficient system requiring less power than passive speakers and external amplifiers.
Bass Reflex MDF Cabinet: One of the reasons the Audioengine HD6 has such great bass response for a compact speaker is its slot-ported cabinet. Each cabinet features a rear-firing slot-port that has been specifically tuned for accurate bass down to 50Hz. The result is incredible low end with minimal audible air turbulence, so you can use the Audioengine HD6 speakers with or without a separate subwoofer. The cabinets are built using thick MDF with internal bracing. Internal sound-damping material reduces unwanted reflections inside the cabinet. The cabinet edges are rounded to reduce high-frequency diffraction effects on the front baffles. The speakers are hand finished, then tuned and tested together to be sold in matching pairs. Also included are detachable grills that add further aesthetic advantages as they are firmly held in place with hidden neodymium magnets for a clean look.
Note: The HD6 cabinets are available in several handsome finishes, including walnut and cherry veneers as well as satin black paint, offering a wide choice for complementing room furnishings.
24-Bit/192kHz DAC: The HD6 employs an AKM 24-bit DAC (AK4396A),widely known for its low-noise and high-fidelity. The optical input of the HD6 utilizes the AK4396A as a bit-perfect 24-bit DAC, which will process sample rates up to 192kHz natively. For Bluetooth, the AK4396A is used as an upsampling DAC and will pad all bit depths to 24-bits, achieving a higher signal-to-noise ratio and lower noise floor.
Bluetooth Music Streaming The Audioengine HD6 incorporates built-in Bluetooth (version 4.0) for wireless music streaming of stored music and music apps on your Bluetooth-enabled Apple iPod/iPhone/iPad, Android smartphone/tablet, Windows PC/Phone, Mac computer/laptop, and more to the powered speaker system. You will continue to control your music and view song/artist information from your Bluetooth-enabled device.
SBC, AAC, and aptX Codecs: The HD6 powered speakers feature aptX coding (for Android) which is an advanced Bluetooth audio codec with "CD-quality" like sound. And even if your phone or tablet doesn't have aptX, the HD6 Bluetooth solution is backwards-compatible with SBC and AAC (for iPhone) codecs, so you can wirelessly stream music from any Bluetooth-enabled device and still enjoy all your music.
Upsampling DAC: Due to the high signal-to-noise specs of the HD6's AKM DAC, the fact that digital signal is upsampled to 24-bits, as well as the added benefit of onboard triple redundancy power source conversion and filtering, the HD6 Bluetooth receiver presents impressive low noise and low distortion characteristics with a noticeable improvement over many other Bluetooth devices.
100' Wireless Range: Most Bluetooth products have very limited range (only up to 30'), typically within just one room. But with careful signal management circuitry and antenna tuning, the HD6 offers a superior solution that has up to 3x the range (up to 100') of standard Bluetooth for multiroom use, with no degradation in audio quality.
Note: Due to the differences in Bluetooth technology, some Bluetooth enabled devices may be incompatible, function improperly, or may not support all features when used with the Audioengine HD6.
Optical Digital Input: The Audioengine HD6 is fitted with a optical (toslink) digital input for connection of a digital audio device, like your Blu-ray player, gaming system, or TV. The optical digital input supports up to 24-bit/192 kHz PCM stereo.
Dual Aux Inputs: The HD6 is equipped with two analog Aux inputs. There is a stereo minijack (3.5mm) input and a stereo RCA input for connecting analog audio devices.
Variable Audio Output: The Audioengine HD6 includes a variable stereo preamp audio output so you can connect a powered subwoofer (such as the Audioengine S8), other Audioengine powered speakers, or an Audioengine wireless adapter (sold separately) to daisy-chaining music to other systems around the house. This output is variable (adjustable) so the volume level can be controlled from the HD6 or remote control.
Simple Controls: The HD6 features a front-mounted volume control and a rear-mounted power on/off switch. It also comes with an IR remote for wireless operation of the powered speaker system. Remote control functions include Power on/off, Volume up/down, and Mute.
Toroidal Transformers: Power transformers are a large contributor to the overall audio performance, especially in the low end (bass response). Audioengine uses gapless core toroidal transformers which have a tighter radiated magnetic field, directly translating to lower noise. They are lighter than standard, lower-cost "EI" transformers and also generate less heat.
Placement: For the best soundstage and imaging, the speaker should be equidistant from the side walls and and a different distance from rear walls. Both speakers should also be equidistant from your primary listening position and at least 6' apart. Tweeters should be at approximately eye-level in your most frequent listening locations. For the best bass response, Audioengine recommend at least 6" of clearance between the rear of the speakers and the wall behind them.
Break-in Period: The speaker will sound great out of the box and will get better over time. No need to do anything else, but listen to them. Do give them at least 30-50 hours of break-in time before doing any critical listening.
Our Product Research Team
At Crutchfield, you'll get detailed, accurate information that's hard to find elsewhere. That's because we have our own in-house Product Research team. They verify what's in the box, check the owner's manual, and record dimensions, features and specs. We stay on top of new products and technologies to help people make informed choices.