About the Sanus Rack Kit 2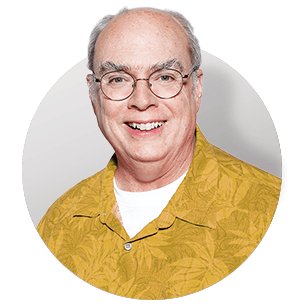 Product highlights:
accessory kit for Sanus component racks
rack-mounted ultra-quiet cooling fan
rack-mounted low-voltage power supply
rack-mounted power conditioner
2 rack-mounted work lights
2 9-foot low-voltage power wires
double rack space vented blanking panel
warranty: 60 days
MFR # Sanus Rack Kit 2
What's in the box:
Sanus Rack Kit 2 owner's manual
The Sanus Rack Kit 2 consists of the Sanus Power Conditioner and the Sanus Multi-volt Power Supply with two 9' DC power cords and a rack-mount fan and two work lights. Also included is a pack of 25 rack-mounting screws and an vented blanking rack panel (all individually packaged).
The CAPC01-B1 power conditioner box includes:
Rack-mounted power conditioner (with attached 10' power cord)
4 Screws
4 Washers
Instruction Manual
The CAPT01-B1 Multi-volt power supply box includes:
Rack mount DC power supply
6' AC power cord
Magnetic thermostat module with attached 6' cable (3.5mm miniplug)
17" Plastic cable channel
2 Cable channel clips
Instruction Manual
Addendum to Instruction Manual
The Power Cord box includes:
Two 9' 12-volt DC power wires (each terminated with DC barrel plugs on each end--5.5mm OD / 2.5mm ID)
The CAFQ01-B1 Rack-mount Fan box includes:
Rack-mount fan unit (rack height 3U)
3' DC power wire with DC barrel plugs on each end
Instruction Manual
The Sanus CALW01-B1 Work Light box includes:
2 LED light strips
Two 39" power cords (with DC power plugs on both ends)
2 Plastic clips (attached)
Instruction Manual
The Rack Mounting screws box includes:
Package of 25 rack-mount screws (10-32 x 3/4")
The Vented Blanking Panel box includes:
Black steel vented rack mount blank panel (2U height)
We don't have any reviews, yet.
Submit a review and then enter to win a $350 gift card.
Be the first to review this product
Thanks for submitting your review
Most reviews are processed and published within 5 business days. You will receive a confirmation email once your review has been published.
Customer photos
This review was collected as part of a promotion
More details on the Sanus Rack Kit 2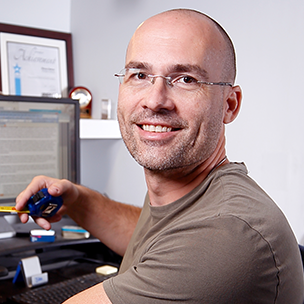 Researched by Crutchfield's

Stacey B.
Product Research
Bundle Features
Power Conditioner Features
Power Supply Features
Work Light Features
Fan Features
Accessory Features
Bundle Features
Bundle Overview: The Sanus Rack Kit 2 consists of a Sanus Power Conditioner, a Sanus Multi-volt power supply, a rack-mount cooling fan, and two work lights. It also includes two 9' DC power cords, a vented blank panel, and a box of 25 rack-mount screws.
Warranty Information: The items in the Sanus Rack Mount Kit are covered by full manufacturer's warranties for the following terms:
Power Conditioner, Power Supply, Fan, Work Lights, Panel: 5 Years
Power Cords, Screws: 60 Days
Power Conditioner Features
Overview: The Sanus Foundations Component Series CAPC01 power conditioner features adjustable, dual pull-out LED lights to easily illuminate rack equipment and 11 fast-acting 2,400-Joule protected outlets. A multi-mode LED panel indicates voltage, amps and power consumption. EMI/RFI noise filtration eliminates noise up to 30 dB, ensuring quality signals.
Rack-Mounted: The Sanus CAPC01 features integrated rack-mount ears and is designed to be rack mounted in a component rack system, such as the Sanus CFR115 / CFR127 / CFR144.
11 Protected AC Outlets: The Sanus rack-mounted power conditioner features 11 fast-acting, 2400-Joule protected outlets (10 rear/1 front) to protect your valuable audio/video gear from electrical spikes and surges.
Power Consumption Monitoring: A multi-mode LED display clearly indicates voltage, amps, and power consumption to help monitor power usage.
Electronic Noise Reduction: Dual stage EMI/RFI filters eliminate noise up to 30 dB (110 kHz to 1 mhz)
Dual LED Lights: The power condition features dual pull-out LED lights (with adjustable dimmer) to help illuminate equipment inside your component rack.
10' Power Cord: The Sanus CAPC01 is fitted with an attached 10' AC power cord terminated by a straight 3-prong AC plug.
$50,000 Equipment Warranty: The Sanus rack-mounted power conditioner includes a guaranteed $50,000 connected equipment warranty against electrical spike and surge damages.
Specifications:
UL Electrical Rating: 12A max / 125V / 60 Hz / 1500 W
Clamping Response Time: <1ns
Voltage Protection Rating: 400V (L-N), 400V (L-G), 400V (N-G)
EMI/RFI Noise Filtration: 30 dB (110 kHz - 1 mHz)
Joule Rating: 2,400 Joules
Power Input Connection: NEMA5-15P plug (5-15P straight plug)
Protect Outlets: 11 x NEMA-15R receptacles
LED Indicators: Power, Protected, Grounded
Dimensions: Width 19" Height 1.75" Depth 4.75"
Power Supply Features
Overview: The Sanus CAPT01 EcoSystem Multi-Volt Power Supply is a rack-mounted power supply for multiple low-voltage accessory components. It occupies a single rack space (1U) in a standard 19" rack. The CAPT01 supplies DC voltage for numerous fans, displays, front and rear lights, and powers and/or charges several devices via USB. The unit includes a thermostat kit which monitors the temperature inside the rack and automatically activates the connected cooling fans. The CAPT01 comes with a 6' AC power cord with an IEC 3-pronged plug, and a cable management channel.
Thermostat Kit: The supplied thermostat is housed in a magnetic module that can be attached virtually anywhere inside the rack. It has a 6' cable that connects to the power supply via a 3.5mm miniplug. The CATG01 Temperature Gauge (available separately from the manufacturer) can be connected into the system to display the current ambient temperature. When the ambient temperature inside the rack reaches 85° (+/- 6°), the thermostat sends a triggering signal to the CAPT01, turning on the fans connected through any of the four DC outlets designated for thermostat control. The thermostat will cycle off at 70° (+/- 6°). The module is 1.5" wide x 1.16" high x 1.14" deep.
Dimensions: The CAPT01's dimensions are Width 19" Height 1.75" Depth 4.625" (8" with AC cord).
Connections and Controls: The CAPT01 has the following connections and controls:
Front Panel:

System Power Switch
Rear and Front Light Switches: For rear "Work" light and front "Task" light
USB Charging: 1 Type A USB port (5 Volts, 2.1 A Max)
Always On Power Jack: 5.5mm Outside Diameter (OD), 2.5mm Inside Diameter (ID); 12 Volts, 2.5 A Max
Front Lights Power Jack: 3.5mm OD, 1.3mm ID; 12 Volts, 1.2 A Max

Rear Panel:

USB Charging: 3 Type A USB ports (5 Volts, 2.1 A Max)
Lights: 2 Front and 2 Rear Power Jacks 3.5mm OD, 1.3mm ID, 12 Volts, 1.2 A Max (per jack)
6 Always On Power Jacks: 5.5mm OD, 2.5mm ID, 12 Volts, 2.5 A Max (per jack)
4 Thermostat Controlled Power Jacks: 5.5mm OD, 2.5mm ID, 12 Volts, 2.5 A Max (per jack)
Thermostat Input: 3.5mm minijack
AC Power Input: IEC 3-prong jack; 100-240V AC 50/60 Hz, 3A Max
Work Light Features
CALW01 Work Light: The Sanus CALW01, part of the Sanus EcoSystem, is an LED work light designed for use in an AV rack. The light contains a single row of 21 bright white LEDs for illuminating the rear panel of your rack-mounted components for easy viewing. The CALW01 can be mounted virtually anywhere using the integrated magnets or along the rack rails using the included plastic clips. The clips allow you to mount the light flush against the side of the rack, or at a 45° angle. This package includes two CALW01 LED light strips.
Power Connections: Each CALW01 work light has DC power connectors on both ends, and come with 39" DC power cords. The CALW01 has a 12-volt, 0.14-amp rated input, and plugs into the Sanus CAPT01 Multi-volt Power Supply. Up to three CALW01 light strips can be daisy-chained together from a single power jack. The CALW01 does not have a power switch, but rather is turned on and off by the CAPT01 power supply.
Sanus EcoSystem: The Sanus EcoSystem is a fully customizable accessory that serves as the single power source for all low-voltage equipment in a rack. The CAPT01 MultiVolt Power Supply powers the other rack accessories, including ventilating fans, equipment lights, and temperature gauges.
Dimensions: Tube w/o clips: Length 14.85" Width 0.869" Height 0.676".
Fan Features
CAFQ01-B1: The Sanus CAFQ01-B1 ultra-quiet fan helps to cool the equipment mounted in your A/V rack. Two 4.5" diameter fans are mounted to a triple rack unit (3U) panel (for a standard 19" rack). The fan is powered by the Sanus CAPT01-B1 multi-volt power supply (not included), and is automatically activated by the thermostat kit (included with the power supply) when the interior of the rack exceeds a specified temperature. A 3' DC power wire is included.
Dimensions: Width 19" Height 5.25" Depth 2.137"
Accessory Features
Power Cords: The Sanus 12-volt DC power cords are used to power low voltage accessories in an A/V rack. The Sanus CAPT01-B1 Multi-volt power supply sends 12 volt DC power to work lights and cooling fans via these wires. This package contains two 6' DC power wires with barrel terminals on each end (5.5mm outside diameter, 2.5mm inside diameter).
Rack Screws: The CASC25-B1 is a pack of 25 rack mounting screws. These are standard sized (10-32 x 3/4") rack screws with nylon washers to protect the finish of your A/V components. The screws have a durable black zinc finish with truss heads for easy installation.
Blanking Panel: The Sanus CAVBP2 steel vented blanking panel helps to keep your audio-video components cool by maintaining consistent airflow throughout your AV rack. The panel can be used with any of the rack mounted cooling fans, or as a stand alone vent. The blanking panel occupies two rack spaces (2U) in a standard 19" rack.
The Sanus Rack Kit 2 replaces these items

Adding...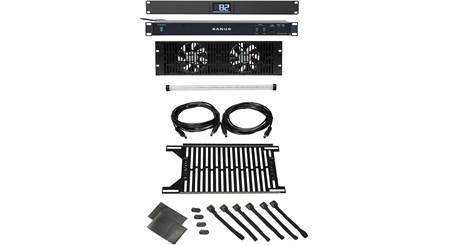 Power supply and conditioner, small parts panel, light, and fan for Sanus component rack
rack-mounted power supply and power conditioner
rack-mounted work light, small parts panel, cooling fan
2 9-foot low-voltage power wires