Audioengine A2+/Music Hall USB-1 Bundle
Versatile desktop record-playing system (High-gloss White)
Item # 700TBLKITW | MFR #
In Stock

Our VirginiaVA-based experts can help.
Overview
Our take on the Audioengine A2+/Music Hall USB-1 Bundle by Crutchfield's Dave Bar
Play your records, and much more
Looking for a system to savor your record collection while keeping things simple and saving space? One that can also deliver impressively rich and robust sound? All you need is a pair of high-quality powered speakers and the right turntable, like Audioengine's A2+ and the Music Hall USB-1. Virtually ready to go right out of the box, this bundle is easy to set up even for a novice. Everything you need to get started is included. Plus, this versatile little system gives you options for enjoying tunes streamed from your computer, as well as transferring your LPs to your computer for easy archiving.
Like a concert on your desktop
Audioengine's A2+ powered speakers will put a big smile on your face with their deeply musical performance, impressive build quality, and attractive, desktop-friendly design. Placed alongside the Music Hall USB-1, these little gems will breathe life into your favorite vinyl LPs. Audioengine also provided the A2+ with audio output jacks that make it easy to add an optional powered subwoofer if you crave more bass.

A musically dynamic duo. Music Hall's USB-1 turntable and Audioengine's A2+ powered speakers (shown with the optional DS1 desktop speaker stands).
No one-trick ponies here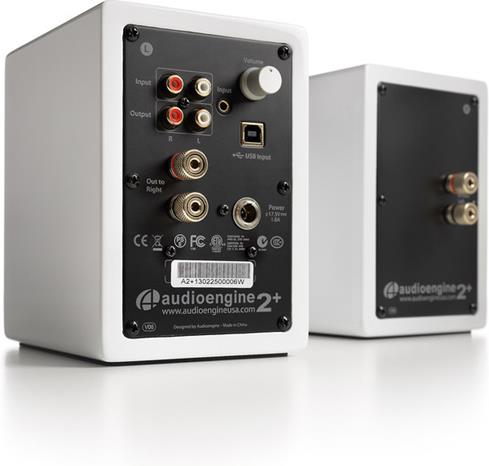 The Audioengine A2+ powered speakers offer flexible connections for hooking up your audio gear.
If all this little system could do was spin vinyl and sound fantastic, it would be well worth the price of admission. But both of these components provide some cool extras that really add to their versatility and value.
A built-in DAC for your computer music sources
The Audioengine's built-in DAC (digital-to-analog converter) and USB port gives you a direct digital connection to your computer. That connection bypasses your computer's built-in sound card and headphone jack circuitry for far greater fidelity from your computer music sources. Plus additional auxiliary inputs allow you to connect other music sources, like a smartphone or tablet.
Get your vinyl into your computer
Along with playing your albums through the Audioengine speakers, the Music Hall's USB output and included software let you plug straight into your PC. This allows you to digitize your record collection and transfer it to your favorite portable player for listening on the go. Now that's a pretty cool thing that any vinyl lover could get behind.
Product Highlights:
all-in-one bundle for high-performance stereo sound from your records, computer, and portable music players
Audioengine A2+:
pair of 2-way powered desktop stereo speakers with 2-3/4" Kevlar mid/woofer and 1" silk dome tweeter
two 15-watt RMS amplifiers built into left speaker
frequency response: 65-22,000 Hz
USB input and built-in digital-to-analog converter lets you bypass your computer's sound card for better sound (works with Mac or PC, no software to install)
minijack stereo input (mini-to-mini cable included)
stereo RCA audio input and output
4-3/16"W x 6-1/4"H x 5-5/8"D (7"D with power cord)
warranty: 3 years
Music Hall USB-1:
manual belt-drive turntable with pre-mounted cartridge, built-in phono preamp, and USB output
playback at 33-1/3 or 45 rpm (45 rpm adapter included)
pitch control with selectable range (±10%)
built-in strobe indicator lamp for speed accuracy verification
includes Audacity recording software for PC and Mac®
17-11/16"W x 6-1/16"H x 14-3/16"D
warranty: 1 year
What's in the Box:
Audioengine A2+/Music Hall USB-1 Bundle Owner's manual
The Audioengine A2+ / Music Hall USB-1 bundle consists of the Audioengine A2+ powered speakers (white) and the Music Hall USB-1 turntable (both individually packaged). The Audioengine A2+ speaker box includes:
Powered left speaker
Passive right speaker
AC power supply (w/ attached 6' DC cord)
6' AC power cord
6.5' Length of 16 gauge speaker wire
5' USB (type-B) to USB (type-A) cable
6' Stereo minijack cable
2 Cloth drawstring speaker pouches
2 Cloth drawstring accessory pouches
Setup guide
Audioengine product brochure
The Audioengine A2+ speaker box includes:
Turntable
Headshell/Cartridge (MM)
Platter
Felt mat
45 RPM adapter
Counter-weight
Dust cover
37" Stereo RCA cable
6.5 USB (type-B) to USB (type-A) cable
Audacity USB Recording/Sound Editing Software CD-ROM
Instruction Manual
Why Shop
With Us?
12 Reasons.
---
Details
Features and Specs
Features
Operation
Manual
Speeds
33-1/3, 45
Cartridge Type
MM
Phono Preamp
Built-in
USB Output
Yes
Pitch Control
Yes
45 RPM Adapter
Yes
Specs
Signal to Noise Ratio
50
Wow and Flutter
0.25
Weight
9.7 lbs.
Product Research
Turntable Features
Powered Speakers Features
Turntable Features
Overview: The Music Hall USB-1 turntable not only lets you enjoy your vinyl collection through your home stereo, but also download your vinyl music collection to your computer. It has a built-in phono preamp, cartridge, and dust cover; as well as includes all necessary cables and software required for simple connection and operation.
2-Speed, Belt-Drive Turntable: The Music Hall USB-1 is an extremely quiet belt-driven, 2-speed turntable which supports 33-1/3 and 45 rpm playback speeds. A 45 rpm adapter is included.
Aluminum Die-Cast Platter: The Music Hall USB-1 turntable features an aluminum die-cast platter and comes with a felt mat.
MM Phono Cartridge: The USB-1 turntable includes an Audio Technica AT3600L moving-magnet cartridge.
S-Shaped Tone-Arm: The Music Hall turntable features a static balanced S-shaped tone-arm w/ detachable head shell.
Anti-Skating & Pitch Controls: The turntable offers anti-skating control for increased stereo balance and adjustable pitch control (+/-10%).
Analog Output via Built-in Phono Amp or Direct Line Output: The turntable's stereo RCA output is able to switch to Phono output or Line output. The built-in phono equalizer preamp allows you to connect the turntable to an integrated amp or receiver that does not have a dedicated phono input. This is a feature that can be turned off when using a receiver with a phono input.
USB Output w/ Free Software: The Music Hall USB-1 turntable is fitted with a USB (type-B) port and comes with a USB cable to connect to your Windows PC or Mac computer. The included Audacity software lets you convert your vinyl records over to PC or Mac. Music files are recorded in MP3 (16-bit, 44.1khz or 48kHz). The included software supports Windows XP and above, as well as MAC OSX.
Dust Cover: The Music Hall USB-1 comes supplied with a dust cover to prevent dust build-up on the turntable.
4 Self-Adjusting Feet: The Music Hall USB-1 features four self-adjusting feet to make sure the turntable is positioned correctly.
Turntable Specifications:
Type: 2-speed full manual
Motor: DC motor
Driving Method: Belt drive
Turntable Platter: 330mm diameter Aluminum
Speeds: 33-1/3 and 45 rpm
Wow & Flutter: Less than 0.25% WRMS w/ 33-1/3 rpm
S/N Ratio: More than 50dB (DIN-B)
Pitch Controls: +/-10%
Starting Time: Less than 1 sec. w/ 33-1/3 rpm
Braking Time: Less than 1 sec. w/ 33-1/3 rpm
Time for Speed Change: Less than 1 sec.
Speed Tolerance: Within +/-1.3%
USB Function: USB 1.1 Compliant for Windows XP or MAC OSX (16-bit, 44.1k or 48kHz selectable)
Tone-Arm Specs:
Type: Static balanced S-shaped tone-arm w/ detachable headshell
Effective Arm Length: 220mm
Tracking Error Angle: Less than 3-degrees
Applicable Cartridge Weight: 6-10g
Anti-Skating Range: 0-4g
Phono Output Level: 1.5-3.6 mV at 1kHz 5cm/sec (HP-4005)
Line Output Level: 90-216mV at 1kHz 5cm/sec (HP-4005)
Frequency Response: 20-20kHz
Channel Separation: More than 15dB
Needle Pressure Range: 3-4g
High of Cue (1st track): 6-10.5mm
Descend of Cue: 1-3 sec.
EQ Amp:
Output: 150mV +/-4dB (In: 2.5mV, 1kHz)
RIAA: 20-20kHz, +1/-3dB (In: 1.5mV, 1kHz)
Dimensions:
Dust Cover Closed: 17.6875" (w) x 6.0625" (h) x 14.1875" (d)
Dust Cover Open: 17.6875" (w) x 15.6875" (h) x 15.75" (d)
Weight: 9.7 lbs
Powered Speakers Features
Two-Way Speaker System: Each of the Audioengine 2+ speakers has two drivers; a 3/4" silk dome tweeter and a 2.75" Kevlar woofer. The A2+ provides a real, natural sound; very near to the originally-recorded music. The A2+ has a frequency response of 65Hz to 22,000Hz (+/-2dB). Dimensions: Width 4.1875" Height 6.25", Depth 6.625", Weight 4 pounds.
Silk Dome Tweeters: Audioengine uses audiophile-quality, ferro-fluid cooled silk dome tweeters with neodymium magnets. Silk tweeters hold up well under high power and the edge-driven design gives very smooth response.
Kevlar Woofers: The woofers are made of Kevlar woven glass aramid composite with rubber surrounds. Kevlar is very strong, which means that the woofer retains its shape when being driven at high levels.
Built-in Amplifier: The A2+ is powered by a 15-watt RMS x 2ch amplifier (SNR: >95dB, THD: <0.05%), built into the left speaker. The built-in power amplifier saves space and eliminates the need to connect Audioengine 2+ to a stereo receiver or external power amp. Simply plug the left speaker into an AC outlet and connect the included 6.5' speaker wire from the left speaker's binding-post terminal to right speaker's binding post terminals. All internal components of the 2+ are tuned together, providing a more efficient system requiring less power than passive speakers and amplifiers.
Note: With the amplifier built-in, the left speaker is heavier than the right (4 lbs vs. 3 lbs).
Bass Reflex MDF Cabinet: One of the reasons the Audioengine 2+ has such great bass response for a compact speaker is its slot-ported cabinet. Each cabinet features a front-firing slot-port that has been specifically tuned for accurate bass down to 65Hz. The result is incredible low end with minimal audible air turbulence, so you can use the Audioengine 2+ speakers with or without a separate subwoofer. The cabinets are built using 18mm MDF with internal bracing. Internal sound-damping material reduces unwanted reflections inside the cabinet. The cabinet edges are rounded to reduce high-frequency diffraction effects on the front baffles. The speakers are hand finished, then tuned and tested together to be sold in matching pairs.
Note: The speaker materials and construction are robust and extremely durable, so speaker grilles aren't needed.
USB (type-B) port + TI/Burr Brown DAC: The Audioengine 2+ is fitted with a USB (type-B) port and features a built-in TI/Burr Brown PCM2704C DAC. With its USB (type-B) port and built-in digital-to-analog converter (DAC), the Audioengine 2+ allows you to send high-quality digital audio directly from your Windows or Mac computer's USB port. The A2+ internal DAC handles up to 48kHz/16-bit music files.
Analog Audio Inputs: The A2+ has two stereo audio inputs on the rear-panel of left speaker. The A2+ is fitted with a 3.5mm stereo minijack input and a stereo RCA input. There is no input selector switch, so both inputs are live simultaneously; if different signals are presented to both inputs, they are mixed together and both are played through the speakers.
Variable Audio Output: The Audioengine 2+ includes a variable stereo preamp audio output so you can connect a powered subwoofer (such as the Audioengine S8; sold separately), other Audioengine powered speakers, or an Audioengine wireless adapter to daisy-chaining music to other systems around the house. This output is variable (adjustable) so the volume level can be controlled from the A2+ or remote control.
Optional Wireless Adapters: Audioengine offers the W3 wireless adapter (sold separately) that can be used with the A2+ powered speakers and its analog audio input or output. The W3 includes a Sender (transmitter) and Receiver; the system is designed to deliver an audio signal wirelessly between your source component and the A2+ powered speaker, or between the A2+ powered speaker and your powered subwoofer (sold separately).
Mounting Options: Both speakers have a high-density foam isolation pad on the bottom for safe placement on your desk, stand, table, or shelf. The optional DS1 Desktop Stands (sold separately), made of high-performance silicone rubber, angle the A2+ speakers upward at approximately 15° and add 1-3/4" the the height (for 8" total). Threaded brass inserts are found on the bottom each speaker cabinet to provide the ability to attach the speaker to free-standing floor stands or articulating wall-mount brackets (sold separately). Audioengine recommends placing the speakers at least 3" from the back wall for best audio performance.
Note: Both drivers (woofer and tweeter) are directly video shielded and allow you to place the speakers within a few inches of a video monitor. This shielding also offers protection for hard-drive digital music players.
External AC Power Supply: The Audioengine A2+ operates off of standard household current using the included AC power adapter and detachable power cord. The AC power adapter plugs into the left powered speaker and the included speaker wire is used to connect the right passive speaker. An auto-standby idle mode is also featured to conserve power when you're not playing music.
Our Product Research Team
At Crutchfield, you'll get detailed, accurate information that's hard to find elsewhere. That's because we have our own in-house Product Research team. They verify what's in the box, check the owner's manual, and record dimensions, features and specs. We stay on top of new products and technologies to help people make informed choices.
Q & A
Customer Q&A
Crutchfield asked


Why did you buy this?
Lots of cheap record players our there. This one looks like quality. But the main selling point is the combo with the powered speakers. Needed a turnkey stand-alone system for my father.

[ Robert Jun 11, 2016 ]
4 questions already asked