About the DJI Tello Colorful Bundle
An entry-level drone with style and substance
This DJI Tello bundle offers a cost-effective way to learn the ropes of drone piloting and have a little fun while you're at it. You get the
Tello drone
, plus a replacement battery so you can stay in the air longer, two replacement propellers, and a colorful snap-on cover that lets you add a little style to your flying machine.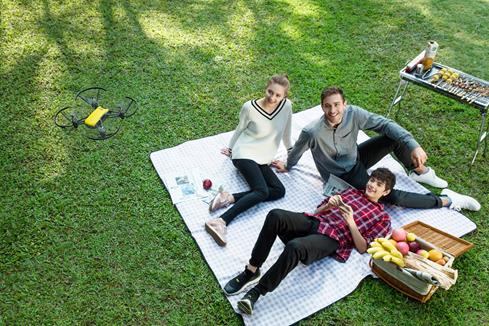 The DJI Tello quadcopter lets you take awesome aerial photos (delicious picnic spread not included).
An entry-level drone with style and substance
This DJI Tello bundle offers a cost-effective way to learn the ropes of drone piloting and have a little fun while you're at it. You get the Tello drone, plus a replacement battery so you can stay in the air longer, two replacement propellers, and a colorful snap-on cover that lets you add a little style to your flying machine.
Launch, fly, and land easily
The Tello quadcopter couldn't be easier to launch: when it's active, all you have to do is toss it in the air and it starts hovering. Install the free DJI Tello app on your smartphone, and you can slide your finger on the screen to learn the drone's basic flight characteristics, or cause it to perform fun flips and other advanced aerial maneuvers. Then, just tap the screen to bring the 'copter gently back down to earth.
Safety first
DJI had safety in mind when they designed the Tello. Included propeller guards protect fingers and faces against accidents, and a built-in collision detection system helps keep the drone from crashing while you're learning the controls. There's also a low battery warning, precise vision positioning system, and a fail-safe that lands the drone safely even if your remote control loses connection.
Convenient app and basic coding options
DJI combines fun and education in the free app, which features a user-friendly interface and handy instructions to help you get started. Tello is also compatible with Scratch, a simple coding system developed by MIT that lets kids and adults alike learn how to write custom programs for drones.
READ LESS
Product highlights:
includes quadcopter, extra battery, two replacement propellers and colorful snap-on cover
DJI Tello Drone:
mini remote-controlled flying drone with HD video camera
built-in camera takes 5-megapixel stills and shoots 720p video
electronic image stabilization keeps your video and stills looking sharp
EZ Shots lets you record short videos using Circle, 360, and Up and Away modes
13 minutes of flight time per rechargeable battery
throw and go: toss Tello in the air to launch
slide a finger on your mobile device screen to perform cool aerial stunts
bounce mode: Tello flies up and down from your open palm
obstacle-sensing technology helps avoid collisions
low battery indicator
lands safely and automatically if you lose remote control connection
two antennas with smart switching for stable video transmission
transmits clear 720p video from over 300 feet away
compatible with Scratch custom programming
warranty: 1 year
No charger included — charges via standard micro USB power adapter
What's in the box:
DJI Tello Colorful Bundle owner's manual
The DJI Tello Colorful Bundle consists of the Tello mini-drone with a spare battery - extra propellers - and a yellow top cover (all individually packaged).
The Tello drone box includes:
Mini-drone
Rechargeable battery
8 Propellers (4 pre-installed)
4 Propeller guards (pre-installed)
Propeller removal tool
Quick Start Guide
The separately packaged accessories include:
Rechargeable lithium-ion battery
4 Propellers
Snap-on top cover (yellow)
DJI Tello Colorful Bundle reviews
Average review:
Thanks for submitting your review
Most reviews are processed and published within 5 business days. You will receive a confirmation email once your review has been published.
Customer photos
More details on the DJI Tello Colorful Bundle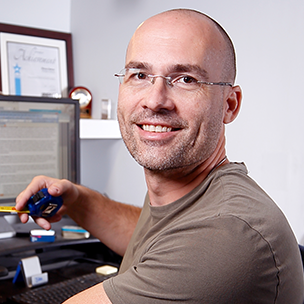 Researched by Crutchfield's

Stacey B.
Product Research
Features
Bundle Overview: This DJI Tello Colorful Bundle consists of the DJI Tello mini-drone, with a spare battery, extra propellers, and a yellow snap-on cover.
Aerial Mini-Drone: The DJI Tello is an aerial mini-drone that features a Vision Positioning System, an onboard camera, and simple control through the Tello app on your compatible Apple iOS or Android OS device. The Tello is safe to fly indoors and outdoors under windless conditions. The Tello also is not waterproof and should not be flown in raining or snowy conditions.
Vision Positioning System: The Vision Positioning System helps the Tello aerial mini-drone to maintain its current position. With the help of the Vision Positioning System, the Tello can hover in place more precisely and fly indoors or outdoors in windless conditions. The main components of the Vision Positioning System are a camera and a 3D infrared module located on the underside of the aircraft.
Note: The Vision Positioning System is activated automatically when the aircraft is turned on. No further action is required. The Vision Positioning System is only effective when the aircraft is at altitudes of 1'-32.8' (0.3-10 m) and works best at altitudes of 1' to 19.7' (0.3 to 6 m). If the aircraft is beyond this range, the Vision Positioning function may be affected, so extra caution is required.
Simple Control: The Tello from DJI can be controlled using the virtual joysticks in the Tello app or using a compatible remote controller.
Tello App: You can control the Tello mini-drone directly via the Tello app (for Apple iOS 9.0+ and Android OS 4.4+) on your compatible Apple iOS or Android device. Use the Tello app to control the aircraft's flight pattern, record videos, capture photos, and update firmware.
Optional Controllers: In addition to the Tello app on your compatible Apple iOS or Android device, you can control the Tello from a supported Bluetooth remote controller connected to the Tello app on your mobile device. Compatible Bluetooth remote controllers include the GameSir T1d controller (sold separately). The GameSir T1d controller still uses your mobile device as your flight screen.
Flight Modes: In addition to manual flight control, the Tello from DJI has various Intelligent Flight Modes that can be used to make the aerial mini-drone perform maneuvers automatically. The Tello also has a flight mode that it falls back to in certain circumstances.
Manual Mode: In manual mode, the Tello Apps virtual joysticks are used to control the aircrafts orientation (yaw), forward/ backward movement (pitch), altitude (throttle), and left/right movement (roll). The Tello has two flight speeds (Slow or Fast) that you can select when flying the aircraft manually. The Slow mode offers a maximum flight attitude angle of 9° and a maximum flight speed of 8.9 mph (14.4 kph). The Fast mode provides a maximum flight attitude angle of 25° and a maximum flight speed of 17.8 mps (28.8 kph).
Intelligent Flight Modes: Intelligent Flight Modes include Bounce mode, 8D Flips mode, and Throw & Go mode. To use an Intelligent Flight Mode, ensure that the aircraft's battery level is at least 50%.

Bounce Mode: In Bounce mode, the aircraft automatically flies up and down between 1.6'-3.9' (0.5-1.2
m) above a flat surface. If the aircraft detects an object below it (such as your hand) it increases its altitude then continues flying up and down.
8D Flips: In 8D Flips mode, the aircraft automatically flips in one of eight different directions.
Throw & Go: The Throw & Go mode lets you launch the aircraft by gently throwing it into the air.

Attitude Mode: The aircraft automatically changes to Attitude mode (ATTI mode) when the Vision Positioning System is unavailable. In Attitude mode the aircraft is not able to position itself and so is easily affected by its surroundings. Environmental factors such as wind can result in horizontal shifting, which may present hazards, especially when flying in confined spaces. When the aircraft enters Attitude mode, land in a safe place as soon as possible to avoid hazards.
Note: Ensure that all flights are carried out indoors or in an open area with no wind. The flight altitude is limited to 32.8' (10 m) and flight distance is limited to 328' (100 m).
Auto Take-Off & Landing: There are two auto landing modes - Tap to Land and PalmLand. In Tap to Land mode, the aircraft lands automatically. To use the PalmLand mode, place your palm under the aircraft, then tap to confirm and the aircraft will land on your palm and stop its motors.
Note: Only land the aircraft on flat surfaces. Do not land the aircraft over water, grass or sand. When using PalmLand, ensure your palm is right under the aircraft and keep your palm flat.
Built-in Camera: The Tello's built-in camera with high-quality image processor captures 2592 x 1936 (5MP) photos and 1280 x 720 (720p) videos. The Tello's Electronic Image Stabilization feature enables it to consistently capture clear images. The photos and videos can be viewed in the Tello app and copied to a folder in your mobile device (you can export files from your compatible mobile device as needed). Maximum video transmission range is approximately (328') 100m, but that range may vary according to your environment
Note: The Tello does not offer an internal memory to store photos and videos. It also does not support external memory cards.
EZ Shots: With EZ Shots, you can fly in three specific patterns while recording short videos.
360° Mode: In 360 mode, the aircraft records a short video while rotating 360°.
Circle Mode: In Circle mode, the aircraft records a short video while flying in a circle.
Up & Away Mode: In Up & Away mode, the aircraft records a short video while flying upward and backward.
Propeller Guards: The Tello Propeller Guards can be used to reduce the risk of harm or damage to people or objects resulting from accidental collisions with Tello aircraft.
Rechargeable Battery: The Tello is powered by a rechargeable Lithium-polymer (LiPo) battery which provides up to 13 minutes of flight time. You can charge the battery inside the Tello via the microUSB port on the aircraft using an external USB/AC power adapter (sold separately). You can charge multiple Tello batteries using the Tello Battery Charging Hub (sold separately) and a USB/AC power adapter (sold separately).
Capacity: 1100 mAh
Voltage: 3.8 V
Energy: 4.18 Wh
Note: Maximum flight time was tested in windless conditions flying at a consistent 9 mph.
Programming: The Tello is programmable with Scratch, an MIT-developed coding system that allows you to learn the basics of programming. If you're a more advanced user, you can also develop software applications for the Tello using the Tello SDK.
Firmware Updates: You can update the Tello's firmware via the Tello app on your Apple iOS or Android device.
FAA Rules & Regulations: Please familiarize yourself with the FAA's rules & regulations for unmanned aircraft systems before flying your drone. Click here for more details.