About the Philips Hue TV Light Package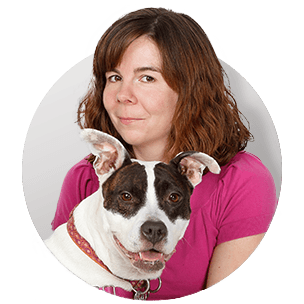 An immersive lighting package
This kit includes everything you need to add dramatic lighting to your home theater or gaming area. The Philips Hue Play Gradient Lightstrip gives you color-changing ambient light, and when combined with the included Bridge and HDMI sync box, it can mimic and extend what's on your screen.
An immersive lighting package
This kit includes everything you need to add dramatic lighting to your home theater or gaming area. The Philips Hue Play Gradient Lightstrip gives you color-changing ambient light, and when combined with the included Bridge and HDMI sync box, it can mimic and extend what's on your screen.
Your home theater can take on the warm vibrance of a beach sunset. The blue glow of a haunted house can extend its creepy tendrils into your living room. The possibilities are almost endless.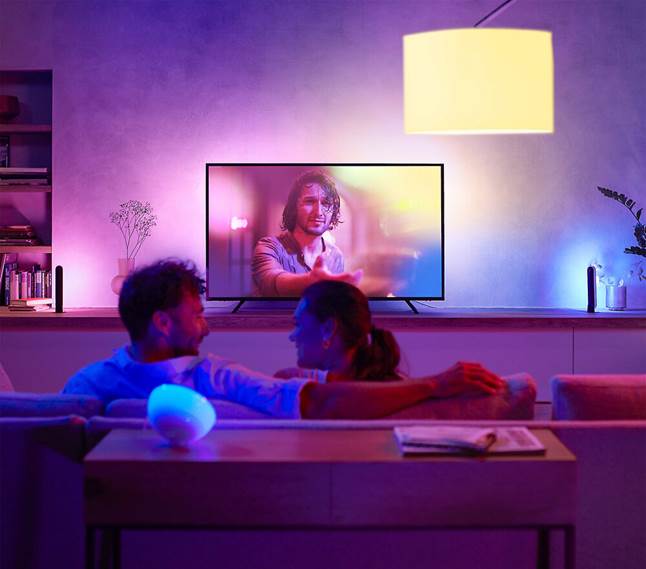 Create an even more immersive lighting experience by adding additional Hue colored lights to your entertainment area (sold separately).
Dual app control
You can select color, brightness, and scenes for your light strip with the Philips Hue app. And when you plug your sources into the Philips Hue Play HDMI Sync Box, your lighting will react to your content. To do that, you'll create a new "entertainment area" in the Hue app and control light automation parameters with the Hue Sync app.
The light strip can also be set to react to music. Sync it with other Hue color-changing lights in a group and you can throw an impromptu dance party.
Made for TV
The light strip mounts to the back of your TV with the included brackets. Stick the adhesive-backed clips onto your TV — it helps to lay it flat on the floor for installation — then fit the light strip into the channels following the included instructions. The Gradient will cover three out of four sides behind your screen — top, left, and right.
READ LESS
Product highlights:
includes Philips Hue Play Gradient Lightstrip for 65" TV, Bridge, and HDMI Sync Box
adds immersive lighting effects to your TV or gaming area
compatible with:
Play Gradient Lighstrip
ambient, reactive light strip for TVs 65"-70"
easy to mount with the included adhesive-backed clips
millions of tunable colors
white color temperature: 2000-6500K
20 watts
adjustable brightness up to 1100 lumens
rated for approximately 25,000 hours of use
5/8"W x 5/8"H x 110"L
Philips Hue Bridge
Zigbee Light link protocol 1.0 certified
controls up to 50 Hue bulbs and 12 lighting accessories
3-9/16"W x 3-9/16"W x 1-1/16"D
Philips Hue Play HDMI Sync Box
will not work with a TV's internal smart apps; to sync with streaming content you'll need a streaming media player
four HDMI 2.0b inputs for a gaming console, streaming device, Blu-ray player, and more
one HDMI output to your TV
supports HDR (High Dynamic Range) content including HDR10, HDR10+, and Dolby Vision
supports video resolution up to 4K at 60Hz
built-in 2.4GHz Wi-Fi (802.11 b/g/n)
control with Philips Hue Sync app and Philips Hue app
7-1/8"W x 15/16"H x 3-15/16"D
Other info:
What's in the box:
The Philips Hue TV Light Package consists of three separately-packaged products:
The Hue Play Gradient Lightstrip for 65" TVs box includes:
110" Lightstrip for 65" TV with 6" pigtail (4-pin connector)
AC adapter with DC barrel output (DC output: 24V 0.83A)
2-Prong AC plug adapter
59" DC power cord (barrel connectors on both ends)
Wi-Fi light controller (DC barrel connector on one end and 4-pin connector on other end)
2 Adhesive-backed corner mounting clips
3 Adhesive-backed straight mounting clips
Installation Guide (A)
Safety Instruction (B)
The Hue Play HDMI Sync Box box includes:
HDMI sync box
AC adapter with 3 DC barrel outputs (DC output: 24V 0.83A)
2-prong AC plug adapter
4' DC power cord (barrel connectors on both ends)
39" HDMI cable
User Manual
FCC statement
The Hue Bridge box includes:
Hue Bridge (Gen 2)
AC adapter with attached 70" DC output cord (DC output: 5V 2A)
US 2-pronged adapter
39" Ethernet cable (RJ45 plugs on each end)
World of Hue booklet
Operating Instructions
AC plug instructions
Philips Hue TV Light Package reviews
Average review:
Thanks for submitting your review
Most reviews are processed and published within 5 business days. You will receive a confirmation email once your review has been published.
Customer photos
This review was collected as part of a promotion
More details on the Philips Hue TV Light Package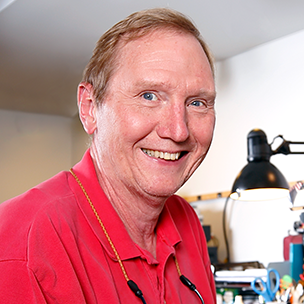 Researched by Crutchfield's

Mark G.
Product Research
Features
Bundle Overview: The Philips Hue TV Light Package contains a Play Gradient Lightstrip, a Play HDMI Sync Box, and the Hue Wireless Bridge. Together they enhance your TV and movie watching experience by surrounding your TV screen with color that is synchronized with the action on the screen. The flexible lightstrip mounts to the rear of your TV and creates a unique lighting effect. You will need to download the free Hue Sync app for mobile devices to control the components in this package.
Gradient Lightstrip (65"): The Play Gradient Lightstrip is designed for 65" to 70" wall-mounted or standing TVs. The strip is "quarter round" shaped (0.6" x 0.6") and 110" in length with a 6" power pigtail. It mounts across the top and down each side of the TV and projects colored light onto the wall behind. Unlike the Hue Lightstrip Plus, which can illuminate only one color at a time, the Gradient Lightstrip can produce multiple colors simultaneously, and blend colors together so they flow naturally into one another. The strip's pigtail plugs into the Wi-Fi controller, and is powered by the included 20-watt power supply. The controller wirelessly connects to the Hue Bridge and HDMI Sync Box which synchronizes the colors to the content on the screen.
Lightstrip Installation: The Gradient Lightstrip comes with five 3M adhesive-backed mounting clips to attach the strip to the back of your TV. Two of the clips are designed for the upper corners, while the straight clips are for the top center and lower left and right corners (ends). You should avoid covering up the speakers or ventilation slots on the back of the TV. The end with the controller/power connection should be installed on the lower right corner in order for the light colors to match the colors on the screen.
HDMI Sync Box: The HDMI Sync Box enhances your TV experience by synchronizing your color-capable Philips Hue lights with the content on the screen. You can connect up to four HDMI devices to the box, including set-top boxes, Blu-ray players, game consoles, and streaming sticks, then connect the box to your TV. Your Gradient Lightstrip and other Philips Hue lights will dance, flash, dim, brighten, and change color along with the action on the screen. You can control the HDMI Sync Box on your smartphone or tablet using the Philips Hue Sync app, or use your voice or TV remote. The Sync Box connects wirelessly to the Philips Hue bridge. Dimensions: Width 7.074", Height 0.923", Depth 3.885"; Weight 1 pound.
HDMI Sync: The Play HDMI Sync Box is equipped with four HDMI inputs and one HDMI output. The HDMI ports support HDMI version 2.0b with HDCP 2.2, and video resolutions up to 4K 60Hz, with HDR10+, Dolby Vision and Dolby Atmos. The box supports HDMI devices, such as Apple TV and Chromecast, which support subscription services like Netflix, Amazon Prime, HBO, and Spotify. It is compatible with HDMI-based gaming consoles, including PlayStation and Xbox. The Sync Box automatically detects which input is actively playing and switches to it. It does not work with Smart TV apps which run directly on the TV.
Compatible Devices: The following TVs have been tested for compatibility to the Play HDMI Sync Box and Dolby Vision: LG (2017 and later), Sony, Vizio (2018 and later), TCL (2018 and later), Panasonic, and Philips. HDMI sources that support Dolby Vision include: Apple TV 4K, FireTV 4K, Chromecast Ultra, Nvidia Shield (2019 models), and Xbox One S/X (only apps).
Light Sync: The Sync Box reads the HDMI signals from your video sources and sends them to your Gradient Lightstrip and other Hue Color Ambiance lights (up to 10). The Sync Box is particularly effective with Hue Play lights, including Play Gradient Lightstrips and Light Bars, that mount behind your TV to paint your walls with colored light. As you watch TV shows and movies, the on-screen action directs the lights to enhance the mood. The lights amplify every in-game car chase or explosions when you're on your game console. If you're listening to music, the Sync Box heightens the music's intensity or creates a romantic atmosphere with light.
Bridge: The Philips Hue Bridge is the central part of the Philips Personal Wireless Lighting system. When used with Philips Hue products and the Philips Hue app, you can control the lights in your home wirelessly from your smartphone or tablet. You can set up light schedules, control the lights when you're away from home, and even change the color of the lights to match your mood. Up to a maximum of 50 Philips Hue products that can be controlled by a single bridge. The Hue bridge can be wall-mounted or placed on a desktop. It connects to your router via the included Ethernet cable, and communicates wirelessly to your smartphone or tablet and the Hue lighting products. It operates on the 2.4GHz band, and Zigbee Light link protocol, and comes with a AC adapter with a 5V 2A DC output. Dimensions: Width 3.547", Height 3.547", Depth 1.044"; Weight 9.88 ounces.
Philips Hue Sync Mobile App: The special Hue Sync mobile app (different from the regular Philips Hue app) helps you set up, configure, and use the Play Gradient Lightstrip and the Play HDMI Sync Box. In the app, you can sync up to 10 color-capable Hue lights, control the brightness and speed of the light effects, and switch between video, game, and audio modes. The Hue Sync desktop app does not work with the Play HDMI Sync Box--you must use the Hue Sync mobile app. The Hue Sync app is available for free download for Apple iPhone/iPad/iPod touch with iOS 12.0 or later, and Android devices running version 7.0 and up.
Voice Control: The Philips Hue Play Gradient Lightstrip and HDMI Sync Box can be controlled by voice commands through your favorite Virtual Assistant. The lightstrip is compatible with Siri (Apple HomeKit), Amazon Alexa, and Google Assistant.