Klipsch Reference Premiere RP-8000F
Floor-standing speaker (Ebony)
California customers: Please click here for your Proposition 65 warning.
Item # 714RP8000E | MFR # 1065795
Out of Stock
Ship date unknown Reserve yours risk-free Email me when available
Was: $599.99
Sale: -$120.00

Our VirginiaVA-based experts can help.
Overview
Our take on the Klipsch Reference Premiere RP-8000F by Crutchfield's Kramer Crane
Flagship tower performance
You'd be hard-pressed to find a series of speakers more popular with our customers over the years than Klipsch Reference Premiere. And there's a good reason for that: they deliver dynamic, high-impact sound that brings movies and music to life. The RP-8000F is the flagship tower in the company's new Reference Premiere lineup, and features two 8" spun-copper woofers for deep, powerful bass and midrange. It also sports Klipsch's signature 1" horn-loaded tweeter for smooth, detailed highs.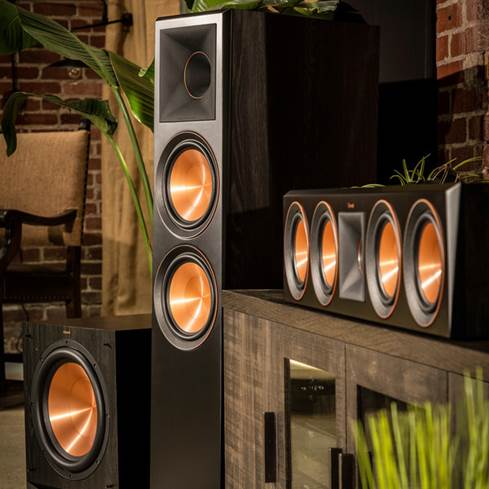 Use the RP-8000F floor-standing speaker as part of a high-impact Klipsch home theater system.
Hybrid horn technology for dynamic performance
Horn technology is one of Klipsch's long-standing hallmarks. Flared openings in the speaker cabinet project sound waves toward your listening area and prevent them from simply spilling out in all directions. This design reduces reflections that can color the sound, and boosts dynamics and efficiency for powerful, "front row" sound that remains crystal-clear at all volume levels.
Klipsch's Tractrix® horn features a circular throat around an advanced titanium diaphragm tweeter that transitions into a square 90º x 90º mouth. This unique shape provides a cleaner, more efficient transition of sound waves into your listening space. The result is a wide listening "sweet spot" with precise placement of instruments and vocals.
A horn that enhances bass, too
Take a look at the back of the RP-8000F and you'll find that instead of the conventional round port tube found on many speakers, Klipsch uses a Tractrix horn-shaped opening for smoother, more efficient airflow in and out of the cabinet. The resulting decrease in air turbulence makes for cleaner, more powerful bass with reduced port noise and low-frequency distortion.
Because this speaker is rear-ported, I recommend pulling it away from your wall to give it room to "breathe."
Bi-amp or bi-wire for even better sound
On the back of the RP-8000F you'll find two sets of speaker input terminals. These let you bi-amp or bi-wire your speaker to get the best sound out of it.
Product Highlights:
1" LTS (Linear Travel Suspension) titanium diaphragm tweeter with Tractrix® horn
dual 8" Cerametallic™ cone woofers with rigid and lightweight voice coils
frequency response: 32-25,000 Hz (±3dB)
sensitivity: 98 dB
power handling: up to 150 watts RMS (600 watts peak)
impedance: 8 ohms compatible
bass-reflex design with rear-firing Tractrix port
magnetically attached grille for a clean, streamlined look
ebony vinyl finish with scratch-resistant design
5-way binding post speaker terminals

two sets of input terminals allow bi-amping or bi-wiring

10-15/16"W x 43-1/8"H x 17-9/16"D
weight: 60 lbs.
warranty: 5 years
The speakers sounds good!

Jim, Decorah, IA
Why Shop
With Us?
12 Reasons.
---
Reviews
Klipsch Reference Premiere RP-8000F Reviews
Average Customer Review(s):
Klipsch Reference Premiere RP-8000F
Jim from Decorah, IA on 2/18/2019
Crutchfield Customer Review
(
What's this?
)
The speakers sounds good!

Pros:

Cons:
Thanks Stone for your guidance. This setup is amazing.
JOHN from West Chester, PA on 2/12/2019
My first impression was Kenny Burrell, sweet and clean, went on to Segovia, crisp and clear now on Bach Organ Fugues. This is where it is amazing. Why have I traveled the world to listen to great organ concerts when I can now hear them at home? Like some great cathedrals, the bass pedals approach you from behind, you can feel it in your bones, the changing of registers are solidly defined, the voicing's have such clear definition. Intricate compositions are solid, clear, you notice the bar adjustment on the stops. You breathe with the pipes. I am simply dying to crank the hell out of them with my Rolling Stones Satisfaction, just can't find the CD. Yes, I also have them hooked up to the tv, and they work great. For this setup i am using a Marantz SR6001 (old, powerful, full thick amp); Klipsch Sub Woofer: R100-SW and Klipsch Center Speaker: R 440C. No rear speakers in this setup, I am sure that would be an excellent addition, but this is mostly for music reproduction.

Pros: Your ears will tell you

Cons: I am sorry I did not put together a Klipsch collection together sooner.
Klipsch Reference Premiere RP-8000F
Chris from Newark, DE on 1/31/2019
Crutchfield Customer Review
(
What's this?
)
Great Sound quality, dynamic range and clarity. I would still suggest adding a sub to the set up. Deep punchy bass great for movies but for music the sub would complete full range

Pros:

Cons:
Klipsch Reference Premiere RP-8000F
Crutchfield customer from Clinton Twp, MI on 1/11/2019
Crutchfield Customer Review
(
What's this?
)
Still evaluating

Pros:

Cons:
Elegant look, awesome sound
Tyler from Panama City, FL on 12/27/2018
Crutchfield Customer Review
(
What's this?
)
These speakers look and sound awesome. I have them hooked up to a Denon AVR-X2400H Receiver and have had no problems thus-far. My only gripe is that these speakers are HUGE, knowing the dimensions ahead of time didn't really prepare me for how large they are in person. My wife was not happy putting them in our family room but I guess forgiveness is easier than permisson.

Pros: Fantastic sound, good bass response w/o subwoofer, attractive finish

Cons: Giant footprint.
Nathan from Cincinnati, OH on 12/22/2018
Crutchfield Customer Review
(
What's this?
)
I am really surprised with this revision to the Tractrix horn and updated acoustical properties of this new cabinet. The RP-8000Fs have delivered some of the greatest music listening experiences since they were set up. It is easy to see why Klipsch is the choice of music lovers everywhere. True to the Klipsch philosophy, Paul W Klipsch would be proud of these. They easily live up to his motto of "No BS" Having owned Klipsch Reference Series speakers since their introduction I am very extremely impressed with this model. Horns have always been efficient by design, creating tremendous volume with very little power.

Pros: Loud and Efficient Updated cabinet and acoustics (less distortion) Beautiful black and copper design

Cons: Not a fan of the staggered terminal/posts
Philip from Saint Johns, FL on 12/11/2018
Crutchfield Customer Review
(
What's this?
)
Clean and beautiful.

Pros: Impressive sound and beautiful.

Cons: Might be too tall for some TV set ups
Reference premiere- klipsch
Anthony from Charlotte, NC on 12/11/2018
Great speakers and they carry base WELL. No subs needed.

Pros: Everything

Cons: None
Klipsch Reference Premiere RP-8000F
Crutchfield customer from Gering, NE on 12/9/2018
Crutchfield Customer Review
(
What's this?
)
Love these!!! Great sound!!

Pros:

Cons:
Klipsch Reference Premiere RP-8000F
Crutchfield customer from Kingsport, TN on 12/9/2018
Crutchfield Customer Review
(
What's this?
)
These are replacing an older pair of RF52 towers. The RP8000s have a much clearer deeper sound than my old speakers. It is a night and day comparison. I didn't know my current speakers were lacking until the new ones arrived. Now i need to upgrade my center speaker to the RP504c as soon as Crutchfield has a sale.

Pros:

Cons:
Carl from Lake City, Florida on 12/7/2018
Crutchfield Customer Review
(
What's this?
)
I've had all Klipsch for the past 12 years. Got two of these RP-8000F recently. Wow look and just listen to them. They are so great sounding. Two eight inche woofers and a tweeter gives a lot of booming sound. The cabinet finish is excellent - nice quality workmenship by Klipsch. Breathing hole in the back. Cranked them up and my dog even rattled in the back room. Thank you crutchfield.

Pros: Great Sound and great workmenship

Cons: Blow ya outa the room if not careful
Klipsch Reference Premiere RP-8000F
Peter from Brooklyn, NY on 12/6/2018
Crutchfield Customer Review
(
What's this?
)
Incredible have had a lot of speaker over the last 40 years and everything from the Beatles to linkin park sound great. I did biamp them. Thank you crutchfield as usual top notch service.

Pros: Cabinet, sound,loud and clear

Cons: Slow break in roughly 30 hours but worth it. Some say no break in needed but better safe than sorry
Klipsch Reference Premiere RP-8000F
Adam from Quincy, IL on 11/26/2018
Crutchfield Customer Review
(
What's this?
)
Bought 2 of these bad boys. Its klipsch...what more could you ask for!

Pros:

Cons:
Steve from Tulsa, OK on 11/18/2018
Crutchfield Customer Review
(
What's this?
)
For decades, I wanted Klipsch towers for my home stereo and as anchors for my surround sound system. What a pleasure it is now to have them producing crystal-clear audio at any volume.

Pros:

Cons:
Klipsch Reference Premiere RP-8000F
Crutchfield customer from O Fallon, IL on 10/26/2018
Crutchfield Customer Review
(
What's this?
)
I am impressed with the looks and quality feel of these speakers. They sound good and seem to handle the power well.

Pros:

Cons:
Gregory A from Detroit, MI on 10/23/2018
Crutchfield Customer Review
(
What's this?
)
These speakers are unbelievable! I donated a pair 33 year old of Klipsch Fortes' to my sisters church. These RP-8000F are an excellent replacement. For my taste no sub woofer is needed. Additionally, I played some reference CD's and I heard some things I've never heard before! Don't need a lot of power for these speakers. These Klipsch RP-8000F are an excellent choice. I am extremely satisfied. Thanks Crutchfield.

Pros: For my taste no need for a sub woofer.

Cons: None.
Klipsch Reference Premiere RP-8000F
Crutchfield customer from Mcdonough, GA on 9/13/2018
Crutchfield Customer Review
(
What's this?
)
OMG! I have always purchased used speakers for home audio because I keep my price point low. These speakers are expensive but wow are they worth the money. The highs are crystal clear and loud but not harsh or brash; they just blend right into the room. They are so good as the subtle sounds, that sometimes I think I heard something and have to convince myself that it was not real but came from the tweeters. The woofers are great! they have a lot of low end bass and tons more punch than I can get out of a subwoofer. However, if you are not a normal person and are glutton for bass, as I am, you will have to add a subwoofer to this system. I would suggest the R-115sw (it's on my Christmas list)! Amazing fit and finish, these speakers are high fidelity and beautifully constructed.

Pros:

Cons:
Details
Product Research
Features
1" Horn-Loaded Tweeter: The Klipsch RP-8000F floorstanding loudspeaker features a 1" Titanium LTS Vented Tweeter with a Hybrid Tractrix Horn for exceptional high frequency response, detail, and dispersion. Klipsch proprietary Tractrix horn-loaded technology ensures high-frequency energy of the RP-8000F floorstanding speakers are aimed directly at the listener and reduces unwanted, artificial reverb caused by indirect sound bouncing off walls - meaning you experience the most clear, detailed, lifelike sound possible.
Titanium LTS Vented Tweeter: The titanium tweeter diaphragm's light weight yet rigid composition exceeds the performance of aluminum, polymer or silk tweeters. A vented tweeter design reduces standing waves behind the tweeter diaphragm for a smoother high frequency reproduction. Klipsch award-winning Linear Travel Suspension technology leverages a piston motion of the titanium diaphragm that lowers distortion and delivers real-to-life sound. A ceramic magnet housing provides premium performance,
Hybrid Tractrix Horn Technology: This redesigned 90°x90° Hybrid Tractrix Horn utilizes a circular horn throat paired to a square horn mouth to further improve high-frequency response and extension, while enhancing imaging and dynamics. The Hybrid Tractrix Horn's compressed molded silicon face adds high frequency damping to reduce harshness and horn resonance for a smoother frequency response with improved detail - creating a clean and natural sound. Klipsch also utilizes computer modeled phase plugs that act as a mechanical filter to further ensure a smooth, flat frequency response while protecting the tweeter from damage.
Dual 8" Cerametallic Woofers: The RP-8000F floorstanding loudspeaker utilizes two 8" Klipsch Proprietary Cerametallic woofers. Cerametallic consists of extremely light, rigid materials that can hold shape while being able to deliver lower frequencies with maximum efficiency. The Klipsch Cerametallic cone is matted to a dual-layer, copper-wound voice coil for exceptional conductivity. The 8" woofers are housed in a non-resonating, stamped-steel basket that's secured to a large magnet motor for exceptional efficiency and low distortion.
Rear Tractrix Port: The rear Tractrix port of the RP-8000F floorstanding loudspeaker is perfectly matched to the cabinet and woofer, creating ideal airflow with minimal distortion and turbulence even at the lowest frequencies. Klipsch Tractrix ports have custom designed inner flares that help reduce air turbulence entering the port. Less turbulent air helps reduce port noise for cleaner, more powerful bass.
MDF Cabinet: The Klipsch RP-8000F floorstanding speaker features a MDF cabinet with a scratch-resistant, textured wood grain vinyl that seamlessly integrates into almost any room or decor. The enclosure's reinforced MDF construction reduces cabinet vibration for less audible coloration and improved sonic accuracy. The MDF enclosure also features a satin painted baffle with a scratch resistant design for an elegant look without the grille.
Acoustically Transparent Grille: The Klipsch RP-8000F floorstanding loudspeaker comes with a removable, black cloth grille that is magnetic and acoustically transparent. This strong magnetic grille provides protection and a sleek aesthetic look to compliment your home's decor.
Dual Binding Posts: The Klipsch RP-8000F is fitted with two sets of sturdy binding posts allowing to bi-amp or bi-wire the floorstanding loudspeaker. These binding posts ensure a secure connection to many types of cable and connectors. The binding post terminals will accept banana plugs (single only), pin-connectors, spade-lugs and bare wire (up to 10AWG). Two plastic caps will need to be removed to use banana plugs.
Bi-Wiring: Bi-wiring can provide noticeable improvements in the overall transparency of your loudspeakers. Run separate speaker wires to the low & high frequency drivers from a single amplifier (the upper set of binding posts are for the high frequency drivers; the lower set of binding posts are for the low frequency drivers).
Bi-Amping: Bi-amping allows you to use separate amplifiers for the high & low frequency sections of your loudspeaker for greater dynamic range & lower distortion. We recommend that your separate amplifiers have identical gain to preserve the speaker's voicing balance.
Note: If you decide to bi-wire or bi-amp, you must remove the jumpers between the terminal posts (failure to do this could result in damage to your amplifier and loudspeakers).
Cast Aluminum Stabilizer Feet: The Klipsch floorstanding loudspeaker includes pre-installed, cast-aluminum stabilizer feet with rubber pads for safe placement on hardwood, tile, laminate, and vinyl flooring. The cast aluminum feet are mechanically designed to minimize surface area in contact with the floor, decoupling the speaker for faster, tighter low frequencies and more detail. No carpet spikes are included, and the speaker will not support optional carpet spikes or other type of feet.
Note: Do not remove the stabilizer feet. The Klipsch floorstanding loudspeaker should not be used without the stabilizer feet due to stability and sound performance reasons.
Application & Placement: The Klipsch RP-8000F floorstanding loudspeaker can be used in a dedicated stereo application or in a home theater application as front and/or rear speakers.
Front Placement: For optimum performance in a stereo application or as front speakers in a home theater application, Klipsch suggests placing the loudspeakers 6' to 15' apart. They may also be toed-in slightly for better stereo imaging. The listening position should be about 1 to 1.5x the distance separating the speakers.
Rear Placement: When used as surround speakers in a home theater setup, the speakers should be placed on the walls directly adjacent to the listening position. Another option would be on the wall behind the listening position.
Reference Premiere Series: The Klipsch Reference Premiere series utilizes a redesigned hybrid 90°x90° Tractrix Horn, a vented LTS titanium tweeter, Cerametallic woofer construction, and Tractrix geometry port technology for sound that will envelope you and blow you away. The Reference Premiere series by Klipsch consists of a variety of floorstanding, bookshelf, center, and surround speakers (all sold separately). Click on the Accessories Tab to find more Reference Premiere series speakers for your home system.
Optional Powered Sub: For bigger & deeper bass response, pair the Klipsch Reference Premiere series loudspeaker with one of Klipsch's powered subwoofers (sold separately - click on Accessories Tab).
Our Product Research Team
At Crutchfield, you'll get detailed, accurate information that's hard to find elsewhere. That's because we have our own in-house Product Research team. They verify what's in the box, check the owner's manual, and record dimensions, features and specs. We stay on top of new products and technologies to help people make informed choices.
Q & A
Customer Q&A
Crutchfield asked


Why did you buy this?
listened to it at friends house and liked the sound.

[ Roddy Feb 17, 2019 ]
klipsch speakers are great!

[ Eugene Feb 13, 2019 ]
Positive reviews online and sounded better to me when I used the Crutchfield product comparison tool.

[ R Feb 11, 2019 ]
lots of good reader reviews

[ mechanic Feb 08, 2019 ]
Reading reviews

[ Gonzalo Jan 28, 2019 ]
Love Klipsch and wanted something to replace my R-28Fs. Plus the support I get from Crutchfield is outstanding.

[ Rob Nov 24, 2018 ]
I purchased these based on the overall reviews they had, and companies reputation for quality.

[ Scott Nov 18, 2018 ]
Norm recommended it, he was extremely helpful

[ John Nov 13, 2018 ]
I have been a Klipsch fan since 1974.

[ Patrick Oct 12, 2018 ]
Klipsch is the Best....

[ REGINALD Sep 25, 2018 ]
Quality and color

[ SHANE R Nov 26, 2018 ]
I heard them from some user on YT it sound good, but I have to listen for myself, so I could give my complete opinion.

[ Bonifacio Nov 25, 2018 ]
Great reviews and ratings!

[ Howard Nov 24, 2018 ]