About the Mr. Speakers VOCE
Excellent electrostatic headphones that require a special amp
The MrSpeakers VOCE headphones are the first electrostatic headphones we've offered in years. And they sound quite stunning when properly powered. At
CanJam NYC
, I had a chance to hear these headphones and speak to their creator, Dan Clark (
the
Mr. Speakers). But before I get into that, I want to make this point: we do not carry an amplifier or energizer that is compatible with these special headphones.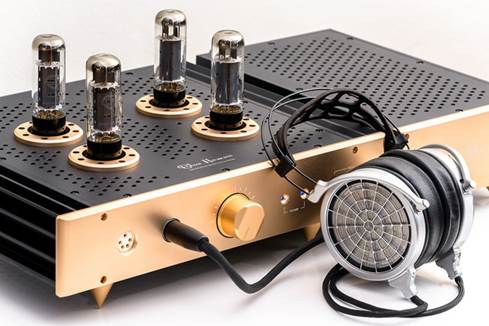 You'll need a special electrostatic amplifier to power the MrSpeakers VOCE headphones, like the Blue Hawaii amp made here in Charlottesville by our friends over at HeadAmp (not available at Crutchfield).
Excellent electrostatic headphones that require a special amp
The MrSpeakers VOCE headphones are the first electrostatic headphones we've offered in years. And they sound quite stunning when properly powered. At CanJam NYC, I had a chance to hear these headphones and speak to their creator, Dan Clark (the Mr. Speakers). But before I get into that, I want to make this point: we do not carry an amplifier or energizer that is compatible with these special headphones.
The VOCE headphones use a 5-pin, 580-volt "pro bias" connection like you'll find on Stax-pro compatible amplifiers. Please call our personal audio experts at 1-888-322-7649 if you have any questions about amplification for these headphones.
The VOCE sound vs. the Stax sound
"There really isn't a right headphone experience," Dan Clark said to me after I auditioned the VOCE headphones in a quiet listening room, tucked away from the busy CanJam floor. When told these headphones sound less "clinical" than the famous Stax electrostats, Dan quipped, "I tried."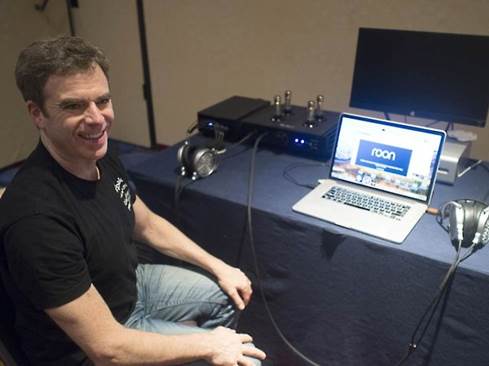 Dan Clark — the Mr. Speakers — shows off the VOCE headphones in a special listening room at CanJam NYC.
The Japanese audio brand Stax has long been synonomous with electrostatic headphones. They reached the height of their popularity in the 70s, and for years they were the only company still making electrostats. So Dan expects — and welcomes — the comparison. "I understand why people like the Stax," he said. "But to me, it's not an experience I have when I listen to live music. I never go to a symphony and say, 'Wow, I can hear the rosin on the bows.'"
"Tonally softer" electrostatic sound
Dan thought that electrostatic headphones often make the "micro details becomes too macro, too prominent." So he set out to make a "tonally softer" set of headphones with less-harsh highs, rich dynamics, and deep, potent bass. To me, the overall listening experience was even greater than the sum of its parts.
I played bluesman Walter Wolfman Washington's duet with Irma Thomas, "Even Now," and had one of those suck-the-air-out-of-the-room moments. The track started out methodical, but built into such an earnest, urgent wave of emotion that I was left speechless for a moment. Then Dan played "Square Room," by Cowboy Junkies, the melancholy track he uses to tune his headphones. Through the VOCE, I could feel the song's emotion in my bones.
What exactly are electrostatic headphones?
MrSpeakers made their name with planar magnetic headphones. Dan Clark funded the start-up of the San Diego company by selling modifications of existing planar headphones, then quickly shifted into making original models. They've since produced some of most well-renowned planars available, like the Aeon Flow, Ether Flow, and Ether 2 headphones.
Electrostatic headphones seem similar in theory — you still have a large yet ultra-thin diaphragm moving quickly to create sound — but they actually rely on an entirely different principle. While planars diaphrams move within a fixed magnetic field, electrostat diaphragms can create their own magnetic push and pull. Each diaphragm is covered by a special voice coil that uses a direct current flow to move back and forth.
The VOCE's supersized 88mm diaphragms start and stop quickly between perforated metal stators to deliver that realistic, dynamic sound. This requires consistent power, however, which is why you'll need the special amplifier I mentioned earlier.
Inside MrSpeaker's "clean room"
Before producing the VOCE headphones, Dan and company built a class 1 "clean room" from scratch inside their boutique San Diego headquarters. They wanted to keep the VOCE's delicate parts completely free of dust and contaminants. For me, this really underscores MrSpeakers' level of care.
"We 'home-brew' built the room and designed it ourselves," said Dan. "I did research and found out that it is all about turning the air in the room. So we put the air filter inlets on the far side of the room, and the outlets on the inside of the room so they could continuously circulate the air."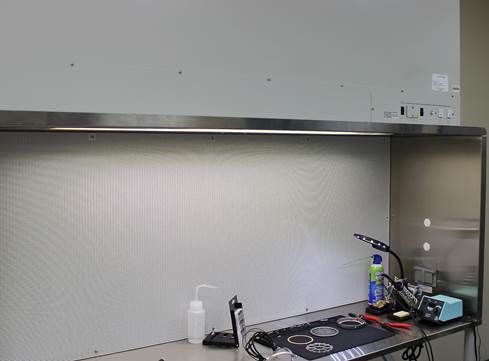 The perforated white "wall" behind the desk is actually a powerful laminar flow fliter that keeps air moving and the workspace free of dust and debris.
They bought their workstations, dual-lens microscopes, and tools from local universities. Fortunately, they're located near schools with top engineering and tech programs. Dan was able to score some deals and fill the room with high-grade, state-of-the-art scientific gear.
"When you first enter, you step on a blue sticky pad and squish...it pulls all the contaminants off the soles of your shoes," said Dan. "Then you put on your lab coat, and walk through the plastic curtains."
Dan explained that since they weren't fabricating semi-conductors, they weren't as strict with the entire room. Instead they focused their efforts on keeping each workstation as clean as possible. They manufacture all the VOCE parts in their own space under what he called "clean hoods."
"Each work desk has a big filter across the whole surface, its called a laminar flow filter," he said. "Air just blows through the filter across the workspace towards the [person working on the headphones]. So that way if any hair falls off, or anything, it tends to blow onto the floor instead of staying in the working area."
According to Dan, the strategy paid off. "When we measure the particulate contamination of that workspace, it actually reads 'zero, zero, and zero,'" he said. "That means there are no particulates of any measurable size."
Well put-together and packaged neatly
MrSpeakers uses premium materials to create the VOCE's driver system. And since they went to such great lengths to keep those parts clean during production, Dan figured they better ensure they're protected when out in the real world, too. They designed the earcups to remain completely air tight to shield the drivers. That's especially important with electrostatic headphones, since static energy can attract some serious dust.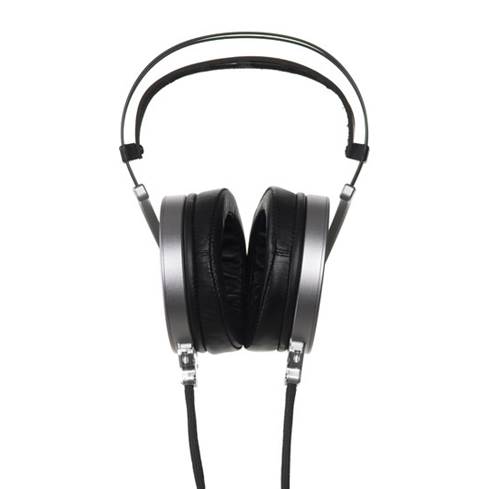 Premium Italian leather lines the thick memory-foam ear pads and adjustable inner headband.
The oversized headphones feel light and comfortable, thanks largely to the extra-flexible nickel-titanium outer headband that helps everything slide into place. Soft Italian Napa leather ear pads hug the side of your head to avoid pressure. And when you're not wearing the headphones, you can show them off inside their deluxe walnut case complete with its own display stand.
Tuning kits help tailor the sound to you
If you like the out of the box sound as much as I do, but feel like it could be tweaked just a bit, MrSpeakers includes something for you. They call them tuning kits, and it's actually three pairs of inserts that provide different levels of dampening. "You can actually bring it down to the point where it's a good headphone for electronica or dance music — which is unusual for an electrostat," said Dan.
You stick the inserts into each earcup and it acts as a baffle. "There's a huge difference in perception about what's neutral," said Dan, "and since there's no such thing as a tuning that everyone will agree on, we include the tuning kits to give the customer a better experience."
He paused for a moment, then added: "You know, it's unconventional, and probably not the way big companies would approach things." I'll say.
READ LESS
Product highlights:
open-back design offers spacious, transparent sound
electrostatic drivers offer exceptional resolution with low distortion

tuned for clear, accurate sound with powerful dynamics

hand-made with premium materials and metals

designed, built, and tested in San Diego, CA
created inside a class 1 "clean room" with an extremely low contaminant level

An electrostatic headphone amplifier or energizer is required for these headphones. Please call us at 1-888-322-7649 to discuss compatibility
Driver details:
extra-large, lightweight 88mm diaphragm moves swiftly within electrostatic field

enhanced dynamics and extended frequency response

2.4 micron driver for maximum stability
ultra-thin metal stators
delivers over-sized soundstage with pinpoint stereo imaging

deep, realistic bass response
Build quality:
durable metal frame and earcups
air-tight earcup design keeps drivers shielded from dust
thick, memory-foam earpads lined with Italian Napa leather
NiTinol (nickel titanium alloy) "memory metal" headband for easy fit

super-light, flexible material

sturdy dual-sided headband slider for effortless adjustment
machined Teflon amplifier plug with gold-plated copper pins for solid connection
feels lighter than most electrostatic headphones
General info and specs:
detachable custom-fabricated silver-plated cable terminated by 5-pin 580-volt "pro bias" plug

lightweight design with reduced microphonics
compatible with Stax-pro amplifiers and energizers (sold elsewhere)

special sound tuning kit includes inserts for three levels of acoustic dampening
real walnut hardwood case with hinged acrylic front "doors"

built-in stand for displaying your headphones

weight: 13.1 oz.
warranty: 2 years
MFR # ES001-1
KEEP READING
READ LESS
We don't have any reviews, yet.
Submit a review and then enter to win a $350 rewards card.
Be the first to review this product
Thanks for submitting your review
Most reviews are processed and published within 5 business days. You will receive a confirmation email once your review has been published.
Customer photos
More details on the Mr. Speakers VOCE
Researched by Crutchfield's

Mark G.