NAD Masters Series M2
Stereo integrated amplifier with built-in DAC
Item # 745M2 | MFR # M2
Low Stock

Our VirginiaVA-based experts can help.
Overview
A stunning breakthrough in digital amplifier design
The M2 Direct Digital Amplifier is the product of a decade-long NAD research project that was followed by three years of product development. Highly efficient, immensely powerful and musically involving, the M2 sets a new performance benchmark for digital amplification. It compares favorably with the world's best amplifiers, regardless of price or design philosophy.
---
"The M2 ... sounds remarkable, with tremendous dynamics, extremely low noise,
richly textured and defined bass, and three-dimensional soundstaging."
—Robert Harley, The Absolute Sound magazine, March 2010
---
Streamlined signal path dramatically reduces noise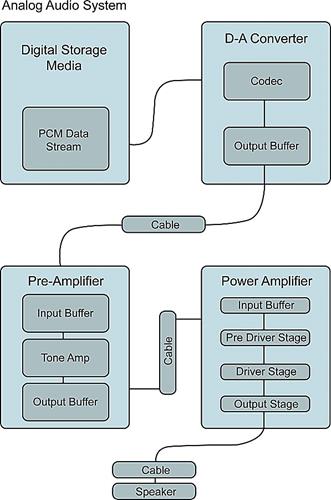 Because the M2 handles digital audio signals directly, you won't hear the noise and distortion that's added by the analog amplifying stages found in traditional amplifiers. NAD says this streamlined signal path reduces overall system noise by a factor of three.
Without all that noise to compete with, the subtle details you never noticed emerge from music you've heard a hundred times. You perceive the dimensions of the performance space and the rich tonal texture of each instrument. What once sounded like a mere violin now reveals itself as a Stradivarius, and you savor each note as it blossoms and ripens before yielding to the next one.
Typical signal path through an analog system
The diagram at right shows the signal path of a traditional amplifier setup, which includes as many as 10 steps between the digital audio source and your speakers, including:
The digital-to-analog converter and its buffering circuitry. If it's a stand-alone converter, there will be a cable from there to the preamp.

The analog preamp and its buffering circuits. If it's a separate unit, then add one more cable to the signal path.

The analog power amplifier, which typically places three more stages of circuitry in front of the output stage.
M2 signal path
The diagram below shows the path the signal from a digital music source takes through the M2 on its way to your speakers. The only stop along the way is to decode the signal. You can think of the M2 as a DAC with a built-in amp. It's that simple, and that's why noise and distortion vanish.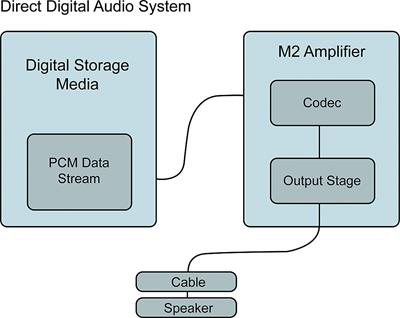 ---
Groundbreaking Zetex chip cancels out distortion
The Zetex DDFA™ (direct digital feedback amplifier) chip enables NAD's breakthrough in class D amplifier sound quality. Until now class D amplifiers had been used primarily in subwoofer amps, because their full-range sound could not compete with the sound of the best analog amps.
The other thing that makes the M2 unique among class D amps is the use of feedback to minimize distortion in the output stage. If you've ever tried a pair of noise-canceling headphones, then you have a good idea how feedback works: a microphone on the outside of the headphone picks up the noise, and built-in circuitry mixes in a mirror image of the noise to cancel it out.
Feedback systems in amplifiers don't use microphones, but the concept is the same. The output signal is compared with the input signal, and a mirror image of the difference (distortion) is introduced in order to cancel it out. This technique has been used for years in conventional amps, but has been impractical in class D amps until now. NAD collaborated with a company called Diodes Zetex on a breakthrough technology called DDFA (direct digital feedback amplifier) for the M2.
DDFA requires an extremely robust processor in order to feed the inverted error data back fast enough. If you comprehend such things, the Zetek chip operates at a 108MHz sample rate on a 35-bit-wide data path. The M2 is the first, and for now the only, vehicle on this superhighway.
---
Advanced power supplies
Class D amplifiers require hefty and exceptionally quiet power supplies. These parts are large, heavy and costly, but they are absolutely essential. The M2 uses three very substantial and highly efficient power supplies, one for each channel and a third for the input stage and control sections.
Excellent performance under the most demanding conditions
Digital PowerDrive™ helps the M2 maintain the lowest possible distortion and deliver breathtaking dynamics, even when driving difficult speaker loads.
Digital Soft Clipping is a new take on a technology NAD pioneered in the 1970s. In the unlikely event that you overdrive the M2, this circuit prevents the harsh sound and potential speaker damage that can result when the overdriven amplifier clips the tops and bottoms of the music signal's waveform.
Multi-stage fail-safe protection prevents amplifier or speaker damage. Short circuit, DC offset, overheat, and over current faults are handled instantly and an indication of the fault is displayed on the front panel.
Product Highlights:
250 watts x 2 channels into 8 ohms (20-20,000 Hz) at 0.004% THD
250 watts x 2 channels into 4 ohms (20-20,000 Hz) at 0.004% THD
Direct Digital design yields 90 percent amplifier efficiency
4-ohm capability allows use with a wide range of speakers
signal-to-noise ratio: 119 dB
PowerDrive™ circuit with automatic speaker impedance sensing delivers maximum dynamic power output regardless of speaker load
five position digital impedance compensation filter lets you fine-tune the top octave to match the speaker impedance
Digital Soft Clipping (switchable)
4 digital audio inputs (2 optical/2 coaxial)
one pair RCA analog audio inputs
one pair balanced XLR analog audio inputs
selectable 48, 96 or 192kHz sample rate for analog-to-digital conversion
digital audio processor loop lets you connect to a computer to take advantage of room correction/equalization programs
two pairs of custom gold-plated speaker binding posts permit bi-wiring
12-volt trigger input and output
1 IR input
RS-232 interface for advanced custom installations
detachable AC power cord
remote control
weight: 44.5 lbs.
17-1/8"W x 5-7/8"H x 20-7/8"D
warranty: 3 years
floating ground design means M2 cannot be used with external devices such as speaker switchers or headphone adapters that connect left and right channels together
What's in the Box:
NAD Masters Series M2 Owner's manual
Integrated amplifier
70" Power cord
Wireless remote control (M2)
2 "AA" batteries
Owner's manual (English/ French/ Spanish/ Italian/ German/ Dutch/ Swedish/ Russian)
Warranty information
Why Shop
With Us?
10 Reasons.
---
Details
Product Research
Features
Controls
Connections
Specifications
Features
Overview: The M2 is a new design of Direct Digital Amplifier, it can accept a digital PCM input directly so the noise and distortion typically added by cascaded analog amplifying stages is completely eliminated. This streamlining of the internal architecture can reduce the residual noise of the overall system by a factor of three. The M2 uses three power supplies; each channel has a dedicated high current power supply in a dual mono configuration and the input stage and control sections have their own dedicated supply with multiple regulated secondary voltages for individual sections.
Inputs: Being a Direct Digital Amplifier, the M2 mates well with digital sources. There are two coaxial, one XLR, and two optical digital inputs. There are also two analog inputs, one XLR and one RCA, fed through a state of the art analog-to-digital converter.
Direct Digital Feedback: Direct Digital Feedback operates simply by determining the pulse area error, no matter what the cause, and passing this information back to the digital domain where compensation can be made. Conventional amplifier feedback circuit design is too slow to work well with this type of digital amplifier, so the direct digital feedback technology was developed to deliver the solution. A feedback error signal is generated through comparison with a reference signal and then converted to the digital domain at a 108 MHz sample rate prior to being used for digital correction. For Direct Digital Feedback to work correctly requires a very wide bit path and high speed operation. The M2's 35-bit data path allows compensation to be made without truncating any information in the original signal. Running from a master clock frequency of 108 MHz there is enough speed to keep the wide amplifier bandwidth and low noise and distortion in the audio band.
PowerDrive: NAD's PowerDrive technology measures each channel's dynamic impedance individually and computes the optimum power supply voltage required to drive the output stage for maximum power and efficiency.
Digital Soft Clipping: NAD's Soft Clipping circuit gently limits the amplifier output to minimize audible distortion when the amplifier is over-driven. Using digital precision, this behavior can be controlled; the multi-stage failsafe protection is carefully engineered in the M2 to prevent amplifier or speaker damage under fault conditions. Short circuit, DC offset, overheating, and over current faults are handled instantly and an indication of the fault is displayed on the front panel. Digital Soft Clipping can be turned off for critical listening if you prefer.
Digital Processor Loop: The optical digital input/output loop allows you to insert an external digital processor or computer to filter or equalize the signal, or route the signal through a room correction program. The digital processor loop can be applied to any of the input signals, digital or analog.
Multiple Amps: With both coaxial and optical digital outputs, multiple M2s can be used to bi-amp or tri-amp advanced loudspeaker systems.
Input Level: The volume level of the analog inputs can be trimmed individually before being converted to a digital signal, so there's no volume change when changing inputs; the range is - 9 dB to 0 dB.
Sample Rate: The sampling rate of the analog to digital converter can be adjusted; choose 48 kHz, 96 kHz, or 192 kHz. Higher sampling rates allow anti-aliasing filters to take effect further outside the audible frequency range and are generally considered to sound better, especially in the high frequencies. You may need to reduce the sampling rate if you are using the digital processor loop, as many external devices will not operate at 96 kHz or 192 kHz.
Impedance Compensation: A digital impedance compensation filter allows fine tuning of the top octave to match the chosen speaker impedance; this can result in perfectly flat frequency response at 20kHz. Options include 2 Ω, 4 Ω, 5 Ω, 6 Ω, 7 Ω, 8 Ω, and >8 Ω.
Input Names: The name displayed for each input can be reassigned, up to 20 characters.
Remote Control: The M2 wireless remote will control the amp and a compatible NAD CD, SACD, or DVD player.
Controls
Front Panel:
Power: toggle between power on and standby
Input: individual buttons for each of the seven inputs; coax 1, coax 2, optical 1, optical 2, aes/ebu (digital XLR), balanced (analog XLR), and single ended (analog RCA)
Loop: engage/disengage the optical digital input/output loop
Volume: rotary volume control; also used with the menu function
Rear Panel:
Power: master power switch
Soft Clipping: on/off
12 Volt Trigger: auto/off; when in auto position the front panel and remote power buttons are disabled
Connections
Rear Panel:
Speakers: the speaker binding posts will accept single banana plugs, pin connectors, spade lugs up to 0.59" wide, and bare wire up to 10 gauge; a second set of binding posts is for bi-wiring your speakers
Coax Inputs: two single RCA coaxial digital inputs; coax 1 and coax 2
Coax Output: single RCA coaxial digital output
Optical Inputs: two Toslink optical digital inputs; optical 1 and optical 2
Optical Output: one Toslink optical digital output
Loop Input: Toslink optical digital input for the processor loop
AES/EBU: single XLR digital input
Analog Inputs:

stereo XLR input
stereo RCA input

12 Volt Trigger Input: 3.5mm mini-jack; turn the amp on/off along with another component
12 Volt Trigger Out: 3.5mm mini-jack; turn on/off another device along with the M2
IR In: 3.5mm mini-jack input, used to control this unit using an optional infrared repeater or the IR output of another component
RS 232: the RS-232 port allows connection to a compatible PC or external whole-house control system from companies such as AMX or Crestron
Ground: terminal for grounding the chassis of the amp
AC Input: 3-pole IEC power input for use with included cord (or optional upgraded cord)
Specifications
Amplifier Section:
Continuous Power: 250 watts x 2 into an 8Ω or 4Ω load, 20 Hz - 20 kHz, no more than 0.004% THD
Dynamic Power:

8Ω: 300 watts x 2
4Ω: 450 watts x 2
2Ω: 650 watts x 2

Rated Distortion: 0.004% (20 Hz - 20 kHz from 500 mW to rated power)
Signal/Noise:

>95 dB (ref 1 watt)
>119 dB (ref 250 watt)

Damping factor: >2000 (ref 20-200 Hz)
Maximum Output Current: >27 amps
Power Requirement: AC 120V 60Hz
Weight: 44.5 lbs (20.2 kg)
Digital Inputs:
Input impedance:

Coaxial: 75 Ω
AES/EBU: 110 Ω

Sample Rate: 32 kHz - 192 kHz
Frequency Response: 20 Hz - 20 kHz (+/- 0.5 dB)
Channel Separation: 90 dB (10 kHz, 4Ω, 1/3 rated power)
Analog Inputs:
Input impedance: 36 kΩ/200 pF
Input sensitivity:

318 mV (at 100 watts)
503 mV (at rated power)

Frequency response: 20 Hz - 20 kHz (+/- 0.3 dB)
Channel Separation: 80 dB (10 kHz, 4Ω, 1/3 rated power)
Our Product Research Team
At Crutchfield, you'll get detailed, accurate information that's hard to find elsewhere. That's because we have our own in-house Product Research team. They verify what's in the box, check the owner's manual, and record dimensions, features and specs. We stay on top of new products and technologies to help people make informed choices.