Astell & Kern AK380 Stainless Steel
High-resolution portable music player with Wi-Fi® and matching headphone amp
Item # 838AK380SS | MFR # AK380SS
Low Stock

Our VirginiaVA-based experts can help.
Overview
Our take on the Astell & Kern AK380 Stainless Steel by Crutchfield's Ralph Graves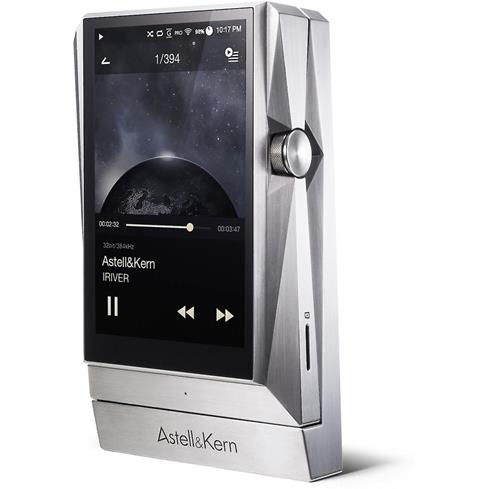 The player fits snugly into the amp to create a single portable unit.
Made for high-performance headphones
It's beautifully crafted, and delivers beautiful sound. The Astell & Kern AK380 Stainless Steel digital music player and headphone amp lets you listen with high-impedance headphones so you can hear every detail in your hi-res music. The solid stainless steel bodies of both the player and the amp are laser-etched and hand-polished.
High-res audio
The AK380 Stainless Steel features dual digital-to-analog converters (DACs), one for each stereo channel. This ensures outstanding detail and dynamic range, an absolutely quiet background, and a spacious soundstage. These powerful AKM AK4490 DACs do native conversion of Direct Stream Digital (DSD) files. You also get bit-perfect playback for PCM-based files up to 32-bit/384kHz. And you might be surprised at just how much detail this player can reveal with your CD-quality and compressed music files, too.
High-quality headphone amp
A large-capacity built-in rechargeable battery ensures your headphones have enough power for up to 9 hours of optimal performance. The PAK11 Stainless Steel amp has both unbalanced and high-gain balanced outputs. The amp perfectly complements the music player, featuring the same design details to allow free use of the volume knob.
Once the player is connected, you can secure it in place with the amp's integrated locking screw. And you can dock and recharge the player while connected to the amp.
AK Connect app
The Astell & Kern AK Connect app, available from Apple App Store and Google Play, opens up a whole world of options for your AK380. It easily connects your player to your Wi-Fi network. That means you can wirelessly stream audio (including high-res audio) from your computer, digital music server, other Astell & Kern players, or your smartphone or tablet. And you can stream wirelessly to any DLNA-compatible speakers on your network. The AK380 comes with TIDAL built in, so you can begin hi-res streaming right away.
Expandable memory
The AK380 features a 256GB internal memory — ideal for the larger files sizes of high-res audio. The microSD card slot can handle up to 256GB cards, for total storage of up to 512GB.
The package comes complete with an Italian leather hand-stitched case for the player, and a poly-mesh case for the connected player and amp.
Product Highlights:
AK380 Stainless Steel Digital Music Player
plays MP3, FLAC, WAV, ALAC, Ogg Vorbis, AAC, AIFF, APE, WMA, DFF, DSF
native DSD playback (up to 11.2MHz)
dual AKM AK4490 digital-to-analog converters for bit-perfect playback of high-resolution audio files (up to 32-bit/384Khz for PCM and 5.8MHz for DSD)
256GB internal flash memory
microSD card slot for cards up to 256GB (up to 512GB total memory)
free AK Connect app (for tablets) available from Apple App Store and Google Play
built-in Wi-Fi for streaming and downloading music from a networked computer via DLNA

can transfer and play files wirelessly from networked computer or digital music server
can play stored files wirelessly through connected DLNA components and speakers

4" color touchscreen display
recessed analog volume knob provides fine level adjustments
3.5mm unbalanced headphone/optical output for connection to headphones, receiver/amp, or an external DAC
20-band EQ with 0.5dB-step adjustments and user-created presets
high-speed USB Micro-B interface (cable included) for drag-and-drop file transfer and battery charging
built-in rechargeable battery with up to 9 hours of operation
stainless steel body
output impedance: 2 ohms (3.5mm headphone output)
total harmonic distortion: 0.0007% (1kHz, unbalanced output)
signal-to-noise ratio: 116 dB
3-3/16"W x 4-3/8"H x 3/4"D
PAK11 Headphone Amp
stainless steel body
compatible with all Astell & Kern 300 Series players
unbalanced 3.5mm headphone output
balanced 2.5mm output (only 4-pole supported)
low gain frequency response: ±0.06 dB Unbalanced/ 0.06 dB balanced
high gain frequency response: ±0.03 dB Unbalanced/ 0.03 dB Balanced
type-B micro-USB input for charging and data transfer (cable included)
Included accessories:
custom Italian leather case for AK380 player
poly-mesh case with flap for AK380 player and PAK11 amp
warranty: 1 year
What's in the Box:
Astell & Kern AK380 Stainless Steel Owner's manual
AK3800 digital music player
Headphone amplifier dock
Leather Case
Protective Film (2 each/front and back)
39" Micro-USB cable (Type A USB on one end and Micro USB on other end)
2 micro SD card slot covers (1 installed)
Quick Start Guide
Warranty Card
Leather case info card
Leather case trademark info
Why Shop
With Us?
10 Reasons.
---
Details
Product Research
Features
High Resolution Music Player: The Astell&Kern AK380 from iRiver is a portable high-resolution music player that delivers true audiophile quality playback. The AK380 features dual DACs (digital-to-audio converters) with balanced and unbalanced analog outputs, as well as a mini optical digital out. It has a large internal memory for storing thousands of high-resolution music files. The AK380 has a 4" WVGA LCD touchscreen display, plus built-in Wi-Fi and Bluetooth.
Construction: The AK380 is only 3-1/8"W x 4-7/16"H x 3/4"D, and weighs 8.11 ounces. It is made from meteoric titan-colored, aircraft-grade duralumin, and is trapezoidal in shape with multiple angles in its design. The AK380 comes with a fine Italian leather case and a protective film to help prevent scratches. Analog controls include a rotary volume knob on the right side, and Play/pause, Previous/rewind, and Next/fast forward buttons along the left side.
Metal Capacitive Touch: In addition to the LCD touch screen, the AK380 also features a pressure-sensitive metal capacitive touch interface. The home button, located on a panel below the screen, responds to fine pressure changes so you can operate the unit with a light touch on the metallic pad.
Digital Storage: The AK380 has a built-in 256 GB internal memory. You can also insert a 128 GB microSD card in the memory card slot on the side of the device to bring the total memory capacity of 384 GB. That's enough storage for approximately 3,750 four-minute songs, recorded at 24-bit/96kHz resolution.
Dual DACs: The AK380 is equipped with two AKM AK4490 DACs that support up to 32-bit/384 kHz bit-to-bit decoding and playback without downsampling. The AK380 supports the following Audio Formats and Bit Rates:
Audio Formats: WAV, FLAC, WMA, MP3, OGG, APE (Normal, High, Fast), AAC, ALAC, AIFF, DFF, DSF
Sample Rates:

PCM: 8kHz - 384kHz (8/16/24/32 bits per sample)
DSD Native: DSD64: 1-bit/2.8MHz (Stereo), DSD128: 1-bit/5.6MHz (Stereo)
Femto Clock: The Astell&Kern AK380 uses a voltage-controlled crystal oscillator (VCXO) high-precision clock with a reference jitter value of 200 femtoseconds. Femto clocks are typically used in high-end audio components. The clock is measured in femtosecond units (one quadrillionth of a second -- or 1/1000 trillion) which allows the device to create a more accurate frequency value and make fine jitter corrections. Typical clock jitter in the AK380 is measured at 30 picoseconds (or 30/1-trillionth).
20-band Parametric EQ: The AK380 features a parametric EQ and an audio DSP to allow you to make detailed adjustments in the original sound to suit your tastes. The DSP takes the existing 10-band graphic equalizer found in the AK240 with ±0.5dB adjustments and upgrades it to a 20-band EQ with ±0.1dB adjustments, plus variable gain and Q values. You can set the EQ curve by simply "drawing" the curve on the touchscreen. The EQ frequency bands include: 30Hz, 45Hz, 60Hz, 90Hz, 120Hz, 180Hz, 250Hz, 380Hz, 500Hz, 750Hz, 1kHz, 1.5kHz, 2kHz, 3kHz, 4kHz, 6kHz, 8kHz, 12kHz, 14kHz, and 18kHz. You can adjust the gain from -5dB to +5dB in 0.1dB increments, and the Q from 0.1 to 4.0dB in 0.1dB increments. If you choose not to activate the Parametric EQ, you can use the Pro EQ presets recommended by professionals.
Note: The EQ supports PCM, 8 to 192kHz and 8, 16, or 24-bit playback. It does not support DSD or 32-bit playback.
USB DAC: You can use the AK380 as an external USB DAC which supports Native DSD playback. With the Dual DACs and the exclusive DSD chip, the AK380 delivers much better sounding audio than your computer's built-in sound card. Connect the unit via USB from your computer and listen to your stored digital music with headphones, powered speakers, or home stereo. The USB DAC is compatible with Windows XP (32-bit), Windows 7 (32- & 64-bit), and Windows 8/8.1 (32- & 64-bit); Supported formats: PCM (8-384 kHz (8/16/24/32-bit) and DSD (2.8/5.6 MHz).
Balanced/Unbalanced Outputs: The Astell&Kern AK380 offers both balanced (L+/L-/R+/R-) and unbalanced outputs (L+/R+/GND). Balanced outputs have an additional "cold" signal to compliment the hot signal, which reduces external noise and increases output. The balanced output is a 4-conductor 2.5mm port (1 ohm) on the top of the device. You can also connect an external audio device to the AK380 by connecting to both the earphones port (ground) and the balanced port (LR), using an optional balanced cable available from Astell&Kern. The Micro USB and four contacts on the bottom of the AK380 provide a balanced output to an Astell&Kern expansion device, such as the AK380 Amp or AK380 Cradle (sold separately).
Note: The 3.5mm headphone jack doubles as an mini optical digital output. DSD format is converted to PCM when using the Optical Out. Volume fixed at Maximum.
User Interface: The AK380 features a high-quality user interface to make it easy to find and select your music files, change the volume, and adjust the sound:
4" LCD Touchscreen: The full-color LCD touchscreen has a resolution of 480 x 800 pixels. The screen displays the title and artist of the currently playing song, along with elapsed and remaining time, with the album art in the background. On the touchscreen, you can touch the Play/Pause, Previous/Rewind, or Next/Fast Forward icons to control playback. You can make adjustments to the EQ, set the repeat and random modes, and add the song to a playlist, all using the touchscreen interface.
Rotary Volume Knob: The AK380 has a side-mounted analog-style rotary volume knob. The volume control range is 0 to 150 units with detents at every unit. As you adjust the volume, the volume range is shown numerically on the display. You can change the output to "Line Out", which locks the volume level at maximum (150).
Hardware Control Buttons: There are four physical buttons on the unit: a top-mounted power button, along with side-mounted Play/Pause, Previous/Rewind, and Next/Fast Forward buttons.
Headphone Amplifier Dock: The included headphone amplifier is designed as an extension of the AK380 high-resolution music player, matching its unique design and audiophile quality sound.
Balanced & Unbalanced Output: The headphone amplifier supports high-impedance headphones and high-gain output while remaining faithful to the original sound. The headphone amps supports 8.1 VRMS output when connected via high-gain balanced output, and is also features a 4.1 VRMS unbalanced output. High-gain output is 4x greater than low-gain output and supports high-impedance headphones.
Auto Volume Level: To protect earphones/headphones during high output, the volume is automatically adjusted when the amp is powered on or the earphones/headphones are disconnected. Furthermore, the gain can be easily adjusted via the high resolution player's menus settings.
Rechargeable Battery: The headphone amp features a 3400 mAh large-capacity battery that is identical to the one in the high resolution music player to support up to nine hours of continuous unbalanced-output playback.
Note: When the headphone amp is connected, the unit's USB DAC and optical out functionalities are disabled.
Micro-B USB: The AK380 has a Micro-B USB port on the bottom of the unit for connecting the unit to your computer for downloading music files and for charging the battery. The AK380 is compatible with Windows XP, 7 and 8/8.1, as well as Mac OS X 10.7 and up.
Wi-Fi Capability: The AK380 features built-in Wi-Fi (802.11 b/g/n--2.4GHz), allowing you to connect the device and your computer to the same network for streaming and downloading music. With the MQS Streaming Server software installed on your PC or Mac, you can use the AK380 to access music files stored on your computer's hard drive or a connected HDD. In addition, the Wi-Fi connection allows you to receive notifications of new available firmware updates (OTA Upgrades), allowing you to download them on the spot.
Bluetooth: The AK380 also has built-in Bluetooth V4.0 with A2DP and AVRCP profiles for connecting a Bluetooth device to listen to music wirelessly. DSD playback is not available via Bluetooth, and performance may be limited for high-res playback; 48 kHz or lower resolution is recommended). You must maintain a distance within 8" of the paired Bluetooth device for best audio quality and connection quality. Car audio Bluetooth connections are not supported.
AK Connect (DLNA): The AK380 can stream or download music files stored on a computer on the same network via DLNA (Digital Living Network Alliance). Using the AK Connect app (available for iPad running iOS 7.1 or later or Android devices running version 3.0 and up), you can connect to a NAS or PC and control it with a smartphone or tablet.
Power Requirements: The AK380 is equipped with a 3400 mAh 3.7V Lithium-Polymer battery. The battery charges via USB in about 4 hours. A fully charged battery can provide up to approximately 10 hours of continuous playback time.
Leather Case: Included with the AK380 is a fine leather carrying case, made by artisans and master tanners in Italy. The case is warranted for quality, and comes with a numbered Certificate of Guarantee.
Protective Film: The unit includes a protective film to keep the touchscreen and the rear panel scratch-free. Two sets of the protective film is included for the front and the back.
Specifications:
Frequency Response:

20Hz-20kHz (±0.053dB Unbalanced, Balanced)
10Hz-70kHz (±0.56dB Unbalanced, ±0.55dB Balanced)

Signal-to-Noise Ratio (@1kHz): 116dB unbalanced, 117dB balanced
Crosstalk (@1kHz): 130dB unbalanced, 135dB balanced
THD+N (@1kHz): 0.0008% unbalanced, 0.0007% balanced
Output Level: Unbalanced 2.2Vrms, Balanced 2.3Vrms (No Load)
Our Product Research Team
At Crutchfield, you'll get detailed, accurate information that's hard to find elsewhere. That's because we have our own in-house Product Research team. They verify what's in the box, check the owner's manual, and record dimensions, features and specs. We stay on top of new products and technologies to help people make informed choices.