Astell & Kern A&ultima SP1000 Limited Edition
High-resolution portable music player with Wi-Fi® and Bluetooth® (Black onyx)
Item # 838SP1000B | MFR # 3PPF319CCMBLN1
This item is no longer available.
Overview
Our take on the Astell & Kern A&ultima SP1000 Limited Edition by Crutchfield's Ralph Graves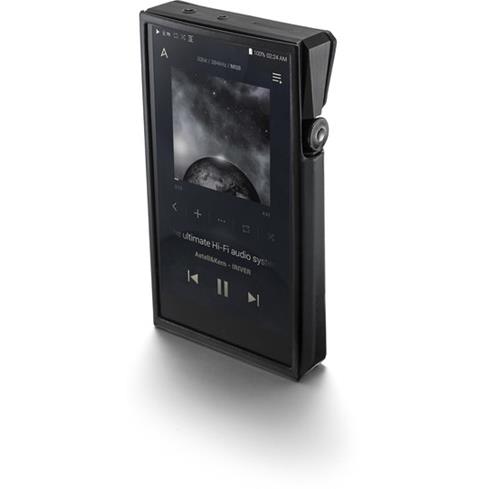 Features a limited edition black onyx finish and leather case.
High-res audio with a high-fashion look
This limited edition version of Astell & Kern's A&ultima SP1000 features a striking black onyx finish. But the beauty of this portable high-res player goes deeper than that. Its eight CPU cores deliver pristine sound with minimal distortion, plus smooth, lag-free operation. That's important when you're playing large high-resolution audio files.
The SP1000 also features a spacious 5" touchscreen with simple, intuitive controls. And its rotary control wheel not only lets you fine-tune the volume, but also power up the player, and turn the touchscreen on or off.
High-performance audio
The SP1000 has dual digital-to-analog converters (DACs), one for each stereo channel. This ensures outstanding detail and dynamic range, a completely quiet background, and a spacious soundstage.
These powerful AKM AK449EQ DACs do native conversion of Direct Stream Digital (DSD) files. You also get bit-perfect playback for PCM-based files up to 32-bit/384kHz. And they produce a surprising amount of detail from your CD-quality and compressed music files, too.
Doubles as a USB DAC
Built into the SP1000 is a voltage-controlled high-precision clock — the same found in high-end audio systems — to tame detail-smearing jitter. This ensures your music will sound as natural and finely detailed as possible.
The clock also makes the SP1000 an ideal USB DAC. Plug it into your computer, and the SP1000 will bypass your PC's noisy audio section entirely, for clear sound from your music files and streaming sources.
Wireless options
Built-in Wi-Fi lets the SP1000 easily connect your home network. Wirelessly stream audio (including high-res audio) from your computer, digital music server, smartphone or tablet. And you can stream wirelessly to any DLNA-compatible speakers on your network or to a Bluetooth speaker.
Storage for your music files
The player features 256GB internal memory — ideal for the larger file sizes of high-res audio. The microSD card slot can handle cards up to 256GB, for a total possible capacity of 512GB.
Fast charging and file transfers
The SP1000 uses USB 3.0 for charging the player's built-in battery and transferring files. Get a full charge in as little as 2 hours, plus transfer files at a rate of up to 10GB per second.
Product Highlights:
Astell & Kern's flagship high-res player

limited edition black onyx stainless steel casing
includes Swedish tanned leather case

plays MP3, FLAC, WAV, ALAC, Ogg Vorbis, AAC, AIFF, APE, WMA, DFF, DSF
native DSD playback (up to 11.2MHz)
dual AKM AK4497EQ digital-to-analog converters for bit-perfect playback of high-resolution audio files

up to 32-bit/384Khz for PCM and 11.2MHz for DSD
one DAC each for the left and right channels for proper stereo separation

256GB internal flash memory
microSD card slot for cards up to 256GB (up to 512GB total memory)
built-in rechargeable battery with up to 12 hours of operation
Display and Controls:
5" high-definition touchscreen display
simplified home screen focuses primarily on music playback

revamped menu design for easier use and music control

crown-patterned analog knob on the side controls volume and power
20-band EQ with 0.5dB-step adjustments and user-created presets
Processing and Wireless Features:
octa-core CPU for increased processing speed

quick boot up, snappy controls, and lag-free operation when playing large digital music files

built-in Wi-Fi for streaming and downloading music from a networked computer via DLNA

802.11 b/g/n (2.4 GHz)
can transfer and play files wirelessly from networked computer or digital music server

Bluetooth 4.1-compatible (A2DP, not recommended for files with sampling rates greater than 48kHz)
Connections and Specs:
high-speed USB 3.0 type-C port (cable included)

for quick drag-and-drop file transfer and fast battery charging

3.5mm unbalanced headphone/optical output
2.5mm balanced output (only 4-pole connection supported)
output level: 2.2Vrms (unbalanced)/ 3.9Vrms (balanced)
output impedance: 2 ohms (3.5mm headphone output)
total harmonic distortion: 0.0005% (1kHz, unbalanced output)
signal-to-noise ratio: 120 dB
2-15/16"W x 5-3/8"H x 5/8"D
weight: 13.64 ounces
warranty: 1 year
What's in the Box:
High-resolution portable digital music player
Leather Case
Protective Film (2 each/front and back)
39" USB-C cable (Type A USB on one end and USB-C on other end)
microSD card slot covers (pre-installed)
Quick Start Guide
Precautions
Warranty Card
Why Shop
With Us?
12 Reasons.
---
Details
Product Research
Features
High-Resolution Portable Digital Audio Player: The Astell&Kern SP1000 is a portable high-resolution music player that delivers true audiophile quality playback. The SP1000 features dual DACs (digital-to-audio converters) with balanced and unbalanced analog outputs, as well as a mini optical digital out. It has an upgraded CUP and large internal memory for storing thousands of high-resolution music files. The SP1000 has a 5" HD touchscreen display, plus built-in Wi-Fi and Bluetooth with Qualcomm aptX HD.
Sophisticated Design & Construction: The Astell&Kern SP1000 is the ultimate music player, crafted in an artistically designed metallic setting. The external chassis of the SP1000 is available in a rugged stainless steel or copper that resists external shock. The crown-patterned volume wheel on the right corner of the player is similar in appearance to a cut gemstone, which reflects light from various angles. It is only 2.9375" (w) x 5.3125" (h) x 0.8125" (d), and weighs 13.64 ounces.
Notes: The surface of the SP1000 is prone to scratches and oxidation due to the natural copper finish. Precautions regarding the SP1000's copper chassis -

The SP1000 uses 99.9% pure copper, so an oxidation-resistant coating was applied on the surface as a protective measure. However, please note that some oxidation may occur due to the anti-oxidation coating being damaged or on the usage environment. A high-humidity or salt environment may accelerate the oxidation process.
Oxidation that occurs during normal use is covered under warranty regardless of the warranty period. Please note that a product exchange or case replacement under warranty does not apply in such cases.
To prevent oxidation, please periodically wipe down the surface of the product using a standard copper polish.
Octa-Core CPU: The SP1000 is the first Astell&Kern player to feature an octa-core CPU for outstanding response and performance. The octa-core CPU allows the player to produce the exact musical detail present in the original recording without distortion and provides a quick, lag-free operation. The SP100 features faster booting times, speedy file transfers, lag-free processing and a new intuitive user interface for the ultimate player experience
Digital Storage: The SP1000 has a built-in 256 GB internal memory. You can also insert a 256 GB microSD card in the memory card slot on the side of the device to bring the total memory capacity of 512 GB. That's enough storage for approximately 3,750 four-minute songs, recorded at 24-bit/96kHz resolution.
Dual 32-Bit/384KHz DACs: The SP1000 is equipped with two AKM AK4497EQ DACs that support up to 32-bit/384 kHz bit-to-bit decoding and playback without downsampling. Independent DACs for the left and right audio channels provide a wider soundstage and better stereo separation. Each AK4497EQ DAC provides rich and vivid audio reproduction, allowing the listener to enjoy the sound as it was meant to be heard.
Compatible Audio Files: The SP1000 supports the following audio file formats - WAV, FLAC, WMA, MP3, OGG, APE , AAC, ALAC, AIFF, DFF, DSF, & MQS.
PCM Sample Rate: It supports 8kHz - 384kHz (8/16/24/32 bits per sample)
DSD Native: DSD64: 1-bit/2.8MHz (Stereo), DSD128: 1-bit/5.6MHz (Stereo), DSD128: 1-bit/11.2MHz (Stereo)
MQS: 44-192kHz (24-bit)
MQS (Mastering Quality Sound): The Astell&Kern SP1000 natively supports MQS (24-bit/4-192kHz), which is the closest quality to the original sound intended by a recording artist. Mastering Quality Sound (MQS) is an acronym of collective lossless & high-resolution audio source formats that typically come encoded with 24-bit, 44-192kHz of bit/sampling rates. Since MQS delivers about 6.5x more detail than a conventional CD (16bit/44.1kHz), listeners can enjoy a more realistic music experience.
Femto Clock: The Astell&Kern SP1000 uses a voltage-controlled crystal oscillator (VCXO) high-precision clock with a reference jitter value of 200 femtoseconds. Femto clocks are typically used in high-end audio components. The clock is measured in femtosecond units (one quadrillionth of a second -- or 1/1000 trillion) which allows the device to create a more accurate frequency value and make fine jitter corrections. Typical clock jitter in the SP1000 is measured at 30 picoseconds (or 30/1-trillionth).
20-band Parametric EQ: The SP1000 features a parametric EQ and an audio DSP to allow you to make detailed adjustments in the original sound to suit your tastes. The DSP takes the existing 10-band graphic equalizer found in the AK240 with ±0.5dB adjustments and upgrades it to a 20-band EQ with ±0.1dB adjustments, plus variable gain and Q values. You can set the EQ curve by simply "drawing" the curve on the touchscreen. The EQ frequency bands include: 30Hz, 45Hz, 60Hz, 90Hz, 120Hz, 180Hz, 250Hz, 380Hz, 500Hz, 750Hz, 1kHz, 1.5kHz, 2kHz, 3kHz, 4kHz, 6kHz, 8kHz, 12kHz, 14kHz, and 18kHz. You can adjust the gain from -5dB to +5dB in 0.1dB increments, and the Q from 0.1 to 4.0dB in 0.1dB increments. If you choose not to activate the Parametric EQ, you can use the Pro EQ presets recommended by professionals.
Note: The EQ supports PCM, 8 to 192kHz and 8, 16, or 24-bit playback. It does not support DSD or 32-bit playback.
USB DAC: You can use the SP1000 as an external USB DAC which supports Native DSD playback. With the Dual DACs and the exclusive DSD chip, the SP1000 delivers much better sounding audio than your computer's built-in sound card. Connect the unit via USB from your computer and listen to your stored digital music with headphones, powered speakers, or home stereo. The USB DAC is compatible with the following computer operating systems and audio formats.
Computer OS: Windows XP, 7, 8, 10 (32-/64-bit versions) and Mac OS X 10.7-up.
Audio Formats: PCM (8-384 kHz (8/16/24/32-bit) and DSD (2.8/5.6/11.2 MHz).
Balanced/Unbalanced Outputs: The Astell&Kern SP1000 offers both balanced (L+/L-/R+/R-) and unbalanced outputs (L+/R+/GND). Balanced outputs have an additional "cold" signal to compliment the hot signal, which reduces external noise and increases output. The balanced output is a 4-conductor 2.5mm port (1 ohm) on the top of the device. You can also connect an external audio device to the SP1000 by connecting to both the earphones port (ground) and the balanced port (LR), using an optional balanced cable available from Astell&Kern. The Micro USB and four contacts on the bottom of the SP1000 provide a balanced output to an Astell&Kern expansion device, such as the SP1000 Amp or SP1000 Cradle (sold separately).
User Interface: The Astell&Kern SP1000's user interface provides a simple, minimalist menu design and structure, allowing users to access features and functions quickly and easily. The user interface makes it easy to find and select your music files, change the volume, and adjust the sound.
5" LCD Touchscreen: The SP1000 features a bezel-less design to maximize screen size. The high-definition 5" touchscreen display delivers a vibrant and engaging viewing experience. Song and player information is sharp, colorful and easily to read on the larger, brighter screen. The SP1000 features a revamped interface design which provides music playback from the home screen of the touchscreen to give users a more music-centric experience.
Multi-Function Rotary Knob: The multi-function rotary knob on SP1000 not only delivers visual and textual details with precision, but allows convenient, one finger On/off control and fine volume control with the addition of both push and turn features. By placing the power button on the volume wheel located on the side of the SP1000 instead of on the top, users can control the volume and turn the LCD touchscreen On/Off, all with one simple control.
USB-C: The SP1000 has a USB-C port on the bottom of the unit for connecting the unit to your computer for downloading music files and for charging the battery. Next generation USB Type-C support allows file transfer speeds up to 10Gbps and supports both data transfer and charging from the same cable. USB 3.0 protocol transfers data twice as fast when compared to other Astell&Kern players. The SP1000 is compatible with Windows XP, 7 and 8/8.1, as well as Mac OS X 10.7 and up.
WiFi Capability: The SP1000 features built-in WiFi (802.11 b/g/n--2.4GHz), allowing you to connect the device and your computer to the same network for streaming and downloading music. With the MQS Streaming Server software installed on your PC or Mac, you can use the SP1000 to access music files stored on your computer's hard drive or a connected HDD. In addition, the Wi-Fi connection allows you to receive notifications of new available firmware updates (OTA Upgrades), allowing you to download them on the spot.
Bluetooth w/ aptX: The SP1000 also has built-in Bluetooth V4.0 with A2DP/AVRCP support for connecting a Bluetooth device to listen to music wirelessly. Qualcomm's aptX, which is featured on a growing number of Android mobile devices as well as MacBooks and Apple desktop computers, allows audio to be wirelessly streamed in significantly higher quality than over standard Bluetooth. The aptX codec achieves a 4:1 compression ratio, allowing for near-CD quality listening (16-bit/44.1kHz). You'll instantly notice more extensive dynamic range, deeper bass, and crystal-clear top end.
Note: DSD playback is not available via Bluetooth, and performance may be limited for high-res playback; 48 kHz or lower resolution is recommended.
AK Connect (DLNA): The SP1000 can stream or download music files stored on a computer on the same network via DLNA (Digital Living Network Alliance). Using the AK Connect app (available for iPad running iOS 7.1 or later or Android devices running version 3.0 and up), you can connect to a NAS or PC and control it with a smartphone or tablet.
Rechargeable Battery: The SP1000 is equipped with a built-in rechargeable Lithium-Polymer battery (3400mAh/3.7V). The battery charges via USB in about 2 hours (with a 9V/1.67A charger). A fully charged battery can provide up to approximately 12 hours of continuous playback time.
Notes:

The maximum 12 hours of continuous play is based on a 24-bit/96kHz, FLAC file audio file, with the screen off, at 50% volume level, and power output set at low gain playback.
A fast charger rated 9V/1.67A or a general charger rated 5V/2A are not included.
Leather Case: Included with the SP1000 is a fine leather carrying case, made by artisans and master tanners in Italy. The case is warranted for quality, and comes with a numbered Certificate of Guarantee.
Protective Film: The unit includes a protective film to keep the touchscreen and the rear panel scratch-free. Two sets of the protective film are included for the front and the back.
Specifications
Frequency Response:
Unbalanced: 20-20kHz (+/-0.062dB), 10-70kHz (+/-0.68dB)\
Balanced: 20-20kHz (+/-0.061dB), 10-70kHz (+/-68dB)
Signal-to-Noise Ratio (SNR):
Unbalanced: 120dB @ 1kHz
Balanced: 122dB @ 1kHz
Crosstalk:
Unbalanced: 138dB @ 1kHz
Balanced: 143dB @ 1kHz
Total Harmonic Distortion (THD+N):
Unbalanced: 0.0005% @ 1kHz
Unbalanced: 0.0008% @ 1kHz
IMD SMPTE:
Unbalanced: 0.0004% 800Hz 10kHz (4:1)
Balanced: 0.0004% 800Hz 10kHz (4:1)
Output Impedance:
Unbalanced 3.5mm: 2 ohm
Balanced 2.5mm: 1 ohm
Our Product Research Team
At Crutchfield, you'll get detailed, accurate information that's hard to find elsewhere. That's because we have our own in-house Product Research team. They verify what's in the box, check the owner's manual, and record dimensions, features and specs. We stay on top of new products and technologies to help people make informed choices.