About the Tascam DR-60DmkII
High-quality audio recording for your DSLR
It's easy to shoot great video with a DSLR. But also capture equally great sound? Not with your camera's built-in mics. Enter the Tascam DR-60DmkII recorder/mixer. This rugged, streamlined digital recorder connects to your camera and records up to 4 channels of high-quality audio. And it's portable, so if you're doing multiple location shoots in a day, the DR-60DmkII won't slow you down.
High-quality audio recording for your DSLR
It's easy to shoot great video with a DSLR. But also capture equally great sound? Not with your camera's built-in mics. Enter the Tascam DR-60DmkII recorder/mixer. This rugged, streamlined digital recorder connects to your camera and records up to 4 channels of high-quality audio. And it's portable, so if you're doing multiple location shoots in a day, the DR-60DmkII won't slow you down.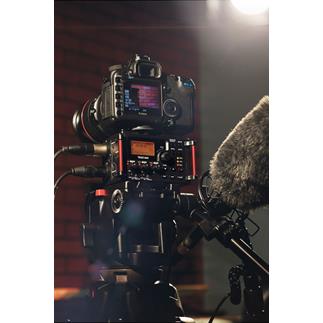 Clean, accurate recording
The Tascam DR-60DmkII can record in mono, stereo, or four channels. Built-in microphone pre-amps ensure you'll get optimal results from your mics. Two XLR/TRS balanced inputs can be used for phantom-powered condenser mics or line-level production mixers. Dedicated camera inputs and outputs make looping a pre-mixed reference track to your DSLR a snap. And a built-in safety-track backup protocol saves lower dynamic-level versions of your captured tracks, just in case your sound source suddenly gets louder and clips the signals.
Designed for quick setups
The DR-60DmkII features a rugged, lightweight plastic enclosure and soft-touch keys for noise-free adjustment during recording. The outer case also has tripod screws/tripod mounts so it can become physically integrated with the rest of your camera rig. And the LCD control interface is simple and straightforward, with minimal menu-digging required when setup time is tight.
READ LESS
Product highlights:
Special Features:
4-track solid-state audio recorder designed for the demands of DSLR-based videography
records to SD or SDHC memory cards up to 32GB (no memory card included)
high-quality, high-definition discrete architecture (HDDA) microphone pre-amps
simultaneous 4-track recording with mixer controls built-in
dedicated camera out provides solid reference audio track recording on your DSLR
internal slate tone generator provides easy track marking and identification for later editing convenience
self-timer function for solo recording
backlit LCD display
lightweight design features tripod socket on bottom and tripod screw on top for easy integration with camera rig
battery compartment designed for easy access while mounted
rigid plastic enclosure is durable and rugged while still being lightweight
dual mono/dual stereo modes automatically provide a padded safety track in case primary tracks have over-driven moments that clip
pad on safety track can be set between -6 and -12dB lower than the primary tracks
soft-touch keys eliminate handling noise mid-take
Specifications:
two XLR/TRS combo inputs support +4dBu line-level input and provide 48-volt phantom power if needed
channel 3/4 stereo minijack input accommodates high-output microphones
records linear PCM WAV files (BWF) up to 24-bit/96kHz resolution
USB 2.0 port (Mini Type B) for connection to a computer for file transfer
SD card slot for SD cards (up to 2GB) and SDHC cards(up to 32GB)
powered by 4 "AA" batteries, BP-6AA battery pack (sold separately) or AC adapter (also sold separately)
frequency response: 20-40,000 Hz (+1/-3 dB at 24-bit/96kHz)
signal-to-noise ratio: greater than 92 dB
total harmonic distortion: less than 0.02%
Connections and Dimensions:
2 XLR/TRS inputs for connecting mics, instruments, or line-level gear
1/8" (3.5mm) camera input for sound monitoring from the camera
three 1/8" (3.5mm) minijacks for headphone/line out/camera out (for routing internal mixer output back to camera for recording)
5-1/4"W x 3-11/16"H x 3-1/16"D
weight: 18 oz. (without batteries)
Supplied Accessories
USB cable
warranty: 1 year parts, 90 days labor
MFR # DR-60DmkII
KEEP READING
READ LESS
We don't have any reviews, yet.
Submit a review and then enter to win a $350 rewards card.
Be the first to review this product
Thanks for submitting your review
Most reviews are processed and published within 5 business days. You will receive a confirmation email once your review has been published.
Customer photos
More details on the Tascam DR-60DmkII
Researched by Crutchfield's

Russ B.
Product Research
General Features
Recording Features
Edit and Playback Functions
Specifications
General Features
Overview: The TASCAM DR-60D MK II is a portable digital recorder that is designed for filmmakers and videographers. You can make high quality 4-track LPCM recordings for your videos, instead of the usually inferior method found in most DSLRs. The recorder includes a slot for an SD/SDHC card, two microphone/line inputs, and a line/headphone output. The DR-60D MK II operates on four AA batteries (not included). The unit weighs 18 ounces (not including batteries).
LCD Display: The DR-60D MK II features a 1-3/4" (diagonal), backlit, monochrome LCD (128 x 64 pixels) which indicates recording and playback information. The recorder will display the elapsed or remaining recording time in hours, minutes, and seconds.
Mounting: The DR-60D MK II has a standard 1/4" threaded socket on the bottom for mounting the unit on a tripod. A pin hole is provided for use with video tripods as well. There is also a DSLR attachment bracket on the top with a 1/4" tripod screw and thumbwheel for tightening. The bracket's four attachment screws can be removed with a coin or other object if you wish to detach the DSLR bracket from the recorder.
Date and Time: The recorder features a built-in clock. If you have set the time and date, information as to when a sound file was recorded is stored automatically with that file.
Mic/Ext Inputs: Located on the side of the unit are two inputs for connecting external mics or an external device. These balanced analog inputs feature upgraded HDDA microphone preamps that provide up to 64dB of gain. They have locking XLR/TRS combo jacks, which can accept 3-pin XLR or standard 1/4" plugs. If the external microphone requires plug-in power, the DR-60D MK II can be set to provide +24V or +48V of phantom power. The levels for these inputs can be adjusted independently.
3-4 Input: In addition to the 1/L and 2/R XLR inputs, the DR-60D MK II has a single 3.5mm input marked "3-4." This is a stereo input for connecting a stereo microphone or stereo line level source. The 3-4 input has an independent level control and peak indicator, and can provide plug-in power for mics, if necessary.
Camera In/Out: The DR-60D MK II has separate Camera In and Camera Out jacks for connecting the unit to a DSLR. You should use standard 3.5mm stereo mini plug cables to connect them. If you want to send high quality audio from the DR-60D MK II to the camera, you can connect the Camera Out jack to the external mic input on the camera. A rotary volume control is provided on the Camera Out jack to adjust the level output to the camera. If you would like to input audio from the camera and monitor it with the DR-60D MK II, you should connect the Camera In jack with the audio output jack on the camera.
Delay Function: If the microphones (channels 1/2 and channels 3/4) are far apart from each other, a time delay could occur when recording. The Delay setting can eliminate this time delay during recording. The delay time can be set between 0ms and +/-150ms in 1ms increments.
Low Cut Filter: The device features a low-cut filter that can be engaged to reduce noise, such as wind noise, during recording. The cut-off frequency can be set to 40 Hz, 80 Hz, or 120 Hz.
SD Card Slot: The DR-60D MK II Digital Recorder features a slot for inserting an SD card. The recorder is compatible with SD cards from 64 MB to 2 GB, or SDHC cards from 4 GB to 32 GB in size. No memory card is included with this unit. The maximum recording time for SD cards is as follows:
Recording Setting
Recording Capacity
(hrs:mins)
2 GB
4 GB
8 GB
WAV/BWF
16-bit Stereo
44.1kHz
3:22
6:44
13.28
48kHz
3:06
6:12
12:24
96kHz
1:33
3:06
6:12
WAV/BWF
24-bit Stereo
44.1kHz
2:15
4:30
9:00
48kHz
2:04
4:08
8:16
96kHz
1:02
2:04
4:08
Formatting Memory Cards: Memory cards can be formatted in the unit to prepare them for use. You can choose a quick format, which erases all music files on the card and automatically creates new Music and Utility folders, as well as the DR-1.sys file that is necessary to use the card with the unit. Full formatting checks the memory for errors while formatting, and takes longer to complete than quick formatting.
USB: The DR-60D MK II has a Mini-B 2.0 (High speed) USB port on the side for connecting the recorder to your computer for transferring files or for providing USB bus power. A short USB cable is provided with the unit. With the optional TASCAM PS-P515U AC adapter (which plugs into the USB port), you can operate the unit on ordinary household current. The DR-60D MK II is compatible with the following Operating Systems: Windows XP, Windows Vista, Windows 7, Windows 8/8.1, and Mac OS X 10.2 or later.
Headphone/Line Out Jacks: The DR-60D MK II has separate 3.5mm stereo jacks for plugging in a pair of headphones, and for connecting to an external device or a powered monitor. Each of the outputs have rotary volume controls (0-10). You can listen to files played back or monitor the recording as it is made.
Hold Switch: The recorder features a hold switch, which makes all buttons inoperable when it is engaged. This helps to prevent unwanted operations.
Battery Power: The recorder is powered by four "AA" batteries. You can use either alkaline or Nickel-Metal Hydride (Ni-MH) rechargeable batteries. Alkaline batteries provide approximately 2.5 hours of continuous recording (44.1kHz/16-bit) when providing 48V phantom power to the mic input, and 4.5 hours when no phantom power is used. Ni-MH batteries provide about 3.25 hours continuous recording with phantom power and 5 hours without.
Optional Battery Pack: For extended recording time, the optional Tascam BP-6AA external battery pack (sold separately) can be connected to the DR-60D MK II via the USB input. With the external battery pack, the DR-60D MK II's 4.5 hour recording time is extended to 10.5 hours.
Remote Jack: The recorder has a 2.5mm sub-minijack for connecting a remote. The optional Tascam RC-3F footswitch remote or Tascam RC-10 wired remote can be used to operate the unit. The 3-pedal RC-3F footswitch offers assignable functions for the left, center, and right pedal. The RC-10 has 4 function buttons, as well as six control buttons (stop, play, rewind, fast forward, record, mark).
Recording Features
Recording Format: The DR-60D MK II records audio files in WAV and BWF (Broadcast Wave Format). You can choose from the following recording options: 44.1 kHz, 48 kHz, or 96 kHz; 16- or 24-bit.
Recording Modes: The recorder has five recording modes to choose from:
Mono: recordings are made in one channel
Stereo: recordings are made of two independent left and right channels
Dual Mono: recordings are made using one input source (mono) to create two files with different input settings. This mode captures a safety track at a lower level to avoid distortion. Two mono recording files are created.
Dual Stereo: recordings are made using one input source (stereo) to create two files with different input settings. This mode captures a safety track at a lower level to avoid distortion. Two stereo recording files are created.
4CH: recordings are made using 4 external inputs in two pairs. Two stereo recording files are created.
Maximum File Sizes: You can set the maximum file size in the Menu. The choices include: 64 MB, 128 MB, 256 MB, 512 MB, 1 GB, or 2 GB. If the maximum set file size is exceeded during recording, the unit will automatically continue recording in a new file. It cannot exceed a recording time of 24 hours.
Recording Levels: After selecting the input, you can adjust the input levels to prevent recorded sounds from being distorted due to excessively high input signals, or from being inaudible due to excessively low input signals, compared to noise. There are three level adjustment functions:
Peak Reduction: The input volume is reduced automatically to an appropriate level when excessively high signals come in.
Automatic Level Control: The recording level is controlled automatically to increase or decrease the input level when the input signals are too small or too large. This mode is useful for recording at meetings. Manual adjustments to the recording level cannot be made.
Limiter: Engaging the limiter prevents distortion of sounds when excessive high input signals come in suddenly. This mode is suitable for live performances with large volume changes. You can adjust the level manually during recording.
Adding Slate Tones: Slate tones are used to help synchronize the audio with the video files when editing. A dedicated Slate button is provided for adding a slate tone to a recording file whenever you like. The Slate button is normally disabled to prevent accidental operation, and must be enabled before you can use it.
File Names: Each time a file is recorded, a file name is assigned to the recording. The file name can be either a 6-character word or a 6-digit date (yymmdd format). You can set the word file name, while the date file name is automatically set using the unit's internal clock.
Marks: The DR-60D MK II lets you place an electronic mark in a recording to identify specific points in the recording. Mark information is stored in the file with numbers between 01 and 99. Marks stored in a WAV file are BWF-compliant, and can be added automatically or manually. During playback, you can immediately move to marks in the currently selected file when paused.
Automatic Recording: When Automatic Recording (Auto Rec) is enabled, the unit will start and pause recording, renew files, and set marks automatically, depending upon the input signal level.
Pre-Recording: Pre-recording enables you to start recording up to 2 seconds before you press the Record button. This enables you to avoid missing the exact moment a recordable event begins.
Self Timer: Like a camera, the recorder's self timer lets you start a recording after a set period of time. Self timers can be set to 2 seconds or 10 seconds.
Edit and Playback Functions
Browse Screen: The DR-60D MK II's Browse screen lets you view the contents of the Music Folder containing the audio files on the SD card. You can play or erase selected audio files, organize them into folders, and add tracks to the playlist.
Divide: A recorded WAV file can be divided into two at a specified position. This allows you to edit out unwanted portions of a track by placing them in a separate track and deleting them.
Playback Equalizer: You can choose from different sound types to enhance the sound quality of a track by using the Playback Equalizer (PlayEQ). The PlayEQ lets you make adjustments (+ or -) in the High (treble) Middle, and Low (bass) frequency ranges.
Level Alignment: If the playback sound is very small, the perceived overall level can be increased to enhance listenability.
Jump-Back Playback: During playback, you can press the play button to move back a few seconds to hear a section of the track again. The Jump-back Playback function is adjustable in the menu, allowing you to set the jump-back time to 1-10 seconds (in increments of 1 second), as well as 20 seconds and 30 seconds.
Mixer Function: The recorder has a mixer function that allows you to set the level of effects, stereo balance, and volume level for each channel. You can adjust the following values:
Pan/Balance: Adjusts left-right balance (Left 12 - Center - Right 12)
Level: Adjusts volume level (0 to 100)
Specifications
Inputs/Outputs:
1/L Connector / 2R Connector:

Connector: 2 x XLR/TRS combo
Phantom Power: +24V or +48V available
Mic or Mic + Phantom:

Input Impedance: 2 kΩ
Maximum Input Level: 0 dBu
Minimum Input Level: -72 dBu
Mic Input Gain: Low: +11dB, Mid: +36dB, High: +52dB, Hi+Plus: +64dB

Line:

Input Impedance: 10 kΩ or higher
Standard Input Level: +4 dBu
Maximum Input Level: +24 dBu

3-4 Jack (supports plug-in power):

Connector: 3.5mm stereo mini jack
Input Impedance: 10kΩ
Maximum Input Level: +10dBV
Minimum Input Level: -50dBV
Mic Input Gain: Low: +3dB, High: +26dB, High+Plus: +38dB

Camera In Jack:

Connector: 3.5mm stereo mini jack
Input Impedance: 10kΩ
Standard Input Level: -10 dBV
Maximum Input Level: +6 dBV

Camera Out (Low) Jack:

Connector: 3.5mm stereo mini jack
Output Impedance: 200Ω
Standard Output Level: -50 dBV
Maximum Output Level: -30 dBV

Phones Jack:

Connector: 3.5mm stereo mini jack
Maximum Output: 50 mW + 50 mW

Camera Out (High) / Line Out Jack:

Connector: 3.5mm stereo mini
Output Impedance: 200Ω
Standard Output Level: -10 dBV
Maximum Output Level: +10 dBV
Audio Performance:
Frequency Response:

20 - 20 kHz +0.5/-2 dB (44.1/48 kHz, Line In or Mic in to Line Out)
20 - 40 kHz +0.5/-3 dB (96 kHz, Line In or Mic in to Line Out)

Total Harmonic Distortion: 0.02% or less (Line In or Mic in to Line Out, Fs 44.1/48/96kHz)
Signal-to-Noise Ratio: 92dB or higher (Line In or Mic in to Line Out, Fs 44.1/48/96kHz)
Equivalent Input Noise: -120 dBu or more