Crown XTi 2002
Power amplifier — 475W x 2 at 8 ohms, 2,000W x 1 at 4 ohms bridged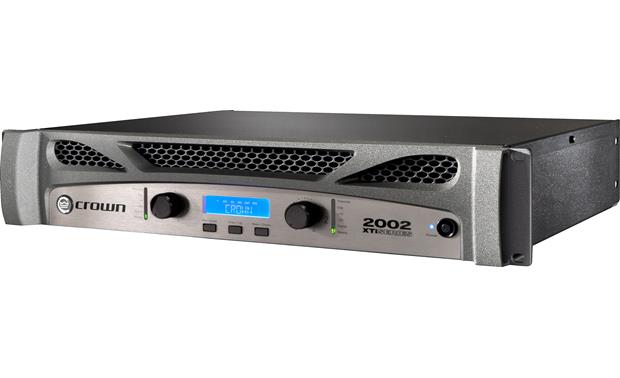 Crown XTi 2002 - The front panel includes gain controls for each channel, LED indicators, an LCD screen with three menu buttons, and the power switch.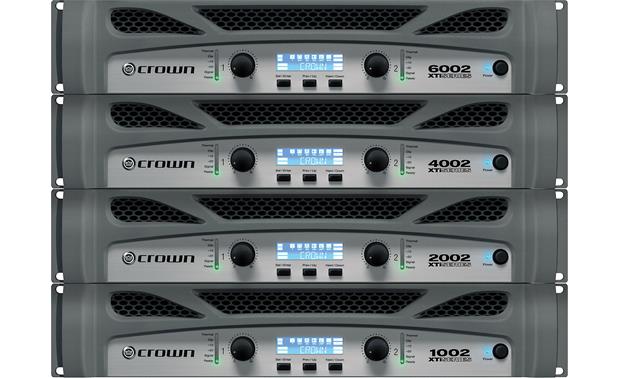 Crown XTi 2002 - All four models of Crown XTi Series 2 amplifiers.

Crown XTi 2002 - All four models of Crown XTi Series 2 amplifiers.
Updating the sound system at Trinity Irish Pub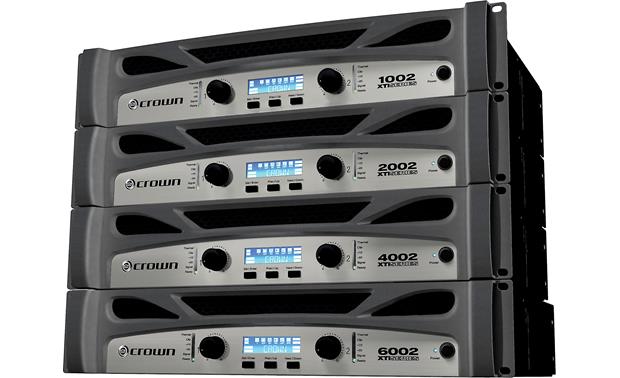 Crown XTi 2002 - All four models of Crown XTi Series 2 amplifiers.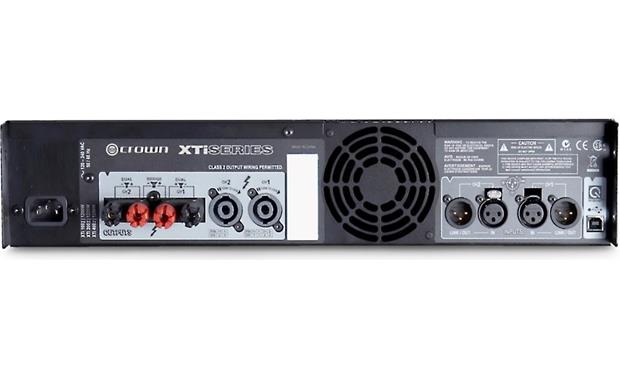 Crown XTi 2002 - The rear panel offers balanced XLR inputs plus Neutrik Speakon and binding post outputs, as well as loop-thru XLR Link/Out conectors.
Item # 859XTI2002 | MFR # XTI2002
In Stock
Consult a pro audio advisor

Our VirginiaVA-based experts can help.
Overview
Power and protect your system
Crown's XTi 2 Series power amplifiers don't just make your speakers sing — they serve as vital lynchpins for your sound system, allowing your music to reach the masses without compromise or overexertion. The Crown name on the front of these amps ensures you've got a trustworthy power source that's loaded with innovative features, like advanced limiters that give you full control, plus integrated signal processing tools for dialing in the perfect tone. When it's time to raise the hair on the back of the crowd's neck, a Crown XTi 2 amplifier does the heavy lifting for you.

The rear of the XTi 2002 power amplifier offers XLR inputs, plus Speakon and binding post outputs, as well as loop-through XLR Link/Out output connectors.
Heavy-duty juice
The Crown XTi 2002 amplifier serves up 475 watts per channel at 8 ohms, 800 watts per channel at 4 ohms, and up to 2000 watts in bridged mode. The proportional speed fan features three user-defined settings — normal, early, and full-speed — to help keep things cool within the front-to-rear airflow system. The universal tracking switch-mode power supply maintains efficiency and reliability. Steel construction with a cast aluminum front panel helps keep this dynamo robust under repeated use.
Up front the amp boasts independent level control knobs and LEDs, an on/off switch, LCD screen, and three menu control buttons. You'll be able to monitor the amp's presets and processing status through the LCD screen.
The Crown XTi 2002 offers balanced XLR inputs, as well as binding posts and Neutrik Speakon® outputs for the speakers, plus XLR loop-thru connectors for connecting additional amps. Integrated cast aluminum rack handles promote smooth transport between the van and the gig, and these amps are eminently rackable and stackable.
Push it to the limit
Looking for a way to push your sound to the edge without going too far afield? Crown's Peakx Plus Limiter technology gives you total control over threshold, attack, and release times, so you can dial in your sound at the boundaries without worry about excess stress on your system. It's defeatable, just in case you want to work around it.
Built-in processing
The XTi 2002 gives you plenty of options for shaping your sound from the rack. It's got 6 parametric filters per channel for the input EQ, plus high- and low-pass crossovers. 8 parametric filters per channel on the output EQ give you further adjustments. You also get built-in delay and 30 total presets, 29 of which are user-defined.
Crown's SubHarmonic Synth feature takes your low-frequency signal, then "synthesizes" a new signal with the same characteristics, just one octave lower. The XTi 2002 sums the two signals and sends the result to your subwoofer. You can adjust for frequency, gain, and filter type to get the most out of your low end.
HiQnet for further adjustments
You can connect the XTi 2 Series amp to your laptop using the amplifier's USB plug, providing access to optional HiQnet Band Manager or Audio Architect software which you can download. These software programs allow you to tweak your amp's and system settings right from your laptop, and save the settings for future gigs. They can also give you real world feedback on how different components can fit into your system down the road.
Product Highlights:
General Information:
2-channel power amplifier with built-in digital signal processing
power output:

475 watts per channel at 8 ohms
800 watts per channel at 4 ohms
1000 watts per channel at 2 ohms
1600 watts (mono) at 8 ohms in bridged mode
2000 watts (mono) at 4 ohms in bridged mode

frequency response: 20-20,000 Hz (-1 dB)
signal-to-noise ratio: 100 dB
total harmonic distortion: 0.5% (20-20,000 Hz)
Features:
independent right- and left-channel level controls
LCD screen with sel/prev/next buttons
digital signal processing:

defeatable Peakx Plus Limiters for each channel
input EQ: 6 parametric filters per channel
high-pass and low-pass crossover filters
output EQ: 8 parametric filters per channel
50 ms of total delay
SubHarmonic Synth

proportional speed fan with front-to-rear airflow and three user-defined settings
initial power, DC voltage, short circuit, thermal, and current limiting protection
front-panel LEDs indicate power, signal, -10dB and -20dB below clipping, ready, clipping, and temperature
integrated cast aluminum handles
Connections:
inputs: balanced XLR
outputs: binding posts and Neutrik Speakon
XLR Link/Out outputs to send signal to another amp
USB connection for HiQnet applications
Other Information:
weight: 18.5 lbs.
19"W x 3-1/2"H x 12-1/4"D (2 rack spaces)
warranty: 3 years
What's in the Box:
Power amp
AC power cord
Operation Manual
Why Shop
With Us?
12 Reasons.
---
Details
Features and Specs
General
Number of Channels
2
Power Class
---
Watts per channel 8 ohms
475
Watts per channel 4 ohms
800
Watts per channel 2 ohms
1000
Watts bridged
1600
Fan cooled
Y
DSP
Y
Filters
LPF, HPF
Rack spaces
2
Height (inches)
3-1/2
Depth (inches)
12-1/4
Width (inches)
19
Weight
18.5 lbs
Inputs
RCA
---
1/4"
---
XLR
2
Outputs
1/4"
---
Binding post
2
Spring post
---
Product Research
Features
Amplifier Presets: The Crown XTi2 Series amplifier comes pre-loaded with presets that makes it easy to configure the amplifier for your type of applications.
Stereo DSP Off (Preset 1): This is the default mode the amplifier is set to from the factory. The amplifier is configured for stereo mode with all processing disabled.
Bridge (Preset 2): Putting the amplifier in Bridge (bridge-mono) mode delivers the power of both amp channels into a single 8 or 4 ohm load.
Xover (Preset 3): Putting the amplifier in Xover mode enables a 1.2kHz 4th order (24dB/octave) filter that sends frequencies of 1.2kHz and below to Channel 1 output and frequencies of 1.2kHz and above to Channel 2 output.
BRG SUBS (Preset 4): Putting the amplifier in BRG SUBS (bridged subs) mode allows you to bridge the amplifier for use with a single 8 or 4 ohm subwoofer. The inputs are automatically summed, a 90Hz 4th order (24dB/octave) LowPass filter is enabled, and the output mode is put into bridge-mono mode.
SUBSYNTH (Preset 5): Putting the amplifier in SUBSYNTH mode allows you to turn on the SubHarmonic Synth feature for use with a subwoofer on both channels. The inputs are automatically summed, a 90Hz 4th order (24dB/octave) filter is enabled on both Channel 1 and Channel 2, and the SubHarmonic Synth feature is turned on at +12dB level.
Power Rating: Maximum average power in watts at 0.5% THD, 1 kHz.
Impedance Load
Dual Mode (stereo)
Bridged Mode (mono)
Wattage
Wattage
2 ohm
1,000 watts
N/A
4 ohm
800 watts
2,000 watts
8 ohm
475 watts
1,600 watts
Peakx Limiters: Peakx Limiters provide the ultimate in performance and protection for your entire system. This advanced algorithm was specifically developed and tuned to work with this amplifier and power-supply to achieve higher SPL will less audible artifacts. This means less distortion, less shutdowns, and maximum safe power delivered to your speakers. The Peakx Limiters can be easily turned on or off by channel right from the front panel eliminating the need to be digging around in the back of the dark rack.
XLR Inputs/Outputs: The XTi2 Series amplifier provides two 3-pin XLR input connectors (one per channel). Two 3-pin XLR output connectors are provided (one per channel) to loop-thru signal from one amp to another.
Outputs: The XTi2 Series amp feature two 4-Pole Speakon output connectors that will accept 2-pole or 4-pole Speakon connectors. The Channel 1 Speakon connector is wired for both channels so it can be used for bridged-mono wiring or for stereo wiring of two speakers to a single Speakon connector. There is also one pair of binding posts per channel that will accept banana plugs or bare wire.
HiQnet USB Connector: The power amp's USB (type-B) port allows you to connect the amplifier to a computer for use with System Architect and Band Manager software (not included). The System Architect Software is required to have full control over all integrated processing features which can be downloaded from the following URL - http://hiqnet.harmanpro.com/. When controlling more than one XTi2 at a time you will need USB Hub. We recommend using a powered USB Hub.
Adjustable Fan Speeds: The XTi2 Series amplifiers employ flow-through, front-to-back ventilation and internal fans with forced-air cooling for rapid, uniform heat dissipation. You can tailor the fan speed to specific applications. The default mode is NORMAL and should work fine for most applications. EARLY mode turns the fan on sooner at a "lower" temperature, and FULL-SPEED mode turns the fan on full-speed full-time. Full-speed mode is not recommended for "dirty" environments.
LED Indicators: The power amplifier features ten LEDs (five for each output channel) to indicate status of amplifier.
Ready Indicator: Two green LEDs, one for each channel, illuminate when the amplifier is ready to produce audio.
Single Presence: Two green LED's, one for each channel, illuminate when the channel input signal exceeds -40dBu.
-10: Green LED flashes when output signal level exceeds -10dB below clip.
-20: Green LED flashes when output signal level exceeds -20dB below clip.
Clip: Two red LED's, one for each channel, illuminate when the channel's output is being overdriven.
Thermal: Two red LED's, one for each channel, illuminate when thermal compression begins.
Our Product Research Team
At Crutchfield, you'll get detailed, accurate information that's hard to find elsewhere. That's because we have our own in-house Product Research team. They verify what's in the box, check the owner's manual, and record dimensions, features and specs. We stay on top of new products and technologies to help people make informed choices.
Looking for more? Check out the next model in this lineup.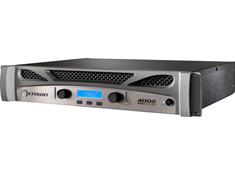 The Crown XTi 4002 offers up to 1200 watts at 4 ohms