About the Mackie ProFX6v3
Get the perfect mix for stage or studio
Mackie's ProFX6v3 6-channel mixer comes packed with all the input and output features you need for live sound production, along with onboard effects that allow you to retire that outboard gear and still be able to add some space and nuance to a mix. In addition, this mixer features stereo digital inputs and outputs and comes with a software package that includes two DAWs and two collections of effects plug-ins, so the board will also work quite well in a recording studio.
Get the perfect mix for stage or studio
Mackie's ProFX6v3 6-channel mixer comes packed with all the input and output features you need for live sound production, along with onboard effects that allow you to retire that outboard gear and still be able to add some space and nuance to a mix. In addition, this mixer features stereo digital inputs and outputs and comes with a software package that includes two DAWs and two collections of effects plug-ins, so the board will also work quite well in a recording studio.
High-quality mic preamps
The ProFX6v3 uses two of Mackie's Onyx™ microphone preamps, each virtually noise-free with up to 60 dB of gain. Each mic input also includes a switchable low-cut filter to help remove the unwanted rumble and bleed of a live stage mix.
Onboard effects
Mackie's GigFX™ effects processor includes 24 performance-tested reverb, delay, and chorus effects to color the sound just the way you like it.
Digital recording software
The USB port supports 24-bit 192K input and output connections to your computer. Mackie includes two suites of musical production software with this mixer.
Pro Tools® First DAW plus The Musician Collection of plug-in effects
Waveform™ OEM DAW plus The DAW Essentials Collection™ of plug-in effects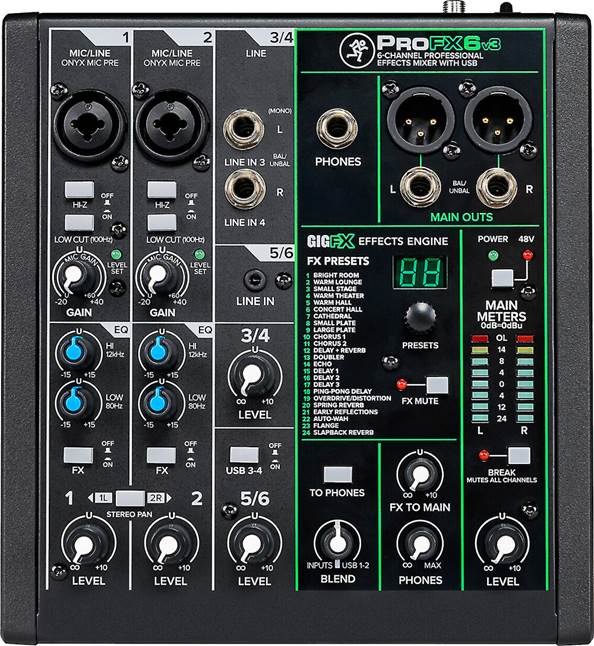 READ LESS
Product highlights:
6-channel Mixer
channels 1-2:

mono mic/line inputs (Combo XLR/TRS)
HiZ switch for direct instrument connection
switchable low-cut filter (100 Hz, 18 dB/octave)
2-band EQ
FX send
switchable phantom power (+48 volts)
clip light

channels 3-4:

stereo line input (1/4" TRS)

channels 5/6:

stereo line (1/8" TRS) or USB input
Special Features:
Mackie Onyx microphone preamps
Mackie GigFX processor with 24 effects (reverb, chorus, delay, etc.)
music production software included

Pro Tools First DAW plus The Musician Collection of plug-in effects
Waveform OEM DAW plus The DAW Essentials Collection of plug-in effects

USB interface: 2-channel out, 4-channel in (24-bit, 192 kHz)
More Info:
LED output meter with peak indicator
headphone output
steel chassis
dimensions: 7-1/2"W x 2-3/4"H x 10-1/2"D
weight: 2.6 lbs.
warranty: 1 year
MFR # PROFX6V3
What's in the box:
Mackie ProFX6v3 owner's manual
6-Channel mixer
59" DC power supply (12VDC/2A outupt)
76" USB cable (type-A to type-B / 2.0)
Quickstart guide
Pro-Tools download card
Waveform OEM download card/license code
Mackie ProFX6v3 reviews
Average review:
Thanks for submitting your review
Most reviews are processed and published within 5 business days. You will receive a confirmation email once your review has been published.
Customer photos
More details on the Mackie ProFX6v3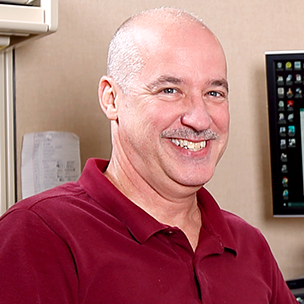 Researched by Crutchfield's

Russ B.
Features & specs
General
Mic inputs
2
Line inputs
(4) 1/4"
Phantom power
Y
Channel EQ
2-Band
Master EQ
N
Monitors
0
Effects
24
Talkback
N
Height (inches)
2-3/4
Depth (inches)
10-1/2
Width (inches)
7-1/2
Weight
2.6 lbs
Product Research
Features
Channel Strips
Outputs&Additional Controls
Built-In FX
Connectivity
Overview: The Mackie ProFX6v3 is a professional 6-channel compact mixer with 2 Onyx mic preamps and a USB interface. The Mackie ProFXv3 series mixers includes a new GigFX effects engine that instantly delivers your choice of 24 effects. In addition, the ProFX6v3 also features smooth rotary Level controls for each channel strip and 2-band equalization for channels 1&2. The mixer's "Built-Like-A-Tank" design features a solid steel chassis with rugged ABS side panels. The Mackie mixer also includes ProTools/First and Waveform OEM professional software and plugin packages (via free download).
Applications: The Mackie ProFX6v2 is great for Live sound mixing, houses of worship, clubs, gyms, banquet halls, conference and board rooms, studio and field recording, video post-production, multimedia applications, broadcast, and many more.
Main Inputs: The ProFX6v3 offers the following main inputs:
Onyx Mic Preamps (Ch. 1&2): Mackie's Onyx microphone preamps offer up to 60dB of gain and ultra-low noise performance. Channels 1&2 are equipped with female XLR/1/4" combo jacks accepting balanced mic or line level inputs from almost any type of source. The mic inputs feature 48-volt phantom power from a single 2-way switch.
Stereo Line Inputs (Ch. 3/4): Channels 3/4 consist of a stereo pair of 1/4" TRS jacks, each accepting line level signals from balanced or unbalanced sources.
Line/Hi-Z Input (Ch. 1&2): Channels 1&2 feature a Line/Hi-Z switch that allows you to connect a guitar to either 1/4" input without a DI box. With the switch pressed in, the input impedance is optimized for a direct connection. In the out position, that corresponding 1/4" input becomes a line input.
1/8" Stereo (Ch. 5/6): This uses a single 1/8" stereo input for use with a portable player, smartphone, or tablet.
USB: A front-panel USB 3-4 switch on channel strip 5/6 lets you override the 1/8" audio input with the rear-panel USB input, letting you mix audio from a computer.
Gain: Input channels 1&2 have a Gain control that lets you adjust the input sensitivity. The Gain controls feature a "U" symbol to indicate "Unity Gain," or no change in the signal level. Level Set LEDs are provided to let you know if any of the channels are distorting.
Line Inputs: For line-level signals, you can adjust the input sensitivity between -20dB and +40dB.
Mic Inputs: For mic signals (from the XLR connectors), the range of adjustment is 0dB to +60dB.
Low Cut: A Low Cut switch on channels 1&2 cuts bass frequencies below 100 Hz at a slope of 18dB per octave.
2-Band Equalization: Inputs 1&2 have 2-band equalization, with "low shelving" at 80Hz and "high shelving" at 12kHz. Shelving means the circuitry boosts or cuts all frequencies past the specified frequency. Each control can provide 15dB of boost or cut at 80Hz and 12kHz. The "U" symbol indicates the center position (Unity Gain) where there is no change in the signal level.
FX Switches: The ProFX6v3 features an FX On/Off switch for channel strips 1&2. With the switch On, the channel signal is assigned to the FX send, post-channel Level dial. All effected channel signals are added to the main mix by increasing the level of the "FX to Main" dial.
Stereo Pan Switch: A single switch for Channels 1&2 determine the stereo placement of each. When the switch is out, each mono channel feeds both the right and left sides of the main mix equally. When pressed in, Channel 1 will play through the left side and Channel 2 will play through the right.
Level Controls: The ProFX6v3 features a rotary Level control for Channels 1, 2, and 3/4. Each control includes "U" (unity), for no change in the signal, and can provide up to 10dB of additional signal gain if needed. Input level for Channel 5/6 (1/8" stereo input) is determined by the playback source.
Outputs:
Main: Two balanced XLR and two balanced/unbalanced 1/4" jacks are provided for the Main Output signal. Both outputs are adjusted by the Main fader and provide a line-level signal for running to an outboard amplifier or powered speakers.
Phones: A 1/4" TRS headphone output is provided with a corresponding rotary Phones dial for adjusting the output.
Main Output Level: A single rotary control adjusts the output level of the main mix signals sent to the XLR and 1/4" Main output jacks. A corresponding Break button, with LED indicator, can be used to quickly mute all signals going to the Main, Control Room, and Headphone outputs.
Main Meters: A pair of 8-segment LEDs display the Main Output level, ranging from -24 to 14. LEDs from -24 to 8 light green, while LED 14 lights yellow, indicating the signal level is near clipping. Red "OL" clip LEDs will light if the signal starts to clip.
Additional Controls
Blend: A rotary knob adjusts the amount of blended signal from all Input Channels and the USB 1-2 return input. Fully left provides just the Input Channel signal, center provides a 50/50 blend, and fully right provides just the USB 1-2 signals. This lets you blend between monitoring your computer's output and the feed from the mixer, with zero latency. A corresponding To Phones button allows the blended signal to be sent to the Headphone output.
48V: Activates +48V of phantom power to all of the XLR input jacks. A corresponding red LED lights when activated.
GigFX: The Mackie ProFX6v3 includes 24 high-quality FX (effects) built-in for easy selection and use. A Preset rotary knob with corresponding LED display let you quickly cycle through each Preset, while pressing the rotary knob selects the Preset number that's displayed. A list of all FX Presets are silk-screened on the front panel, along with an Effects Mute switch for quickly muting the selected FX. A corresponding LED lights when the switch is in use. An optional footswitch can be used to quickly mute/un-mute the selected FX. Effects include the following:
| | |
| --- | --- |
| 1 | Bright Room |
| 2 | Warm Lounge |
| 3 | Small Stage |
| 4 | Warm Theater |
| 5 | Warm Hall |
| 6 | Concert Hall |
| 7 | Cathedral |
| 8 | Small Plate |
| 9 | Large Plate |
| 10 | Chorus 1 |
| 11 | Chorus 2 |
| 12 | Delay + Reverb |
| 13 | Doubler |
| 14 | Echo |
| 15 | Delay 1 (Fast) |
| 16 | Delay 2 (Medium) |
| 17 | Delay 3 (Slow) |
| 18 | Ping-Pong Delay |
| 19 | Overdrive/Distortion |
| 20 | Spring Reverb |
| 21 | Early Reflections |
| 22 | Auto-Wah |
| 23 | Flange |
| 24 | Slapback Reverb |
USB: A rear-panel USB type-B (2.0) is provided for connection to a computer DAW (Digital Audio Workstation), providing a 2x4 I/O, along with 24-Bit/192kHz recording resolution. The 2x4 USB I/O lets you record a stereo signal to the computer and return up to 2 stereo playback streams from the computer. This lets you monitor specific tracks during playback in addition to the full mix.
Included Software Bundle: The ProFX6v3 comes with a powerful software bundle that provides everything you need to record, mix, and master your next project. This software package includes:
Pro Tools/First Software: Avid Pro Tools is the industry standard for audio recording and editing software. The Mackie ProFX6v3 includes Pro Tools/First, Avid's entry-level version of their powerful software. Even as "entry-level" software, Pro Tools/First is packed with important features for recording and editing your music.

Up to 16 audio tracks

Session Templates: Various session templates are provided to help you get started quickly. Templates for rock, pop, electronica, hip-hop, and jazz can cover a wide range of music styles, each including preloaded virtual instruments. You can also build tracks from scratch and save your track settings as presets.

Editing: Featuring Pro Tool's world-class editing tools, the Pro Tools/First software lets you click-and-drag MIDI notes, change tempo, edit pitch and timing, correct mistakes, and much more.

UVI Workstation 3: This is a powerful sample player and multitimbral instrument that makes it easy and fun to create unique sounds. It also includes Xpand!2 virtual instrument pack, offering a wide range of sounds, from beats and loops to orchestral instruments, and more.

Soundbase: Includes over 3GB of high-quality loops, samples, and sound content created by leading producers.

Effects & Utility Plugins: Pro Tools/First comes with 23 effects and utility plugins to help shape sounds, warm up tones, and give tracks greater presence. Plugins range from EQ and Dynamics to Reverb and Delays. Additional plugins can be purchased through Avid.

Cloud Storage: Pro Tools/First includes Avid's free introductory cloud storage, letting you save, sync, and share up to three projects.

System Compatibility:

Windows: 10 (Build 1809)

MacOS: Sierra (10.12.6), High Sierra (10.13.6), Mojave (10.14.4 or 10.14.5)

Mackie Musician Collection: This features 23 exclusive Mackie plug-ins, including multiple Compressors, Reverbs, and Delays, along with Fuzz, Flanger, Distortion, Phaser, Roto Speaker, and more.

Waveform OEM: Waveform OEM is a multi-award winning DAW featuring powerful tools for modern musicians. Key features include unlimited track count, compatibility with all popular plug-ins, and efficient performance on Mac, Windows, and Linux operating systems:

Windows: 7/8/10 (32/64-bit)

MacOS: 10.9 or later (32/64-bit)

Linux: Ubuntu 16.04 (64-bit)

DAW Essentials Collection: Includes 16 contemporary FX plug-ins that can be used with any DAW. These effects plug-ins utilize the very latest algorithms and coding techniques, providing exceptional sound quality in an extremely efficient package. FX include: Equaliser, Compressor, Delays, Limiter, Gate/Expander, Crusher, and more.