About the Audeze iSINE 10
Unique headphone design that delivers the goods
Audeze's iSINE 10 headphones (and their sibling
iSINE 20s
) feature a break-through design unlike anything we've ever carried. The company shrunk their planar magnetic drivers – which are traditionally found inside their
large, bulky over-ear headphones
– and fit them into a compact in-ear design.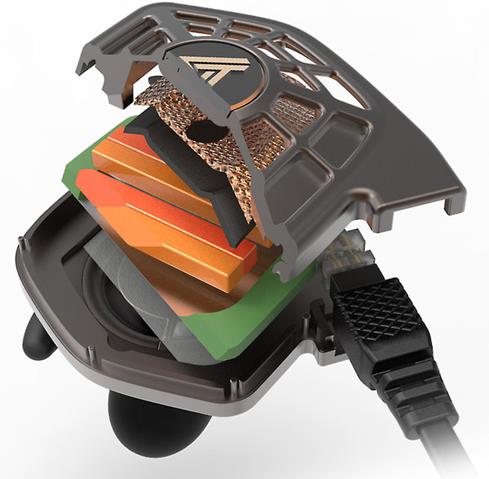 Illustration of the powerful magnet and ultra-thin diaphragm found inside the iSINE 10's planar magnetic drivers.
Unique headphone design that delivers the goods
Audeze's iSINE 10 headphones (and their sibling iSINE 20s) feature a break-through design unlike anything we've ever carried. The company shrunk their planar magnetic drivers – which are traditionally found inside their large, bulky over-ear headphones – and fit them into a compact in-ear design.
They've also included a detachable Apple® Lightning cable with its own built-in 24-bit DAC, so you can plug them directly into the newest iPhone® or iPad®. (You'll find a traditional 3.5mm cable, too.) But before I get too far into the innovations, I'd like to focus on what I consider their number one killer feature: the sound.
I heard crystal clear, wide-open sound
I've never been a big fan of in-ear headphones. Maybe I'm biased by bad experiences with the generic earbuds that come in the box with a smartphone. But I immediately recognized that the iSINE 10s are a far-superior breed — and they got better the more I listened. Connected via the Lightning cable to my wife's iPhone, these headphones sounded even more spacious than a lot of the over-ears I've tried. The sound is transparent, with powerful, finely detailed bass and sparkling highs.
"Moonlight Mile" by the Rolling Stones really helped show off these strengths. The opening acoustic guitar licks started only in my right ear, far off in the distance. As the other instruments and soft background vocals picked up, the entire soundstage shifted to front-and-center. Then when the string arrangement and Mick's lead vocal kicked in, the clarity was almost startling. I could picture the percussion, piano, and guitars all coming from different places.
Planar-magnetic drivers: the basics
So how do planar magnetic headphones usually work? A large yet ultra-thin diaphragm is suspended within a magnetic field. It is covered with a flexible circuit. When the circuit receives an audio signal, the diaphragm moves back and forth to create sound. It starts and stops rapidly for clean and accurate sound across a wide frequency range.
How did Audeze fit that technology into an earbud?
The diaphragms used in the iSINE 10s are a fraction of the size used in most planar magnetic 'phones. Still, you can probably tell from the pictures that these headphones are bigger than most in-ear models. You stick the earbuds in your ears while the planar drivers actually sit outside.
To make up for the loss in diaphragm size, Audeze uses their super-powerful Fluxor magnets to provide quicker movement. These magnets are nearly double the power of a traditional magnet, making the iSINE 10 drivers incredibly efficient.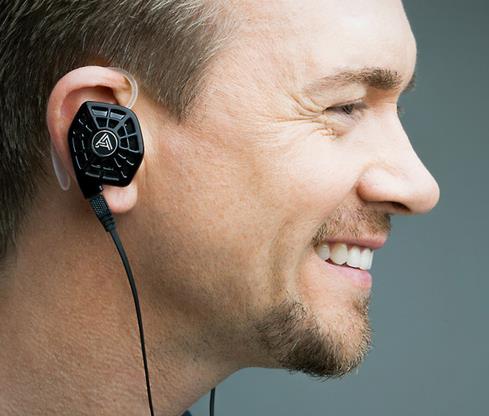 The included plastic hooks help secure the lightweight earpieces.
More than just a Lightning cable
Audeze's "Cipher" Lightning cable offers more than just a way to play with the iPhone 7 or other Apple device. You also get a built-in DAC and headphone amp that Audeze has precisely matched to these drivers. This means you get serious punch and clarity, just by plugging into your phone.
A tricky fit at first, but it grew on me
I'll admit, it took a few minutes for me to get used to those drivers sitting outside my ears. It was so different than anything I had worn. But the headphones felt much lighter than I expected, especially when secured to my ear with the included plastic hook.
I liked using those hooks because they kept the earpieces stable as I moved my head around. You can also use choose from two sizes of soft inner-ear loops that keep them in place. All of the accessories and cables fit inside a magnet-sealed carrying case. You can quickly pack them up for travel, then reassemble them when you want to listen — like a cool James Bond gadget.
READ LESS
Product highlights:
one of the world's first in-ear planar magnetic in-ear headphones
special edition "Black/Steel" color pattern made exclusively for Apple
open-back design for a spacious soundstage
30mm planar magnetic driver in each earpiece

ultra-thin diaphragm starts, moves, and stops swiftly within a powerful magnetic field
offers enhanced dynamics and detailed sound
Fluxor™ magnetic technology increases efficiency to keep headphones smaller and lighter

ear hooks keep headphones stable and comfortable
detachable Lightning listening cable included for high-quality sound with an iPhone or iPad

cable includes built-in DAC and headphone amp

Siri®-compatible microphone for voice commands and phone calls
detachable 59-inch flat audio cable with a 3.5mm plug
Uniforce™ diaphragm technology helps reduce distortion
made of durable materials
protective carrying case
designed by BMW DesignWorks USA
frequency response: 10-50,000 Hz
impedance: 16 ohms
weight: 0.7 ounces (without cable)
warranty: 1 year
MFR # 110-IE-1000-02
KEEP READING
READ LESS
What's in the box:
In-ear headphones (black/steel)
59" Cipher cable with in-line remote/mic (with 2-pin connectors on one end and an Apple Lightning connector on other end)
59" Audio cable (with 2-pin connectors on one end and straight 3.5mm plug on other end)
3 Pairs of ear tips (1 pr installed)
2 Pairs of Surefire EarLock retention rings (Med/Large)
2 Pairs of ear hooks (black/translucent)
Clothing clip
Ear tip cleaning tool
Certificate of Authenticity card
User Guide on USB drive
Audeze iSINE 10 reviews
Average review:
Customer photos
More details on the Audeze iSINE 10
Researched by Crutchfield's

Mark G.
Product Research
Features
Overview: The Audeze iSINE is the world's first full-range in-ear planar magnetic headphone. This limited edition black/steel iSINE 10 comes with two 59" cables--one designed for use with Apple iPhone/iPad/iPod touch, and one universal cable. The headphones come with two pairs of ear hooks, two pairs of ear locks, an assortment of rubber ear tips, and a handy storage case.
Planar Magnetic Technology: The iSINE Series headphones are a miniaturized, in-ear version of Audeze's flagship LCD collection of planar magnetic over-ear headphones. The iSINE 10 features large (30mm) ultra-thin planar magnetic diaphragms with the patented Uniforce voice-coil technology and a single-sided Fluxor magnetic array for greater accuracy and clarity. Even at high volumes, the distortion (THD) is less that 0.1% overall.
CIPHER Cable: The iSINE 10 comes with the award-winning CIPHER Lightning cable, which is especially optimized for the iSINE series and for Apple mobile devices. The cable bypasses the iDevice's internal DAC/amplifier, and streams a 24-bit high resolution signal directly to the in-line module. The module is equipped with a high-quality in-line amplifier, a digital-to-analog converter, and DSP (digital signal processor), plus a 3-button remote and microphone. The CIPHER cable is compatible with Lightning Connector-enabled iPhones, iPads, and iPod touch. A universal audio cable is also included for non-Apple devices.
Audeze App: With the accompanying Audeze app, you can take advantage of a 10-band EQ that lets you adjust the sound in real time. You can adjust the following bands by + or - 10dB: 32Hz, 64Hz, 125Hz, 250Hz, 500Hz, 1kHz, 2kHz, 4kHz, 8kHz, and 16kHz. You can save your favorite two EQ curves for later use, as they are stored in a non-volatile memory. The saved EQ curves can be used as you switch from one Apple device to another. The Audeze app requires iOS 8.1 or later, and is available for free download from the Apple iTunes App Store.
Fit: The iSINE 10 is designed to fit into the ear canal. It comes with three pairs (small, medium, large) of silicone ear tips to assure a correct fit. Two pairs (medium, large) of durable polymer Surefire EarLock retention rings comfortable lock the headphones into key points of your outer ear and keep them securely in your ear. There are also two pairs of ear hooks (black and translucent) that go behind the ear to hold the headphones in place. To keep the headphone cable in place, a clothing clip is included.
Specifications:
Frequency Response: 10Hz to 50kHz
Type: Semi-open-back planar magnetic headphones
Magnetic Structure: Single-sided Fluxor magnetic array
Magnet Type: Neodymium
Diaphragm Type: Ultra-thin with Uniforce voice-coil
Transducer Size: 30mm
Maximum Power Handling: 500mW
Maximum SPL: >130dB
Sensitivity: 110dB/1mW (at Drum Reference Point)
Total Harmonic Distortion: < 0.1%, full spectrum, @ 100dB
Impedance: 16 ohms
Dimensions: Width 1.298", Height 1.6", Depth 1.318"
Weight: 1.7 ounces (including CIPHER cable)
Q
Crutchfield asked: Why did you buy this?
A
I was looking for some high quality in ear headphones to replace my original Monsters. From all my research and countless reviews these seemed perfect for what I am looking for....
[ Scott Jun 01, 2019 ]
A
new reduced cost to try magneplanar since I own magnepan speakers for home audio
[ Dean May 10, 2019 ]
A
quality, technology and price
[ MARCOS Apr 11, 2017 ]