About the Audio-Technica ATH-ADX5000
Something special from the longtime headphone masters
Refreshing. Perhaps that doesn't sound like the most lofty superlative for a luxury piece of personal audio gear. But it is the first word that came to mind when I listened to Audio Technica's new flagship ATH-ADX5000 headphones. And I use that word with the highest of praise — these headphones manage to sound both revealing and musical at the same time.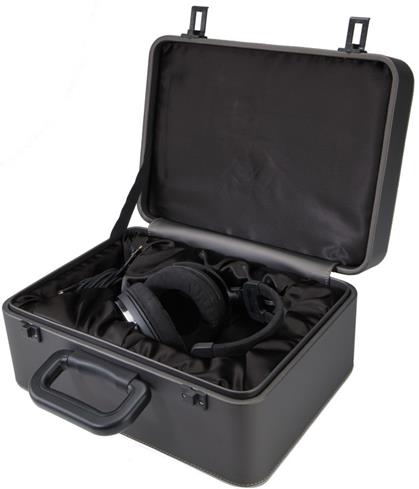 The Audio-Technica ATH-ADX5000 headphones arrive impeccably packed in a heavy-duty case.
Something special from the longtime headphone masters
Refreshing. Perhaps that doesn't sound like the most lofty superlative for a luxury piece of personal audio gear. But it is the first word that came to mind when I listened to Audio Technica's new flagship ATH-ADX5000 headphones. And I use that word with the highest of praise — these headphones manage to sound both revealing and musical at the same time.
The ATH-ADX5000 'phones were designed and fastidiously crafted in Audio Technica's Tokyo headquarters. They're built from precious materials and succeed from a technical standpoint and in terms of grace and soul. You get clean, pure sound across a wide frequency range.
Appearance matters, too
I can tell you first hand just how special it feels to have these headphones delivered to you. They arrived at my office inside in a large, important-looking shipping box that I thought must contain more than one pair of headphones. Nope.
Audio Technica — a company notorious for their no-frills, let-the-product-do-the-talking packaging — pulled out all the stops. They packed the ATH-ADX5000s inside an extra-large, stitched-leather carrying case. It unlatched with a satisfying snap, and I found the oversized headphones neatly nestled in pillow-soft velvet.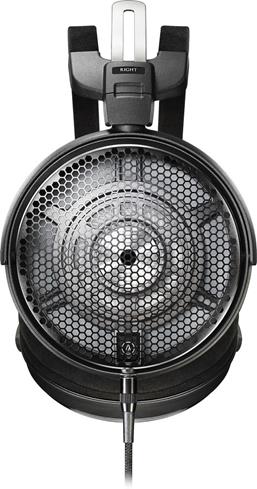 The honeycombed design of the open-air earcups give you a glimpse of the driver unit
Lightweight and luxurious
It seems obvious, but some companies forget: comfort can make or break the headphone experience. Audio Technica's engineers did not overlook this key fact.
As large and substantial as the headphones are, they feel extremely light. Every inch is well-built and pleasant to the touch. I felt it as I held the smooth, strong magnesium alloy frame, and when I slipped the generous alacantra ear pads over my ears.
Uniquely designed driver system
There's a lot going on "under the hood" of these headphones, and Audio-Technica isn't trying to hide it. You get a peek right through the open-air earcups to the driver. Small, honeycomb-style openings allow for the optimum airflow, and the drivers are positioned for ideal sound.
Traditionally, headphone drivers are constructed as separate parts working together. Audio Technica did things a little different — all the separate parts of the driver are combined, then fused with the baffle into a single entity. This seriously cuts down on resonance and allows for a quicker attack, resulting in precise sound.
My listening impressions
I got a chance to do something with these headphones that I don't often get to do. I received them right before I went on vacation, so I could listen to them more for pleasure rather than in a work context.
I made a promise to myself — just enjoy the experience and don't get overly analytical. Easy enough, because while these headphones remain true to the recording, they never sound frigid or mechanical. I could feel the music as much as hear it.
I used the TEAC NT-503 network player/headphone amp to drive these power-thirsty 'phones, and it did quite well. Here are some choice musical tracks:
"Mozart sonata for piano and violin in G major" — Hilary Hahn
I'm not a big classical music fan, but we have some aficianados here at Crutchfield HQ. One of my guys tipped me off to this recording, as a good way to test the chops of high-end headphones. I just closed my eyes and let the graceful yet frantic performance take me. It was thrilling through these Audio Technica 'phones — like I was on a runaway train, but calmly reclining in the hands of a true professional.
The peaceful warmth of the violins are cut by the startling, explosive piano work. The track plays almost entirely in the highs and upper mids, and everything is detailed and specific, yet never grating. No matter how complex the composition got, the headphones handled it all with ease.
"Work Work" — clipping.
This exciting hip-hop track showed off the ATH-ADX5000's dynamics and low-end capabilities. Bass sounded potent and tight here, never bleeding into the light, tingly wind-chime samples or the female emcee's voice. It is not the most powerful bass I've heard, but it is very satisfying.
"Taneytown" — Steve Earle and the Dukes
Earlier in my vacation, I had seen Earle and company play live here in Charlottesville. This song was the highlight of an overall great show. Listening to it through these headphones got my adrenaline going, because it put me right back in my seat for the show: removed, but not too far away.
The soundstage is not quite as immediate as the Focal Utopia headphones, but also not as wide open as the Sennheiser HD 800 S headphones. And since the imaging was so spot on, I could pick out the different instruments and distorted guitar tones — just like the band was playing in front of me again.
READ LESS
Product highlights:
over-the-ear, open-back design for spacious, transparent sound
large 58mm dynamic drivers deliver punchy, deep bass, clear mids, and airy, detailed highs
headphone housings assembled by hand at Audio-Technica's headquarters in Tokyo, Japan
we recommend a separate headphone amplifier for optimum sound quality
Build and Construction:
strong, lightweight design with magnesium alloy frame
drivers strategically positioned in open-back headphone chamber for desired airflow

honeycombed housing design prevents unwanted air pressure loss

driver parts and baffle combined into a single unit to reduce unwanted vibration

rigid tungsten-coated diaphragm for better fluidity
strong Permendur magnetic circuit creates strong magnetic field

soft, pleasant Alcantara lines the earpads and headband
Accessories, Specs, and General Info:
detachable 9.8-foot cable with gold-plated 1/4" stereo plug

cable connects to headphones via left and right A2DC headphone connectors

latching, luggage-style storage case with padded velvet interior
earcup laser-etched with unique serial number
frequency response: 5-55,000 Hz
sensitivity: 100 dB
impedance: 420 ohms
weight: 9.5 ounces
warranty: 2 years limited
MFR # ATH-ADX5000
Audio-Technica ATH-ADX5000 reviews
Average review:
Thanks for submitting your review
Most reviews are processed and published within 5 business days. You will receive a confirmation email once your review has been published.
Customer photos
More details on the Audio-Technica ATH-ADX5000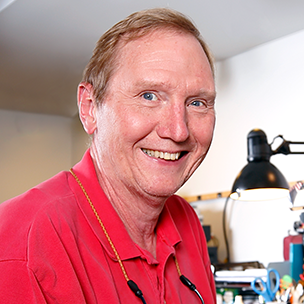 Researched by Crutchfield's

Mark G.
Product Research
Features
Overview: The ATH-ADX5000 Hi-Res Audio headphones feature an open-back design to deliver an accurate, natural sound. These audiophile headphones have a detachable 9.8' cable with a 1/4" plug and come with a premium hard storage case.
Drivers: The large 58mm integrated driver units feature a top-quality German Permendur magnetic circuit for superior performance. The drivers are designed into a single unit, combining the tungsten-coated diaphragm, voice coil, baffle, and magnet, to reduce unwanted resonance. Audio-Technica's Core Mount Technology places the driver unit into the optimal position for improved airflow and excellent full-range audio reproduction.
Open-Air Design: The ATH-ADX5000's driver housings have an open-air design, with honeycomb-punched vents, that allows air to flow around the driver units for a highly transparent sound. The airflow helps the headphones to reproduce accurate mid and high frequencies, and rich, tight bass.
Comfort Features: The headphones are carefully hand-crafted in Tokyo for the best sound quality and comfort. The earpads and headband are covered in luxurious Alcantara for durability and comfort. The lightweight magnesium frame is thin, but rigid.
Cable: The ATH-ADX5000 has a 9.8' attached dual-sided cable with a fabric-covering that dampens contact noise into the headphones. The cable features A2DC (Audio Designed Detachable Coaxial) connectors on the headphone end, and terminates into a 1/4" (6.3mm) gold-plated stereo plug.
Specifications:
Frequency Response: 5Hz - 50kHz
Sensitivity: 100 dB/mW
Maximum Input Power: 1000mW
Impedance: 420 ohms
Dimensions: Diameter: 4.226", Depth: 1.93"
Cable Length: 9.8' (straight)
Weight: 12.6 ounces
Q
Crutchfield asked: Why did you buy this?
A
I've heard they are amazing. I hope that it's true and I love them.
[ John May 05, 2018 ]
1 question already asked