About the Nest Learning Thermostat, 3rd Generation
A sleeker, brighter Nest thermostat
The Nest Learning Thermostat, 3rd Generation has a sleek design, a display that's easier to read, and it can now see you coming from across the room.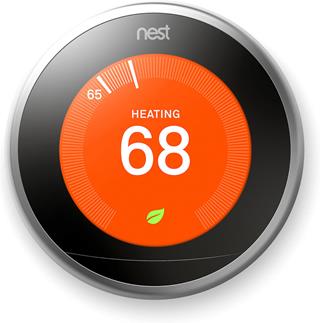 Farsight technology lights up the 480 x 480 pixel display on the 3rd generation Nest Learning Thermostat as soon as it senses that you've entered the room.
A sleeker, brighter Nest thermostat
The Nest Learning Thermostat, 3rd Generation has a sleek design, a display that's easier to read, and it can now see you coming from across the room.
The circular screen displays crucial information at 480 x 480 pixels and in full 24-bit color. With Farsight technology, the thermostat senses your presence and lights up immediately. It's not only a handy way to see exactly what the current temperature is, and whether you're operating at peak energy efficiency, but it'll help you get around better if you're up at night.
Spend just one week setting your Nest thermostat by hand, and it will learn your preferences. You'll find yourself waking up, leaving for work, coming home and settling in for an evening with the family without having to worry about setting the right temperature. And you'll notice the difference on your utility bill, too. If you walk out of the house with the heat or AC still blasting, your Nest thermostat will remember to turn it down for you while you're gone. And if the boss asks you to stay late at work, no problem, you can just fire up the free Nest app and make sure energy isn't being wasted while you're away.
Easy to connect, a snap to use
The Nest Learning Thermostat installs easily, using an included wall plate and two screws. After it's in place, you can begin monitoring and controlling your energy usage via strong Wi-Fi® on the 5GHz spectrum. You'll be able to change the temperature from anywhere using your smartphone, tablet or laptop. You can make instant changes to your thermostat's schedule and check your energy usage from wherever you are. Whether you're keeping tabs on your own home while you're at work or helping out your aging parents, saving energy has never been easier.
Pays for itself
In independent studies, the Nest Thermostat saved an average of 10-12% on heating bills and 15% on cooling bills. Based on typical energy cost, that means it paid for itself in under two years. Use these handy tools to determine if Nest is right for you: Nest Savings Estimator | Will the Nest Thermostat work for you?
Expand your Nest system
The Nest Learning Thermostat is compatible with an ever-growing list of devices:
Your Nest devices work together to give you more control over home security. If your smoke detector sends you an alert while you're at work, you can turn on your Nest camera and assess the situation instantly, then use the camera's microphone and speakers to warn anyone who might be home. Even better, if your Nest Protect senses rising levels of carbon monoxide, your Nest Thermostat can automatically turn off your gas furnace.
READ LESS
Product highlights:
smart thermostat creates a personalized schedule based on the temperature changes you've made
adjust the temperature from anywhere using your smartphone, tablet or laptop
easy installation with included wall plate and two screws
free smartphone app for Apple® and Android™ devices available from App Store and Google play

smartphone control requires connecting the Nest thermostat to your Wi-Fi® network

Farsight technology senses when you're in the room, even at a distance
NestSense™ can automatically turn your thermostat to a pre-programmed temperature when you are not home
Nest Leaf icon appears when you turn to a temperature that's energy efficient
two-step authentication makes your Nest devices more secure
compatible with:
works with Apple Watch
easy to read 24-bit color LCD screen:

480 x 480 pixel display
2-1/8" display diameter

runs on built-in rechargeable lithium-ion battery
3-5/16" diameter x 1-1/4" depth
weight: 8.6 oz.
warranty: 2 years
MFR # T3032US
What's in the box:
Nest learning thermostat (brass)
Plastic trim plate (white)
Wiring base
Metal mounting bracket
Two 40mm wall mounting screws
Four 10mm Steel plate screws
Screwdriver (with convertible Phillips/flat bit)
Welcome Guide
Installation Guide
Nest products promo card
Professional Installation card
Nest Learning Thermostat, 3rd Generation reviews
Average review:
Thanks for submitting your review
Most reviews are processed and published within 5 business days. You will receive a confirmation email once your review has been published.
Customer photos
More details on the Nest Learning Thermostat, 3rd Generation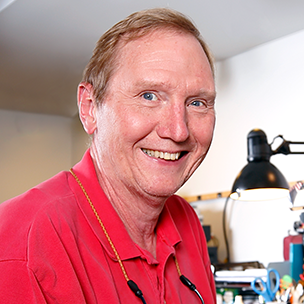 Researched by Crutchfield's

Mark G.
Product Research
Features
Overview: The Nest Learning Thermostat (3rd generation) can help lower your heating and cooling costs by simply learning your schedule and living habits. You can install it yourself, or have it professionally installed. The Nest Thermostat programs itself in about a week to create a personalized schedule, based on the temperature changes you've made.
Note: Third-party researchers have determined that, on average, Nest reduces your heating bill by about 10%-12%, and your cooling bill by about 15%, according to Nest.
Design: Nest is an easy-to-use thermostat with only two controls--turn it up and turn it down--using the large stainless steel outer ring. It features a bright 2.08" diameter, 24-bit color LCD screen (40% brighter than 2nd generation), with a resolution of 480 x 480 pixels, and 229 pixels per inch (25% more than 2nd generation). The display shows you the temperature in large, easy-to-read numerals. Included with the thermostat are a steel mounting plate that will fit onto a square electrical box (if your system has one), and a plastic trim plate (4.3" x 6") to cover up screw holes left by your old thermostat, if needed. When mounted, Nest protrudes from the wall only 1.22" (1.43" if you have to use the included wall trim plate).
Installation: The Nest Learning Thermostat works with about 95% of 24-volt home heating and cooling systems, including gas, electric, forced air, heat pump, radiant, oil, hot water, solar, and geothermal systems. Replacing your system's thermostat with Nest requires connecting a number of small-gauge wires by color code, or labeled by function with the supplied labels. It even comes with its own screwdriver and mounting hardware, and has a built-in level for proper installation. If you're not comfortable with installing it yourself, you can have it professionally installed by a Nest Pro in your area.
Note: If your old thermostat is labeled 120V or 240V, or has thick wires with wire nuts, your system is high voltage and is not compatible with Nest.
Sensors: The Nest Learning Thermostat has internal sensors that can affect the way it controls your heating and cooling system. The thermostat has activity sensors with a 150° wide-angle view which enables Nest to activate the Auto-Away feature in most homes. The activity sensors are more sensitive than in previous generations. Ten temperature sensors keep track of your home's temperature, and how quickly it changes. It can also adjust itself if the thermostat is subjected to direct sunlight so it will read and set the correct temperature. It also adjusts the brightness of the display according to ambient light levels. A built-in humidity sensor can help manage a whole-home humidifier or dehumidifier. When connected to Wi-Fi, Nest will keep up with changing weather forecasts, and how the weather affects your energy usage.
Farsight: Previous generations of Nest required you to be within about 3 feet to wake up the device. The 3rd generation has more sensitive motion detectors and a new Farsight feature that can automatically light up the display when you enter the room. When it detects activity in the room, the unit will display the target temperature you have set, or the current time on a digital or analog clock face.
System Match: There are many types of heating and cooling systems. The Nest Learning Thermostat adapts to the system you have, whether you have conventional forced air, heat pump with auxiliary heat, dual fuel, or radiant. System Match turns on features that are specific to your system type to help keep you comfortable and save energy:
True Radiant: True Radiant keeps homes with in-floor radiant or boiler-to-radiator systems more comfortable. It reduces temperature swings and starts heating early so you get the temperature you want when you want it.
Heat Pump Balance: Heat Pump Balance lets you choose how much expensive auxiliary heat you use according to your preferences to help you save money while staying comfortable.
Early On: Early-On takes into account how much time it takes for your heating/cooling system to reach the desired temperature after the temperature setting changes. Similar to pre-heating your oven before baking, Early-On starts heating or cooling in advance so that the desired temperature is reached at the time the temperature change is scheduled. For example, if you wish for the temperature to be 72° at 6:00pm, the system may start heating at 5:30pm in order to reach the desired temperature by 6:00pm.
Airwave: Airwave lowers air conditioning costs by using the fan more and the AC compressor less. Most thermostats keep the air conditioner compressor and fan running until the target temperature is reached. Nest's Airwave technology turns off the compressor a few minutes before the target temperature is reached, but continues running the fan, taking advantage of the fact that compressor coils generate cold air for 5 to 10 additional minutes after the compressor is off. Airwave automatically turns on when the interior humidity falls below a certain level.
Cool to Dry: If you live in a humid area, moisture in the air can cause mold to grow inside your home, especially if you leave it unattended for a long time with the air conditioner off. Nest's Cool to Dry feature uses the home's air conditioner to reduce the excess humidity. If your heating/cooling system has a dehumidification mode, you can possibly use Cool to Dry to enhance the dehumidification process. (A Nest Pro installer can determine this.)
Filter Reminders: The Nest Thermostat will remind you when it's time to change your filters. Nest uses a system runtime monitor to estimate when to send a Filter Reminder. If the summer has been cooler than normal, the air conditioning probably hasn't worked as often or as hard, so you may go months without a Filter Reminder. However, if it has been a cold winter, and your heating system has worked harder than normal, you are likely to receive Filter Reminders more frequently.
Furnace Heads-Up: A new feature of the Nest 3rd Generation is Furnace Heads-up. Most heating and forced air furnaces have an automatic shutoff to avoid overheating. The Nest Thermostat will analyze shutoff patterns to see if there are potential problems with your heating system. If a problem is detected, Nest will send you a Heads-Up message on the Nest App, on the thermostat display twice a year, and in your Home Report once a month.
Note: Customers with the Nest 1st and 2nd Generations will be eligible for the Furnace Heads-Up feature through a software update in the future.
Programming: Once installed, Nest begins learning your schedule. You will need to make the desired temperature adjustments manually for the first week or so. For example, you might want to turn the heat down to save energy while you sleep, and turn it up when you get up. Likewise, you'll want to save energy while you're at work by turning down the thermostat when you leave. After a few days and nights, Nest will learn these habits and start doing them for you.
Wi-Fi Remote Control: The Nest Thermostat can be connected to your home's Wi-Fi network, which allows it to be accessed remotely by laptop, smartphone, or tablet from any place with an Internet connection. You will need to set up a Nest Account, and download the Nest app on your smartphone or tablet in order to securely access and control your Nest products. When the Nest Thermostat is connected to Wi-Fi, it will automatically receive software updates. With your Nest Account, you can manage up to 10 Nest Thermostats divided between 2 homes. The free Nest app is available from the iTunes App Store for iPhone and iPad (iOS 8.0 or later), and from Google Play for Android devices running Version 4.0.3 and up.
Nest Sense: After a few days, Nest has learned your schedule and preferences. Nest Sense begins to automatically activate the following features to help save you energy:
Auto-Schedule: Nest learns your schedule and preferences during the initial week and programs itself. Once the thermostat has learned your habits, the Auto-Schedule could cut up to 20% off of your heating and cooling bill.
Auto-Away: Auto-Away saves energy by reducing heating and cooling in empty homes. Instead of having to turn the thermostat down every time you leave the house, and back up when you return, the Nest Learning Thermostat can sense that you're away and turn itself down automatically. You can set the Away temperatures during setup.
Nest Leaf: The Nest Leaf appears in the display when you choose a temperature that will save energy. It is designed to provide simple feedback when you do something to save energy. Changing the temperature by just one degree can save up to 5% on your energy use. You can view how many Leafs are earned in your Energy History in your Nest Account.
Auto-Tune: Auto-Tune operates these two Nest services:

Rush Hour Rewards: During peak energy usage, when everyone is using their air conditioners, some energy providers try to lower demand by offering rewards to customers who reduce their energy consumption during peaks. Auto-Tune will alter your schedule by automatically cooling your home ahead of the peak hours, or make small tweaks to the temperature. You're always in control of the temperature, so you can change the temperature at any time if you start feeling warm.
Seasonal Savings: Seasonal Savings can save you 5-10% on heating and air conditioning costs. The Seasonal Savings service slowly fine-tunes the temperatures in your schedule to reduce energy consumption. It may adjust the temperature a degree while you sleep, or while you're away. These small tweaks will add up over time. As with Rush Hour Rewards, you are still in control, and can adjust the thermostat at any time.
Energy History: If you're using the Nest App on your smartphone or tablet, you can view the detailed Energy History. You can scroll up and down to view your last 10 days of energy use, including the total time your system was on. Each day's report can be expanded to show you a graphical view of what times the AC or heat was on. You can see if you earned a Nest Leaf for that day, and see your temperature setpoints and adjustments. If your energy use was particularly different that day, an icon will explain the reason (i.e. cloudy, sunny, away, home, etc.). Through your Nest account, you can receive by email a monthly Energy Report with a summary of your energy use, and tips on how to save.
Integration With Other Nest Products: In addition to the Learning Thermostat, Nest also makes the Nest Protect Smoke + CO (carbon monoxide) detector, and the Nest Cam. These products are designed to work together with the Learning Thermostat and the Nest App. The Nest Protect is equipped with occupancy detectors that can improve the Auto-Away algorithms of the Nest Learning Thermostat. The thermostat can automatically shut off your heating system, a potential source of carbon monoxide, if high levels of CO are detected (by Nest Protect). Also, when you set the Nest Thermostat to Away mode, it can communicate with Nest Cam to turn itself on. Likewise, when you switch your thermostat to Home, it can automatically turn off Nest Cam. In addition, Nest Learning Thermostat can also work with other 3rd party products such as Philips Hue (lighting), Automatic (driving), and Logitech Harmony (remote control), to help you save energy and stay comfortable.
4 questions already asked