About the Wisenet SmartCam D1
See and hear who's ringing your doorbell
I guess it's nice that a standard doorbell lets me know that someone's at the door, but I'd really like to know exactly who it is before I decide to get up and let them in. The Wisenet SmartCam D1 lets you see, hear, and talk to your visitor through an app on your smartphone, so you can get all the information you need.
See and hear who's ringing your doorbell
I guess it's nice that a standard doorbell lets me know that someone's at the door, but I'd really like to know exactly who it is before I decide to get up and let them in. The Wisenet SmartCam D1 lets you see, hear, and talk to your visitor through an app on your smartphone, so you can get all the information you need.
It's compatible with the Samsung A1 security system, so you can tie in more cameras at any time. And for ultimate convenience, you can issue voice commands via Amazon Alexa.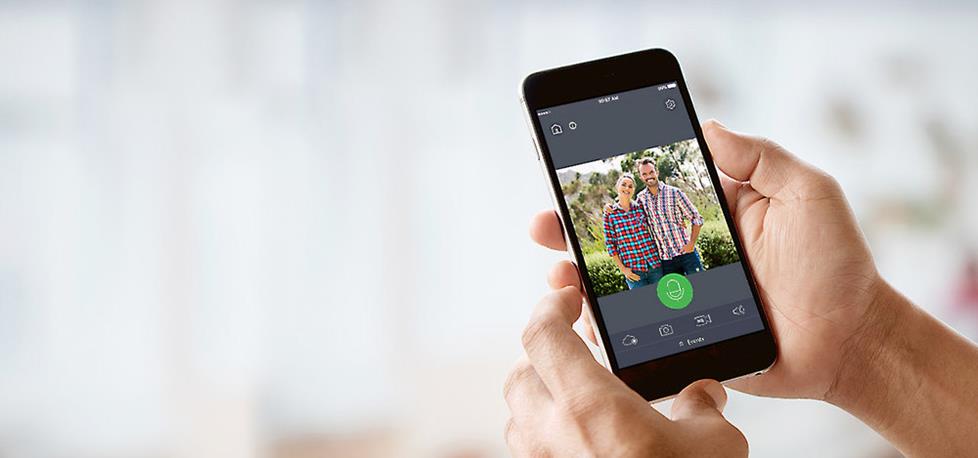 The Wisenet SmartCam D1's free app lets you see, hear, and talk to visitors using your smartphone.
Video with face recognition
Wisenet packed a lot of excellent hardware into the low-profile doorbell unit, starting with a wide-angle lens with a 150-degree field of view. It shoots video in portrait orientation, so you can get a full-length HD view of an unexpected visitor. The free app lets you store photos of friends, and facial recognition software notifies you when it detects a familiar face at your door.
It's great at night, too. Night vision lets you see in the dark up to 16 feet away, and the app applies visual noise reduction for sharper low-light images.
Two-way talk
The doorbell has a built-in microphone and speaker, so you can have a conversation with the person who's standing on your porch. Want the delivery man to leave the package out of sight? Just let him know. Don't want to sign the petition? You can issue a pleasant but firm "no thanks" without getting off the couch.
Adjustable motion detection
The app lets you set up smart motion detection zones, so you can tell when someone's approaching, but avoid false alarms from tree branches waving in the wind.
READ LESS
Product highlights:
3-megapixel sensor shows a 1080p HD view of who's ringing the doorbell
built-in microphone and speaker for two-way talk
sees in the dark up to 16 feet away

visual noise reduction for sharper low-light images

150° wide-angle lens
weather-resistant housing
compatible with Samsung A1 security system
uses your home Wi-Fi® network to send images to your smartphone
voice control via Amazon Alexa
save and review images with optional monthly SmartCloud storage plan ($4.99-$19.99 per month)
"portrait" camera orientation gives you a more complete view of who's at the door
facial recognition software notifies you when a familiar face is at your door

store images of friends on the "Interested Faces" list so you know when friends arrive

selectable motion detection zones
human detection reduces false alarms triggered by birds and pets
audio analytics can identify sounds like breaking glass, sirens, and more and send priority alerts
1-11/16"W x 5-5/8"H x 1-3/16"D
warranty: 1 year
MFR # SNH-V6435DN
KEEP READING
READ LESS
What's in the box:
Wisenet SmartCam D1 owner's manual
Video doorbell with silver bezel
Gold bezel
Black bezel
Power Stabilizer
2 Power Extender connectors
Two 4.5" Power Extender cables (with ring terminals)
2 Panhead screws (length 3/4")
2 Plastic wall anchors
Three M3 x 5mm screws
Four M2 x 5mm screws
2 Power Stabilizer connectors
Power Stabilizer wire harness
Screwdriver
Drill bit (5mm diameter)
Installation Guide Part 1
Installation Guide Part 2
Warranty Certificate
Open Source Announcement booklet
Wisenet SmartCam D1 reviews
Average review:
Customer photos
Wouldn't buy again
Debra from Nottingham, MD on 1/30/2019
Installation was not as easy as it could have been. Have had mine for 9 months or so. Have had to uninstall and reinstall several times because one thing or another wasn't working. Now the SmartCloud is no longer available making many of the functions of the camera useless. On hold for over an hour for a Samsung technician almost every time I have called.
2 of 2 found this helpful
Piece of Junk
Chris from Bartlesville, ok on 1/3/2019
Let me start by saying I have a very technical job so setting up and installing these types of things normally are very easy for me. 2nd I will say that this thing looks very good in the box and that is exactly were it should stay. In fact start your return and get a refund not. In order for these thing to work properly you have to have a very specific and limited number of door bell chimes be it mechanical or digital. They do not tell you this very well in or on packaging. Also when trying to setup the software app for this doorbell cam, it has issues working with certain brand of cell phones so you have to try it on another brand cell phone. Also has issues with IE, Google Chrome, and others when trying to setup on a PC. I could go into much great detail, but let me just put it simply run away from this purchase do not walk, RUN. Samsun really should have thought this design out better before flooding the market with it.
Pros: nice size. looks like it get great video feed from what little time I have it hooks up.
Cons: Just about everything not listed in the PRO's section
Crutchfield response
on 1/8/2019
4 of 4 found this helpful
Yes and no
RC from Bayside Hills, NY on 12/23/2018
It has pluses and minuses - Plus - you can see who's at your door Minus - it takes about a couple of minutes for the app to open, so they are probably gone by then. Plus - it has face recognition Minus - it does not work after dark, unless you count rain drops at 3am. Plus - It has motion detect Minus - sometimes just doesn't work Plus - it chimes on your phone Minus - unless it doesn't, once never chimed, once the chime on my phone came ten minutes after I answered the knock on the door. Plus - it works over WiFi Minus - you need great (not good) WiFi coverage - I had to buy a WiFi range extender - my WiFi router (the best Fios offers) is 30 ft away, but not good enough. Plus - Support people were helpful Minus - it does NOT work with your current door bell chimes - had two inside chimes - it did not work with either no matter was I did. Bottom line - in my experience it is NOT a door bell replacement - it is NOT 100% reliable - but it is a good additional alert. I would have preferred that it was available as an add-on to your current door bell (which mine was 100% reliable before I disconnect it to install this). Would I buy it again - no, but if it worked with my indoor chimes, yes, I would buy it again - it really needs to work with indoor chimes 100% to be useful.
4 of 4 found this helpful
More details on the Wisenet SmartCam D1
Researched by Crutchfield's

Mark G.
Product Research
Features
Overview: The Wisenet SmartCam D1 Video Doorbell (SNH-V6435DN) lets you see who's at your doorstep right on your smartphone or tablet (using the SmartCam app). Equipped with a 2-megapixel high-resolution camera, the SmartCam D1 gives you a clear view. It also has a built-in microphone and speaker, so you can carry on a two-way conversation with your visitors. The Wi-Fi-enabled SmartCam D1 includes a Power Stabilizer Kit, so you can use the power source of your existing doorbell. It also comes with three interchangeable faceplates (silver, gold, black), as well as tools, hardware, and wiring for ease of installation.
Amazon Alexa: The SmartCam D1 is now compatible with Amazon Alexa. If you have the Amazon Echo Show with a video screen, you can ask Alexa to show you the front door and you'll get a live view of the front door camera. You can also get a daily briefing of how many persons visited your door, including those whose face was recognized by the camera.
Camera: The SmartCam D1 Video Doorbell's built-in camera features a 1/2.8" CMOS imaging device with a maximum resolution of 1600 x 1200. It has a large field of view, so you'll be able to see who is at your door, even if they're close to the doorbell. Wide Dynamic Range can compensate for bright backgrounds and enhance foreground details to give you a clear image. The Wisenet V chipset is capable of correcting image distortion commonly associated with wide-angle lenses, so you get natural looking images. The camera's Night Vision gives you a clear view out to 16 feet in complete darkness. The SmartCam D1 features a weather-resistant casing to protect it from the elements.
Motion Detection: The Wisenet SmartCam D1 uses sophisticated motion detection to generate alerts to the SmartCam app on your phone or tablet. The camera's innovative analytic software can distinguish human activity to greatly reduce any false alarms caused by animals or birds. Three customized motion zones can be set up to maximize the protection in front of your door. The SmartCam D1 can recognize human faces and save the images (up to 100 faces) in the app. You can register your friends and regular visitors (mail carrier, delivery person, etc) so the camera can send notifications when they appear at your doorstep.
Abnormal Sound Detection: In addition to Motion Detection, the SmartCam D1 can recognize three different types of sounds that are typically associated with an intrusion: glass shattering, sirens, and screams. When any of these sounds are picked up by the doorbell's microphone, it sends a push notification to your smartphone or tablet. You can adjust the noise sensitivity in the app, and turn Abnormal Sound Detection on or off, as desired.
Wi-Fi: The SmartCam D1 operates on your home Wi-Fi network (802.11 a/b/g/n/ac; Dual Band 2.4GHz / 5GHz). You will need to make sure the video doorbell can receive a strong Wi-Fi signal for best results. A bandwidth of 2.5Mbps or higher is recommended.
Installation: The Wisenet SmartCam D1 Video Doorbell can be installed in place of your existing hardwired mechanical or electrical doorbell (Please see the list of compatible models below). It requires wiring to a 16-24 volt AC transformer. The SmartCam D1 comes with a Power Stabilizer and Power Extension kit to adapt your current wiring. The list of compatible and incompatible doorbells is as follows:
Compatible Doorbells
Chime Type
Manufacturer
Model
Mechanical
Heath-Zenith
SL-2796
Carlon
DH506, DH120
Craftmade
C102X2L
Edwards
C212W-2L
Honeywell
RCW100N, RCW110N
NuTone
LA11WH, LA14WH, BK125LWH-1, BK115LWH, BK131LPB, LA70MA
Atlantic
AI BCK1-PWH
Electrical
Heath-Zenith
DC-3338
Honeywell
RCW3501N, RCW3505N
IQ America
DW1402A
NuTone
LA600WH
Incompatible Doorbells
Chime Type
Manufacturer
Model
Mechanical
Edwards
C210, C210-W
Nicor
18888
Electrical
NuTone
LA174WH
Camera Specifications:
Imaging Device: 1/2.8" CMOS
Maximum Resolution: 2M (1600 x 1200)
Angular Field of View: 150° diagonal, 125° horizontal, 94.8° vertical
Night Vision Range: 16 feet
Abnormal Sound Detection: Siren, Glass Breaking, Screaming
Alarm Triggers: Human Detection, Motion Zone Selection, Face Recognition (Customizable Event action)
Alarm Event: Push Alert, Notification via email
Wireless: Wi-Fi 802.11 a/b/g/n/ac (Dual Band 2.4GHz/5GHz)
Security: HTTPS (SSL) Login Authentication, Digest Login Authentication
Input Voltage/Current: Wired AC 16-24V, 10VA
Q
Crutchfield asked: Why did you buy this?
A
I use 2 smart cams at home, accessing this new device thru my phone would be conveniently located in the same app. While with other brands, I'll have to use a separate app.
[ erwin Dec 04, 2018 ]
1 question already asked