About the App-Tronics MM02 Mirror Mount
Install an App-Tronics mirror in your vehicle
Your SmartNav 5R or SmartVision mirror includes a mount that allows you to install it in a wide variety of vehicles. If you own a select Honda or Subaru vehicle, your mirror uses an anchor that's not compatible with that included mount. This handy MM02 mirror mount from App-Tronics lets you install your App-Tronics mirror in those vehicles without any modifications. It includes machine screws to help you install the mirror.
In select Honda and Subaru vehicles, you can attach this mount to the existing mirror anchor in your vehicle. See illustration below for more information. If you don't own a Honda or Subaru, you have two options:
Identify your vehicle to see if we have a vehicle-specific mount for your car, truck, or van.
You can remove your existing anchor and use the App-Tronics Universal Mirror Mount kit to complete your installation. You'll need to pick up a rear-view mirror repair kit at an auto parts store for the additional adhesive required to complete the installation.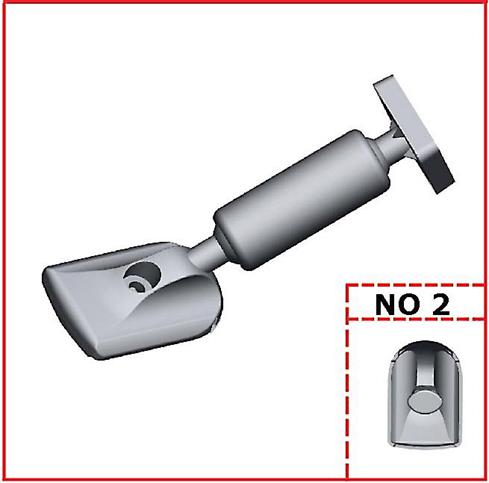 If the attachment end of your car's rear-view mirror mount looks like the one pictured in the bottom right corner of this illustration, you can use this mirror mount to add a SmartNav 5R or SmartVision mirror to your vehicle without removing the anchor from your car.
Things to check before ordering
Your windshield angle must be between 20-50 degrees, with no cracks anywhere in the windshield and/or chips near the mirror mount. You'll have to relocate remote start/keyless entry antennas, quick-pass devices, or other similar transceivers if they're within a foot of your mirror, as they'll interfere with the ability to acquire a GPS signal. You can't use the SmartNav 5 or SmartVision mirror on the following:
motorcycles, RVs, boats, ATVs, snowmobiles, tractors, go-karts, etc.;
vehicles made before 1982;
vehicles over 8500 pounds;
vehicles with metallic tint on the front windshield.
App-Tronics recommends professional installation of the SmartNav 5R or SmartVision. If you're installing the mirror yourself, you should have the following tools handy: wire strippers and cutters, voltmeter (NO test lights), basic automotive A/V installation tools, panel tools, zip ties, electrical tape, soldering gun and solder, and a razor blade.
Note: You must identify your vehicle to order an App-Tronics mirror mount online. Or, if you prefer, call an Advisor at 1-888-955-6000 to make sure you get the mirror mount that fits your vehicle.
Product highlights:
mounting kit for App-Tronics SmartNav 5R and SmartVision replacement mirrors in select Honda and Subaru vehicles
includes machine screws
warranty: 1 year
MFR # #02
What's in the box:
Mounting bracket
5 Machine screws