About the Automatic Pro Car Adapter
Connect to your car in more ways than one
Everybody knows "(I Can't Get No) Satisfaction" by The Rolling Stones, right? The bit that always gets stuck in my head is "When I'm driving in my car," which leads me to wonder: what exactly is my car doing for me when I'm driving it? And could it be doing even more? The Automatic Pro car adapter answers with a resounding yes, using modern tech — including my smartphone — to make the my travels more efficient and convenient.
Connect to your car in more ways than one
Everybody knows "(I Can't Get No) Satisfaction" by The Rolling Stones, right? The bit that always gets stuck in my head is "When I'm driving in my car," which leads me to wonder: what exactly is my car doing for me when I'm driving it? And could it be doing even more? The Automatic Pro car adapter answers with a resounding yes, using modern tech — including my smartphone — to make the my travels more efficient and convenient.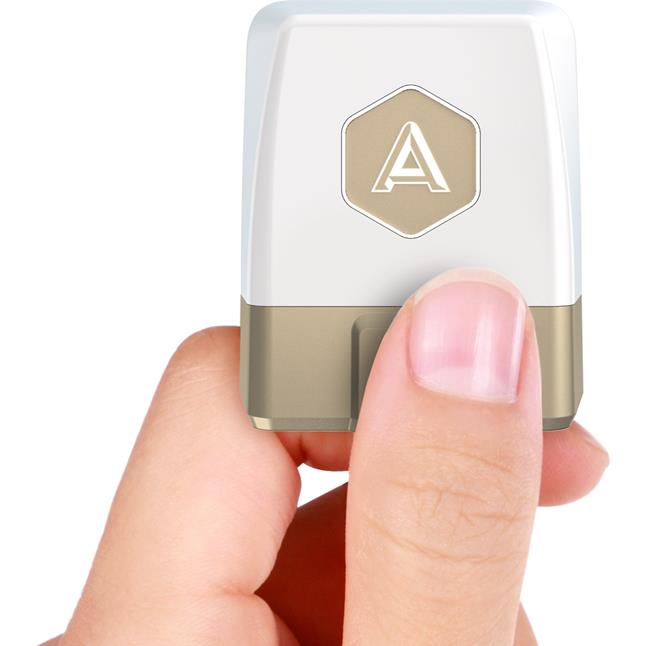 Keeps you safe and informed
If you've got a gasoline vehicle made since 1996, the Automatic Pro car adapter can change the way you approach even the most ordinary of drives. The adapter works with Automatic smartphone apps to provide a wealth of information about your car's performance and usage. Automatic can decipher "check engine" light codes and take care of simple problems. It also remembers where you've parked, and lets you track your vehicle's location if you're not in it. If you're in a crash, Automatic can instantly call for help while a human agent stays on the phone with you. Best of all, it can provide all these services (and more in the future) without any additional fees or costs.
Works with most cars and smartphones
Most cars made since 1996 have an OBD-II diagnostic port, which is typically located below the steering column. You simply plug the Automatic Pro car adapter into the port, pair it with your smartphone, and you're ready to go. You'll need to have the free Automatic app downloaded on your phone — Automatic is compatible with the iPhone® 5 or newer, and just about any Android™ phone running the 4.3 version or newer.
You can access Automatic through the app, but it's also available through a web dashboard. It'll show you trips for all your connected vehicles if you've got more than one adapter, and you can filter by time/date, distance, duration, cost, or miles per gallon.
Always connected for tracking purposes
The Automatic Pro car adapter uses 3G technology, which means users can check in on their car's whereabouts and performance at any time, regardless if their phone is present or Bluetooth® is available. This means you can keep tabs on other drivers in your household or your fleet of commercial vehicles through the Automatic app or web dashboard. It'll also help you find your car quickly in a crowded parking lot, so you'll have one less thing to worry about when at the amusement park, airport, or stadium. This package includes 5-year unlimited 3G connectivity.
Get other car-friendly apps involved
Turn to the Automatic App Gallery online for more apps currently available to work with the Automatic Pro. Some of these app types include:
Performance: Dig deep into your car's ability to handle the road with apps like OBD Fusion, displaying detailed data gathered through the Automatic Pro car adapter.
Business expenses for drivers: You'll find several apps that can keep track of those hours spent on the clock driving for work, including Concur, Expensify, Nexonia, Tripdots, FreshBooks, SherpaShare, and Xero. You'll be able to provide details for each trip, including a route map. And you can even submit a receipt right from your phone.
Control of connected devices: Like the Nest thermostat below, more of the devices you use every day are becoming connected. Automatic's ready to "talk" to these devices through their respective apps, so visit the Automatic App Gallery for updates. The IFTTT (If This Then That) app lets your car control house lights, door locks, and other connected appliances.
Parking reminders: The Pebble app can help you find your car through your smartwatch, and the Spot Angels app sends timely reminders to move your vehicle to avoid tickets.
Automatic lets your car talk to your Nest
The Nest Learning Thermostat is designed to track your preferences and automatically set the temperature at home according to your routine. You can set it up while at home, but what if you've got an irregular schedule and get home at different times each day? Automatic can communicate with your Nest thermostat, allowing for optimum comfort when you get home without wasting any energy.
You can set up heating and cooling rules for your Nest through Automatic, based on when you turn your car's engine on and off and how far you are from home. And you can even give the Nest an estimated time of arrival once you're in your car, so you can have your home at the perfect temperature as soon as you walk through the door.
Crash assistance
Nobody wants to get into a car accident, but it can happen at any time. Automatic has crash agents on hand 24/7 to call nearby authorities if you've been involved in a crash. And you can program the Automatic app to text select phone contacts to automatically let them know you've been in an accident. Like all other Automatic services, there is no charge for this feature.
Take the worry out of "check engine" lights
Automatic eliminates the mystery of "check engine" lights, giving you the information you need to decode and even clear them, so you won't waste time and money going to the mechanic or dealer for a loose gas cap or other simple issue. If it's a serious problem, you'll be able to go to the garage with the details needed to keep you from being overcharged.
Automatic helped one of our employees out of a potential jam
Peter Logan, one of Crutchfield's car audio buyers, had an earlier version of the Automatic car adapter in his vehicle. When his car's "check engine" light came on unexpectedly, he remained calm and checked the Automatic app display on his smartphone, which indicated that one of his car's cylinders was misfiring. He double-checked this with a simple online search at home, learning that it was a common issue for his car's make and model. Peter was able to take his car to his mechanic and confidently address the problem, saving himself time and worry.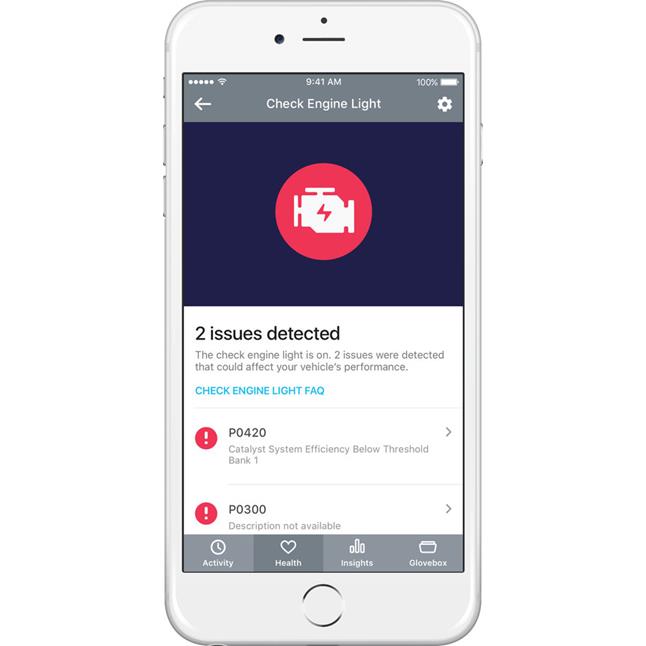 Note: In certain vehicles, this Automatic car adapter may interfere with driver's knees or you may want to hide the device away. Audiovox's OBDHAR Y-harness accessory offers a simple solution.
READ LESS
Product highlights:
connected car adapter/telematics device with unlimited 3G pairing
works with most cars built after 1995 by plugging into the vehicle's OBD-II port (not available for use outside the U.S.)
compatible with iPhone 5 iOS10+ and newer and most Android phones (free Automatic app required); Alcatel One Touch Fierce and BLU phones not supported
vehicle monitoring using your phone or computer
access vehicle diagnostic codes
unlimited 3G connectivity for 5 years with no fees
24/7 crash assistance, including calls and texts to your emergency contacts
find your car in a parking lot or track its movement in real time through your phone or computer
compatible with Nest Learning Thermostat for automated heating and cooling from the road
compatible with apps for mileage expensing, car performance, automated routines, and more
dimensions: 1-11/16"W x 2"H x 13/16"D
warranty: 1 year
MFR # AUT-350C
Automatic Pro Car Adapter reviews
Average review:
Thanks for submitting your review
Most reviews are processed and published within 5 business days. You will receive a confirmation email once your review has been published.
Customer photos
More details on the Automatic Pro Car Adapter

Researched by Crutchfield's

Research Team
Product Research
Features
Overview: The Automatic Pro 3G Car Adapter is a plug-in automotive driving assistant that provides valuable information about your car's performance as well as your driving habits. The adapter plugs into your car's standard diagnostic port (OBD-II), and reads the data on your vehicle's on-board computer. Using the Automatic app on your iPhone or Android device, you get instant feedback on your vehicle's performance (mileage, gas usage, engine health), as well as analysis of your driving habits (speeding, hard acceleration, hard braking). The online Automatic Dashboard displays details on every trip you take. No subscription fees are required, but you will need to open an account at Automatic.com.
Automatic Adapter: The Automatic Pro 3G Car Adapter plugs into the OBD-II diagnostic port, which is standard on all cars since 1996. It works will gasoline, hybrid, and diesel vehicles made for the U.S., but is not compatible with electric cars. The port is the same one used by your mechanic when you take your car in for service, and is typically located under the steering wheel. The Automatic Pro adapter connects to the cloud via 3G mobile telephony and securely uploads the driving data to your account. Built-in GPS tracks your location while you drive, so you can even track the location of your vehicle, even if you aren't the driver. The adapter identifies your vehicle each time it is used, allowing you to move the adapter from car to car and keep track of multiple vehicles.
Note: Automatic Pro comes with a 5-year unlimited 3G subscription.
Automatic App: The free Automatic App works with the Automatic Pro adapter to connect your smartphone to your account. The Apple version is available from iTunes, and works with iPhone 5 and up running iOS 10.0 or later. The Android version is available from Google Play, and works with devices running Android version 5.0 and up.
Note: If you have an Automatic 1st or 2nd generation adapter, you will need to use the "Automatic Classic" app.
Instant Feedback: The Automatic Adapter has a built-in accelerometer that is accurate to within 0.012G. It analyzes your driving and provides subtle audio cues to help you drive smarter. The adapter will sound a quick beeping tone when you exceed 70 miles per hour, accelerate at a high rate, or brake hard. At the end of your trip, your driving score will reflect the number of times you were alerted. As you learn to drive less aggressively, your driving score and your gas mileage will improve.
Related Apps: The Automatic Pro 3G Car Adapter and the Automatic App work with many 3rd-party apps to assist you with other aspects of your life. Automatic Pro can help you with record keeping and expenses for the business part of your driving by working with apps such as Concur, Expensify, Nexonia, Xero, and FreshBooks. Apps such as IFTTT (If This, Then That) can create powerful connections between Automatic and many other device and digital services. The YourMechanic app can help you maintain your car, diagnose problems, and even send a mechanic to you. Convenience Apps, such as Nest and SpotAngels, can automatically perform services such as pre-heat/cool your home before you get there, or alert you that your parking meter is about to expire.
Automatic Dashboard: On your computer, you can view details on all of the trips you take in your vehicle. Each trip is broken down by time, date, distance, duration, miles per gallon, and mileage cost. It also analyzes your driving, indicating the number of minutes you drove over 70 mph, and the number of times you hard accelerated or hard braked. You can even view the trip on a map. You can view an average of your trips over a week, month, year, or within a custom date range. As you analyze your driving data, you can make subtle adjustments to your commute, such as finding a more efficient route or improving your driving habits, to save money and fuel.
Locate Your Car: Since it uses 3G service, Automatic Pro always knows where your car is. This can be helpful when you are trying to locate your vehicle in a crowded parking lot, or to keep track of your teenage driver. If your car is stolen, Automatic Pro can easily help you and the authorities find your vehicle.
Crash Alert: An accelerometer built into the Automatic Adapter can determine when you've been in a serious crash. It plays a message to let you know it's about to call for help. The app uploads the location and details of the crash to the Automatic emergency call center. An agent calls your phone to confirm you need assistance, then requests help from local authorities. In addition, a call is placed to pre-designated phone numbers to let your loved ones know you've been involved in a crash, and that help is on the way. Unlike other crash assistance services, Automatic's Crash Alert require no subscription fees.
Check Engine Light: When your vehicle's Check Engine light comes on, the Automatic app will display the trouble code, a brief description of the problem, and possible solutions. A link is provided to allow you to search the Internet for more information. For minor issues, such as a loose gas cap, you can reset the Check Engine light right from your phone. For problems requiring service, a link will be provided to help you locate a well-reviewed expert mechanic near your location.