About the Automatic Car Adapter and Car Apps
Connect to your car in more ways than one
If you've got a gasoline vehicle made since 1996, the Automatic Car Adapter and Car Apps can change the way you approach even the most ordinary of drives. The adapter works with Automatic smartphone apps to provide a wealth of information about your car's performance and advise you on how to drive more efficiently. Automatic can decipher "check engine" light codes and take care of simple problems. It also remembers where you've parked. If you're in a crash, Automatic can instantly call for help while a human agent stays on the phone with you. Best of all, it can provide all these services (and more in the future) without any additional fees or costs.
Connect to your car in more ways than one
If you've got a gasoline vehicle made since 1996, the Automatic Car Adapter and Car Apps can change the way you approach even the most ordinary of drives. The adapter works with Automatic smartphone apps to provide a wealth of information about your car's performance and advise you on how to drive more efficiently. Automatic can decipher "check engine" light codes and take care of simple problems. It also remembers where you've parked. If you're in a crash, Automatic can instantly call for help while a human agent stays on the phone with you. Best of all, it can provide all these services (and more in the future) without any additional fees or costs.
Compatible apps are available for many handy road-ready uses, from helping your teen driver learn the rules of the road, to automatic mileage tracking. And you can use the Automatic with more than just your phone — it'll work with smartwatches and a growing number of other connected devices, both inside and outside your vehicle.
21st-century technology for your vehicle
Most cars made since 1996 have an OBD-II diagnostic port, which is typically located below the steering column. You simply plug the Automatic Car Adapter into the port, pair it with your smartphone via Bluetooth®, and you're ready to go. You'll need to have the free Automatic app downloaded on your phone — Automatic is compatible with the iPhone® 5 or newer, and just about any Android™ phone running the 4.3 version or newer.
You can access Automatic through the app, but it's also available through a web dashboard. It'll show you trips for all your connected vehicles if you've got more than one adapter, and you can filter by time/date, distance, duration, cost, or miles per gallon.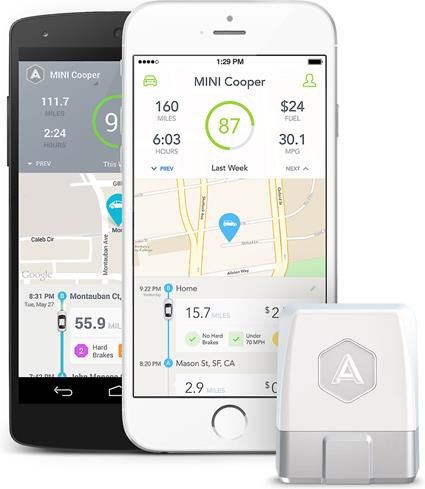 Automatic is compatible with most newer iPhone and Android phone models.
Get other car-friendly apps involved
Turn to the Automatic App Gallery online for more apps currently available to work with the Automatic Car Adapter. Some of these app types include:
Driving instruction: The License+ app gets your teen drivers to learn through a series of tests for different driving skills. They can pair with a coach (usually a parent) and earn badges for highway driving, night driving, and other situations. Once they've completed the 100-hour program they earn a virtual medal, and you get some added peace of mind.
Performance: Dig deep into your car's ability to handle the road with apps like Harry's Lap Timer and DashCommand displaying detailed data gathered through the Automatic adapter.
Business expenses: There are several apps that can keep track of those hours spent on the clock driving for work, including Concur, Expensify, and Xero. You'll be able to provide details for each trip, including a route map. And you can even submit a receipt right from your phone.
Control of connected devices: Like the Nest thermostat below, more of the devices you use every day are becoming connected. Automatic's ready to "talk" to these devices through their respective apps, so visit the Automatic App Gallery for updates. The IFTTT (If This Then That) app lets your car control house lights, door locks, and other connected appliances.
Automatic lets your car talk to your Nest
The Nest Learning Thermostat is designed to track your preferences and automatically set the temperature at home according to your routine. You can set it up while at home, but what if you've got an irregular schedule and get home at different times each day? Automatic can communicate with your Nest thermostat, allowing for optimum comfort when you get home without wasting any energy.
You can set up heating and cooling rules for your Nest through Automatic, based on when you turn your car's engine on and off and how far you are from home. And you can even give the Nest an estimated time of arrival once you're in your car, so you can have your home at the perfect temperature as soon as you walk through the door.
Stay on top of vehicle diagnostics
Peter Logan, one of our buyers, uses the Automatic Car Adapter in his vehicle. When his car's "check engine" light came on unexpectedly, he remained calm and checked the Automatic app display on his smartphone, which indicated that one of his car's cylinders was misfiring. He double-checked this with a simple online search at home, learning that it was a common issue for his car's make and model. Peter was able to take his car to his mechanic and confidently address the problem, saving himself time and worry.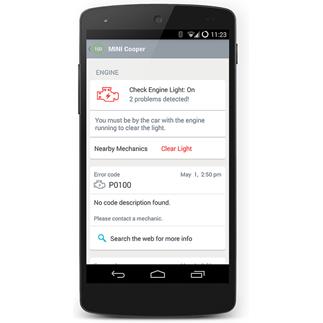 Take the worry out of "check engine" lights
Automatic eliminates the mystery of "check engine" lights, giving you the information you need to decode and even clear them, so you won't waste time and money going to the mechanic or dealer for a loose gas cap or other simple issue. If it's a serious problem, you'll be able to go to the garage with the details needed to keep you from being overcharged.
Become a better driver
Automatic logs your trips and driving habits and tracks your driving efficiency. After a few trips it starts providing a weekly driving score for how well you conserve gas as you drive. Keep pushing the score higher to save money. Hard braking, rapid acceleration, and speeding over 70 mph are all inefficient driving habits, so the Automatic provides subtle audio cues to keep you in check as you travel.
If you're an Android user, you can increase your safety with the Automatic app's "Do Not Disturb" feature. It'll eliminate potential distractions by automatically silencing incoming texts, notifications, and phone calls when it's paired with the adapter. You can even have it auto-reply to phone calls with a text letting them know you're behind the wheel.
Forgot where you parked? No problem
It happens to everyone: you're at the mall, movies, or ballpark and you've misplaced your ride. If you've got your phone or smart watch on you, the Automatic app can guide you right back to where your car is lickety-split. You don't have to check in or anything, just fire up the app and follow along.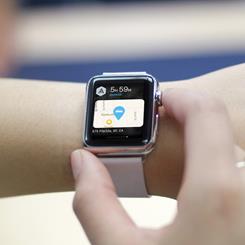 Automatic can help you find your car through your Apple Watch.
Crash assistance
Nobody wants to get into a car accident, but it can happen at any time. Automatic has crash agents on hand 24/7 to call nearby authorities if you've been involved in a crash. And you can program the Automatic app to text select phone contacts to automatically let them know you've been in an accident. Like all other Automatic services, there is no charge for this feature.
Note: In certain vehicles, the Automatic Car Adapter may interfere with driver's knees or you may want to hide the device away. Audiovox's OBDHAR Y-harness accessory offers a simple solution.
READ LESS
Product highlights:
connected car adapter/telematics device with Bluetooth
plugs into vehicle's OBD-II port
compatible with most Android phones and iPhone 5 and newer (free Automatic app required)
monitor vehicle using phone, tablet, smartwatch, or computer
access vehicle diagnostic codes
records and reports inefficient driving practices
records and reports fuel efficiency and suggests driving changes to save gas
find your car in a crowded parking lot through your phone
24/7 crash assistance, including automated texts to emergency contacts
compatible with Nest Learning Thermostat for automated heating and cooling from the road
compatible with apps for teen driving, mileage expensing, car performance, and more
"Do Not Disturb" feature for Android phones silences incoming texts, calls, and notifications
dimensions: 1-11/16"W x 2"H x 13/16"D
warranty: 1 year
MFR # 850018005029
Automatic Car Adapter and Car Apps reviews
Average review:
Thanks for submitting your review
Most reviews are processed and published within 5 business days. You will receive a confirmation email once your review has been published.
Customer photos
More details on the Automatic Car Adapter and Car Apps

Researched by Crutchfield's

Research Team
Product Research
Features
Overview: The Automatic Car Adapter (2nd generation) is a plug-in automotive driving assistant that provides valuable information about your car's performance as well as your driving habits. It links via Bluetooth (Version 4.0 Dual Mode) to your iPhone or Android device and gives you instant feedback on your speed, gas mileage, or needed repairs. It has a built-in GPS receiver to log your trip routes, even without your phone being present. The free Automatic App analyzes each trip you take and gives you a daily and weekly score on your driving to help you get better gas mileage. Automatic requires no subscription fees, only an online account at Automatic.com.
Automatic Adapter: The Automatic Adapter plugs into the OBD-II diagnostic port, which is standard on all cars since 1996. The port is the same one used by your mechanic when you take your car in for service, and is typically located under the steering wheel. The Automatic adapter connects your car's on-board computer to your smartphone whenever you drive, transmitting your driving data after every trip. It identifies your vehicle each time it is used, allowing you to move the adapter from car to car and keep track of multiple vehicles. The Adapter uses 128-bit AES wireless encryption to keep your information secure. Firmware updates are performed over-the-air via your smartphone.
Automatic App: The free Automatic App works with the Automatic adapter to get your vehicle "connected." It is available from iTunes, and works with iPhone 5, 5c, 5s, 6, and 6 Plus running iOS 7.0 or later. The Android version is available from Google Play, and works with devices running Android version 4.0 and up. (HTC One requires Android 4.3+)Automatic also works with the Apple Watch and Pebble Classic wearable devices.
App Gallery: The Automatic Adapter and App work with many 3rd-party apps to assist you with other aspects of your life. Apps such as YourMechanic can help you maintain your car, diagnose problems, and even send a mechanic to you. Other Vehicle Performance apps, such as DashCommand, Harry's LapTimer, and OBD Fusion, help you get your car running at peak performance. There are multiple Business Apps, such as Concur, Expensify, Nexonia, and Automatic Fleet, to help you expense your mileage or manage your company's fleet productivity. Convenience Apps, such as IFTTT, Nest, and SpotAngels, can automatically perform services such as closing your garage door when you get home, pre-heat/cool your home before you get there, or alert you that your parking meter is about to expire.
License+: Automatic's License+ feature, now with a separate app, helps you coach new drivers to be safer and better drivers. The entire License+ program takes 100 hours to complete, or about six months. During this time, License+ helps drivers practice safe driving habits by reviewing each trip they take, and providing a score. Automatic continues to keep the driver safe by decoding Check Engine lights, audible driving tones, car location reminders, and Crash Alert. As the driver progresses, they earn badges for specific skills they have learned, such as night driving, highway driving, smooth acceleration, smooth braking, and maintaining a safe speed. License+ emails both the driver and coach a summary of the week's activity showing progress and additional challenges. At the end of the 100 hours of driving, License+ awards a bronze, silver, or gold medal to the driver, based on the overall score.
Instant Feedback: The Automatic Adapter has a built-in accelerometer that is accurate to within 0.012G. It analyzes your driving and provides subtle audio cues to help you drive smarter. The adapter will sound a quick beeping tone when you exceed 70 miles per hour, accelerate at a high rate, or brake hard. At the end of your trip, your driving score will reflect the number of times you were alerted. As you learn to drive less aggressively, your driving score and your gas mileage will improve.
Crash Alert: The accelerometer built into the Automatic Adapter can determine when you've been in a serious crash. It plays a message to let you know it's about to call for help. The app uploads details of the crash, including the location, to the Automatic emergency call center. An agent calls your phone to confirm you need assistance, then requests help from local authorities. In addition, a call is placed to pre-designated phone numbers to let your loved ones know you've been involved in a crash, and that help is on the way. Unlike other crash assistance services, Automatic's Crash Alert require no subscription fees.
Long Term Feedback: Over time, your Automatic account will provide you a record of each trip you take. You can view your account from your mobile device or from your personal computer. The account dashboard will show the beginning and ending time and location of each trip (as well as a map of the route you took), the number of miles, elapsed time, the number of times you hard accelerated and hard braked, the number of minutes driving over 70 mph, your fuel efficiency (MPG), and the cost of the fuel used. You can select trips from this week, this month, last 30 days, this year, all time, or within a custom date range. As you analyze your driving data, you can make subtle adjustments to your commute, such as finding a more efficient route, to save money and fuel.
Driving Logs: If you are required to log your mileage for work or taxes, Automatic provides a virtual log book of your trips with data you can export to other applications.
Check Engine Light: When your vehicle's Check Engine light comes on, the Automatic app will display the trouble code, a brief description of the problem, and possible solutions. A link is provided to allow you to search the Internet for more information. For minor issues, such as a loose gas cap, you can reset the Check Engine light right from your phone. For problems requiring service, a link will be provided to help you locate a well-reviewed expert mechanic near your location.
Locate Your Car: Automatic will save the location of your vehicle when you leave it (and the Bluetooth connection is lost). This is helpful for finding your car in a crowded parking lot, or for sending the car's location to family members for car sharing.
Low Fuel Warning: The Automatic app can alert you when you are running low on fuel. Based on your current fuel efficiency, you'll always know how many miles are left in the tank. You can set custom fuel warnings to alert you even before the vehicle's low fuel warning light comes on. The low fuel warning is not available on all vehicles, especially older ones.
Do Not Disturb: Automatic can help you keep your mind on driving by automatically switching your phone into the Do Not Disturb mode when you start driving. This feature is only available with Android phones.
Travel Cup: In the interest of conserving, the Automatic packaging is designed to be reused as a food-safe, BPA-free travel cup. The cup is over 6.5" tall and comes with a medical-grade silicone lid.