About the Behringer X-TOUCH
The human touch
When you're editing or mixing music with DAW (digital audio workstation) software, sometimes it's nice to lay your hands on real, tactile controls rather than having to point and click with a mouse. Behringer's X-TOUCH control surface connects to your computer's USB port for hands-on control right out of the box with most software DAWs, including Apple® Logic®, Cakewalk, Digital Performer, Pro Tools and many more.
The human touch
When you're editing or mixing music with DAW (digital audio workstation) software, sometimes it's nice to lay your hands on real, tactile controls rather than having to point and click with a mouse. Behringer's X-TOUCH control surface connects to your computer's USB port for hands-on control right out of the box with most software DAWs, including Apple® Logic®, Cakewalk, Digital Performer, Pro Tools and many more.
The X-TOUCH's nine faders are great for "massaging" groups of tracks by feel, like when you're mixing drums or a horn section. They're touch-sensitive, too, which means you don't have to select a track with your mouse to change it: simply touch the fader to select the track in your software. All nine faders are motorized, so you can set up automated changes through the software or "write" changes by sliding the faders manually. During playback, the faders will move up and down along in real time according to your edits.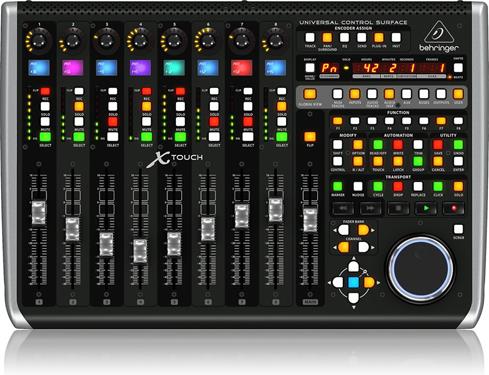 Just touch any of the 9 motorized faders to automatically select that channel in your DAW.
Stay aware of what you're doing
Ever see a studio engineer run a strip of masking tape across their board and label the tracks with a marker? No need for that here. The X-TOUCH features "LCD scribble strips" — illuminated LCD panels that automatically pull track names and other parameter info from your DAW to automatically label faders 1 through 8. The info displayed in the LCD scribble strips changes to match whatever's happening in your DAW as you switch to different screens, accurately showing you what you're controlling.
Extensive hands-on adjustments
In addition to the faders, you get eight assignable rotary control knobs across the top, each with a collar of LED indicators to show you levels at a glance. And there's a whopping 92 illuminated buttons to give you quick access to whatever key functions you might need while you're mixing. A large jog/shuttle and tape-style transport controls let you home in precisely on specific musical passages.
READ LESS
Product highlights:
universal USB MIDI control surface for digital audio workstation software
supports HUI and Mackie Control protocols for wide software DAW compatibility right out of the box
9 fully automated and touch-sensitive 100mm motorized faders
8 dynamic LCD scribble strips automatically pull track names and other parameter info from your DAW
8 rotary controls with LED collar indicators
92 illuminated buttons for directly accessing key functions
8-segment LED meters per channel for precise level control
large jog/shuttle and tape-style transport controls
built-in 2x2 USB MIDI interface for direct connection to Mac® or PC
Ethernet interface for RTP (Real-Time Protocol) MIDI
2 dedicated footswitch connectors and 1 foot controller input for external remote control
included switching power supply is compatible with power systems from 100V to 240V
17-3/4"W x 11-13/16"H x 4-13/16"D
warranty: 3 years (with product registration)
MFR # X-TOUCH
KEEP READING
READ LESS
What's in the box:
Behringer X-TOUCH owner's manual
Control surface
60" Power cord (IEC 3-pin)
74" USB Cable (Type-A on one end
type-B on other
2.0)
Quickstart guide
Scratch & Dent items may be missing non-essential accessories. In some cases the manufacturer's accessories have been replaced with generic equivalents.
Behringer X-TOUCH reviews
Average review:
Customer photos
Behringer X Touch Review
Joey P from staten island, NY on 1/29/2016
The Behringer XTouch is a controller Ive been waiting for, for quite some time by Behringer. It is well constructed physically and the faders are smooth like an analog console. For those who have used the BCF2000 and are familiar with it, the X Touch should be no problem to get familiar with. The modes are modeled after the BCF2000 as far as mixer view and then channel view. There are a lot of buttons which control Logic Pro well as in my case...alot of 1 touch functionality. Best features are the colored scribble strips which indicate parameter values and levels....I highly recommend this controller along with 1 more as I believe in banks of 16 channel access at 1 time for true analog control....
Pros: Great hands on controller for providing awesome control and visual feedback....
Cons: Rotary controls are detented...would have preferred undetected seamless control.....dont know if the option is available for getting fader to 0db as in the BGF2000....
3 of 4 found this helpful
More details on the Behringer X-TOUCH
Researched by Crutchfield's

Russ B.
Product Research
Features
Overview: The Behringer X-Touch is a universal DAW remote control-surface, for use in studios and live applications, supporting HUI and Mackie Control protocols for integration with most music production software. Its front panel layout offers dedicated controls and functions for features commonly found in modern DAW workstations and includes control input/output for MIDI devices.
Channel Strips: The X-Touch includes 8 channel strips and 1 Master fader, each with a touch-sensitive motorized 100 mm fader that's typically used for fine control of DAW level control. Bank left/right buttons let you move channels up and down 8 at a time, while Channel left/right buttons move the tracks in single steps. A Flip button switches between Encoder control and Fader control allowing finer control of parameters. Other channel strip functions include:
Encoders: Each channel strip includes a Push Encoder knob. These endless encoders have detent and push functions and are surrounded by a 13-segment amber LED ring. These are typically used for fine control of parameters such as aux send and pan controls. Encoder Assign buttons determine the function of the Encoders which include: Track, Pan/Surround, EQ, Send, Plug-in, and Inst.
Scribble Strips: Eight LCD "scribble-strip" displays are provided to display various parameters and labels as shown in the DAW software. They're also used to view various settings and adjustments that can be assigned to and changed with the Encoders.
Channel Meters: An 8-segment LED level meter is provided for each channel strip, indicating signal level and clipping.
Select: Selects that channel for editing. When activated, the mixer controls become dedicated to setting up that channel with details shown in the Scribble Strip.
Rec: Arms the channel for recording.
Mute: Mutes the channel.
Solo: Isolates that channel from the mix. A Solo LED in the main display will light when any channel is soloed.
Transport Controls: The Transport section includes all the functions commonly found on most recorders and recording software and include:
Transport: Play, Stop, FFWD, REW, and REC. Other buttons include: Marker, Nudge, Cycle, Drop, Replace, Click, and Solo. These functions may vary or not be available depending on the DAW software being used.
Jog/Shuttle: Used for editing audio in the DAW. The Scrub button switches between Jog and Shuttle modes.
Navigation: These include up/down, right/left arrow buttons for navigation and a Zoom button for zooming in on the DAW screen.
Main Display: The Main Display shows the time counter for the track. This can be displayed as either SMPTE time code, showing hours, minutes, seconds, and frames, or as Beats, showing bars, beats, and ticks. A dedicated selector button will switch between the two.
Other Functions: The following sections of buttons are provided, but may vary widely in function depending on the DAW software being used. These include options for accessing MIDI Tracks, Inputs, Audio Tracks, Insert Effects, Buses, and Outputs. Other options include:
Function: Eight Function buttons can be assigned to various features.
Automation: The X-Touch features automated faders for saving and recalling setups. Controls include: Read/Off, Write, Trim, Touch, Latch, and Group.
Utility: These are used for saving setups. Controls include: Save, Undo, Enter, and Cancel.
Tracktion Software: Included with the X-Touch is a scaled-down version of Behringer's Tracktion recording software. This provides pro DAW features such as dynamic automation, unlimited track count, MIDI recording and support for VST and AU plug-ins. After registering your X-Touch at Behringer's website, a full version of Tracktion will be provided for downloading.
RTP-MIDI: The X-Touch can be used as an RTP-MIDI (Real-time Protocol) device over a network connection. This is useful in systems where long USB or MIDI cables would otherwise be required. A rear-panel Ethernet port is provided for this function.
Rear Panel: The following ports are provided on the rear panel:
Remote: This is an RJ-45 Ethernet port used for connection to a DAW supporting RTP-MIDI or a remote controlling Behringer digital mixer (a future implementation).
USB MIDI: A USB type-B port is used for connection to your DAW.
USB Hub: This multi-TT USB Hub includes two USB type-A ports for connecting external USB hardware such as a mouse or keyboard, or for USB controllers and MIDI keyboards. The Hub communicates directly to the computer and not the X-Touch. Each connection can provide 5 volts USB power. The Hub is only active when the X-Touch is powered on and connected to a live computer via the USB MIDI connector.
MIDI IN and OUT: These two 5-pin DIN connectors send and receive MIDI data to and from MIDI devices.
Foot Switch 1 and 2: These two 1/4" jacks are used for standard sustain pedals for momentary or toggle MIDI data control.
Expression Pedal: This 1/4" jack is used for a standard swell pedal for continuous MIDI data control.
Specifications:
Controls:

Faders: 9 Motorized, 100 mm, touch-sensitive
Rotary/Push Controls: 8
Buttons w/ LED Backlight: 92
Wheel: 1 Jog/Shuttle
Foot Control (expression): 1/4" TS
Foot Switch (sustain): (2) 1/4" TS

Display:

Time: (10) 7-Segment LEDs
Channel Assignment: (2) 7-Segment LEDs
Channel Level: (8) 8-Segment LEDs w/ SIG and CLIP
Channel Display: (8) Color LCD scribble-strip

MIDI:

Input: 5-Pin DIN
Output: 5-Pin DIN

Computer Connection:

USB: USB Type-B, 2.0
Ethernet: RJ-45

USB Hub:

Type: Multi-TT USB 2.0
Connectors (x2): USB Type-A, 2.0
USB Power: 5 V

Power Supply:

Type: Internal switch mode power supply
Voltage: 100 - 240 V, 50/60 Hz
Fuse: T 1A H 250 V
Power Consumption: 30 W
Mains Connection: Standard 3-pin IEC receptacle

Physical:

Operating Temperature Range: 41˚ F - 104˚ F
Dimensions: Width - 17.625", Height - 4.0", Depth - 15.0"
Weight: 9.4 lbs.
Warranty Terms: Behringer offers a 3-year warranty when you register your product within 90 calendar days of purchase. If the product is not properly registered, the warranty period is one year.
Q
Crutchfield asked: Why did you buy this?
A
Fit my budget, has good tech support, great customer ratings (from this and other sites), and is exactly what I need since my DAW is Apple Logic Pro X.
[ Nolan Jun 25, 2016 ]