About the Netgear RS212 Network Attached Storage
Storage and streaming powerhouse
If you've ever run out of space for storing your favorite shows and movies, or
high-res music files
, Netgear's RS212 offers an excellent solution. It's a Network Attached Storage (NAS) device that plugs directly into your router so everything written to the hard drive is available across your wireless network.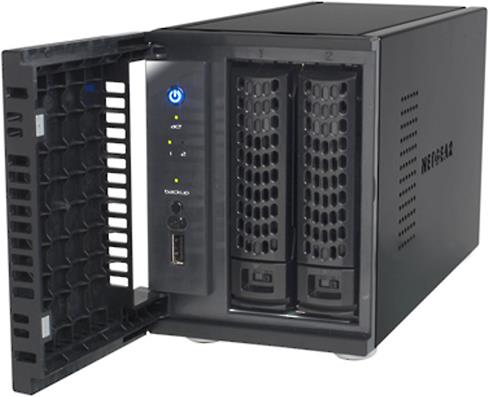 The Netgear RS212 has two internal bays so you can add up to 12 TB of storage capacity.
Storage and streaming powerhouse
If you've ever run out of space for storing your favorite shows and movies, or high-res music files, Netgear's RS212 offers an excellent solution. It's a Network Attached Storage (NAS) device that plugs directly into your router so everything written to the hard drive is available across your wireless network.
The RS212 has 2GB of RAM, and two bays for required additional drives (not included), so you can bump capacity up to an amazing 12TB. If you plan to enjoy the growing world of 4K content streaming, massive storage is almost essential. And, it works great for backing up footage from a security system.
A great communicator
The RS212 is DLNA certified, so you know it's compatible with thousands of common streaming devices, like smartphones, tablets, and set-top streaming boxes. It also works well with Linux/Unix, FTP, and other popular file transfer protocols.
Security and data recovery
Any time you use a wireless device, you want to know that your data is safe. The RS212 uses AES 256-bit volume based encryption and real-time anti-virus scanning to make sure your personal information stays private.
And there's more peace of mind in store. The drive takes "snapshots" of your data — at scheduled times, or manually if you're working on something important — which can be restored in the event of a power outage. There's also automatic ReadyNAS Vault Cloud backup, and compatibility with Apple® Time Machine.
READ LESS
Product highlights:
2GB of internal RAM with two additional drive bays

maximum capacity: up to 12 TB (with optional drives installed)

1.4GHz quad core processor
up to 200MB/s read and 160MB/s write speeds
additional drives are not included
ReadyCLOUD personal cloud storage with free backup:

simple and secure remote access
share data directly from web portal or via email links
drag-and-drop folder and file backup

DLNA certified
internal smart cooling fan
Security and Data Recovery:
AES 256-bit volume based encryption
real-time anti-virus scanning
automatic protection & correction for degraded media
scheduled or manual "snapshots" that can be restored in event of data loss
Apple® Time Machine support
ReadyNAS Vault Cloud backup
Connections:
dual Gigabit Ethernet ports
one eSATA port for connecting to select wireless routers
three high-speed USB 3.0 ports
Dimensions and Warranty:
4"W x 5-5/8"H x 8-11/16"D
weight: 4.47 lbs.
warranty: 3 years
MFR # RS212
We don't have any reviews, yet.
Submit a review and then enter to win a $350 rewards card.
Be the first to review this product
Thanks for submitting your review
Most reviews are processed and published within 5 business days. You will receive a confirmation email once your review has been published.
Customer photos
More details on the Netgear RS212 Network Attached Storage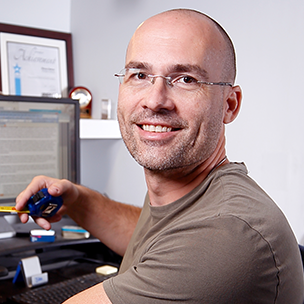 Researched by Crutchfield's

Stacey B.
Product Research
Features
1.4GHz ARM Cortex A15 Quad Core Processor (2GB RAM): The NETGEAR ReadyNAS 212 employs a high-performance 1.4GHz ARM Cortex A15 Quad Core Processor with 2GB of RAM for accelerated read/write capability with real-time 1080p transcoding.
2 Storage Bays: The ReadyNAS 212 features two storage bays and comes without a preinstalled disk drive or drives. You will need to add at least one disk to the system before you can use the RN 212. You can add a 3.5-inch hard disk drive, a 2.5-inch hard disk drive, or a 2.5-inch solid state drive to an empty drive bay. Use only supported SATA hard disk drives (HDD) or solid state drives (SSD) in the ReadyNAS storage system. It can support up to 12TB.
Previously Formatted Disks: If you want to use disks that were previously formatted for an operating system other than ReadyNAS OS 6 (for example, Windows or RAIDiator), you must reformat the disks. This process erases all data and reformats all disks into a single X-RAID volume. If you want to preserve the data on the disks, you must backup the data to an external drive before using the disks in the ReadyNAS storage system. If you try to use previously formatted disks in a system that already contains usable disks, the system does not reformat or use the previously formatted disks. Any data on the previously formatted disk remains intact.
Migrating Disks: You can migrate a volume from one ReadyNAS OS 6 storage system to another, as long as you migrate every disk in the volume. For example, if you want to migrate a volume that contains two disks, you must add both disks to the new system. If you add only part of a volume to the new system, the system recognizes the disk as a degraded volume.
Disk Replacement: If your volumes use a protected RAID configuration, the system can recover from the failure of a disk. When you replace the failed disk, the system rebuilds the volume using the new disk and no data from the volume is lost.
Note: If you use disks that are not supported, NETGEAR technical support will not provide assistance. For a list of supported disks, see the NETGEAR Hardware Compatibility List at www.netgear.com/readynas-hcl.
Dual Gigabit Ethernet Ports: The NETGEAR ReadyNAS 212 is equipped with two Gigabit Ethernet ports to connect to your local network. Your local area network (LAN) is an integral part of managing and using the ReadyNAS storage system. Connecting the ReadyNAS storage system to the Internet expands your ability to access data stored on the ReadyNAS system when you are away from it. It also allows you to share data with people located around the world connected to the internet.
Note: The two Gigabit Ethernet ports are equivalent. They can be used as two separate Ethernet connections, or can be configured as a single, bonded port with a 2Gbps potential speed.
ReadyNAS Online Services: Several cloud-based services are preinstalled on the ReadyNAS system. You can use these services to remotely access the ReadyNAS 212 storage system.
ReadyCLOUD: ReadyCLOUD is the online service that you will use to discover and setup the ReadyNAS 212 storage system on your network (initial setup requires that your computer and the RN 212 be on the same network with the ability to access the internet). After you discover the ReadyNAS system using ReadyCLOUD, you can use ReadyCLOUD to securely access and manage the system from anywhere with an Internet connection. You can even allow other users to access your folders; you can share in two ways - through an emailed link or by granting permission to an existing ReadyCLOUD user. ReadyCLOUD for Apple iOS 8.0+ and Android OS 4.0+ let you access, manage, and monitor the system from your mobile device.
ReadyNAS Vault: With ReadyNAS Vault, the ReadyNAS data can be backed up securely to a remote secure data center. Your data is encrypted before it is sent over the Internet. Backup administration is over a 128-bit SSL connection, the same method that banks and financial institutions use. Get 2GB for free witth the ReadyNAS Vault Lite version. Pro version starts at $9.95 for 1,000GB ($10 per extra 1,000GB) and Business version starts at $39.95 for 2,000GB ($40 per extra 2,000GB)
ReadyNAS Replicate: ReadyNAS Replicate is a free service that allows you to replicate and restore data from one ReadyNAS system to another.
Other Cloud Services: Other cloud services include -
Dropbox: The ReadyNAS allows you to easily back up data from the system to your Dropbox account. From the local admin page, you can select a share on the ReadyNAS and sync it to a folder on your Dropbox account. For more information about Dropbox, visit www.dropbox.com.
Amazon Cloud Drive: You can sync files between the ReadyNAS and your Amazon Cloud Drive. For information on Amazon Cloud Drive, visit www.amazon.com/clouddrive/home/.
Egnyte: You can sync files between the ReadyNAS and Egnyte to enable Egnyte file sharing and collaboration. For information on Egnyte services, visit www.egnyte.com.
Note: The ReadyNAS 212 will require an initial firmware/software update before using these Cloud services.
Supported Operating Systems & Browsers: The ReadyNAS storage system is supported on the following operating systems & browsers.
Operating Systems:

Microsoft Windows 10 (16 and 32 bit)
Microsoft Windows 8.1 (16 and 32 bit)
Microsoft Windows 8 (16 and 32 bit)
Microsoft Windows 7 (16 and 32 bit)
Microsoft Server 2012 (64 bit)
Microsoft Server 2008 R2 (64 bit)
Apple OS X 10.7 or later
Linux, UNIX, Solaris
Apple iOS
Google Android

Browsers:

Microsoft Edge
Microsoft Internet Explorer 9.0 and later
Apple Safari 5.0 and later
Google Chrome 20 and later
Mozilla Firefox 14 and later
Shared Folders: Shared folders are the way that you group your data. If you used ReadyCLOUD or the local setup wizard to configure the desktop ReadyNAS storage system, the following shared folders are created for you - Documents, Music, Pictures, & Videos. If you want, you can delete or rename these shared folders. You can create other shared folders to organize your data. A shared folder can even contain further subfolders for greater organization of your data. You can access these shared folders and subfolders over a LAN or WAN network. If you are accessing your files from a network that is outside your LAN, you must configure port forwarding on your router. For more information, see your router user manual. Supported file sharing protocols include -
SMB (Server Message Block): Used mainly by Microsoft Windows computers and sometimes by Mac OS X computers, this protocol is enabled by default. It is sometimes referred to as the CIFS (Common Internet File Service) file-sharing protocol. SMB uses TCP/IP.
AFP (Apple File Protocol): Mac OS X computers can use AFP, but Apple now recommends SMB. The ReadyNAS system supports AFP 3.3.
NFS (Network File Service): Linux, Windows, and Unix computers use NFS. Mac OS X users can access NFS shared folders through console shell access. The ReadyNAS system supports NFS v3 over UDP and TCP and NFS v4 over TCP.
FTP/FTPS (File Transfer Protocol: Many public file upload and download sites use FTP. The ReadyNAS supports anonymous or user access for FTP clients. You can elect to set up port forwarding to nonstandard ports for passive FTP, allowing clients to initiate a connection to the ReadyNAS.
Rsync: Fast file transfer protocol that uses a delta-transfer algorithm to send only the differences between the source file and the existing file.
HTTP/HTTPS (Hypertext Transfer Protocol): Used on the World Wide Web.
SNMP: An Internet-standard protocol for device management.
SSH: Protocol for secure data communication. Lets you remotely manage the ReadyNAS over an SSH connection.
Note: Access rights apply to individual shared folders. For each shared folder, you control the file-sharing protocols that can be used to access the shared folder and the access rights granted to each user, group, and host. For example, you might want to grant a user read/write permission on one shared folder, read-only permission on another shared folder, and no access rights at all on a third shared folder. By default, all users and groups have read/write access.
Media Services: The NETGEAR ReadyNAS 212 supports DLNA (Digital Living Network Alliance) via ReadyDLNA, iTunes streaming, and TiVo archive.
ReadyDLNA: The ReadyDLNA service lets you stream media on the ReadyNAS to DLNA (Digital Living Network Alliance) players You can stream your media to any device that complies with the Digital Living Network Alliance (DLNA) standard, including mobile clients, such as iPads, iPhones, and Android devices. Compatible music, video, and photo file formats include

Audio: wav, wma, pcm, ogg, mp3, m4a, flac, aac
Video: 3gp, mp4, wmv, xvid, vob, ts, tivo, mts, mpeg, mpg, mov, mkv, m4v, m4p, m2t, m2ts, flv, flc, fla, divx, avi, asf
Photo: jpg, jpeg

iTunes: iTunes Streaming Server enables iTunes clients to stream media files straight from your ReadyNAS system. The ReadyNAS supports the following iTunes formats.

Audio: mp3, m4a, m4p, wav, aif
Video: m4v, mov, mp4

TiVo Archive: You can use your ReadyNAS system to store videos and media recorded on your TiVo box. The ReadyNAS downloads data from your TiVo box according to a schedule that you specify.
Discovery Services: Discovery services are protocols that allow network-enabled devices like computers or your storage system to discover each other across networks. The storage system supports the Bonjour and UPnP discovery service protocols.
Bonjour: Bonjour Enables discovery of various services on your ReadyNAS system and provides a way to connect to the local admin page for your ReadyNAS and AFP services. OS X includes built-in Bonjour support. You can download Bonjour for Windows from Apple's website. Bonjour is not configurable on your ReadyNAS.
UPNP (universal Plug-n-Play): Allows UPnP-enabled clients to discover your ReadyNAS system on your LAN. You can enable or disable UPnP on your ReadyNAS.
5 Levels of Protection: The ReadyNAS RN 212 provides five separate strategies that work together to provide substantially better protection. These five different types of protection are used simultaneously.
RAID: Automatic multi-folder backup and RAID, which keeps the integrity of your data even in the event of hard drive failure. The different levels of disk redundancy provided by RAID types provide degrees of file protection from the loss of one or more disks, but cannot do anything about accidental deletion or corruption; can mask, but not prevent, gradual corruption caused by the slow degradation of the disks; and cannot provide protection from a site disaster.
Snapshot Technology: Exclusive snapshot technology keeps historical versions of data, to easily revert files if necessary. Snapshot technologies provide protection against accidental deletion or corruption but by themselves cannot protect against disk loss or site loss
Rea-Time Antivirus: Real-time anti-virus software protects against viruses and malware.
Bit Rot Protection: Bit rot protection defends against media degradation.
Offsite Backup: Free cloud resources for additional backup.
RAID Technology: RAID (redundant array of independent disks) is a storage technology that balances data protection, system performance, and storage space by determining how the storage system distributes data. The ReadyNAS storage system supports X-RAID mode, a proprietary single-volume RAID architecture that is easy to administer, and Flex-RAID mode, which allows you to format your disks in a variety of industry-standard RAID levels
X-RAID: X-RAID is an auto-expandable RAID technology that is available only on ReadyNAS systems. With X-RAID, you do not need to know intricate details about RAID to administer the system. X-RAID allows you to add storage space without reformatting your drives or moving your data to another location. Because the expansion happens online, you can continue to use the ReadyNAS system while the volume capacity increases.
Flex-RAID: NETGEAR's Flex-RAID technology allows you to choose from among several industry-standard RAID levels. The Flex-RAID levels that you can select depend on the number of disks included in the volume.

JBOD: This most basic RAID level does not protect your data from loss if one of your drives fails. JBOD is available only on volumes consisting of a single hard disk.
RAID 0: RAID 0 distributes data across multiple disks, resulting in improved disk performance compared to systems that do not use RAID formatting. The total capacity of the storage system equals the capacity of the smallest of your disk drives times the number of disks. RAID 0 is available on volumes consisting of two or more hard disk.
RAID 1: This RAID level provides full redundancy of your data, because it duplicates data across multiple disks. Exactly the same data is stored on two or more disks at all times. RAID 1 protects your data from loss if one disk fails. The total capacity of the storage system equals the capacity of your smallest disk.
Checksum Function: Checksum functions help detect data transmission errors. The ReadyNAS uses a checksum function to improve accuracy and consistency when writing data to a volume. You can enable or disable the checksum function on each volume. Enabling the checksum function improves the integrity of your data but reduces performance speeds.
Volume Maintenance: Volumes can be scrubbed to check for errors, defragmented to improve disk performance, and balanced to use space more efficiently and speed allocation of new chunks. You can schedule routine maintenance operations (scrub, defrag, balance, and disk test) on a volume.
Volume Scrubbing: Scrubbing cleans and validates all data on a volume and checks the volume for errors. No data is deleted. Folders, LUNs, and snapshots on the volume remain intact. Scrubbing every six to eight weeks is common.
Volume Defragment: Over time, deletion, creation, and modification of files can fragment your data. Defragmenting a volume improves disk performance and reduces data fragmentation.
Volume Balance: You can consolidate partially filled chunks of volumes and assign previously used chunks for reuse by balancing a volume. A balanced volume uses space more efficiently and speeds the allocation of new chunks during writes
Backup & Recovery Configurations: The ReadyNAS system can manage backup and recovery for many devices on your network through its three USB 3.0 port and eSATA port. For example, you can back up data that is stored on your ReadyNAS storage system to secondary devices, such as a USB drive. You can also use your ReadyNAS storage system to store backed-up data from other devices, like your laptop. You can manually backup up your data or schedule an automatic backup hourly, daily, weekly, etc.
Windows/NAS (Timestamp): Source or destination is a share on a Windows computer, or a share on another NAS. Incremental backups with this protocol use time stamps to determine whether files will be backed up.
Media Transfer Protocol (MTP)/Picture Transfer Protocol (PTP): Many cameras and other media devices support the Media Transfer Protocol (MTP) and the Picture Transfer Protocol (PTP). You can configure your ReadyNAS to backup such devices when you connect them to the ReadyNAS.
Time Machine: You can use Mac OS X Time Machine and your ReadyNAS storage system to back up and retrieve data for your Mac computer. This combines the ease of a native Mac backup with the space and reliability of your ReadyNAS
Note: In addition to backing up data, you can back up and restore your system configuration settings. The backup configuration file can also save your shared folder access settings, service settings, local users and groups, network settings, and more.
Setup Wizard: A setup wizard prompts you to configure the basic settings of the ReadyNAS storage system. The setup wizard guides you through the initial configuration process to help you quickly integrate the ReadyNAS storage system into your network. Use the setup wizard to configure basic system settings such as clock, language, administrator password, system alerts, host name, and antivirus, before you use the ReadyNAS.
Antivirus: Free antivirus software provides real-time virus scans using signature and heuristic algorithms. The antivirus software helps protect your system from viruses, malware, worms, and Trojans. When enabled, the antivirus software scans new files as they are written over the SMB (CIFS) protocol. It does not scan existing files or files transferred over other protocols.
System Alerts: You can configure the ReadyNAS to send email alerts when certain system events occur, such as disk errors, changes in network connectivity, power supply failures, fan speed irregularities, and temperature violations. The ReadyNAS divides system events into two categories - Mandatory & Optional. Mandatory events always generate email alerts. You can control which optional system events generate email alerts. By entering your email account information, you authorize the ReadyNAS to send email alerts to that account.
System Monitoring: The ReadyNAS system provides system and disk health information, as well as system logs and real-time historical monitoring.
System & Disk Health Information: The ReadyNAS provides basic system health information about the fans, temperatures, optional uninterruptible power supplies, optional expansion disk arrays, and fan speed control
Real-Time & Historical Monitoring: The ReadyNAS provides status graphs for volume throughput, network throughput, volume utilization, and system temperatures.
System Logs: System logs provide information about the status of various system management tasks, including a time stamp. You can view system log messages from the local admin page, download the complete system logs to a local computer, and receive system alerts. These logs are used primarily to troubleshoot problems. If you call NETGEAR technical support, the representative might ask you to send your system logs.
Boot Menu: Use the boot menu to restart or troubleshoot the ReadyNAS storage system. The storage system has the following boot modes - Normal (initiates a normal boot process; just like booting using the Power button) & Factory Default (initiates a short disk test that takes approximately 5 minutes; after the disk test a 10-minut time-out period begins.
Note: The factory default reboot process resets the storage system to factory settings, erases all data, resets all defaults, and reformats the disk to X-RAID.
Power Requirements: The NETGEAR ReadyNAS 212 operates off of standard household current using the supplied AC power adapter and power cord that gets plugged into an AC wall outlet. The ReadyNAS system supports the use of uninterruptible power supply (UPS) devices.
Wake-On-LAN: Wake-on-LAN is a way to remotely power up a network-attached device, like a computer or storage system. This feature allows you to conserve power by keeping a device turned off when it is not needed, but allows a remote system to turn it on when it is needed. Wake-on-LAN works when one network-attached device sends a signal, called a magic packet, to another network-attached device. If wake-on-LAN is enabled in the target device, the packet signals the device to power up. The ReadyNAS system supports wake-on-LAN on the first Ethernet port (LAN 1) only.
Disk Spin-Down: Disk spin-down reduces the rotation speed of your ReadyNAS disks. When the disks are spun down, power consumption is reduced, the disks are quieter, and disk life is extended. However, the disks must spin back up before the ReadyNAS can read or write data to them. This can cause an apparent slow down in disk performance and, depending on the application, can cause time-out. You can control whether spin-down is used, how long a period of inactivity is needed before disk spin-down, and if used, what days and times it is enabled.
Interrupted Power State: If the power supply is interrupted due to a power failure, the system returns to its last state when the power supply is restored. If the system was powered on at the time of the power failure, the system powers on when the power supply is restored. If the system was powered off at the time of the power failure, the system remains off when the power supply is restored.
NETGEAR Support: NETGEAR offers its own proffessional technical support, as well as a community-based technical support.
NETGEAR Technical Support: You must register this product before you can use NETGEAR support. When you first setup the ReadyNAS 212, the ReadyNAS creates a link unique to the RN 212 that you can use to register the system. The link displays in a notification bar at the top of the local admin page. You will get free phone support within 90 days after purchase (fees will apply after 90 days).
ReadyNAS Community: The ReadyNAS community is part of the NETGEAR community. The NETGEAR community is a place where users and experts can come together to share tips and ideas, solve problems, and talk about everything NETGEAR products can do. The local admin page includes a link to the ReadyNAS part of the community.
Placement & Mounting Options: The ReadyNAS storage system is suitable for use in a home or small office environment where it can be freestanding. The small, compact size makes it suitable for sitting on a desk or on a closet shelf.