Soundcraft Ui24R
24-channel remote-controlled digital mixer with built-in Wi-Fi®
Item # 944UI24 | MFR # 5076585
In Stock
Consult a pro audio advisor

Our VirginiaVA-based experts can help.
Overview
Versatile digital mixer for a band or club
Soundcraft's Ui24R mixer will help you balance your music and blend it together with all the sonic special effects you like. You can rack-mount this mixer or set it up like a stage box, connecting microphones and other audio sources to the inputs and powered speakers or amps to the outputs. Then, you use your own device (smartphone, tablet, or PC) to wirelessly control the mix from wherever you choose to sit or stand.
Go mobile
This surface-less digital mixer features onboard Wi-Fi that can connect to any wireless device that has an up-to-date web browser. The Ui24R features dual-band Wi-Fi, at 2.4 and 5 gigahertz, to ensure robust connections for wireless control. You don't have to download an app to run the mixer — it acts as its own hotspot/server that sends the app directly to your device via its wireless internet connection.
Up to ten devices can control the mix at the same time, but you can limit the functionality of each to prevent someone from tweaking a wrong monitor channel, for example. A MOREME setting allows a musician on stage, for instance, to adjust their own monitor mix, with just a few controls available.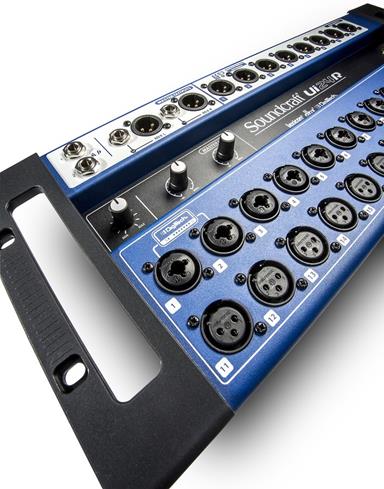 I/O features
The Ui24R features 20 microphone inputs, 10 of which can also accommodate TRS 1/4-inch plugs for line-level instruments like keyboards. You'll also find RCA inputs for playing analog music on breaks or for background beats. A USB input lets you play your 2-track digital files, and a separate USB output lets you digitally record the master left/right outputs. The master outputs deliver the front-of-house sound to your amplifiers, while 8 auxiliary outputs take care of monitor mixes.
Multitrack recording and playback
You can use the Ui24R for multitrack recording and playback via its USB interface and your computer and DAW. Up to 24 separate channels, 22 inputs plus the stereo mix, can get captured digitally for storage and editing, and then played back for mixing.
No need to lug around guitar amps
The first two input channels feature high-impedance inputs that you can plug your guitars into directly. The mixer's software includes DigiTech® Amp Modeling which creates the virtual amp and cabinet combination of your choice and allows you, for example, to sound like you're playing through a Marshall stack without any actual amp or cabinet set up onstage.
Signal processing by Harman
Soundcraft's parent company also happens to make some of the world's finest sound processors, so it's no wonder the Ui24R is packed with so many cool effects. For dynamic control, a dbx® compressor, de-esser, and noise gate can be applied to every channel. To add spatial effects, you can use the separate Lexicon® reverb, delay, and chorus echoes. With a 4-band parametric equalizer on each input, a 31-band graphic EQ on each output, plus a graphic RTA display with each EQ, you can craft individual instrument and room tones to perfection. And to top it off, a dbx AFS2 advanced feedback suppressor on each output can be set to automatically keep the sound under control.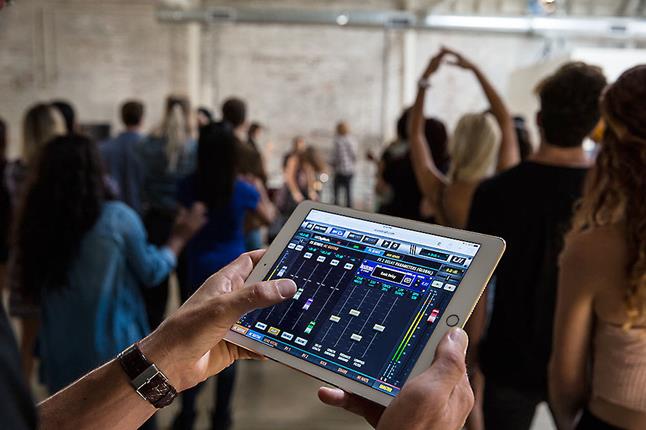 Mixing on a tablet
Product Highlights:
24-channel digital mixer
control surface not included — uses onboard Wi-Fi to send control app to separate computer and other portable device
works with any device that uses an html5 browser (up to 10 devices at the same time)
inputs:

channels 1-10: mic/line
channels 11-20: mic/line (XLR only)
Studer preamps on channels 1-20
stereo line in (RCA)
2-ch USB
DigiTech Amp Modeling available on channels 1 and 2
24-ch USB for mixdowns

outputs:

stereo main
8 assignable Aux (XLR only)
USB output to record up to 24 separate channels
two parallel headphone outputs with single volume control

built-in dual frequency Wi-Fi router, indicator light, and two antennas
Ethernet port for wired control connection
Software Control App Features:
recallable gain faders
individual channel switchable phantom power (+48 volts)
phase invert, mute, and solo buttons
digital level meter in dB and clip light
channel level faders with dynamic level indicators
pan control with digital indicator
editable channel name (scribble strip)
dbx 4-band parametric equalizer, high-pass filter, de-esser, and RTA
dbx dynamic compressor/limiter and noise gate
Lexicon reverb, delay, chorus, and room effect (selectable echo/reverb)
dbx 31-band graphic equalizer and RTA on output channels
dbx AFS2 feedback suppression (12-band)
can assign up to 6 subgroups
save all mixer settings as a Snapshot, collect Snapshots for a Show
General Features:
rack-mountable steel chassis
dimensions: 19"W x 7"H x 6-5/8"D
weight: 22 lbs.
warranty: 1 year
What's in the Box:
Soundcraft Ui24R Owner's manual
Digital mixer
78" Power cord (IEC 3-pin)
Product safety instructions
Registration card w/authentication code for Ableton Live 9 software download
Why Shop
With Us?
10 Reasons.
---
Details
Features and Specs
General
Mic inputs
20
Line inputs
(10) XLR/1/4" combo jack
Phantom power
+48V
Channel EQ
4-Band parametric
Master EQ
31-Band graphic
Digital outputs
(1) USB record out
Monitor outputs
(8) XLR
Effects
Delay, Reverb, Chorus
Talkback
N
Height (inches)
7
Depth (inches)
7
Width (inches)
19
Weight
11.25 lbs
Product Research
Features
Overview: The Soundcraft Ui24R is a rack-mountable, 24-channel digital mixing and multi-track recording system that incorporates flexible I/O routing, pristine sound quality, wireless control, and roadworthy reliability. It includes Studer preamps, delivering rich sound for live performance and multi-track recording, Lexicon's iconic reverb, chorus, and delays, dbx compression, as well as DigiTech guitar amp modeling. The system can also double as a stagebox and can be controlled by up to 10 devices via an Ethernet connection or with its built-in dual-band wifi, making it possible to control mixing and multi-track recording wirelessly from anywhere in a venue or studio.
Inputs: All of the Ui24R's inputs are provided on the front panel for easy access and include 10 XLR jacks, 10 XLR/1/4" TRS combo jacks, a stereo pair of RCA inputs, and 2 USB audio inputs. All of the XLR and XLR combo jacks can have +48V phantom power applied to them, through the interface software, for use with condenser mics and active DI boxes. XLR combo input Channels 1 and 2 have a HI-Z input setting allowing instrument level signals, such as electric guitars and keyboards, to be fed directly into the mixer. Other inputs include a pair of unbalanced stereo RCA inputs, as well as a USB (Type-A, 2.0) port for audio playback. This can be used for backing tracks during a performance or for background music between sets. USB playback is via the Playback L and Playback R channels in the controller software and mixed with the main stereo output mix. Compatible playback files include: MP3, AAC, .WAV, .OGG, .AIFF, and FLAC files. A second USB (Type-B, 2.0) is provided for recording and playback from your DAW.
Outputs: The Ui24R includes two Master Output channels, Mix L and Mix R, comprised of two balanced XLR jacks each with a corresponding 1/4" jack that's paralleled to the XLR. The Master Outputs each include their own Master Level control dial. There are also 8 Aux Outputs comprised of balanced female XLR jacks that can be freely assigned in the software for additional routing options. All outputs include dbx AFS2 Automatic Feedback Suppression. Other output connections include:
Headphones: Two front-panel 1/4" stereo headphone jacks are provided along with a single volume control that affects both jacks.
USB Rec: A USB (Type-A, 2.0) is provided for recording the Master Channel stereo output as a stereo file or multi-track recording to a USB flash drive for storage.
HDMI: The Ui24R includes a standard HDMI output for displaying the mixer screen on an HDMI equipped monitor. If using this output in conjunction with a DVI or VGA adaptor, it must be active.
Control: Control of the Ui24R can be done from the device of your choice; tablet, phone, PC, and MAC via iOS, Android, Windows, Mac OS, and Linux operating systems without the need for installing apps. The mixer uses built-in web server technology to enable computer, tablet, and phone based in-browser control of all functions. Onboard dual-band wifi (2.4G and 5G) allow you and up to 9 other musicians to have devices connected, allowing other musicians to make adjustments to their mix on the fly. The controlling device gets connected to the Ui24R's access point (hotspot) first, then the appropriate URL is selected for control. Alternately, you can connect via an existing wi-fi network or a wired LAN (Local Area Network) using Ethernet port 1 on the side of the mixer (Ethernet port 2 is for future expansion). The browser based software control for the mixer is available in two versions: a small-screen version for phone-sized devices, and a large-screen version for tablets and computers. For Android users, the Android browser version must be 4.4 or newer, or use a more modern browser such as Chrome.
AFS2: This is a dbx feedback suppression system that uses 12 intelligent filters to detect and eliminate feedback across the audio spectrum. AFS2 can be setup on the master stereo output and/or Aux bus master channels. AFS2 works in two modes; Fixed Mode is used for "ringing out" a system before a performance to eliminate feedback and provide maximum headroom. Live Mode has the ability to detect feedback within complex program material, making it ideal for protecting the system from feedback as conditions change during a performance. Live Mode can also detect when its no longer needed and can remove the filters from the chain, restoring sonic fidelity.
Snapshots and Shows: The Ui24R allows you to save setups as Snapshot. A Snapshot remembers the configuration of your mixer at one time and is basically a record of every setting that can be saved and recalled. A common usage for Snapshots is to have one Snapshot per song, so your Snapshot list will look exactly like your song list. At the end of each song, change to the next Snapshot and all the settings on the mixer are ready for that song to start. A Show is a collection of Snapshots grouped together.
Connected PA: Connected PA delivers seamless plug-and-play operation with a variety of Harman equipment and enables you to control your entire live sound system with one app. Products within the Connected PA system self-identify and retain presets for an easy setup, while operational screens help you quickly optimize volume, configuration settings, and sound quality. Compatible products include JBL PRX800 loudspeakers, dbx Di1 direct boxes, AKG P5i microphones, and the MDAi dynamic microphone adapter.
Software: The built-in software for the Ui24R includes two versions; one for phone-sized devices and a large-screen version for tablets and computer screens, with each having a slightly different layout. The following main options are available for both versions with each having multiple sub-options for more detailed settings:
Mix: The Mix screen is the most used screen and includes a scrollable display of every channel fader. The channel order from left to right is: input channel faders, line in faders, media player faders, FX return faders, Sub Group faders, and Aux Master faders. Your hardware will determine how many channels you will see in the control software.
Meters: Individual tabs are provided for Meters (for all channels), Mutes (Mute group assignment), Views (View group assignment), and Subs (sub-group assignment). The Meters page features VU meters and gain reduction meters for all channels, and also provides fast access to the Clear Solos, Mute FX, and Mute All buttons, plus all Mute Groups.
Gain: The Gain screen, which is easily identified by its red fader-level lines, features Gain Faders, Phantom power, and Phase Invert buttons per channel
Edit: This page provides access to audio processing such as EQ, Dynamics, and FX. The specific audio processing tabs available depend on the selected channel type. Example, the Aux outputs and Master Channel include Graphic EQ.
Aux Sends: This is where auxiliary mixes are created. The on-screen faders determine the signal level sent to the selected aux bus. An Aux Mix can be selected from the top of the view for adjustment. The Aux Master will be available on the right side of the screen along with the Master Channel fader.
FX Sends: The FX Send faders determine the mix that is sent to the selected FX processor. First, an FX tab is selected, then each of the faders can be used to adjust the amount of FX to each input channel. An Edit option allows editing of the selected FX.
MoreMe: The MoreMe option allows users to assign their own personal channel, creating a personal monitoring mix with a single large fader.
Media: The mixer includes a built-in media player that can be used for backing tracks or background music in between sets. Music files are streamed directly from a USB stick, either from a playlist or directly from the file list.
Settings: This section allows configuration of the system, network, and security settings as well as Show and Snapshot management.
Specifications:
Frequency Response: 20 Hz - 20 kHz (+/- 0.5 dB)
THD:

Mic Input (Min gain to bus) @ 1 kHz: <0.005%
Mic Input (Max gain to bus) @ 1 kHz: <0.008%

Noise:

Residual Noise: -96 dBu
Mic Input E.I.N. 22 Hz - 22 kHz unweighted: -128 dB EIN

Mic/Line Gain: -6 dB to +58 dB (Step accuracy depends on size of fader in the GUI)
Latency:

All Processing On for inputs and outputs: 3.2 ms

USB (All Ports) Maximum Current: 5 V / 40 mA
Input and Output Impedances:

Mic Inputs 1-2: 4.2 kΩ
Mic Inputs 3-20: 6 kΩ
Line Input: 12 kΩ
Hi-Z Input: >600 kΩ
Balanced Outputs: <150 Ω

Input and Output Levels:

Mic Input: +19.5 dBu max
Line Input: +19.5 dBu max
Hi-Z Input: >600 kΩ
Balanced Outputs: <150 Ω

dbx AFS (All outputs): 12 Parametric EQs (6 fixed, 6 floating)
EQ Outputs: 31 Band GEQ, 20 Hz - 20 kHz +/-15 dB
Power:

Consumption (Typical): <65 W
AC Input Voltage Range: 88 - 265 VAC (auto-sensing)
AC Frequency: 47 - 63 Hz

Operating Temperature: 41˚ F - 104˚ F
Storage Temperature: -4˚ F - 140˚ F
Dimensions: Width - 19.0", Height - 7.0", Depth - 7.0"
Rack Spaces: 4U
Weight: 11.25 lbs.
Our Product Research Team
At Crutchfield, you'll get detailed, accurate information that's hard to find elsewhere. That's because we have our own in-house Product Research team. They verify what's in the box, check the owner's manual, and record dimensions, features and specs. We stay on top of new products and technologies to help people make informed choices.