About the DJI Mavic Air Fly More Combo
Stay in the sky longer with the Fly More combo
The
Mavic Air
quadcopter is built for fun: it has a nice 4K camera, plenty of enjoyable flight modes, and it can zoom up to 42 miles per hour and fly for up to 21 minutes at a time. What could possibly make it
more
fun? The Fly More combo comes with three rechargeable batteries, so you can keep it in the air while the included charging hub tops off the empties.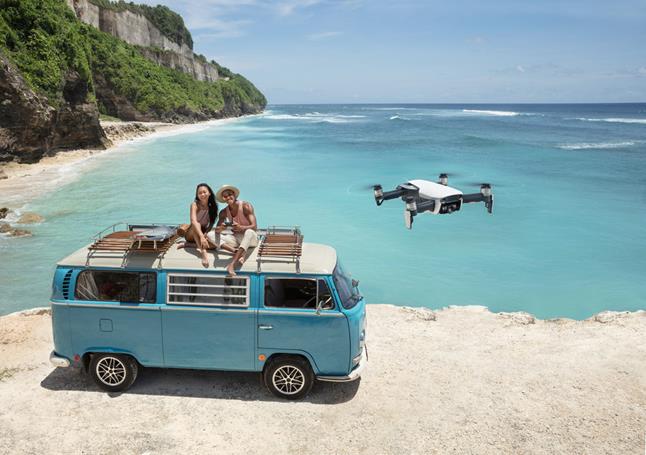 The DJI Mavic Air takes selfies to a whole new level.
Stay in the sky longer with the Fly More combo
The Mavic Air quadcopter is built for fun: it has a nice 4K camera, plenty of enjoyable flight modes, and it can zoom up to 42 miles per hour and fly for up to 21 minutes at a time. What could possibly make it more fun? The Fly More combo comes with three rechargeable batteries, so you can keep it in the air while the included charging hub tops off the empties.
Fun flight modes
DJI has packed so many fun features into the foldable, portable Mavic Air. The SmartCapture gesture-based controls on this drone are DJI's latest and most responsive to date, for easier operation than ever. QuickShots modes with evocative names like Helix, Asteroid, and Boomerang give you an easy way to add pizazz to an aerial selfie. You can dock your smartphone in the included joystick-style controller, or go hands-free and let the drone follow you in ActiveTrack mode.
Crystal-clear 4K video
The Mavic Air has a 4K camera on board, with a 3-axis gimbal that keeps aerial video looking smooth and judder-free. It can also shoot dramatic HD video in slow motion, down to 120 frames per second.
One of our editors gets hands-on with the DJI Mavic Air Fly More Combo
"I had never flown a drone before getting my hands on the DJI Mavic Air Fly More Combo. I'll admit — I was pretty nervous. Fortunately, I had nothing to worry about. This drone was incredibly easy to get up in the air, maneuver around my neighborhood, and bring home for a safe landing.
I started with the app's flight simulator to get my bearings before the real takeoff. When I was ready for launch, I snapped my iPhone into the joystick controller. Then, it was simply a matter of turning on the drone's power, tapping a button to fire up the propellers, and pressing another button for takeoff.
It was much easier than I expected, and even more fun than I imagined. The 4K camera shot footage that was remarkably smooth and crystal clear. I was pretty amazed. Though I quickly realized the value of slow turns while shooting video.
I've seen some drones that are quite large and come in huge cases. Not so with the Mavic Air. It's very compact, and you can fit all the included gear, including two extra batteries, into a case the size of a small purse. And it comes with everything you need.
I went from drone-nervous to drone pilot to wannabe drone junkie in about an hour."
—Dave Brown, Crutchfield Editor
Panoramic stills
The 12-megapixel camera on the Mavic Air shoots very sharp images, but that's not all. It can also stitch multiple photos together into immersive panoramic images. You can make your panoramas horizontal or vertical, opt for a 180-degree view, or build 25 still images into an impressive 32-megapixel spherical shot.
Advanced obstacle avoidance
DJI's Spark and Mavic Pro models have strong obstacle-avoidance ability. The Mavic Air features Flight Autonomy 2.0 technology, which includes two downward-facing sensors that help the drone "see" objects that may get in the way, so it can go around them.
Get an immersive bird's-eye view
Want to really feel like you're in the cockpit? Optional DJI Goggles (not included) offer an exhilarating first-person piloting experience.
READ LESS
Product highlights:
Drone:
quadcopter with 4K Ultra HD camera, folding controller, 3 rechargeable intelligent flight batteries, and charging hub
foldable, lightweight design makes it easy to carry to your launch destination
flight time: up to 21 minutes
maximum speed: 42 mph (Sport mode)
Flight Autonomy 2.0 offers three-directional environment sensing for precise piloting
dual-band Wi-Fi® allows HD video transmission from up to 2.4 miles away
SmartCapture lets you launch and control the drone with hand gestures
easy QuickShots selfie modes: Rocket, Dronie, Circle, Helix, Asteroid, and Boomerang
ActiveTrack modes follow you anywhere (Trace, Profile, and Spotlight)
dock your smartphone and use its touchscreen for navigation
USB 3.0 Type-C port for data transfer
3-1/4"W x 1-15/16"H x 6-5/8"D
weight: 15.16 oz.
Camera:
12-megapixel camera with 1/2.3" CMOS sensor
ultra-precise 3-axis gimbal mount stabilizes camera in flight
records 4K video at up to 30 frames per second
1080p, 120 fps slow-motion video
panoramic stills: horizontal, vertical, 180°, and immersive 32-megapixel spherical
intelligent HDR for accurate contrast in variable lighting conditions
8GB internal storage
also records to optional microSD memory card (64 GB max., Speed Class 10 or UHS-1 rating required)
built-in rechargeable battery
Included Accessories and Warranty:
folding, pocket-sized remote controller
six pairs of propellers
one Type-C USB communication cable
3 RC cables (micro USB, Apple® Lightning, Type-C USB)
3 rechargeable intelligent flight batteries
multi-battery charging hub
travel bag
warranty: 1 year (controller), 6 months (drone and battery)
Note: The FAA requires users to register their drones. State and/or local laws may also restrict the use of this drone in certain areas.
MFR # CP.PT.00000156.01
KEEP READING
READ LESS
What's in the box:
DJI Mavic Air Fly More Combo owner's manual
Aerial drone
3 Intelligent Flight Batteries (one installed)
Controller
12 Propellers (4 installed)
4 Propeller guards
AC power adapter (attached 35" DC cord)
20" AC power cord
Battery charging hub
Battery-to-power bank adapter
microUSB adapter
42" MicroUSB-to-USB cable
3.75" MicroUSB cable
3.875" MicroUSB-to-USB-C cable
3" Lightning-to-USB cable (pre-installed to controller)
Large cable slider
Small cable slider
Carrying case
Travel bag
Gimbal protector (pre-installed)
2 Spare control sticks
Quick Start Guide
"In the Box" booklet
Disclamer & Warranty Guidelines
Intelligent Flight Battery Safety Guidelines
Propeller Guards User Guide
Battery To Power Band Adapter User Guide
Battery Charging User Guide
DJI Support Card
DJI Mavic Air Fly More Combo reviews
Average review:
Customer photos
More details on the DJI Mavic Air Fly More Combo
Researched by Crutchfield's

Stacey B.
Product Research
Aerial Drone
Gimbal Camera
Remote Controller
Rechargeable Battery
Aerial Drone
Foldable & Portable Design: The DJI Mavic Air features a 3D foldable design. It's arms fold flush against the aerodynamic chassis, making it ultra-portable. Even the included remote controller uses a foldable, low-profile, ergonomic design to hold your smartphone for maximum convenience. Detachable control sticks store inside the remote controller to pack more comfortably on the go.
Overall Dimensions: 11.5625" (w) x 2.0625" (h) x 10.75" (d)
Folded Dimensions: 3.6875" (w) x 2.0625" (h) x 6.625" (d)
FlightAutonomy 2.0: Using advanced VIO technology, the powerful sensor system in FlightAutonomy 2.0 consists of a primary gimbal camera, forward, backward, and downward dual-vision sensors, downward infrared sensing system, IMU redundancies, and a group of computing cores. Together, they collect and transmit information from the surrounding environment to the high-performance processor for more precise hovering and better flight performance. Advanced Pilot Assistance Systems (APAS) allow the aircraft to bypass obstacles in front of and behind it actively.
Visual Interntial Odometry (VIO): A combination of VIO technology and the new positioning algorithm has doubled the Mavic Air's precision positioning. VIO technology calculates the speed and attitude of the aircraft in real-time and locates it, making dual-camera attitude measurements while hovering or flying at any speed. The working range of the vision positioning system is now 0.5 to 30 meters. With VIO technology, the Mavic Air hovers more precisely indoors and responds better to complex environments with finer control stick movement.
3D Map Building: Equipped with an advanced sensing system, the Mavic Air locates itself with accuracy and precision. By processing data from the seven cameras at the front, bottom, and rear of the body, alongside the advanced infrared sensors and IMU, the Mavic Air will construct a 3D map by sensing the environment in real time, which significantly improves overall flight safety.
Advanced Pilot Assistance Systems (APAS): APAS is the result of DJI's extensive research on flight path calculation. Users can keep flying forwards and backwards, and APAS will plan an appropriate flight path to bypass obstacles automatically.
Multiple Redundancies: Besides dual IMUs, FlightAutonomy 2.0 has more redundant modules to increase the Mavic Air's safety level. The Vision Compass will assist the navigation system to estimate flight direction when the compass experiences interference. When only one direction of the front, bottom, or rear vision systems is functioning normally, the aircraft will still position itself successfully. There are two sets of sensor fusion algorithms based on two independent hardware platforms. When an error occurs to one set of algorithms, the aircraft will switch to the other pair seamlessly to resume normal functionality.
Flight Modes: The DJI Mavic Air is equipped with 3 flight modes.
P-Mode (Positioning): This mode works best when the GPS signal is strong. The aircraft utilizes GPS and the Vision Systems to locate itself, stabilize, and navigate between obstacles. Intelligent Flight Modes such as SmartCapture, QuickShots, TapFly, and ActiveTrack are enabled in this mode. It can reach a maximum speed of 17.9 mph in P-mode.
S-Mode (Sport): In this mode the aircraft uses GPS only for positioning, while the Forward and Backward Vision Systems are disabled. As such, the aircraft is not able to sense and avoid obstacles and Intelligent Flight Modes are not available. In S-mode aircraft responses are optimizes for agility and speed making it more responsive to the remote controller's joystick movements. It can reach a maximum speed of 42.5 mph in S-mode.
ATTI-Mode (Altitude): The aircraft automatically changes to this mode when the Vision Systems are unavailable or disabled and either the GPS signal is weak or the compass is experiencing interference. When the Vision Systems are unavailable the aircraft is not able to position itself or auto-brake, so potential flight hazards exist when flying in this mode. Environmental factors such as wind can result in horizontal shifting, which may present hazards - especially when flying in confined spaces.
Intelligent Flight Modes: The DJI Mavic Air incorporates a variety of intelligent & intuitive flight modes making it easier to capture video and still images.
Active Track: ActiveTrack can sense up to 16 selectable subjects simultaneously, letting you choose the right tracking subject. With higher tracking precision and broader scenario applications, ActiveTrack follows targets even when they're running, jumping, or cycling. You can choose from 3 different Active Track modes - Trace (follows behind or in front of your subject, or circle it as it moves at a constant distance), Profile (flies alongside your subject at a constant angle and distance), and Spotlight (keeps the camera pointed on your subject while you fly almost anywhere).
Quick Shots: Choose from six different QuickShots - Dronie (flies backward and upward with the camera locked on the subject while capturing video), Rocket (ascends with the camera pointing downward while capturing video), Circle (circles around the subject while capturing video), Helix (flies upward and spirals around the subject while capturing video), Asteroid (flies backward and upward while capturing video), and Boomerang (flies around the subject while capturing video). All are just a tap away and will get you those epic selfie drone videos without needing to think about composing your shot.
SmartCapture: Fun, simple, and intuitive, SmartCapture offers a new and interactive way of controlling the Mavic Air by hand. Launch and control the drone with hand gestures, then take photos or videos however you like. The control range of SmartCapture is approximately 8.2-19.68' (2.5-6m).
TapFly: If you want to focus on just your shot, select TapFly in the DJI GO 4 app, which lets you fly wherever you tap on your smartphone's screen. TapFly works in Forward, Backward, Free, and Coordinate modes, and you can adjust flight speed to suit all your aerial needs.
Tripod: Tripod Mode limits the DJI Mavic Air's maximum speed to just 2.2mph, and the control stick sensitivity of the remote controller is slowed to give you the precision you need for accurate framing. It is also great for flying indoors in small spaces where the Mavic Pro's normal speed may make it more challenging to fly.
Cinematic: In Cinematic mode, the aircraft's braking distance is extended and its rotation speed is reduced. The aircraft will slow down gently until it stops, keeping footage smooth and stable even if control inputs are choppy.
Point-Of-Interest (POI): Select a subject on the DJI Go 4 app, and set the circle radius, flight altitude, and flight speed, and the Mavic Air will fly around t he subject according to these settings.
Return To Home (RTH): Expanding on existing RTH systems, the Mavic Air will ensure the safest flight path during RTH. It does this by recording its real-time flight path, and when the control signal gets lost or battery is low, the aircraft will fly towards the Home Point, bypassing any signal obstruction and reconnect to the controller. When the Mavic Air detects an obstacle, it will choose a proper path to bypass it according to its altitude. The aircraft will match the images of the ground with those captured at takeoff for increased landing accuracy. When landing automatically, the Mavic Air will scan the terrain of the landing area in real-time, then warn the user and safely hover if it detects an obstacle or water in the landing area.
Flight Recorder: Flight data is automatically recorded to the internal storage of the aircraft. This includes flight telemetry, aircraft status information, and other parameters. To access this data, connect the aircraft to your computer through it microUSB port and the included microUSB-to-USB cable.
FAA Rules & Regulations: Please familiarize yourself with the FAA's rules & regulations for unmanned aircraft systems before flying your drone. Click here for more details.
Gimbal Camera
3-Axis Gimbal: The Mavic Air is the most portable DJI drone to house a 3-axis (tilt/roll/pan) mechanical gimbal, with its angular vibration range reduced to 0.005°. The gimbal camera is recessed for better protection. Set in a triangular formation, gimbal dampeners help create even steadier shots. The 3-axis gimbal has a controllable tilt range of -90° to+17°.
CMOS Image Sensor: The Mavic Air's onboard camera integrates a 1/2.3" 12-megapixel CMOS sensor and an f/2.8 lens with a 35mm equivalent focal length of 24mm to shoot high-quality photos and ultra-HD videos.
Up to 4K Video Recording: The Mavic Air shoots video at an incredible 4K/30 fps, recording at 100 Mbps to capture every second with UHD quality. With support for recording 1080p/120fps slow-motion video, the Mavic Air captures all your epic high-speed adventures. Video is recorded in MOV or MP4 (MPEG-4 AVC/H.264).
12MP Photos: The Mavic Air can capture 12-megapixel photos. Available picture shooting modes include Single Shot, Burst, Interval, HDR, and various Panorama modes. Still images are recorded in JPEG or DNG (RAW).
HDR Photos: New HDR algorithms help you obtain the right exposure settings intelligently, according to lighting conditions. Overexposed or dark areas are processed for more natural transitions between highlights and shadows, while DSP acceleration allows for more efficient shooting.
Panorama Photos: The Mavic Air offers 4 Panorama modes - Vertical, Horizontal, 180°, and Sphere. In Vertical mode, the camera automatically takes three vertical photos, stitching them into one panorama. In Horizontal mode, the camera will take nine photos from different angles, stitching them into one panorama. In 180° mode, the Mavic Air automatically rotates its body and gimbal shooting 21 pictures - stitching them together in the DJI GO 4 app for a breathtaking 180° panorama. In Sphere mode, the Mavic Air automatically rotates its body and gimbal to shoot 25 photos - stitching them together for an eye-catching spherical panorama
Internal & External Storage: In addition to a microSD card slot, 8GB of internal storage lets you save photos and videos directly to the aircraft and export files through its USB 3.0 Type-C port. The Mavic Air supports UHS-1 microSD memory cards up to 128GB.
microUSB Port: The Mavic Air features a microUSB port and comes with a microUSB-to-USB cable to connect to your computer for transfer and download of your aerial videos and photos to your computer.
Edit & Share: Automatic video editing templates, simple video editing functions, and easy photo and video management, bring together everything you need to make epic videos right on your smartphone. After you've selected your photo or video, edited and created your masterpiece, you are able to share it straight to Facebook, YouTube, Twitter, Instagram and more; as well as SkyPixel (DJI's own community dedicated to aerial imaging). If you start shooting a video that just cannot wait to be shared, go ahead and stream it live to Facebook or YouTube so no one misses out.
Remote Controller
Remote Controller: The included remote controller is a multi-function wireless communication device that integrates the video downlink system and aircraft remote control system. Built into the remote controller is DJI's enhanced dual-band WiFi (2.4/5GHz) technology, enabling a maximum transmission distance of 2.49 miles (4km) and the ability to down-link 720p video from the Mavic Air to the DJI Go 4 app on your docked Apple iPhone or Android smartphone. The remote controller's joysticks are used to control the aircraft's orientation (yaw), forward/backward movement (pitch), altitude (throttle), and left/right movement (roll); while your docked Apple iPhone or Android smartphone provide a live 720p video feed of the Mavic Air's camera through the DJI Go 4 app.
DJI Go 4 App: The DJI Go 4 app for Apple iOS 9.0-up & Android OS 4.4-up lets you control gimbal, camera, and flight functions from your compatible smartphone; as well as view a live video feed of the Mavic Air's camera. Your Apple iPhone or Android smartphone with the DJI Go 4 app will insert into the cradle of the included remote controller and plug into the controller via USB using the provided cables.
Flight Controls: Control the flight pattern of the Mavic Air from your smartphone and the DJI Go 4 app, while viewing a live 720p video feed and flight telemetry data. Virtual joysticks on your compatible smartphone's touchscreen let you control the direction of the aircraft.
Camera Functions: The DJI Go 4 app gives you complete control of your camera and a live 720p video feed right on your smartphone's touchscreen. You'll be able to adjust camera settings and use this real-time view to line up the perfect shot. You can snap photos and record vides with just a tap on your Apple iOS or Android smartphone's touchscreen.
Video Editor: An intelligent video editor is built into the DJI Go 4 app. After recording several video clips and downloading them to your smartphone, you can select a template from the DJI Go 4 app and specify which clips you want to combine and create a short film that can be shared immediately.
SkyPixel: Take part in the world's largest aerial imaging community at SkyPixel. Learn tips and tricks from power users, find people to fly with and give your productions a global audience.
Me: If you have a DJI account, you will be able to participate in forum discussions, and share your creating with the community
Optional DJI Goggles: Pair the Mavic Air with the DJI Goggles (sold separately) for FPV flight that provides a much more immersive experience.
Rechargeable Battery
Rechargeable Lithium-Polymer Battery: The DJI Mavic Air is powered by a high-density, rechargeable lithium-polymer (LiPo) battery that has a capacity of 2375mAh and voltage of 11.5V. This battery can provide a flight time of up to 21 minutes (at 15.5mphs with 0 wind) and a hover time of 20 minutes (with 0 wind). In calm weather and under ideal conditions, the Mavic Air can fly up to 6 miles on a single charge. The included remote controller is equipped with a rechargeable lithium-polymer battery with a capacity of 2970mAH and can last up to 3 hours. Operating temperature for both batteries is 41°F to 104°F. The batteries must be fully charged before using it for the first time.
Intelligent Flight Battery: The DJI Intelligent Flight Battery in the Mavic Air adopts the latest technologies to ensure that the flight control system is able to obtain accurate battery level. This allows it to calculate remaining flight times more accurately. It also gives pilots a full understanding of the overall battery status, including real-time battery cell status, circle number, temperature and more, and all in the DJI GO app on your smartphone.
BMS (Battery Management System): As well as monitoring the battery status during flight, the BMS (Battery Management System) also has overcharge and over discharge protection, reducing the likelihood of battery damage. When not in use for extended periods of time, DJI Intelligent Flight Battery automatically discharges to 50% charge, keeping it at an optimum charge level for extended battery life. When flying in cold temperatures, the BMS will activate low-temperature protection and will control power output according to the temperature. This ensures the battery can provide adequate propulsion without damage from the cold.
Notes: The aerial drone will automatically return to home if the battery signal is getting too low. The drone may land automatically if the current battery level can only support the aircraft long enough to descend from its current altitude.
Battery Charger: An AC power adapter is included to charge the Mavic Air's lithium-polymer (LiPo) battery. The AC power adapter is also outfitted with two USB (type-A) ports to charged the included remote control and your smartphone. The Mavic Battery Charging Hub can charge up to four Intelligent Flight Batteries. The Intelligent Flight Batteries will be charged in sequence according to their power levels, from high to low. It takes 55 minutes to charge a battery fully when using a standard charger or a Charging Hub.
Q
Crutchfield asked: Why did you buy this?
A
Heard it was easy to fly and took great pis and vids.
[ Jon Dec 07, 2018 ]
A
Very compact and nice to have extra batteries.
[ James Jun 12, 2018 ]
A
Online reviews and personal recommendations
[ Edward Matthew Jun 18, 2018 ]
A
color is bananas and its a portable drone that records at 4k
[ Maurice Apr 08, 2018 ]
SHOW MORE
SHOW LESS