A sleek, versatile quadcopter for professionals
We thought the
Inspire 1
was a pretty incredible machine, and now DJI has added even more functionality to the amazing Inspire 2. An upgraded image processing system records video at resolutions higher than 4K, in several professional-level formats. It's also loaded with new features that make it fly faster, longer, and smarter.
A sleek, versatile quadcopter for professionals
We thought the Inspire 1 was a pretty incredible machine, and now DJI has added even more functionality to the amazing Inspire 2. An upgraded image processing system records video at resolutions higher than 4K, in several professional-level formats. It's also loaded with new features that make it fly faster, longer, and smarter.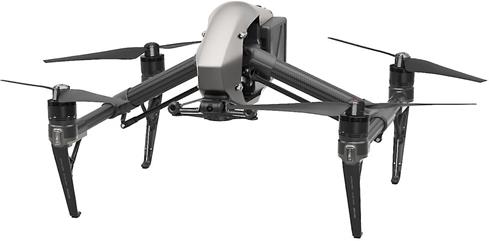 The DJI Inspire 2 is a fast, intelligent flying machine that's loaded with advanced tools for professional filmmakers.
4K — and above — image processing
The Inspire 2 is no toy. It's equipped with a CineCore 2.0 image processing system that works exceptionally well with the with optional Zenmuse X5S camera to capture stunning Ultra HD footage (There's an on-board FPV camera for piloting views and obstacle sensing; main camera not included.)
It can certainly handle 4K, but it can do even more than that. Imagine shooting aerial scenes with 5.2K resolution — it's a level of detail and stunning accuracy few other airborne cameras can match.
DJI's Lightbridge technology lets you transmit up to 1080p video from a range of up to 4.3 miles away. It can feed video to the pilot and camera operator simultaneously through a dual-band Wi-Fi® connection.
Fly faster and longer
The Inspire 2 is a versatile tool for filmmakers and other professionals, so it has to perform in the field. It reaches a top speed of 58 miles per hour in just under 5 seconds. Increased battery life keeps it aloft for up to 27 minutes at a time — a real boon for capturing that all-important action shot, surveying crops, or scoping out terrain before sending in a rescue party. The Inspire 2 even has battery warming technology, so it can operate efficiently in the cold.
Intelligent flight modes
Even the best pilot can use a little help, especially when the job demands precision. The Inspire 2 can automatically track a chosen subject while it's in flight with Spotlight Pro mode. Tough shots can be simplified by using additional modes like Point of Interest, Waypoint, QuickSpin, TapFly and ActiveTrack.
The Inspire 2 even keeps itself safe, using vision sensors, infrared scanning, and terrain monitors to avoid obstacles. Smart Return Home mode lets it avoid anything in its path, even when it's automatically flying back to its launch point.
READ LESS
Product highlights:
remote-controlled flying quadcopter drone with advanced image processing
includes flight controller with built-in dock for tablet or phone
360° gimbal mount is compatible with Zenmuse X5 and X5S cameras (not included)
CineCore 2.0 image processing system:

captures up to 5.2K Ultra HD footage at 30 fps
FAT32/ExFAT universal file system
records video simultaneously to DJI CINESSD and microSD card (not included)

uses GLONASS and GPS as a dual-positioning system to get higher precision and quicker satellite acquisition
light magnesium/aluminum composite airframe with carbon fiber arms
max. speed of 58 miles per hour
built-in 2-axis FPV camera for pilot's FPV view and obstacle sensing
self-heating dual-battery configuration
built-in sensors help avoid obstacles during flight
up to 27 minutes of flight time on a full battery charge
flight controller:

built-in mobile device holder for tablets or smartphones
features USB and mini-HDMI connections for an external display
transmitting distance of over four miles
dual-band switching with Lightbridge transmission technology

weight: 7.25 lbs.
warranty: 1 year
Note: The FAA requires users to register their drones. State and/or local laws may also restrict the use of this drone in certain areas.
MFR # CP.BX.000166
KEEP READING
READ LESS
What's in the box:
Quad-copter aerial drone
Remote controller
2 Intelligent Flight Batteries
Battery charger
Charging hub
39" Power cable
30" USB cable
8 Propellers
2 Propeller mounting plate assemblies
16GB microSD card
3 Gimbal dampers
Vision system calibration plate
Key-tool
Installation stickers
Storage case
Quick Start Guide
Intelligent Flight Battery Safety Guidelines
Disclaimer and Safety Guidelines
"In the Box" note
"Know Before You Fly" note
DJI Care Card
DJI Inspire 2 Reviews
Average Customer Review(s):
More details on the DJI Inspire 2
Researched by Crutchfield's

Stacey B.
Product Research
Inspire 2 Aerial Drone
DJI GO 4 App & Controller
Intelligent Flight Battery
Inspire 2 Aerial Drone
Sophisticated Construction & Design: The DJI Inspire 2 aerial drone features sophisticated construction & design for optimal flight, videography, & photography performance (gimbal camera sold separately).
Magnesium-Aluminum Composite Body: The grey magnesium-aluminum composite shell of the Inspire 2 is more elegant than the previous plastic shell and adds higher strength and lighter weight. "T" junction airframe connections are now made of carbon-fiber, creating a more integrated design that reduces weight while adding visual refinement.
CineCore 2.0: Integrated inside the Inspire 2 is a powerful image processing system named CineCore 2.0, and a new CINESSD system. By placing these parts inside the airframe, image data can be stored and processed more readily, while the CINESSD storage system itself can be better protected. It also means that the camera can be more lightweight, increasing aircraft agility and overall flight performance. CineCore 2.0 is compatible with the Zenmuse X4S and X5S (both sold separately) for different shooting needs, and both cameras attach using a new gimbal port that is quicker to connect and more reliable. The Inspire 2 has been completely optimized and is now capable of recording video in CinemaDNG and Apple ProRes.
2-Axis FPV Camera: Added to the front of the Inspire 2 is a 2-axis gimbal stabilized global shutter FPV camera with a controllable pitch range of 0° to -60°. Combined with the stabilization of its brushless gimbal, it effectively eliminates picture shake, leaving only a clear view of the scene ahead. Using Lightbridge HD video transmission technology, its video feed transmits along with the feed from the primary camera to the DJI GO 4 app, so both operator and camera operator can get the view they need to capture complex shots. DJI GO 4 can be used to switch between different views, while both master and slave controller feeds maintain the same video quality, giving both pilot and camera operator a better overall experience.
Powerful Flight Performance: A new propulsion system optimized for power creates a new level of flight performance. The Inspire 2 flies at up to 58mph (94kph) descends at 9m/s and climbs at 6m/s. It can accelerate from 0 to 50mph (80kph) in just 5 seconds and flies at a max attitude angle of 40°. The two controller sticks are tuned for more sensitivity, making delicate maneuvers easier. More power also allows the Inspire 2 to fly in more extreme conditions, including over 2500-5000m above sea level (using optional dedicated propellers), and in temperatures as low as -4°F (-20°C) using self-heating Intelligent Flight Batteries.
Enhanced Agility & Maneuverability: The Inspire 2's H-shaped frame arms hold 15" propellers that form part of a two horsepower propulsion system, significantly enhancing top speed and acceleration. As every increment in speed creates new challenges, many technological hurdles were overcome to realize the Inspire 2's 58mph (94kph) top speed. This required the creation of a finely tuned propulsion system, redesigned motors with a 3° camber angle for more stable pitch, roll and yaw as well as an advanced flight control system, air resistance reduction, and stability enhancement. Additionally, its advanced fast-acting flight control system allows the Inspire 2 to descend at a rapid 9m/s.
Precision Control: Advanced algorithms have been comprehensively improved, increasing the sensitivity of the control sticks, so that pilots can fly with greater precision. Flight parameters can now also be adjusted in the DJI GO 4 app, giving pilots the ability to tune the Inspire 2 to fly the way they need it to. Tripod Mode also comes to the Inspire 2, for ultra-fine flying or slow graceful movements.
Extreme Weather Durability: The Inspire 2's extremely robust control algorithm allows it to fly in more types of extreme weather. It can fly at up to 2500m above sea level using standard propellers. This is increased to a maximum of 5000m when using the optional high altitude propellers. Self-heating technology is built into its Intelligent Flight Batteries, allowing it to fly in temperatures as low as -4°F (-20°C).
Advanced Flight Autonomy System: Obstacle sensing systems are active during Normal flight, RTH (Return To Home), and all Intelligent Flight modes. The following sensors are core components of the DJI Flight Autonomy system - Obstacle Sensing & Avoidance, Precision Hovering & Position, as well as Terrain detection
Obstacle Sensing: Forward and downward facing dual stereo vision systems have a sensing field of view of 60° and 54° respectively, allowing the Inspire 2 to sense obstacles up to 30m away. The combination of wide angle of view and long range, allows the Inspire 2 to accurately calculate the distance required for braking. This offers flight at up to 34mph (54kph) with a 25° angle without sacrificing obstacle avoidance protection. Infrared sensors on top of the aircraft provide upward obstacle sensing up to 16ft (5m), adding protection when flying in enclosed spaces.
Precision Hover: The Inspire 2 uses Visual Odometry (VO) technologies in its forward and downward stereo vision systems. When combined with data collected by the flight controller, it allows the Inspire 2 to hover accurately when flying indoors or without a satellite signal. Unlike a basic positioning system made up of a single optical flow sensor and dual ultrasonic sensors, the Inspire 2's dual optical sensor system can capture the depth-of-field of the environment, making it more sensitive to the subtle movements of the aircraft. VO technology also detects tiny changes in flight speed, records the flight path, and sends real-time position data to the flight controller. This creates high-precision flight and a hover accuracy that is more precise than when using satellite positioning alone. If GPS signal is lost when flying behind an obstacle, or when flying from indoors to outdoors, the Inspire 2 is able to hover in place when the control sticks are released, allowing filmmakers to shoot in a wider variety of locations.
Detect Landing Terrain: A vision positioning system made up of a single optical flow sensor and ultrasonic sensors can only collect altitude data using its ultrasonic systems, making it unable to generate accurate information about the terrain below. However, the Inspire 2''s stereo vision system will calculate the difference in height during auto-landing between the aircraft's landing point, scanning the terrain in real time to ensure that the area is suitable for landing.
Flight Modes: The DJI Inspire 2 is equipped with 3 flight modes to choose from based on your application.
P-Mode (Positioning): In P-mode, the aircraft utilizes the GPS, plus the Forward and Downward Vision Systems to locate itself, automatically stabilize, and navigate between obstacles. Advanced features such as TapFly and ActiveTrack are enabled in this mode.
S-Mode (Sport): In Sport mode, the aircraft is using GPS for positioning and its responses are optimized for agility and speed making it more responsive to the controller's stick movements. As Forward and Downward Vision Systems are disabled, the drone will not be able to sense and avoid obstacles when in Sport mode. Ground Station and the Intelligent Flight functions are also not available in Sport mode. A
A-Mode (Altitude): When neither the GPS nor the Vision System is available, the aircraft will only use its barometer for positioning to control the altitude. Ground Station and Intelligent Flight functions are also not available in A-mode.
Intelligent Flight & Shooting Modes: In addition to the 3 standard Flight modes, the DJI Inspire 2 offers a range of Intelligent Flight & Shooting modes - including TapFly, ActiveTrack, Spotlight Pro, & QuickSpin.
TapFly: The 2-axis onboard FPV camera separates the flight view from the main camera view, effectively giving the Inspire 2 a dedicated TapFly camera. Tap a point onscreen in the FPV view to set a flight route and the Inspire 2 will automatically fly along that route, leaving the pilot to focus on gimbal movement.
ActiveTrack: The ActiveTrack Mode allows the Inspire 2 to recognize a range of objects, from people to bikes to cars to boats. Tracking profiles that can be adjusted based on the subject being tracked means greater tracking precision,
Spotlight Pro: Spotlight Pro is a powerful tracking mode that allows even single pilots to capture complex, dramatic images. It uses advanced visual tracking algorithms to lock onto a subject during flight, regardless of the direction that the Inspire 2 flies, creating shots that would once have required a dedicated camera operator. If the gimbal comes close to reaching its rotation limits, the Inspire 2 itself will rotate in the same direction without affecting flight control or the shot being captured to free up gimbal movement. It has two shooting modes - Quick Mode & Composition Mode. In Quick Mode, select an object to begin tracking. In Composition Mode, select the subject and the tracking position. When the subject enters the preset tracking position, press the shortcut to begin tracking. The gimbal can be moved during shooting for composition adjustments.
QuickSpin: The QuickSpin function can be activated manually or automatically. In manual, set a custom button as QuickSpin in DJI GO 4, then when the gimbal comes close to reaching its rotation limit, press the button to spin the Inspire 2 360° in the same direction to free up gimbal movement. Automatic QuickSpin is easier to use, and when enabled, the Inspire 2 will automatically spin when the gimbal rotates over 270°. The Inspire 2 flies normally during a spin.
Tripod Mode: Tripod Mode recues the Inspire 2's maximum speed and the control stick sensitivity of the remote controller is reduced to give you the precision you need for accurate framing. Tripod mode allows the Inspire 2 to be used as a rocker arm or slide rail to shoot smoother, more stable footage.
Smart Return to Home: Forward and downward vision systems allow the Inspire 2 to create a real-time map of its flight route as it flies. If the video transmission system signal is lost and Smart Return Home is enabled, it is able to fly home along its original route, and change to a straight line when it regains a signal. As it returns, it will use the primary camera to identify obstacles as far as 200m in front, allowing it to plan a safe route home. It is also able to reconnect more quickly after losing connection.
Precision Gimbal Control: Three damping balls and a damping board weighing just 40g (half the weight of previous damping boards) increase the damping capabilities of the Inspire 2 gimbal. Gimbal movement can now be customized through parameter settings built into DJI GO 4, giving operators the control they need to get the desired shot. A new gimbal control system increases control precision up to 0.01°, and is also powerful enough to carry an equivalent 90mm long lens. The new advanced controlled design allows the gimbal to automatically keep level, significantly reducing the likelihood of tilted horizons. The gimbal also has a new Follow Mode, which links the direction of the gimbal to the master controller, giving it the same control experience as the slave controller.
Safety & Convenience: Reliability has been further enhanced through dual redundancy of key modules such as the IMU and barometer. The intelligent flight control system monitors the redundancy system, giving it accurate flight data. The new obstacle sensing system helps the Inspire 2 sense and avoid obstacles, minimizing the risk of collision. Dual batteries mean that if a problem occurs on one battery the other is able to continue flight long enough for a safe landing. At the same time, the Inspire 2 propulsion system is driven a PWM signal with serial port signal redundancy so that if PWM signals are lost, transmission will continue through the serial port. This propulsion system has been tested for thousands of hours to ensure reliability, when combined with key sensors and a dual-battery design, overall flight reliability is significantly enhanced
Dual-Signal Propulsion System: Dual-signal ESCs bring an extra layer of redundancy to the Inspire 2. In normal use, ESC commands are sent using PWM signals. If this is lost, however, commands will be sent through the serial port. The ESC also inherits the Inspire 1's advanced patented algorithms, offering functional and propulsion redundancy. Combined together, these systems significantly increase the Inspire 2's reliability.
Transforming Structure: A transforming structure make the Inspire 2 easy to travel with. Simply press the Power Button five times and the system will cut power to the gimbal. Once the camera is removed, the aircraft will automatically enter Travel Mode. Simply place the aircraft in its carrying case and it is ready to go. To move back into Landing Mode, press the Power Button five times and the landing gear will extend. Additionally, the camera can be attached without switching off the aircraft, minimizing setup time. The included Carrying Case is designed to hold everything needed for an outdoor shoot, including a Battery Charging Station, 180W Battery Charger, camera and more, all in an efficient and easy to carry form.
DJI Lightbridge Video Transmission System: The latest update to technology has an effective transmission distance of up to 4.3mi (7km) and is capable of delivering both 1080p/720p video as well as the FPV view to pilot and camera operator. You can also switch between 2.4GHz and 5.8GHz control frequencies to cut through noise for greater signal stability.
2.4/5.8GHz Control Frequencies: Selectable 2.4GHz and 5.8GHz frequencies are supported by the Inspire 2. Generally speaking, a 2.4GHz WiFi video transmission system is used with a 5.8GHz remote control link providing aircraft control. This is because if the video transmission and the remote control links use the same frequency, interference between the two may cause signal loss. This same rationale is why interference may be caused by other users of radio frequencies in surrounding areas. The Inspire 2's new Lightbridge HD video transmission system uses a Time-division multiplexing mechanism to transmit both video feed and remote control signals on the same frequency. In urban areas, the 2.4GHz frequency band may suffer from high levels of signal interference from sources such as WiFi routers and 4G base stations. As an option, the 5.8GHz frequency provides a broader communication bandwidth and has more available channels for transmission, making it more suitable for stable signal transmission in these types of environments. After powering on, the Inspire 2 automatically scans the environment and selects the band with the least amount of interference, ensuring optimum video feed quality and remote control reliability.
Master & Slave Controllers: A new wireless HD image transmission technology sends video information from the master controller to a slave controller and the two controllers can be up to 100m apart without loss of image quality.
Broadcast Mode: A new Broadcast Mode for TV broadcasters has been created, allowing videos to be streamed from the Inspire 2 in broadcast standard 720p (60Hz) or 1080i (50Hz). Once connected to broadcasting equipment, footage can be sent live on-air without signal conversion. Additionally, while pilots maintain a real-time view of the flight, a short delay has been added to the optimized HDMI output, offering smoother playback and more stable frame rates.
Flight Recorder: Flight data is automatically recorded to the internal storage of the drone. You can connect the drone to a computer via USB and export this data via the DJI Assistant 2 software program. This includes data for the sensors, navigation system, devices, aircraft control, no-fly zones, and vision system images. Note that all data is encoded and only stored on your DJI device. Data does not upload to a DJI server automatically, nor is it shared with DJI in another other way.
DJI GO 4 App & Controller
Remote Controller: The Inspire 2 remote controller is a multi-function wireless communication device that integrates a dual frequency video downlink system and the aircraft remote control system. The 5.8GHz video downlink is recommended for urban areas to resist interference, while the 2.4GHz is good for long transmission distances in open areas. The remote controller features a variety of flight & camera control functions with joystick and push-button controls. The remote controller can operate the Inspire 2 drone up to 4.3 miles away. When in dual remote controller mode, each of the two remote controllers separately control aircraft and camera function, and can be up to 328' (100m) apart.
Note: The remote controller is equipped with a 6,000mAh LiPo 2S battery. Fully charging the Inspire 2 remote controller takes approximately 3 hours. It can be used for approximately 4 hours after being fully charged. The battery level is displayed via LED indicators on the front-panel of the remote controller.
Mobile Device Mount: The Inspire 2 remote controller is equipped with a mobile device mount for your Apple iOS 9.0+ or Android OS 4.4+ device running the DJI GO 4 App. The mount can support an iPad Air or other similar-sized tablet. Tablets should be no more than 6.6875" (170mm) tall.
DJI GO 4 App: The DJI GO 4 (for Apple iOS 9.0+ and Android OS4.4+) is a powerful, convenient app that offers full control and customization of the Inspire 2 from your compatible Apple iOS or Android device. It can be used to check the flight status of the aircraft in real time, trigger automatic take off or Return to Home, control camera settings, enable Intelligent Flight Modes and much more, all with just a few taps of the screen. Through the remote controller the, DJI GO 4 app can be used up to 4.3 miles away from the Inspire 2 drone.
Live HD View w/ Live Map & Radar: Watch a live HD video feed direct from the Inspire 2's optional gimbal camera right on the screen of your Apple iOS or Android mobile device. You can even adjust camera settings and use this real-time view to line up the perfect shot. You'll also be able to see yourself or your flight platform on a live map, and log exactly where you are filming.
Instant Video Download: The live video stream from the Inspire 2's optional gimbal camera is automatically saved on your mobile device for easy preview and editing later. Use this video as a reference, and download the full quality videos and photos with a few taps.
Video Editor: Create professional-looking movies in minutes using the DJI Director video editor. With a wide variety of pre-designed templates, it's easy to pick one that suits you best and make a new video to share.
Media Library: All of your photos and videos that were shot using the DJI Inspire 2's optional gimbal camera and the GO 4 app are stored in one place, making it easy to browse, share, and send your footage anywhere you like.
Data & Content Sharing: DJI GO records data on each of your shoots and flights, ready for your review later. You can share your best work on SkyPixel, a dedicated platform for aerial photographers and filmmakers from around the world. The GO 4 app also connects to your Facebook, Twitter, and Tumblr accounts for quick posting.
Intelligent Flight Battery
Dual Battery Design: A dual-battery design using a pair of 98Wh batteries gives the Inspire 2 an extended flight time as well as battery redundancy. As the two batteries connect in parallel, if one fails during a flight, the other will be able to provide power for a safe return to home. To ensure the batteries are properly installed, the battery release button is made up of a center button and a ring button. When the battery is installed correctly, both buttons will pop out. A sensor in the battery compartment also checks that the batteries are properly installed. A notification will appear in DJI GO 4 if it detects a problem.
Intelligent Flight Battery: The Inspire 2 battery uses higher performance and a higher density battery cell with an overall larger capacity as well as an updated management unit. Its performance in low temperature environments has been optimized with a built-in 70W self-heating system capable of heating itself to 41°F (5°C) every minute. This self-heating function can be enabled either automatically or manually. The management unit constantly monitors battery status, making all information, including battery level and battery temperature, easily visible in DJI GO 4. Each Intelligent Flight Battery has a capacity of 4280mAH with a voltage of 22.8V.
Flight & Charging Times: The dual-battery system provides up to 25 minutes with Zenmuse X5S (included) or up to 27 minutes with Zenmuse X4S (sold separately). When connecting the included Battery Charger to the included Battery Charging Hub, it takes about 90 minutes to charge two batteries and 180 minutes to charge 4 batteries.
Q
Crutchfield asked: Why did you buy this?
A
One of the best drones out there after doing 2 weeks of research and looking at different reviews from online to reading forums. Able to fly 58 Mph make movies if you want or just take pictures of your kids and family.
[ Damon May 01, 2017 ]
1 question already asked