About the DJI Matrice 600 Pro Hexacopter
A high-performance flying machine
The DJI Matrice 600 Pro is, quite simply, one amazing machine. The hexacopter's six rotors offer high speed and maneuverability, and the built-in
A3 Pro flight controller
system helps you pilot like a pro. This high-payload drone was built for cinema-quality video, and it's adaptable to other commercial applications. Plus, with its smart controls and extended flight time, you just know it must be a blast to fly.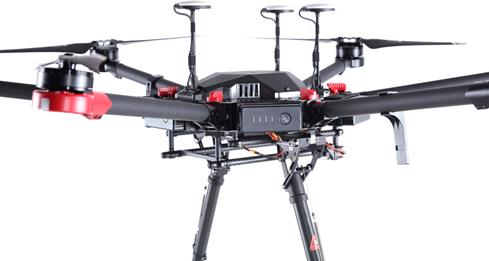 With six rotors and DJI's A3 Pro controller kit pre-installed, the Matrice 600 is ready for the most challenging professional environments.
A high-performance flying machine
The DJI Matrice 600 Pro is, quite simply, one amazing machine. The hexacopter's six rotors offer high speed and maneuverability, and the built-in A3 Pro flight controller system helps you pilot like a pro. This high-payload drone was built for cinema-quality video, and it's adaptable to other commercial applications. Plus, with its smart controls and extended flight time, you just know it must be a blast to fly.
Precise positioning and flight control
The Matrice 600 Pro is geared for professional use, so extra attention has been paid to fine-tuned remote control. The advanced A3 Pro flight control system includes three inertial measurement units (IMUs) and three global navigation satellite system (GNSS) receivers that provide the fine-tuned positioning and control information you need.
The included MC6S600 remote control sends images back to your connected smartphone (not included) so you know you're getting the right shot. It lets you control the hexacopter from up to 3 miles away.
Customizable photography platform
The drone is designed to carry any Zenmuse camera in a compatible gimbal, so you can get sharp, steady images while flying. It can transmit 1080p video at up to 60 frames per second, and it's compatible with Lightbridge 2 HD software. The included remote controller offers HDMI, SDI, and USB ports so you can share images easily.
READ LESS
Product highlights:
ships with flight controller, six rechargeable batteries, and multi-battery charging station
DJI Matrice 600 Pro Hexacopter:
six rotors with carbon fiber blades let the drone fly fast and maneuver quickly
ultra-precise A3 Pro flight controller kit pre-installed

three inertial measurement unit (IMU) modules report precise speed, angle, acceleration, and more
three global navigation satellite sensor (GNSS) modules give extremely accurate position data
triple redundancy keeps you flying right if one module fails
fault-tolerant system helps you land your drone safely even if you lose a propeller

compatible with all Zenmuse cameras and gimbals (not included)
maximum payload of 13.23 lbs. (6 kg)
can be controlled with DJI Go app or DJI Assistant 2 software
Lightbridge 2 HD transmission system returns sharp images and video quickly

supports video resolution up to 1080p at 60 fps

flight time: up to 35 minutes
maximum horizontal speed: 40 miles per hour
up to 25° pitch angle
retractable landing gear
rotor arms fold for easy storage
65-11/16"W x 28-5/8"H x 59-3/4"D (with frame arms and landing gear extended)
weight: 22.04 lbs. (with batteries installed)
MC6S600 Remote Control:
dual-band 2.4 and 5 GHz
range: 3 miles
video output: HDMI, SDI, and USB
built-in rechargeable battery
M600 Pro charger recharges up to six intelligent flight batteries at once
warranty: 1 year
MFR # CP.SB.000308
KEEP READING
READ LESS
What's in the box:
DJI Matrice 600 Pro Hexacopter owner's manual
Aerial drone
Remote controller
6 Intelligent Flight Batteries (TB47S)
Charging hub
59" AC power cord
3' microUSB-to-USB cable
Two 26" DC charging cables
2 Landing gear legs
2 Landing skids
4 Rubber feet
6 Two-piece knob assemblies
2 Springs
Four M3x8mm screws
Six M3x5.5mm screws
Six M3x12mm screws
Flat-blade tool
Allen-wrench
5 Pieces of 3M tape
36 Battery stickers Quick Start Guide
"In The Box" booklet
Disclaimer and Safety Guidelines
Intelligent Flight Battery Safety Guidelines
DJI Matrice 600 Pro Hexacopter Reviews
Average Customer Review(s):
More details on the DJI Matrice 600 Pro Hexacopter
Researched by Crutchfield's

Stacey B.
Product Research
Features
A3 Pro Triple-Modular Redundancy System: The Matrice 600 Pro is equipped with a dedicated DUI A3 Pro triple-modular redundancy system and advanced intelligent flight functions, ensuring safe and stable operation at all times. The A3 Pro includes a flight controller, GPS-Compass Pro, and a PMU (Power Management Unit), With additional IMU Pro and GPS-Compass Pro modules, the A3 Pro provides triple-modular redundancy, improving the system's anti-risk performance. Triple modular redundancy and diagnostic algorithms that compare sensor data from three sets of GNSS units, with additional analytical redundancies for a total of six. A new dampening system for the A3's modules enable precise control of multi-rotor aircraft, providing accurate data for stable flight performances. Self-adaptive systems will automatically adjust flight parameters based on different payloads. Compatibility with D-RTK GNSS means that the A3 Pro can withstand magnetic interference, providing centimeter-level accuracy, suitable for various industrial applications.
Dustproof Propulsion Systems: Dustproof propulsion systems simplify maintenance and active cooling motors ensure that operation is reliable for extended periods of time. The Matrice 600 Pro has a maximum speed of 40 mph (with no wind).
D-RTK GNSS: Using dual antennas, the D-RTK GNSS system is a significant breakthrough for high-precision industrial applications. It is able to withstand strong magnetic interference and provides centimeter-level accuracy in environments with metal structures.
Open SDK Development: The M600 Pro is fully compatible with the DJI Onboard SDK and Mobile SDK to meet the requirements of those building software for various industrial applications. It has four (dual parallel) CAN ports and one API port for connecting DJI devices, including the D-RTK GNSS units or third party components of your choice.
Remote Controller: The included remote controller is a multi-function wireless communication device that features DJI's Lightbridge 2 video downlink system (requires DJI GO App for Apple iOS or Android). The remote controller has a wireless transmission distance of approximately 3.1 miles (5km). It provides flight and landing pattern control, as well as a number of optional camera control functions. The remote is equipped with joystick and push-button controls. The built-in LiPo battery powers the remote controller for up to 4 hours between charges.
Professional HD Transmission: The Lightbridge 2 HD video downlink is integrated into the remote controller, allowing real-time camera footage to be display in the DJI GO app on your compatible Apple iOS or Android mobile device. DJI Lightbridge 2 has been designed to meet all the requirements of professional broadcasting, offering high frame rates and HD live streaming. Dynamic, self-adaptive wireless 2.4GHz data links enable long-range transmission with ultra-low latency, supporting a broadcast standard output of 720p/59.94fps and 1080i/50fps.
DJI GO App: The M600 Pro supports the DJI GO app for Apple iOS 8.0+ and Android OS 4.1+. Get a live HD view, battery status, redundancy status, transmission strength and much more straight to the DJI GO app on you compatible mobile device. The DJI GO App is also the control center for your optional gimbal camera, giving access to photo and video capture. The DJI GO app also has a helpful flight simulator.
Mobile Device Holder: The remote controller is equipped with a mobile device holder to accommodate your Apple iPhone/iPad or Android smartphone/tablet. You'll need to connect your compatible device to the controller via USB, using the cable that came with your mobile device.
Dual Remote Control: Dual remote controller mode makes it possible for the aircraft and optional gimbal camera to be operated from two separate controllers.
Flight & Intelligent Flight Modes: The Matrice 600 Pro offers three Flight Modes & four Intelligent Flight Modes.
Flight Modes: The Flight Mode can be switched from the included remote controller.

P-Mode (Positioning): P-mode uses GPS to maintain is positioning.
A-Mode (Attitude): In A-mode, the aircraft only uses its barometer to maintain altitude (GPS is not used for positioning).
F-Mode (Function): F-mode allows you to select between Intelligent Flight Modes and API (SDK) control.

Intelligent Flight Modes: The Intelligent Flight Modes can be selected from the DJI GO app on your Apple iOS or Android mobile device.

Point-of-Interest (POI): This mode records a point of interest (POI); the nose of the aircraft always points towards the POI
Waypoints: This mode allows you to record a flight path and the aircraft will fly along the same path repeatedly while you control the orientation. The flight path can be saved and re-used in the future.
Course Lock (CL): The aircraft will move in the locked direction regardless of its orientation (yaw angle).
Home Lock (HL): This mode lets you record a Home Point and push the Pitch stick up/down to control the distance of the aircraft from the Home Point.
Optional Gimbal Cameras: The M600 Pro is natively compatible with several Zenmuse cameras and gimbals (sold separately). With a maximum payload of 13.2 lbs (6kg). It supports the Ronin-MX, Zenmuse (Z30, Z3, X3, X5-series, XT, XT 2), and Z15 series ((A7, BMPCC, 5D III, GH4) - all sold separately. You can choose between 3 different Gimbal modes using the DJI GO app on your Apple iOS or Android mobile device.
Follow Mode: In Follow mode, the gimbal's orientation is aligned with aircraft's nose. One user along can control the pitch of the gimbal, but a second operator is required to control the yaw motion using a second remote controller.
FPV Mode: In FPV mode, the gimbal will lock to the movement of the aircraft to provide a First Person View flying experience.
Free Mode: In Free mode, the gimbal's motion is independent of the aircraft's orientation. One use along can control the pitch motion of the gimbal, but a second user is required to control the yaw motion using a second remote controller.
Note: No gimbal camera is included with M600 Pro. This mode lets you lock the current nose direction as the aircraft's forward direction.
Retractable Landing Gear w/ Return-to-Home (RTH): The retractable landing gear allows for clear, 360-degree camera views around the Matrice 600 Pro. The Return-to-Home (RTH) function will bring the aircraft back to the last recorded Home Point. The aircraft will automatically return-to-home if is senses a low battery or loss of connection between the controller. You can also manually trigger the Return-to-Home function from the included remote controller or the DJI GO app on your Apple iOS or Android mobile device. .
Flight Recorder: Flight data is automatically recorded to the internal storage of the aerial drone. This includes flight telemetry, aircraft status information, and other parameters. You can connect the aircraft to a computer via the USB port and export this data via the DJI Assistant 2 software program for Windows and Mac.
Six Intelligent Flight Batteries: The Matrice 600 Pro has six battery compartments and comes with six Intelligent Flight Batteries to extend flight time up to 32 minutes (based on payload and environmental conditions). A comprehensive battery management system means that if any of its six Intelligent Batteries are turned on or off, the rest will follow suit. The battery management system monitors every battery during flight, ensuring safe landing in the event of single battery failure. Compared to traditional non-intelligent batteries, the M600 Pro's battery management system simplifies maintenance while enhancing security.
Note: You must load all six battery compartments with the same battery model before each flight.
Charging Hub: The M600 Pro charger has six charging hubs, enabling to charge six Intelligent Flight Batteries simultaneously. All six batteries can be full charged in a short amount of time (approximately 92-110 minutes), for quick and efficient preparation.
Easy Setup & Transportation: The M600 Pro is simple and easy to setup, and ready to fly in a matter of minutes. Its airframe has been optimized for easier transportation with a quick-release landing gear design and folding frame arms. Under the new upper cover, the positions of GNSS modules and sensors have been revamped and a new dampening system for the IMU units increases reliability during flight. The M600 Pro also comes with a durable case that absorbs impact from shakes or falls, providing all-round protection when carried or transported.
FAA Rules & Regulations: Please familiarize yourself with the FAA's rules & regulations for unmanned aircraft systems before flying your drone. Click here for more details.