About the DJI Matrice 210
This customizable drone is all business
The rugged and adaptable Matrice 210 is designed for commercial use. Its tough, lightweight chassis is rated IP43, meaning its inner workings are protected from objects over 1mm in diameter and direct sprays of water.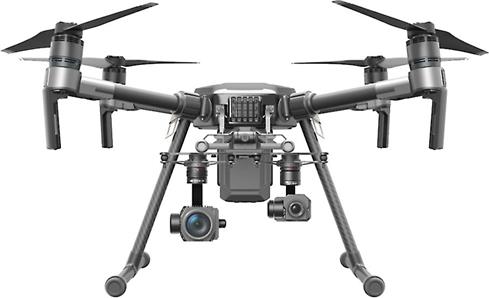 The DJI Matrice 210 has a durable, weather-resistant chassis and customizable payload configurations (cameras not included).
This customizable drone is all business
The rugged and adaptable Matrice 210 is designed for commercial use. Its tough, lightweight chassis is rated IP43, meaning its inner workings are protected from objects over 1mm in diameter and direct sprays of water.
This drone has a payload capacity of 5.07 lbs., and assembles easily so you can get to work quickly. The Matrice 210 comes with two TB50 batteries, which keep the drone in the air for up to 27 minutes of flight time.
Intelligent flight modes
Intelligent flight modes give you autopiloting options, so you can focus on what your camera is seeing.
Activetrack keeps a moving subject perfectly framed so you don't lose track of them — incredibly useful for search and rescue or wildlife tracking jobs.
Point of interest mode makes your drone orbit a stationary object — like a communications tower or wind turbine — so you can conduct a thorough visual inspection.
Included accessories
The drone comes with the professional-grade Cendence controller, and a large, bright CrystalSky high brightness monitor. You'll also find two rechargeable flight batteries and a charging hub. You want more? There's also an external GPS kit, a carrying case, and a 16GB memory card.
Adaptable payload configurations
The Matrice 210 is versatile, with multiple payload configurations:
Gimbal mounts for each configuration are included. Compatible cameras include the Zenmuse XT, Zenmuse Z30, Zenmuse X4S, and Zenmuse X5S.
Safety features
Built-in safety measures make it easy to keep people and property safe while you fly. There's a dedicated FPV (first person view) camera that lets the pilot see where he's going, no matter where the payload camera is pointed. FlightAutonomy uses information from front vision sensors, downward vision and ultrasonic sensors, and an upper infrared sensor to avoid in-flight obstacles. DJI AirSense automatically provides drone pilots with real-time information about nearby manned aircraft.
Expand and customize
Enterprising drone operators are finding new uses for unmanned aerial vehicles all the time. The Matrice 210 is customizable, so you can develop features you need. The onboard SDK (software development kit) lets you integrate an onboard computer to analyze flight data, or connect to third party sensors. Mobile SDK lets you develop personalized mobile apps that make flight planning and on-site data collection work for your specific needs.
READ LESS
Product highlights:
customizable remote-controlled flying quadcopter for commercial use
includes flight controller and 7.85-inch CrystalSky screen
additional included accessories: dual TB50 batteries with charging hub, external GPS kit, and carrying case
DJI Matrice 210 Quadcopter:
uses GLONASS and GPS as a dual-positioning system to get higher precision and quicker satellite acquisition
light, durable magnesium/aluminum airframe with carbon fiber arms
max. speed of 58 miles per hour
built-in 2-axis FPV camera for pilot's FPV view and obstacle sensing
maximum payload: 5.07 lbs.

customizable payload configurations for single or dual cameras
single upward, single downward, and dual downward gimbal mounts included
compatible cameras: Zenmuse XT, Zenmuse Z30, Zenmuse X4S, and Zenmuse X5S

up to 27 minutes of flight time with dual TB50 batteries
FlightAutonomy obstacle avoidance sensors help you navigate safely
Activetrack mode automatically keeps a moving subject perfectly framed
Point of Interest mode causes the 'copter to orbit a stationary object
16GB memory card included
34-15/16"W x 14-15/16"H x 34-15/16"D
weight: 8.37 lbs.
fully integrated monitor mounting bracket lets you connect the included CrystalSky monitor
SDI and HDMI ports support high-resolution video transmission
maximum transmission range: 10.2 miles
powered by built-in rechargeable battery
5-1/2"W x 6"H x 2"D
weight: 4.56 lbs.
warranty: 1 year
Note: The FAA requires users to register their drones. State and/or local laws may also restrict the use of this drone in certain areas.
MFR # CP.HY.000049
KEEP READING
READ LESS
What's in the box:
DJI Matrice 210 owner's manual
Aerial drone
Remote controller
16GB microSD card
2 Landing gear feet
2 TB50 intelligent flight batteries
Charging hub
Battery charger
AC power cord
USB cable
8 Propellers
Propeller mounting plates
Carry case
Gimbal damper
Vision system calibration plate
Quick Start Guide
Product Information
Disclaimer And Safety Guidelines
We don't have any reviews, yet.
Submit a review and then enter to win a $350 rewards card.
Be the first to review this product
Customer photos
More details on the DJI Matrice 210
Researched by Crutchfield's

Stacey B.
Product Research
Aerial Drone
Remote Controller
LCD Monitor
Apps & Software
Aerial Drone
Robust Flight Autonomy w/ Obstacle Avoidance: The DJI Matrice 210 includes a robust Flight Autonomy system with a total of 7 sensors. Its Forward Vision System is capable of detecting obstacles up to 30 meters ahead, while the upward facing infrared sensors can sense obstacles within a 5-meter range. A downward facing vision positioning system enables precision hovering and landing. In addition, high-performance motors paired with 17" propellers ensure stable flight in strong winds.
Vision System: The Vision System enables precision hovering indoors or outdoor environments where GPS signal is not available.
Obstacle Sensing w/ Assisted Breaking: Powered by the Forward Vision System, the aircraft is able to actively break when obstacles are detected in front. Obstacle Sensing works best when lighting is adequate and the obstacle is clearly textured. The aircraft must fly at no more than 31mps to allow for sufficient braking distance.
Infrared Sensing System: The Infrared Sensing System can only used to avoid large, diffuse, and reflective obstacles (reflectivity >10%). You should be mindful of blind spots of the Infrared Sensing System.
Note: The performance of the Vision and Infrared Sensing System is affected by the surface being flown over. Ultrasonic sensors may not be able to accurately measure distances when operating above sound-absorbing materials and the camera may not function correctly in the suboptimal environments.
Adaptable Aerial Imaging: The Matrice 210 is compatible with the following gimbal cameras - Zenmuse X4S, Zenmuse X5S, Zenmuse Z30, Zenmuse XT, Zenmuse XT2, SLANTRANGE 3PX, and Sentera AGX710 (all sold separately). A single downward gimbal bracket, dual downward gimbal bracket and single upward gimbal bracket are all sold separately.
Note: No gimbal camera or mounting bracket is included with the Matrice 210 and must be purchased separately.
IP43 Protection: IP43 protection rating means that the DJI Matrice 210 can be protected from objects greater than 1 millimeter, and from water spray less than 60 degrees vertically. The IP43 protection rating can protect the Matrice 210 when used in adverse environments with dust particles or light showers.
Note: The protection rating may reduce or fail in case of folded-frame arms, exposed ports as a result of open cover, loose weatherproof shell top plugs, and if the aircraft is broken. The unit's product warranty does not cover water damage.
Flight Modes: The DJI Matrice 210 offers the following Flight modes to choose from - P Mode (Positioning), S Mode (Sport), A Mode (Attitude), and T Mode (Tripod).
P Mode (Positioning): The aircraft utilizes the GPS and the Forward/Downward Vision Systems to locate itself, automatically stabilize, and navigate between obstacles. Intelligent Flight Modes are available in this mode.
S Mode (Sport): The aircraft uses GPS for positioning. As Forward and Downward Vision Systems are disabled, the aircraft will not be able to sense and avoid obstacles when in Sport Mode. The drone can reach a maximum speed of 51.4 mph in Sport Mode. Intelligent Flight Modes are not available.
A Mode (Altitude): When neither the GPS nor the Vision Systems are available, the aircraft will only use its barometer for positioning to control the altitude. Intelligent Flight Modes are not available.
T Mode (Tripod): Tripod Mode, which limits speed to 4mph provides precision control for fine framing and indoor flying.
Intelligent Flight Modes: The DJI Matrice 210 offers a variety of Intelligent Flight modes that make piloting and aerial photography even easier.
TapFly: You can simply tap on the CrystalSky or mobile device screen to fly in the designated direction without using the remote controller. The aircraft will automatically avoid obstacles it sees or brake and hover in front of them, provided there is sufficient light between (<300 lux) and (>10,000 lux).
ActiveTrack: ActiveTrack allows you to mark and track a moving object on the CrystalSky or mobile device screen. The aircraft will automatically avoid obstacles in its flight path. The aircraft will automatically identify and trace bicycles and other vehicles, people, and animals using different tracking strategies for each. No external tracking device is required. ActiveTrack is only supported by the Zenmuse X4S or X5S and is not supported by the Z30, XT, or XT2. ActiveTrack is also not supported with dual downward gimbals.
Spotlight Pro: Spotlight Pro is a powerful new tracking mode that allows a single pilot to capture complex, dramatic images. The gimbal will automatically adjust to keep the camera pointed at the subject. Lock on a subject in Spotlight Pro mode and the gimbal will capture the locked subject regardless of the directions that the aircraft flies.
Return-to-Home (RTH): During RTH, the Matrice 210 is able to collect information about the environment and automatically plan the best path back home. Being able to detect obstacles 200m away, it also restores communication faster with the remote controller during RTH after losing signal, so as to make RTH safe and successful. The aircraft will automatically return-to-home if is senses a low battery or loss connection between the controller. You can also manually trigger the Return-to-Home function.
Dual Battery System: The DJI Matrice 210 utilizes a dual battery system and automatically heats batteries when flying in sub-zero temperatures. You have the option to use the included TB50 batteries for improved portability or the larger TB55 batteries (sold separately) to properly support a dual gimbal configuration and increase flight times. The Matrice 210 continuously checks battery status and will notify you through the DJI GO 4 app on your smart device if a battery malfunctions. In this case, please land the aircraft immediately. The Matrice 210 can take off if the power discrepancy of the two batteries is within 13%. If it is unable to take off, the DJI GO 4 app will inform you that "the power discrepancy in the two batteries is too large". The Matrice 210 has a maximum flight time of 27 minutes with the included TB50 batteries.
Note: Most airlines allow TB50 batteries to be carried onto the airplane. You are likely to encounter issues when carrying TB55 batteries as they exceed allotted size for many airlines. Before planning a project, we suggest checking with your airline in advance. When transporting batteries please discharge them to below 30% maximum capacity for maximum safety.
Flight Recorder: Flight data is automatically recorded to the internal storage of the aerial drone. This includes flight telemetry, aircraft status information, and other parameters. You can connect the aircraft to a computer via the USB port and export this data via the DJI Assistant 2 software program for Windows and Mac.
Foldable Design: The Matrice 210 drone folds down in a snap and unfolds just as quickly. The gimbal mounting plates and aircraft arms stay mounted during transportation so that you're ready to fly within minutes.
Carry Case: The DJI Matrice 210 comes with a travel case customized to securely transport the aerial drone. The case comes with enough space to fit six TB50 or TB55 batteries, two payload containers, two sets of propellers, one controller, one charger and charger hub, a CrystalSky tablet or Apple iPad and a manual.
FAA Rules & Regulations: Please familiarize yourself with the FAA's rules & regulations for unmanned aircraft systems before flying your drone. Click here for more details.
Remote Controller
Cendence Remote Controller: The DJI Cendence wireless remote controller is a professional-grade, customizable remote controller designed for full integration with the Matrice 210 aerial drone, DJI's CrystalSky Monitor (sold separately), and your Apple iOS or Android device running the DJI Go 4 App.
Wireless Connectivity: The Cendence remote controller features DJI's Lightbridge technology, Dual-Band WiFi (2.4/5.8GHz), and redesigned planar antennas to significantly increase gain, ensuring high-quality wireless video transmission at up to 10 Mbps within 2.5 miles (4 km) and wireless control up to 4.3 miles (7 km). Moreover, the antennas transmit signal in a specific direction, which effectively reduces interference from other directions and makes transmission even more stable and reliable.
Built-in LCD Screen w/ Optional Monitors: The built-in LCD screen displays camera parameters, flight status, battery information and more. The LCD screen does not provide a live video feed and is not touchscreen. However, you can add DJI's CrystalSky monitor or use the DJI Go 4 app on your mobile device for live video feed and advanced control.
DJI CrystalSky (Sold Separately): DJI's CrystalSky monitor mounts to the Cendence remote controller via the included monitor mounting bracket system. It features an embedded version of the DJI GO 4 app for live video feed and control. The CrystalSky monitor provides smooth, real-time video with minimal latency form your mounted gimbal camera (sold separately). It also give you access to aircraft parameter adjustment, camera control, footage management, and playback.
DJI Go 4 App (Requires Compatible Mobile Device & Holder): The DJI Go 4 App (for Apple iOS and Android OS) turns your compatible Apple iOS and Android into a live video feed and controller for the Matrice 210 drone. You will need DJI's Mobile Device Holder (sold separately) and a compatible Apple iOS or Android device. Your mobile device will connect to the Cendence controller via the USB cable that comes with your smartphone or tablet. Use this app to control the gimbal, camera, and other aircraft functions. You'll also be able to view a live video feed (1080p or 720p) and flight telemetry data of your drone. In addition, the app features Editor, SkyPixel and Me sections; which are used for configuring the drone, as well as editing and sharing your captured photos and videos.
Joystick & Push-Button Controls: The Cendence remote controller features joystick and push-buttons controls to operate the Matrice 210 drone and many of its functions, including flight and camera controls. Customizable buttons can quickly enable or disable frequently used functions.
Flight Controls: Use dual 4-way joystick controllers to operate the Matrice 210''s flight pattern; including Up/Down, Forward/Backward, and Left/Right. You can also use the Flight Mode switch to select P-mode (Positioning), S-mode (Sport), or A-mode (Attitude). In addition, you can press and hold the "RTH" button to start the Return-to-Home procedure.
Camera Controls: Use the controller's Shutter button to shoot still photos and the Record button to capture videos. Numerous Camera buttons let you adjust a variety of camera settings such as ISO, shutter seed, exposure, focus, and aperture. Two dials provides tilt and pan control of the gimbal camera mount,
Dual Operator Control: When precision camera control is required, the Cendence can connect either as a Master or Slave controller with another Cendence remote controller. In Dual Remote Controller mode, two remote controllers can operate the aircraft and camera separately and simultaneously. Dual Remote Controller mode even works when uses are up to 328' (100m) apart.
Multiple Ports: The Cendence remote controller is equipped with multiple ports - including SDI/HDMI ports, a CAN port, and USB-A port.
SDI/HDMI Ports: SDI and HDMI ports support broadcasting at 1080i/50 and 720p/60. Standard broadcasting signal can be exported via SDI port, which enables the Cendence to be used in live broadcasting scenarios.
CAN Port: The CAN port allows connection of the DJI Focus, Tracktenna, external GPS modules, or other compatible accessories (sold separately).
USB-A Port: A USB-A port supports connectivity with mobile devices.
Rechargeable Battery: The Cendence remote controller uses a detachable, rechargeable lithium-polymer battery that is rated at 4923 mAh and operates for up to four hours. If you run out of power, you can swap in a charged battery or charge the Cendence via the power port (it takes approximately 2.5. hours to fully charge the battery).
Included Accessories: Practical accessories make using the Cendence remote control easier and more enjoyable. The Cendence Support Rig handles part of the controller's weight, making it easier to hold for extended periods of time. Control Stick Covers prevent dirt and dust from entering both sticks, ensuring smooth and reliable control. The Interchangeable Mobile Device Holder lets you attach a phone or tablet instead of a CrystalSky monitor.
Modular & Upgradeable: The Cendence remote controller's antennas, PCB, mounting bracket, and battery are all detachable, making its hardware easily upgradeable, allowing you to customize the controller for compatibility with future DJI aircraft.
Apps & Software
DJI GO 4 App: More challenging shoots require a real-time video feed, vital flight statistics and advanced settings. The DJI GO 4 app (for Apple iOS and Android OS) provides optimal flight control, video recording, and photo capture. The DJI Go 4 app is also built-in to DJI CrystalSky monitors (sold separately).
Flight Functions: Using the DJI GO 4 app, a large number of Intelligent Flight Modes are available. Vital flight data and video transmission status are easy to check in-app, further enhancing control efficiency and convenience. After each flight, flight routes and data are automatically recorded and synchronized to the attached DJI GO 4 account, keeping it readily accessible for you to review. Both flight logs and data are easy to record and review.
Camera Functions: The app also provides access to full manual camera controls, including ISO, aperture, shutter speed, image formats, and more. In addition, the DJI GO 4 includes editing features for quick editing and sharing to social media and even live streaming.
DJI Pilot App: The brand new DJI Pilot app (for Apple iOS and Android OS) supports the latest DJI enterprise drones, including MAVIC 2 Enterprise, Matrice series, and Phantom 4. The new DJI Pilot app can assist the DJI enterprise drones to transmit pictures in real time smoothly, control the aircraft, as well as control the camera and its playback. You can also perform the flight path tasks, update the firmware and check flight records using DJI Pilot.
DJI GS Pro App: The GS Pro App (also known as Ground Station Pro App) is an iPad application designed to control or plan automatic flights for DJI aircraft. Through its clear, concise interface, complex flight missions can be planned with a few taps. GS Pro will then automatically take pictures at pre-set waypoints, providing the accuracy required for precision mapping. GS Pro dramatically increases the efficiency of various industrial applications, including but not limited to, aerial imaging, architecture, precision agriculture, electrical inspections, search and rescue, safety control, and more.
FlightHub Software Program: Use FlightHub to oversee your aerial operations remotely so you can view live inspections and manage your fleet of drones. You can access FlightHub in two different ways, directly through an internet browser (www.dji-flighthub.com) or through the FlightHub Windows app (https://www.dji.com/flighthub/info#downloads). There are three versions of FlightHub: Basic, Advanced, and Enterprise. In addition to increasing the number of drones that users can connect to the system, upgrading from Basic to Advanced or to Enterprise will also unlock additional features. From Basic to Advanced, users can stream real time video from their drones (up to 4 at once) to the FlightHub system. This is useful for companies looking to improve inspection workflows as pilots collect data and engineers validate this data in real time. From Advanced to Enterprise, DJI adds Private Cloud and Media Library, allowing users to send photos and videos - in full resolution - from their DJI Pilot app directly to the FlightHub system installed into their IT infrastructure.
Note: When purchasing a FlightHub plan, your email and activation code are bound together. If your email is already connected to a DJI account, you can activate FlightHub after logging in to the system at www.dji-flighthub.com. If your email is not yet connected to a DJI account, first visit www.dji-flighthub.com and select "create your dji account" to set up a DJI account attached to this email. Afterwards, you can proceed by logging in with this new DJI account and then completing the activation process as prompted.
Customization Tools: Combine DJI's developer tools to form a unique drone solution for your particular application.
Payload SDK: Simply design a tool that best suits your deliverables and deploy it across your fleet.
Onboard SDK: Integrate an onboard computer to analyze in-flight data, or connect third party sensors, such as a LiDAR scanner.
Mobile SDK: Develop personalized mobile apps to make flight planning and on-site data collection simpler, faster and repeatable.